By Lambert Strether of Corrente.
TPP
Representative Chris Van Hollen, the ranking member of the House Budget Committee, will oppose fast-track [The Nation]. Hillary?
House minority leader Steny Hoyer: "My sense is there is still a lot of consternation about the trade bills among the American people, and here on both sides of the aisle" [The Hill]. "[C]onsternation" is a strong word in D.C.
"Worse, Warren says, ISDS sets up a quasi-judicial system staffed entirely—this is not satire—by corporate lawyers" [Slate]. A good summary of the state of play.
"Anti-TPP forces have far less money and cohesion. But you can get a flavor of their concerns for American jobs and living standards from this post at Public Citizen and articles here and here from the essential site, Naked Capitalism" [Seattle Times]. There's a columnist with good taste!
"Tetsuro Shimizu, general manager at Norinchukin Research Institute in Tokyo, said if the 12 Asia-Pacific countries negotiating the Trans-Pacific Partnership succeed, Japan would buy more rice from the US and reduce imports from non-TPP members Thailand and China" as an alternative to reducing protection for rice [Bangkok Post].
2016
The S.S. Clinton
"According to two popular online measuring tools, no more than 44 per cent of [Clinton's] Twitter fan base consists of real people who are active in using the social media platform" [Daily Mail]. Ouch. DIfferent tools get different results, but the total is higher than Obama, Michelle Obama, and that loveable scamp, Joe Biden.

Clinton doing the small crowd thing in Iowa; high school gymnasiums [Time]. Which makes sense, since (as I keep saying) that worked for her in 2008, after the February caucus debacle. (I though bring on all the Obot tech dudes meant she wouldn't go this route, but I was wrong. We'll see what happens in the larger states, though.)

Clinton: "We need to fix our dysfunctional political system and get unaccountable money out of it once and for all — even if it takes a constitutional amendment" [WaPo]. An appeal to the "Move to Amend" crowd.

Create your own slogan using the "H" typeface (!) [WaPo]. And they are! They are!
Republican Establishment
Jebbie to speak at Liberty University commencement [CNN].
Republican Principled Insurgents
Rush Limbaugh is Marco Rubio's number one fan [WaPo]. Say no more! Say no more!

Rubio, unlike Obama, not a backbencher. Elected to the Florida House in 2000, he quickly became the House majority leader. in 2003, he fought for and won the House speakership [NBC]. Dueling bios! Of course, Obama's got the expat thing going for him, though I suppose people in the Miami emigré community have their own stories to tell.

Rubio still struggles to reconcile his expressed views on immigration with those of the Republican base [Los Angeles Times]. I'd think the bio could trump this, if he was willing the confront the base head on.

Rand Paul's life in (unauthorized) comic book form [Bloomberg]. I'd almost forgotten the "Aqua Buddha" story.

Scott Walker would like to see "significant reforms" to entitlements social insurance programs [Talking Points Memo]. See on Christie below.
Republican Clown Car
Christie seeks to distinguish himself from the pack — and win points in the invisible primary — by putting Social Security in play [Reuters]. Just like Obama in Iowa 2008. Because you've got to show you can make the tough decisions, and there's no decision tougher than squeezing $1K out of some eighty-year-old lady's $12K pension.

Donald Trump schedules Sioux City speech [KTIV]. Can Trump possibly be serious?
Ohio governor Kasich considers running [CNN]. Seems weird. Wonder how Walker's criminal case is going.
"Code Red" project on election integrity [Op-Ed News]. The U.S. ranks 46th in the world.
The Hill
Ron Paul: "The elites are terrified that peace may finally break out, which will be bad for their profits. That is why they are trying to scuttle the Iran deal, nix the Cuba thaw, and drum up a new "Red Scare" coming from Moscow" [CNBC]. Give credit, Libertarian Dad has got this exactly right. Too bad Libertarian Son is moving toward the "center."
Explainer on the Iran bill [Vox]. Says Yglesias, the key player in any final agreement is Steny Hoyer. Oh good.
Stats Watch
MBA mortage applications, week of April 10, 2015: "[A]fter three straight weeks of impressive gains, the purchase index slipped back," though year-on-year growth is solid [Bloomberg].
Housing market index, April 2015: "Housing data are increasingly and convincingly pointing to spring strength," on expectations reflecting "strong optimism" among builders [Bloomberg]. "The manufacturing sector, which is struggling, is being hurt by global demand, a source less important to housing which is getting its boost from low mortgage rates and strength in the labor market."
Industrial production, March 2015: Industrial production for March fell 0.6 percent after a February rise of 0.1 percent. The March drop was largely due to utilities although manufacturing was soft" [Bloomberg]. Worse than expectations. "The manufacturing sector remains soft and the latest numbers will likely keep the Fed in a delayed mode for policy changes."
Mosler on the day: "Turned south again" [Mosler Economics]. And on yesterday: "Another string of lower than expected releases" [Mosler Economics]. "No bounce yet."
Black Injustice Tipping Point
"These forms of neoliberal policing — in which private citizens and private monies impact the culture of policing but escape governmental checks and balances — endanger us all" [Salon].
Eric Harris shooting: How can a cop mistake his gun for his taser? [Bloomberg]. Yes, seems incredible!
Some protesters arrested in New York march against police violence [Reuters].
Lead poisoning at police firing ranges [Seattle Times].
Class Warfare
UK defines "the public interest" broadly for whistleblowers [Thompson Trade Union Law (CL)].
"Fight for $15" minimum wage rallies in New York [Gothamist]. Hillary? Marco?
A coalition of labor and social justice groups plan to kick off a DC ballot-measure campaign Wednesday for a $15 minimum wage [WaPo]. Since the Beltway is one of the richest cities in the country, this should be a no-brainer, right?
News of the Wired
* * *
Readers, feel free to contact me with (a) links, and even better (b) sources I should curate regularly, and (c) to find out how to send me images of plants. Vegetables are fine! Fungi are deemed to be honorary plants! See the previous Water Cooler (with plant) here. And here's today's plant, the third of "I Wish It Were Spring!" week five (joe6pac):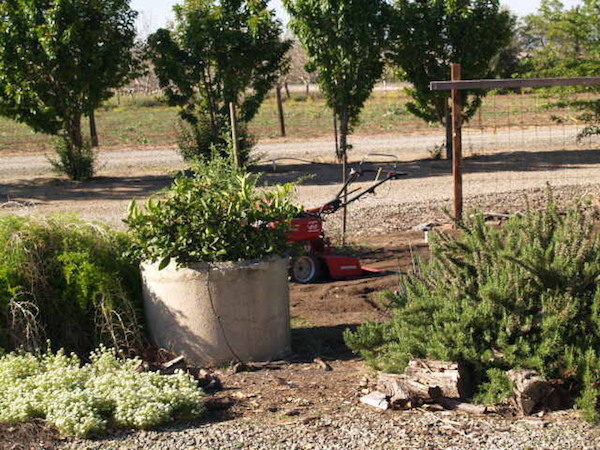 "T'm just getting started with 4 yards of compost, 150lbs of chicken manure, and gypsums." I've gotta say, Maine in mud season looks a lot uglier.
Do others have more gardening photos yet? Too early?
If you enjoy Water Cooler, please consider tipping and click the hat. It's the heating season!
Talk amongst yourselves!