2:00PM Water Cooler 4/14/15
By Lambert Strether of Corrente.
Readers, I'm afraid this will be a bit light; I had creatures under the house this morning. The insulation people, returning to finish the basement now that it's spring!
TPP
The Trade Representative's office uses classification to invoke the national security exemption to open government law for TPP for trade documents [New York Times].
"A Japan-U.S. summit planned for late April should not be seen as a deadline for reaching a bilateral deal seen as vital to concluding [TPP,] economic and fiscal policy minister Akira Amari said Tuesday" [Japan Times]. Japanese for "Hell, no"?
"Selling the TPP by screaming 'geopolitics' comes with serious risks. Unless the US is careful, China may come to see the deal as an attempt at economic containment" [Financial Times, "China will react with displeasure if America tries to weaponise trade"]. Hence, the Asian Infrastructure Investment Bank? [Vancouver Sun]. "Asia-Pacific: Groundbreaking Trans-Pacific Partnership talks stall."
2016
The S.S. Clinton
Road trip: Clinton spotted ordering chipotle in Ohio [@ABCLiz]. Security cam. Nobody recognized her, which is cool.

Road trip: Inspired by Eleanor Roosevelt? [Yahoo News]. Interesting, if true, but the authors give no sourcing. We'll know when Clinton breaks out the mink stole, I guess.

Video: No soldiers, no cultural conservatism, no judgmental Methodism signal a liberal Clinton campaign [Peter Beinart, The Atlantic]. No. Policy is all. Show me.

Video: "Adding insult to vacuousness was the demographic box-checking nature of the video, however beautifully filmed" [Ruth Marcus, WaPo]. Not quite. It really is an act of justice to show two gay people about to get married in a campaign launch video, and even (for a national politician) courageous. It's not nearly enough, of course.

Zephyr Teachout: "There is a hunger for open repudiation of the financial deregulation of the first Clinton era" [Guardian]. Others on the Democratic "left", like Deblasio, also withhold endorsements on "Where's the beef?" grounds.

Mrs. Clinton's most loyal supporters are being asked to join a fundraising team called "Hillstarters." Goal: $1 billion [Wall Street Journal]. Even today, that's a lot of money!

The good points of the new Hillary logo [Wired].

Writer outraged by off-the-record meetings before launch [Firedoglake]. Maybe I'm jaded, but I think there are other things to be more outraged about.

Preparing for the wave of misogyny [hecatedemeter]. To be clear, pushing back against misogyny is not the same as being for a candidate. There are plenty of reasons to take issue with Hillary on policy. And policy is the prize, so eyes on it.

Street art critical of Clinton appears in Brooklyn [Animal New York].
Rebublican Establishment
Contractors hired by Texas Department of Public Safety spying on Mexico with drones over the border, documents say [Houston Chronicle]. So Bob Corker isn't the only Republican with his own foreign policy?

Jebbie steered $150 million in Florida pension money to his brother, Walker, at Goldman Sachs [David Sirota, International Business Times].That's just what dynastic sons do for each other. It's rather touching, actually. I bet they all wear salmon pants! "Under Jeb Bush, almost 20 percent of all Florida pension investment deals went to Pioneer [fundraiser]s' firms" [International Business Times]. Sweet!
Republican Principled Insurgents
"Rubio has chosen to claim the mantle of reform and surrender to the right simultaneously" [TNR]. Reading Rubio's announcement, this is exactly right.

Shorter: Marco Rubio is the greatest orator of our time [WaPo]. Wait, what?
The Hill
Al Gore joins Tea Party in fight against utilities who are trying to kill solar power [Bloomberg]. A lot of strange bedfellows opportunities like this; the "Don't Tread on Me" crowd is very sound on food issues, in general. Civil liberties, too.
Top Republicans and Democrats say Iran compromise reached [CNN].
Stats Watch
Retail sales, March 2015: Weather effects may be fading with healthy sales numbers in March [Bloomberg].
Redbook, week of April 11: Easter distortion, but early hint of strength for the May [Bloomberg].
NFIB Small business optimism, March 2015: "Fell sharply" on expectations [Bloomberg]. "[S]izable declines including expansion plans and earnings trends."
Business inventories, March 2015: business inventory growth did not exceed sales growth in February [Bloomberg]. "There has been one noticeable weak point and that's a further decline in sales at wholesalers."
Police State
United Arab Emirates funding NYPD intel operations [FIrst Look]. Bloomberg personally, the Israelis… How does Bratton keep track?!!
Water
"Even with California deep in drought, the federal agency hasn't assessed the impacts of the bottled water business on springs and streams in two watersheds that sustain sensitive habitats in the national forest" [Desert Sun].
"The Iron Throne in California: Water" [Medium].
Groundwater problems and prospects, part 5: Groundwater management practices for local sustainability [Maven's Notebook]. This is a terrific blog on California water.
Black Injustice Tipping Point
"Given the odds against prosecution, officer Michael T. Slager probably counts himself the unluckiest white man in South Carolina" [Black Agenda Report]. Obama declares Venezuela a national security threat based on 14 deaths in 2014, while cops racked up a body count of 111, the majority of them unarmed Black and brown men, in March alone.
Municipalities in the entire St Louis area use law enforcement to generate revenue, and "Municipal judges are often evaluated by city leaders according to how much revenue they bring in" [HuffPo]. A $50 fine for "saggy pants" escalates to $125 and a warrant. No profiling there, no sirree.
"A Bakersfield police officer has been placed on paid administrative leave after he allegedly tickled the feet of a man shot dead by police and said, 'tickle, tickle'" [Los Angeles Times].
Not only did Robert Bates, accused of shooting Eric Harris (unarmed, black), donate equipment to the Tulsa Sheriff's office, he was the Sheriff's insurance agent (!) [Tulsa World].
Corruption
Feds indict Sheldon Silver's son-in-law in $7 million Ponzi scheme [The Albany Project]. Sing, Sheldon! Sing!
Class Warfare
"Researchers from the University of Chicago and Stanford's business schools have found that up to one-fifth of the labor force's productivity growth between 1960 and 2008 came from simply making it easier for women and minorities to get better jobs" [Vox]. Not, of course, that the productivity benefits were actually shared.
News of the Wired
How and why to disprupt authority [Bangor Daily News].
How to make a working Apple II watch [Boing Boing].
"In 2014, comedy was stolen from the professional jokesters by their traditional targets and became, unexpectedly, the new language of power, policy, and politics" [The Baffler].
* * *
Readers, feel free to contact me with (a) links, and even better (b) sources I should curate regularly, and (c) to find out how to send me images of plants. Vegetables are fine! Fungi are deemed to be honorary plants! See the previous Water Cooler (with plant) here. And here's today's plant, the second of "I Wish It Were Spring!" week five (Kurt Sperry):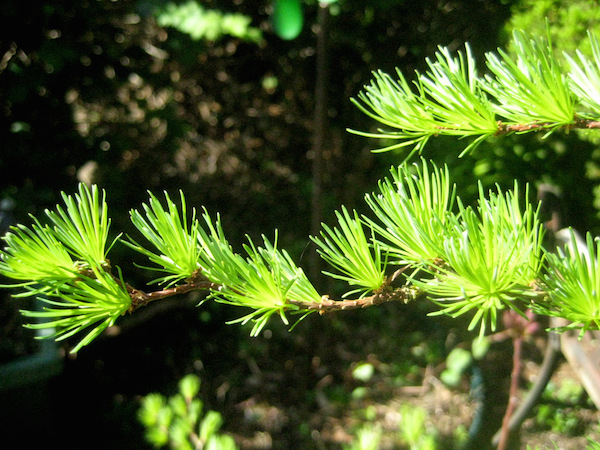 Spring growth on larch.
Does anybody have any gardening photos yet? Too early?
If you enjoy Water Cooler, please consider tipping and click the hat. It's the heating season!
Talk amongst yourselves!