By Lambert Strether of Corrente.
TPP
Japan PM Abe: "Ultimately, what needs to happen is for both countries to make a political decision" [Wall Street Journal, "Abe: U.S., Japan Close to TPP Trade Deal"].
"While Japan's farm market and the U.S. auto sector remain obstacles to a bilateral deal, they are also vital to the success of the long-delayed TPP pact. The two countries account for 80 percent of the economic output generated by the 12-member TPP" [Japan Times].
Eric Schneiderman on the ISDS: "The separate and unaccountable system of justice that TPP would create poses a major risk to critical statutes and policy decisions that protect our citizens — and it has no place in a nation committed to equal justice under law" [Eric Schneiderman, Politico]. 
"Fast tracking this trade deal means less control over our food. The TPP threatens our right to know what's in our food by making it more difficult to label genetically engineered foods; increases imports from countries with weaker health and safety regulations, and threatens popular local food programs, like farm-to-school initiatives, by deeming them trade barriers" [Coloradan]. And then there's fracking.
"[T]he global trade community has figured out how to solve a problem that has bedeviled philosophers and political leaders for centuries: how to craft international agreements with teeth. The WTO's dispute-settlement process, which serves as a model for the TPP, puts pressure on countries to actually keep the promises they make in trade deals" [Vox]. That's why — in separation of powers terms — the combination of judicial and legislative power in the ISDS tribunals tends toward absolutism, even absent the formal existence of an executive.
A letter to the editor: "U.S. salaries would only increase .4%. That money would most likely go to the CEO's of the multi-national corporations, while their employees will most likely be laid off. That's exactly what happened with 1 million workers after NAFTA was implemented in 1994" [Billings Gazette]. That's a good talking point; consider revising it in your own letter :-) (I searched for the letter's wording, and it's original; not astroturf.)
2016
"When asked by host Bob Scheiffer why he thought he would be a better president than Clinton, O'Malley said it was because of 'the experience I can bring to the job'" [WaPo]. I'm all for trying to drag the Democrats a millimeter or so left with meaningless verbal concessions, but I'm not sure O'Malley's claim will stand up to oppo. Maryland's ObamaCare exchange was a cluster, and that's Obama's "signature domestic initiative," remember?
"De Blasio's hope, the [national party] operative said, is that a "Draft de Blasio'' movement will develop among progressive activists [New York Post]. Post causing trouble? I'd find the immediate Bratton appointment a stumbling block.
The S.S. Clinton
Today's schedule: "[T]wo small roundtable conversations open to the press but not to a larger audience of voters, a few carefully-staged photo ops at coffee shops and restaurants, plus private meetings with party activists and elected officials" [Bloomberg]. Smart, and plays to her strengths, but she's got to stick with it. No more going to Iowa by van, and then from Iowa by plane. Don't break kayfabe!

"Jennifer Hansen, who owns a soap and lotion store in Des Moines, took part in the round-table talk with Mrs. Clinton Wednesday. She said she was pleased to see Mrs. Clinton traveling by more modest means" [Wall Sreet Journal, "Hillary Clinton Heeds Lessons of Failed 2008 Bid in Iowa"]. 2008 Obama voter.

The semantics of "everyday Americans" [Politico].

"[I]t seems to me that Sec. Clinton's Middle East foreign policy would be very similar to that of President Obama, but more interventionist" [Juan Cole].

Wasserman-Schulz: Clinton to get primary challenger [Bloomberg]. But who wants to be the sacrificial lamb? Not, apparently, Deblasio…. 
Republican Establishment
Grading the candidates at the Republican leadership summmit [Bloomberg]. As our famously free press gives him the kid gloves treatment: No mention of trying to steal election 2000 in Florida, no follow-through on private equity stories.

CNN/ORC national results: Bush has slight lead, but hasn't broken away from the pack [CNN].

Is Jebbie 2016's Mittster? [Tampa Bay Times]. "I'm sick and tired of mushy, wishy-washy conservatives."

Jebbie on leaving Schaivo hooked up to the machine: "I don't think I would have changed anything" [Journal Constitution]. Using Schiavo's body to pander to the right is about as bad as Clinton executing Ricky Ray Rector.
Republican Principled Insurgents
CNN/ORC early states results: Walker leads for the first time in three early states: Iowa, New Hampshire, South Carolina [US News]. Walker stomps Democrats. The base likes that a lot.

Scott Walker: Walker's administration admitted it had overbilled two Wisconsin family planning clinics by 93 percent – or at least $3.2 million [Salon]. Salon seems to think this is incompetence; I call it playing to the base.

Rand Paul: "I voted against arming the rebels [in Syria] because I said the irony is that one day we'll be back fighting against our own weapons. And now it's true" [Bloomberg]. And dammit, he made the right call!
Republican Clown Car
Huckabee to announce Presidential plans May 5 [WaPo]. In Hope, Arkansas. On Clinton in Iowa:

"It was sort of like rent-a-crowd," Huckabee said. "She had people who had been an Obama staffer, she had a Planned Parenthood [dog whistle] executive. They really rounded up the usual suspects in a way that only Claude Rains could've fully appreciated and created these carefully staged moments where she had these informal, impromptu chats with carefully selected people. The whole time I was thinking, you know, I've been to Iowa a lot and I've never had any problems whatsoever finding Iowans in Iowa."

Ouch! I still don't think Huckabee can break out of his Christianist base, but if he inveigles a squillionaire into his SuperPAC, like that grifter Gingrich did, he could do a lot of damage before going back into the radio business.
Republican-leaning states getting more partisan, but not so Democratic-leaning states [WaPo].
"America mapped": Handy map of America's demographic fault lines [Wall Street Journal].
Stats Watch
Chicago Fed National Activity Index, March 2015: "March was not a good month for the economy, an assessment confirmed by the national activity index which fell steeply" [Bloomberg]. "These readings offer tangible confirmation that both housing and manufacturing are pulling down economic growth."
Water
Western Canada's glaciers could shrink by as much as 95% by 2100, study finds [Carbon Briefs].
Des Moines Water Works sues three rural Iowa counties last month. Too little has been done, the lawsuit says, to prevent nitrates from flowing out of farm fields into the Raccoon River [New York Times]. I wonder if this will be addressed in the Iowa primaries…
Emergency drought barrier to be built on Sacramento River to avoid salt water intrusion [Politics in the Zeros].
Baltimore shutting off residential "delinquent" water bills [Baltimore Brew]. "The largest non-payer is RG Steel owned by billionaire investor Ira Rennert."
Black Injustice Tipping Point
White parents in North Carolina are using charter schools to secede from the education system [WaPo].
St Louis municipal courts ordered turn over records requested by the Post-Dispatch, including court dockets and citations [St Louis Today]. "[M]ost of the municipal courts in the St. Louis area keep their databases private."
Ferguson hires lawyer to negotiate with DOJ [CBS]. Still stuck at the denial stage, eh?
Freddie Gray arrest, lawyer: While in police custody, his spine was "virtually severed" [Baltimore Sun]. Another hash tag…
Police State
Paying to "play cop," and not just in Oklahome [Vice]. Reminds me of "boosters" for athletic teams, who IMNSHO often cause problems with corruption.
Oil
A fracking injection well. "A loud whistling sound preceded a large explosion that launched a tank into the air [Greeley Tribune]. The tank landed about 60 feet from the site." Impressive.
Class Warfare
That "millenials word [WaPo]. Ding ding ding ding ding:
Often in the media (and I'll raise my hand here), we evoke the word "millennial" to describe a subset of people born after 1980 who hold college degrees and live in cities. We're not talking about 20-year-old single moms in small towns, or fast-food workers in the suburbs trying to get by on only a high school diploma.

This bias skews how we think about the entire generation, and it obscures the fact that a 28-year-old professional in the city has more in common with the 42-year-old living in the apartment next door than a 28-year-old mom who chooses to live in a subdivision.
"We" for some definition of "we" (always watch for that word, and especially in WaPo, the home-town paper of an especially self-regarding elite).
News of the Wired
* * *
Readers, feel free to contact me with (a) links, and even better (b) sources I should curate regularly, and (c) to find out how to send me images of plants. Vegetables are fine! Fungi are deemed to be honorary plants! See the previous Water Cooler (with plant) here. And here's today's plant, the first of "I Wish It Were Spring!" week six (CF):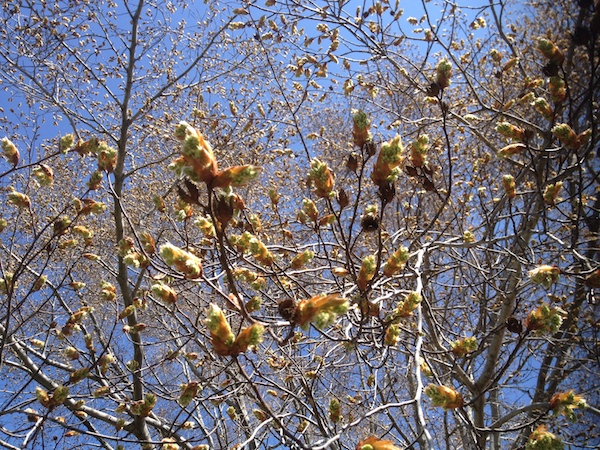 Buds opening in Central. A reminder to me that in places, it's Spring already!
If you enjoy Water Cooler, please consider tipping and click the hat. It's the heating season!
Talk amongst yourselves!