By Lambert Strether of Corrente.
TPP
Clinton's words on TPP don't differ all that much from Republicans, including Obama's [The Intercept].
"President Bill Clinton needed Republican votes to pass NAFTA, and, likewise, Obama will need to lean on Congress's top Republicans—Senate Majority Leader Mitch McConnell and House Speaker John Boehner—to get the TPP passed" [Newsweek].
Zephyr Teachout: ""The TPP, if it gets passed, will be known as Congress's Citizens United, because it is giving corporations greater power, foreign corporations, multinational corporations, greater power than citizens" [New York Observer].
Obama shifts his pitch: "Instead, in a 4,000-word address to Organizing for Action (OFA), Obama sought to place his trade pact alongside his signature domestic initiatives, including his health-care law, the auto industry bailout, student-loan consolidation and Wall Street reform" [WaPo]. Wow! I'm sold! (OFA, the last game refuge of the Obots is, of course, pre-sold.)
2016
Senators Elizabeth Warren and Claire McCaskill asked the GAO to study the impact of garnishment on borrowers in their 60s and older on concerns about retirement security [Bloomberg]. Hillary?
"The people behind Run Warren Run aren't deaf. They think they can change her mind" [Politico]. No Sherman statement from Warren, in that (AFAIK) she has never said she'd reject a draft.
"Clinton's advisers are respectful of Warren, but they privately argue that Clinton has a more sophisticated understanding of the economy" [The New Yorker]. "Sophisticated." Heaven help us.
The S.S. Clinton
The Big Dog slinks off from "honorary" chair position at for-profit Laureate "University" as KKR prepares IPO, and so he should, ka-ching ka-ching [Bloomberg]. What happened to the brilliant young man who made it all the way from Hope, Arkansas to Oxford, where students have been taught since 1096 A.D., a non-profit, and therefore, like anything public, in the gunsights of sleazy private equity investment banksters everywhere? Where is that young man, Bill? Is he inside you anywhere, now?

The advantages of Hillary's "H" logo [The Altantic]. "W","O", and "H" spell "how" ass-backwards. Coincidence? You be the judge!

Schweitzer/uranium, Arkansas Governor Asa Hutchinson: "Republicans need to be careful not to overstate the case. There's no evidence of quid pro quo" [Bloomberg]. Never happen. Republicans always over-reach. Not that it hasn't worked out well for them.

Schweitzer/uranium: "Are the Clintons correct in saying that there is an attack machine geared up to go after them? Of course. But why have they made it so easy?" [The New Yorker].
Iowa "Faith and Freedom" summit didn't narrow the Republican field [National Review].
Republican Establishment
Michigan Republican Governor Rick Snyder thinking of throwing Detroit into the ring [Guardian].

Jebbie signs leading evangelical attorney Jordan Sekulow as senior advisor [Salon]. Known associates include Robert Mugabe and the Slavic Center for Law and Justice.
Republican Principled Insurgents
Scott Walker: "My relationship with God drives every major decision in my life" [New York Times]. Walker: "What sustained us all along the way is we had people who said, 'We prayed for you.'" "Imprecatory prayer"; Google it!

Rubio: "I'm running for office with much more experience and qualifications than Barack Obama had" [Bloomberg]. Setting the baseline pretty low there, eh, Marco?
Republican Clown Car
Cruz: "Today's Democratic Party has decided there is no room for Christians. There is a liberal fascism that is going after Christian believers" [The Hill]. Wowsers.
Gingrich: "Instead of buying a new yacht, I'm going to spend $70 million on a candidate" [WaPo]. And Newtie should know.
Shorter George Packer: "I'm b-o-o-o-r-e-d" [Corey Robin, Salon]. Nice evisceration of one of the leading lights of our famously free press; and I'm not the only one who thinks that gridlock is just fine, given the alternatives.
Campaign 2016 to focus on the "woes of the middle class," even though the recession has hit the poor harder [Wall Street Journal, "For 2016, Middle-Class Woes Overshadow America's Poor"]. Which you can hear in the rhetoric all the candidates, of both parties. In other words, the top 20%.
Conclusion of Internet voting study in Brazil: "Technology appears more likely to engage people who are younger, male, of higher income and educational attainment, and more frequent social media users" [SSRN]. Film at 11.
The Hill
Strange bedfellows allliance between conservatives and teachers on Common Core [New York Times].
Corruption
The Tory and Lib-Dem MPs who will profit from selling off the NHS [Daily Mirror].
"A secret recording caught [senior Tory Cabinet minister] Francis Maude praising outsourcing firm Sodexo [ka-ching] – and promising a 'flood' of similar privatisations if the Tories win a second term" [Daily Mirror].
Rahmerdämmerung
Chicago Public Education Fund, whose board is a who's-who of Chicago power brokers and Rahm backers, being investigated by the Feds over no bid contract to cronies [Chicago Magazine]. It's important to watch Chicago; it's probably next in line after New Orleans and Detroit, which is why Rahm was deployed there.
Illinois economic development agency could be privatized [Chicago Tribune]. Like Ohio and Wisconsin; seems to be an agenda item for the local elites out there in Kochistan.
Black Injustice Tipping Point
Baltimore Bloods and Crips call ceasefire for #BlackLivesMatter [Daily Beast]. More interesting than it seems if you consider a gang as a proto-state (and, for that matter, the state as a proto-gang, as we see in countless ways daily).
Interestingly, after a "remarkably peaceful" day, the Baltmore violence seems to have started outside Camden Yards baseball park, "at three bars with sidewalk cafes" in a clash between fans and protesters [WaPo]. So, alchohol. And St Louis fan behavior was a portent for this; it would be a shame if the violence became the narrative, but "if it bleeds, it leads."
Amazingly, or not, CNN never did a split screen between the White House Correspondents Dinner and the Baltimore protests — or Nepal [The Great Will Bunch, Philadelphia Inquirer].
The violent killing of 25-year-old Freddie Gray, whose spine was snapped in the custody of Baltimore police who'd stopped him for no obvious reason, is an American tragedy, driving thousands of people into the streets on Saturday. Most were peaceful, but some young people on the fringes shattered windows, looted convenience stores, and stomped on police cruisers. Some 40,000 baseball fans at Camden Yards were abruptly told by city officials that it wasn't safe to leave.

Think about that for a moment, in relation to TV news. CNN and their rival networks have been known to cut away from regular programming to show planes with stuck landing gear circling a runway, or random police chases of random suspects in a random city. But now a city telling 40,000 people not to leave a baseball game because of social unrest, albeit briefly, wasn't news? Are you kidding me? More important was the broader stakes, that the citizens of a great American city, stripped of its factories and caught between high crime and appalling levels of police brutality, were trying to make a statement, that their lives mattered. But to the Beltway revelers…they just didn't.

I was watching CNN, and you could feel the awkward, nervous tension. Even the host Poppy Harlow and the guests acknowledged that people in the CNN newsroom were watching Twitter and other social media, and they knew that the Freddie Gray protests in Baltimore were all that folks wanted to talk about. But they just couldn't break away from the their inane prattling about looming White House humor.
The 45-minute mystery of Freddie Brown's death (with handy timeline) [Baltimore Sun].
Imperial Collapse Watch
"The Obama administration considers the real alternatives to drone strikes to be the unpalatable options of grueling ground wars or passive acceptance of terrorism. Then it congratulates itself for picking the wise, ethical and responsible choice of killing people without knowing who they are" [Spencer Ackerman, Guardian].
Class Warfare
Clickbait headline: "The history of American inequality, in 1 fascinating chart" [WaPo]. However: "Between 1830 and 1970s, only the bottom 90% saw their incomes rise. After 1980, only the top 1% saw their incomes rise." Thank you, neo-liberals, for facilitating this transition.
News of the Wired
* * *
Readers, feel free to contact me with (a) links, and even better (b) sources I should curate regularly, and (c) to find out how to send me images of plants. Vegetables are fine! Fungi are deemed to be honorary plants! See the previous Water Cooler (with plant) here. And here's today's plant, the first of "Spring is here!" week one. Via Chuck, who writes: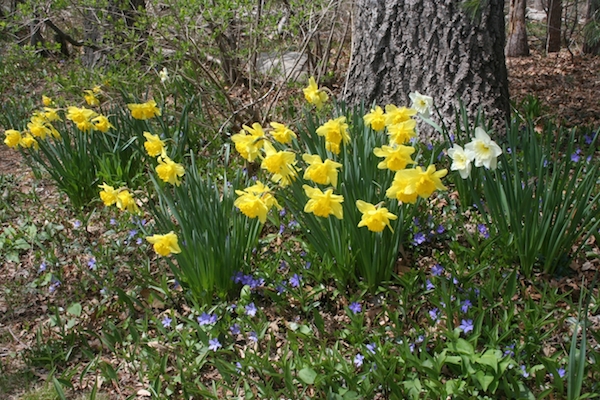 I took some pictures of daffodils that my wife planted in our garden 25 years ago when she was pregnant with our daughter. My wife worked hard in the garden all day. We think all that hard work is why she went into labor the following day.
Please send me plantings and garden projects!
If you enjoy Water Cooler, please consider tipping and click the hat. It's the heating season!
Talk amongst yourselves!