In case you had any doubts that Greece is supposed to act like a good debt vassal, the Eurogroup's hissy fit over Yanis Varoufakis at last Friday's meeting, which stoked a raft of unflattering articles, has now led it to demand to that Greek government remove him. Not that this is new news; there were similar rumblings in February, when the hostility between Varoufakis and German finance minister Wolfgang Schauble reached the level were Schauble refused to be in the same room with his Greek counterpart. The solution during the negotiations then was to isolate Varoufakis while Christine Lagarde, Eurogroup chief Jeoren Djisselbloem, and other top Eurocrats played conference room shuttle diplomacy to hammer out language that was presented to Greek Prime Minister Alex Tsipras directly, circumventing Varoufakis entirely (later reports described the memo as a fait accompli, with one account stating that Tsipras was told to take it or leave it, and another saying he was permitted to change one word).
Is Varoufakis really on his way out? Take this assessment with a fistful of salt, since the Eurocrats seem to believe that Tsipras is more likely to bend to their views than Varoufakis. In fact, by all accounts, Tsipras is very much in charge (despite all the uncoordinated mouthing off by various ministers; talk and decisions are two different matters). So there's no strong basis for thinking that getting what the Eurogroup deems to be a prettier face as the Greek front person will change anything they care about. Nevertheless, here is the Financial Times' account:
In a sign that Mr Varoufakis's combative approach is prompting concern in Greece as well, a senior Athens official said the Riga meeting was likely to lead to him being sidelined as Mr Tsipras and his deputy Yannis Dragasakis take a more hands-on role.

Amid the acrimony, differences over a new list of reforms that is to be agreed by Athens were barely discussed at the meeting, putting off indefinitely a deal to unlock access to the funds left from Greece's €172bn bailout…

Some eurozone and Greek officials believe divisions between Mr Varoufakis and Mr Tsipras are deepening and that a concerted appeal to the prime minister could still produce a deal by late May, the time many feel an agreement has to be reached if any aid disbursement can be made before the current bailout expires at the end of June.

Although there are wide differences between Athens and eurozone creditors on matters of substance the current stand-off with Mr Varoufakis is mostly on matters of process, officials said.

Because of the new government's vow not to return to intrusive inspections by bailout monitors, formerly known as the "troika", Mr Varoufakis has refused to engage with mid-level negotiators on the ground in Athens and has insisted a political agreement be reached at high levels instead. Eurozone leaders have stymied the strategy, insisting a deal be struck on a new economic reform plan with monitors in Athens before any talks on releasing aid money can occur within the eurogroup.
After creating the impression that Varoufakis is on the ropes, it later quotes an unnamed Greek source that says that Varoufakis would not be removed (assuming he is removed) prior to the reaching of a deal on the so-called bailout.
Varoufakis remains unpreturbed:
FDR, 1936: "They are unanimous in their hate for me; and I welcome their hatred." A quotation close to my heart (& reality) these days

— Yanis Varoufakis (@yanisvaroufakis) April 26, 2015
And a Bloomberg article on the blowup at the Eurogroup meeting points out that Varoufakis is still popular at home:
Varoufakis has the backing of a majority of Greeks, according to an Alco survey published in Proto Thema newspaper. Some 55 percent of respondents said they had a positive view of him, compared with 36 percent who said they viewed him negatively.
Is this really a "process" problem? One of Lambert's sayings is that when people in organizations say they have a communication problem, it's actually a management problem. There'd good reason to suspect that this so-called process problem is a symptom of an outtrade on fundamentals. As we've said from the outset, there's no overlap between the bargaining positions of the two sides. So as much as we've depicted the Greek government as being in denial about the willingness of the creditors to make concessions on structural reforms, the flip side is the creditors, or at least the Eurogroup, seems to be operating from its own case of denial: that if they can just get the right personalities and negotiating procedures in place, there's an agreement to be had.
The problem, as we've said before, is that the government is boxed in by its coalition members. Even if the moderates in Syriza wanted to make concessions (and Tsipras and Varoufakis are both moderates), they need the support of the hardline left Syriza members, which are about 1/3 of their bloc. And they won't give in. They'll bring down the government first.
What are the bones of contention? We have said that the new government has repeatedly tried end-running the process set forth in the Eurogroup memo, which was for the government to produce a detailed list of structural reforms which would then be approved by the members of the Troika, and finally by the Eurogroup before the bailout funds would be released. The Greek side has instead tried going directly to the Eurogroup to get draft memos approved, going to the European Commission, and going to Merkel, now twice. That's fed the Eurocrat complaint that the Greeks have wasted time. The various reform lists that the Greek government has produced so far have been dismissed as insufficiently detailed. Just based on media reports on their length, that beef seems to be valid.
But does that mean the solution is to let the bailout monitors beaver away? While Varoufakis' detractors may have a point that he wants to negotiate too many issues at the key policy player level, the fact is that the two sides have no agreement at a high level. How does it make sense to work on details?
The row is over structural reforms. Even though the Greek side viewed the February memo as so vague as to leave lots of room for negotiations, as we read it, and events confirmed, said that the old, hated structural reform package was very much in place. In the view of the creditors, Greece can only kinda sorta negotiate it. The new government can swap some reform for others if it can convince the creditors that it won't have a negative impact on the overall budget.
So if you buy the Troika/Eurogroup point of view, there's nothing, or not much, to negotiate. Greece needs to get cracking on proving how it will do a better job of collecting taxes and crushing workers reforming its labor markets. That sort of thing gets done at the technical level and Varoufakis is out of line.
As an article in Jacobin by Syriza central coalition member Stathis Kouvelakis explains (hat tip Donald G) reviews where the government, or at least its critical left wing, is not going to budge on structural reforms: cutting ("reforming") pensions, "reforming" labor markets, increasing the VAT, and privatizations. Mind you, the government has already given ground on the last two, by going forward on the Pireaus port privatization and saying it would increase VAT in February.
As we've stressed, pension reform is the bridge neither side is able to cross. Greece has the highest level of pensions in the Eurozone as a percentage of GDP. However, when you adjust for the age of the population, Greece's payments are below the Eurozone average. But the Eurogroup ministers (and more important, the citizens they represent) believe the widely-publicized myth that Greece has lavish pensions. So they are neither willing nor able to sell a deal to their voters when the public believes that they are supporting Greek retirees at a more generous level than they get at home.
The fact that Varoufakis went directly for the basic impasse looks to be the proximate cause of why the Friday meeting became so ugly. From Bloomberg:
Varoufakis described the talks as "intense" and said his country is ready to make "big compromises" for a deal.

"The cost of no solution would be enormous not only for us but also for all," he said…

In remarks to the assembled ministers, he defended protecting public pensions, a key sticking point in the negotiations. He threatened to walk away from talks if creditors pushed too hard.

When Dijsselbloem invited the group to respond, he was greeted by silence. He asked again, and Kazimir spoke up.

Varoufakis's refusal to accept the conditions of its creditors particularly riled the Slovakian because his government has slashed the budget deficit and cracked down on tax evasion. His position also may have fallen on deaf ears among his hosts in Riga.

Latvia's economy shrank by more than a fifth in 2008 and 2009 when the country was led by Valdis Dombrovskis, now vice president of the European Commission and a participant in the Friday meeting.
Dombrovskis pushed through some of the world's harshest austerity measures — equivalent to 16 percent of gross domestic product. The Greek economy has shrunk by about a quarter since 2008.
So understand what this means:
1. Greece, like other borrowers, is expected "to accept the conditions of the creditors"

2. While all the other Eurogroup members are furious with Greece not getting with the program, the angriest are the countries that made their countries wear the austerity hairshirt
Why are the Eurogroup ministers taking this so personally? If Greece defaults on IMF debt, which is senior, in the next few weeks, which seems likely (for instance, the Financial Times reports that local officials are defying the national edict to turn over deposits so the central government can make wage, pension, and debt payments coming due), one would expect that holders of Greek debt would have to write it down. Here's a recent chart of the national exposures, which does not include the 2015 increase in ECB exposure under the ELA: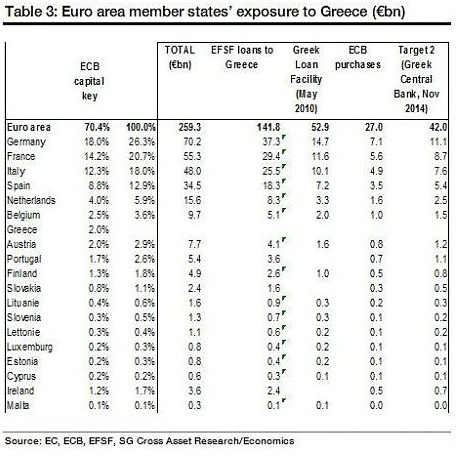 This is why Varoufakis has acted as if the creditors would blink first, that European officials having to tell their populations they were taking losses on Greek debt (and for reasons we won't bore you with now, those are likely to result in budgetary allocations) was a political third rail. But so is funding Greek pensions at their present level. Even though letting Greece default would pose much greater costs on all sorts of fronts, the pols can blame that on Greece, while they have no one to blame if they give in to Greece on pensions.
Mind you, cooler heads may prevail. But if anything, the ECB is even more bloody-minded. From the Jacobin article:
But a more representative sample of the views of the two major European institutions that together hold about two thirds of the Greek debt, the ECB and the European Stability Mechanism (ESM), are to be found in the interviews given on April 22 by Klaus Regling, managing director of the ESM, and Benoît Coeuré, member of the executive board of the ECB.

Both express a particularly tough line on Greece…

Regling went much further than Coeuré: commenting on the possibility of a "Grexit," that is of Greece leaving the eurozone, he said calmly that this "is not the baseline scenario….of course it would be more manageable than five or six years ago because we have new institutions, the EFSF, the ESM, other countries in the euro area have made tremendous adjustment progress such as Ireland, Portugal, Spain."

Regling also explicitly opposed the current plans of the Greek government to reduce some taxes and increase the minimum wage and pensions, saying that this amounts to "moving backward" and is putting negotiations in danger. Moreover he made it clear that the disagreement goes deep since the Greek government thinks that the approach of its predecessors is mistaken, whereas according to him, "the strategy was working." "This difference has not been resolved," he says.

He concludes by ridiculing the idea that the creditors might "back down because they don't want a credit event, or accident," saying that "our procedures for providing loans are very clear, and very well established. They are linked with conditionality, it is clearly written in the ESM treaty. We need a unanimous decision of our shareholders and the approval of six EU parliaments, and the parliaments definitely will check very carefully whether the conditionality — which is a key requirement — is met."
While a Reuters story makes clear that the ECB will not be the one to pull the trigger on Greece, if Greece defaults, they may regard that as giving them enough cover to cut or refuse to renew or increase the ELA, forcing a Grexit.
Now this does look sadistic and it is, but you have to remember one thing: this is the Troika's and Eurogroup's game, and therefore they get to set the rules. Greece has thus been naive in seeing itself as in the position of negotiating as an equal. From the creditors' perspective, Greece is a supplicant, and needs to act more like one if it is to have any hope of getting any dough.
There is no reason to think the creditors would do better if Varoufakis were replaced. The differences between Greece and its lenders fundamental, and having a more genial interlocutor won't change that. Moreover, any new face is likely to be worse. While Varoufakis' deputy might seem more palatable in the short term, any new Finance Minister would have to be a member of Parliament. All of his possible replacements are more left-leaning, less economically literate, and speak English less well. If they think Varoufakis was not accommodating enough, they won't do any better with a new face.
Defaulting in May is particularly bad for Greece. The Greek public is overwhelmingly opposed to a a Grexit, and as we've indicated, it's the ECB, and not the Greek government, that determines whether a default means a Grexit.
in kapa research for to_vima, 72.9% #greeks want to stay in the eurozone, 20.3% favor return to national currency. #greece

— Diane Shugart (@dianalizia) April 25, 2015
Note that to-vima is hostile to the ruling coalition, so the poll was probably structured to deliver conservative results. Nevertheless, as Kouvelakis explains:
The complication here is that defaulting in May means defaulting on IMF repayments, and this can entail enormous complications at the level of trade (the IMF can take sanctions that will make access to private credit for trade nearly impossible). Greece should preferably default on the ECB/EFSF loans, but these repayments are due in the summer and it seems nearly impossible to hold firm until then.
The Greek government appears to be in denial or paralysis. Officials have made conflicting statements on whether the ruling coalition is willing to hold its ground even if the cost is leaving the EU and on whether the government will have a referendum to resolve the matter if talks break down. On the referendum matter, financial time is already moving faster than political time. In most countries, the process for conducting a referendum involves lead time (a Parliamentary vote and a period of time, often Constitutionally mandated, before polling). With a default likely in early May, and a deal needing to be agreed at breakneck speed to avert that, Greece would seem to be past the point where a referendum could inform decisions.
Diane Shugart points out in a later tweet that the Kapa poll shows Syriza support at 36.9%, or virtually the same level they had when voted into office. However, that is a big drop from recent ratings.
While the cost of a Grexit would be extremely high in economic terms (I've seen a forecast of a fall of 20% in GDP, worse than anyone anticipates from continued austerity), Kouvelakis contends that citizens have been given only one side of the story:
The main element fueling this troubled atmosphere is, however, the fact that the scaremongering on the theme of the "Grexit" remains unchallenged at the level of broad public opinion. The right-wing opposition and the mainstream media, increasingly hostile to the government and using all possible arguments to push it towards full surrender, associate the break with the eurozone with an apocalypse — as they have done relentlessly since the start of the crisis.

But the response on the part of the government tends to be that this perspective will be avoided thanks to the "honest compromise" to which the Europeans will finally have to agree. Hardly a discourse, to say the least, that can mobilize Syriza's base and prepare society for an eventual rupture with Europe.
Both Greece and its creditors look to be sleepwalking into a breakup that both profess they want to avoid. But the mutual distrust and denigration are classic divorce dynamics, and there is no relationship counselor in the mix. Tsipras is right to regard Merkel as his best, or more accurately, only hope, but the fissure may be too far advanced for her to paper it over, assuming that she is willing to do that.