2:00PM Water Cooler 4/22/15
By Lambert Strether of Corrente.
TPP
Warren: "[T]he president says he wants the American people to judge this deal based on the facts, but to do that, he's got to make the deal public. Otherwise the American people can't judge it on the facts. He won't put the facts out there" [Vox]. Warren may not be running, but I've never heard a Sherman statement from her. One can easily see her accepting a draft after the S.S. Clinton hits the berg.
Fast track clears Senate Finance Committee 20-6 [Wall Street Journal, "Senate Committee Approves 'Fast Track' Trade Bill Needed for Pacific Agreement"].
Democrats traitors for: Ron Wyden (D-OR), Maria Cantwell (D-WA), Bill Nelson (D-FL), Tom Carper (D-DE), Ben Cardin (D-MD), Michael Bennet (D-CO), Mark Warner (D-VA); Democrats against: Chuck Schumer (D-NY), Debbie Stabenow (D-MI), Bob Menendez (D-NJ), Sherrod Brown (D-OH), Bob Casey (D-PA) [Daily Kos] (fixed).
"A number of Democrats say their party's front-runner should lay out her views and concerns with the so-called trade promotion authority bill that's now dividing their party" [Politico]. Since Clinton has been for trade deals in the past, her thinking would need to evolve to give these Democrats cover.
"[Even if [TPP] works as advertised, it will be a minor accomplishment, while the side effects are likely to be large. [Clinton] might as well co-opt O'Malley's message and come out against the deal" [The Week]. The whole piece is a nice takedown, too.
Jebbie: "I have no problem supporting TPP" [Medium]. Frames Clinton's hedging as a flip-flop.
Gallup poll: Democratic views on trade rebounded by 25 percentage points since bottoming out during the recession in 2008. Then, just 36 percent of self-identified Democrats said they viewed foreign trade mainly as an opportunity for economic growth rather than a threat to the economy. In 2015, that number rose to 61 percent [Gallup].
Trade liberalization impact on consumers: The IMF paper shows that multilateral liberalization increases consumption perhaps 0.014 percent. This would be about 43 cents per person per month in the United States) ["The Gains from Trade in a New Model from The IMF: Still Very Small," CEPR]. Even at Walmart, 43¢ isn't very much.
"In a research paper about the TPP, [Josh Bivens of the Economic Policy Institute] calculated that expanded trade overall has lowered wages for a non-college-educated worker by about $1,800 annually" [The Week]. Idea: Compensate workers for "lost wages" and retrain elites for useful work.
2016
"Chafee's main motive seems to be that he just can't stomach the idea of Clinton, his former colleague in the Senate, as an interventionist president in an unstable world. He sees very little difference, substantively, between her and her predecessor as secretary of state, Condoleezza Rice" [Matt Bai, Yahoo News]. Beat sweetener, but who would have thought the Chaffee beat needed sweetening?
Sanders objected to a unanimous consent request from Majority Leader Mitch McConnell (R-Ky.) to let the Finance Committee meet, forcing a delay in the consideration of the legislation [The Hill]. Moral victories aren't victories,as Rahm's opponents, for example, know or should know.
The S.S. Clinton
Schweitzer oppo: The headline: "Cash Flowed to Clinton Foundation as Russians Pressed for Control of Uranium Company." The text: "Whether the donations played any role in the approval of the uranium deal is unknown. But the episode underscores the special ethical challenges presented by the Clinton Foundation" [New York Times]. Well, that's the ol "appearance of impropriety," also known as business as usual. But really, for the elites, that's not a bug, but a feature; the perp is sending a message that they've got what it takes. It would be nice to see another candidate not sending the same signal: Warren, I would think, even if she is an Eisenhower Republican. And, in a prehensile sort of way, Huckabee, unless there's a stinking buried body I've missed.
Republican Establishment
W. paid $250,000 to speak at Koch beauty contest for Presidential hopefuls [Daily Beast].
Republican Principled Insurgents
Walker quotes Lenin: "Lenin said you probe with bayonets: if you find mush, you push. If you find steel, you withdraw" [Politico].
Clown Car
Oh, Ted, Ted [@AnnaHolmes]. Hey, come on. Where's your sense of humor?

Ted Cruz knows nothing about how hymens work. http://t.co/HSzxjcYqhb pic.twitter.com/Spt0dEDnU0

— Anna Holmes (@AnnaHolmes) April 22, 2015
Stats Watch
Bloomberg Consumer Comfort index, week of April 19, 2015: "Consumer confidence retreated for a second week after reaching an almost eight-year high as lower- and middle-income Americans' views of their financial well-being dimmed" [Bloomberg]. C'mon, proles! Get with the program!
New home sales, March 2015: "[T]oday it's bad news again as new home sales fell a very steep 11.4 percent" [Bloomberg]. "[D]ifficult to draw firm conclusions from this report because of the sample size which is often small and therefore increases volatility in the readings. But today's report echoes last week."
Jobless claims, week of April 18, 2015: "Initial claims were little changed in the April 18 week, up 1,000 to 295,000, but the comparison of the 4-week average, at 284,500, with the 4-week average one month ago shows an improvement of more than 20,000" [Bloomberg].
PMI Manufacturing index flash, April 2015: "Early indications on this month's manufacturing activity are not encouraging" [Bloomberg]. Strong dollar, "soft foreign economies."
Water
"The World Economic Forum's 10th Global Risk Report ranked water crises as the top global risk in terms of impact, more than the spread of infectious diseases, weapons of mass destruction or interstate conflict" [The World Blank]. And no doubt the conflict investment community is salivating.
A report from the Congressional Research Service projects that 85 percent of the growth in domestic water consumption from 2005 to 2030 will come from the power sector [New York Times].
"The impact of the California drought nationally and internationally may not be noticeable given all the other variables that determine food prices" [UC Davis Center for Watershed Sciences]. The key qualification: "[N]o one has yet carefully developed a timeline of consequences for water supply, food production and food prices should the drought continue for many more years."
"The good news is that when researchers pencil out a 72-year drought, California still has an economy and fairly strong urban centers. But agriculture is cut in half and grey rocks become the new green grass" [Seattle Times].
China spends billions to transfer water from the wet south to the dry north, but many cities aren't using the water. "A number are balking at the high cost of the transferred water, and they are struggling with figuring out how much to charge users" [Wall Street Journal].
Since 1966, the Aral Sea has lost about 90 percent of its volume since the two rivers that fed it were diverted for Soviet irrigation projects [CBS].
"How long before somebody proposes a much more serious project to build a 900-mile pipeline from Lake Superior to the Green River watershed in southwest Wyoming?" [Minnesota Public Radio]. What could go wrong?
California's "lush, green lawns" account for 50 percent of residential water use [NBC]. Get rid of your lawn! You can xeriscape (and maybe get a tax break). Or sheet mulch in plant a garden. My kinda permaculture yard takes maybe a week to get going, and after that it runs itself with a few minutes a day. Let the plants do the work! No mowing the lawn! And as a bonus: No petroleum for the mower, no petroleum for fertilizer, no petroleum for insecticides!
Black Injustice Tipping Point
Brown family civil suit [International Business Times]. Quote from the filing on destroyed evidence; and quote on diction and racial bias.
Mike Brown memorial tree cut down, plaque stolen [KPLR].
Interview with Ferguson protester, the "iconic" photograph of whom won a Pulitzer [St Louis Today].
He's 25, went to University City High School and works at a bistro on the Delmar Loop. He's a waiter, a roller skater and a father of three.

[W]hat he found in Ferguson that night wasn't violent, he said. It was electric. Alive.

At some point, he saw a guy with a bag of chips. Crawford asked for some. The guy gave him a whole bag of the spicy local favorites, Red Hot Riplets.

"It was cool," Crawford said of the scene.
Local food is always good. But I would also argue this is the equivalent of the joy in Tahrir Square or Zucotti Park that comes from agency. If the left could bottle it and give it away, they'd be invincible.
Ferguson Alternative Spring Break: Empathy as a strategic value [Yahoo News].
[Charles] Wade, who came to Ferguson in August, has been in the trenches since arriving and is working with activists and local leaders to provide safe houses and meals and handle other logistics for residents needing assistance. Wade's emphasis on community action is connecting local residents with new young faces. He says, "The reality is, most people don't have empathy. They're able to muster up sympathy, but empathy is very different. It requires you to do a little bit more work to see the commonality in our humanity."
Very different from the marches continually proposed by the Black misleadership class.
Police State
Judge orders Oakland police to show progress by September [Inside Bay Area].
Imperial Collapse Watch
Big news: Obama whacked some people who aren't colored brown and the wrong religion [USA Today]. White House shares sorrow while successfully avoiding the word "drone" [White House].
Class Warfare
Atlanta grading scandal vs. robosigning [David Dayen, Fiscal Times]. Dayen totally nails it. Bankers have impunity, teachers do not. And why? In each case reinforces power relations based on Net Present Value calculations.
U.S. Senate cafeteria worker is sleeps nights at Metro MacPherson station [Catherine Rampell, WaPo Of course, privatization plays its lethal and ugly part:
[A]fter Congress privatized its dining services, [Charles] Gladden says, his new employer, Restaurant Associates, shrank the employee head count and worsened hours. Some days, when he got roped into special events, he says he clocked in at 10 a.m. and out at 3 a.m.

"Our lawmakers, they don't even realize what's going on right beneath their feet," he says. "They don't have a clue."
If only the Czar knew. I just hope they don't fire the guy.
News of the Wired
"Puerto Rico's top finance officials said the government of the US territory will most likely shut down in three months because of a looming liquidity crisis" [Business Insider (djrichard)]. Yikes! Readers, feel free to send me links as well as pictures.
* * *
Readers, feel free to contact me with (a) links, and even better (b) sources I should curate regularly, and (c) to find out how to send me images of plants. Vegetables are fine! Fungi are deemed to be honorary plants! See the previous Water Cooler (with plant) here. And here's today's plant, the fourth of "I Wish It Were Spring!" week six: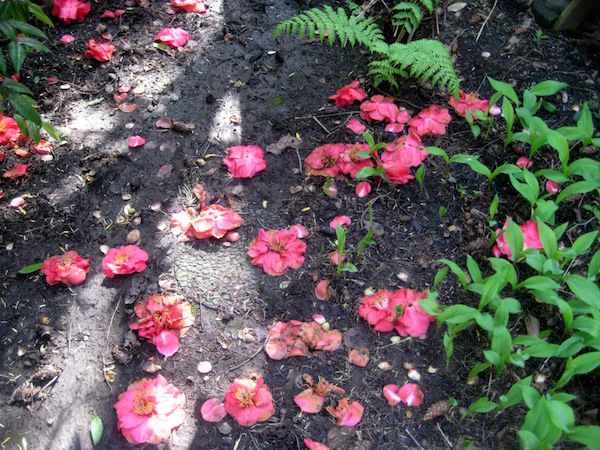 I love random scatterings and chiaroscuro like this. A garden like this is like an impressionist painting, but living and changing every day!
It's almost time for me — up here in Zone 5b — to think about planting, so show me your plantings and garden projects!
If you enjoy Water Cooler, please consider tipping and click the hat. It's the heating season!
Talk amongst yourselves!