By Lambert Strether of Corrente.
Readers, sorry if this a bit light; I was up late live-blogging Baltimore.
TPP
Japanese diplo-speak: Japan downgrades expectations for summit from "substantial progress" to "welcome progress" [Reuters]. Clive?
"Is TPP trade deal a massive giveaway to major corporations?" [WaPo] Simple Answers to Simple Questions: Yes. Greg Sargent's conclusion:
[W]ith Obama leaning hard into the idea that TPP's ISDS will be drawn explicitly to prevent such corporate gaming of the process, this provision of the TPP — like so much of the rest of the deal — probably can't be evaluated until we actually see it.
That's weak. Even if Sargent's trust in Obama is vindicated, an iffy proposition at best, if what Sargent hopes is true, Obama has every reason to expose the text of the deal to sunlight. But he doesn't. So what does that tell you?
Obama interview: "This issue of secrecy, by the way, is – is particularly of concern to me because the way we have set this up, the text of the Trans-Pacific Partnership agreement – where it is right now – it's not closed, it's not finished; we're negotiating with 11 countries – but the text of what we have right now has been on file in Congress for weeks.  Members of Congress have been able to go in there and take a look at it" [Wall Street Journal, "WSJ Interview Transcript: President Obama on TPP, China, Japan, Pope Francis, Cuba "]. "Take a look at it"? In a locked room? With no notes or pictures allowed? And it's classified material? Keep digging.
"Ultimately, this isn't complicated. America can either embrace economic reality or accept economic decline. TPP will serve America's economy and our security, and that of our allies" [National Review]. Nice to see the National Review supporting Obama. When the heck is he just going to cross the aisle and have done with it?
"U.S. Rep. John Katko told reporters Friday that he's leaning against voting for the Trans-Pacific Partnership, a major trade deal between the United States and 11 other countries, including Australia and Japan" [Auburn Citizen]. Contact info. Be nice!
Handy map of Congressional TPP support [Progressive Democrats of America].
Letter to the Editor: "ISDS has the potential to turn Colorado cities and towns into Detroit-like wastelands after just one loss in global court. What happens when a $300 million judgment is levied against Denver County? If the money is not in the county's bank account, what does the global court take? Our museums? Our parks? Our land?" [Colorado Statesman]. Letters to the Editor are just as important as calls to your Congress critters, if not moreso.
Dean Baker: "The absurdity of conflating the TPP with "free trade" is brought out by the fact that its biggest impact may well be from increasing the strength of patent protection, especially in the case of prescription drugs. Patents are government-granted monopolies. They are the opposite of free trade" [HuffPo].
"Going by the intellectual property and investment chapters that have been leaked via WikiLeaks, the TPP would establish a US-style regulatory structure that would hand considerable monopoly-style power to US pharmaceutical and digital firms, limiting choice and raising prices for consumers. It is the very oppositite of the free trade Mankiw advocates" [Macrobusiness].
"[W]e often don't know who the winners and losers are from any particular trade deal — this is why you can't buy insurance against the possibility of losing your job to a trade agreement" [Noah Smith, Bloomberg]. Which is why we need social insurance generally, and not the (slow, gamed, after-the-fact, rents-to-the-trainers) retraining programs we keep hearing about. (The article is actually about why Smith, a TPP supporter, thinks the odious Greg Mankiw is making the case for TPP poorly. I've been wanting to make the "shills mismatch" joke for a long time…. 
2016
The S.S. Clinton
"[Clinton will] look like a wuss if she refuses to say where she stands on an issue [TPP] that is galvanizing her party" [Reuters]. Yep. So why not just cross the aisle with Obama?

"Former President Bill Clinton accepted more than $2.5 million in speaking fees from 13 major corporations and trade associations that lobbied the U.S. State Department while Hillary Clinton was secretary of state, an International Business Times investigation has found. The fees were paid directly to the former president" [International Business Times]. The unsavory norm. Is the massive hairball of influence peddling and mutual backscratching and self-dealing and rental extraction and money-laundering among the political class as a whole — the set and type of relationships that, in fact, defines them as a class — not a story? WTF!
The Republican field is so broad because rich patrons are funding so many candidates [WaPo]. And as in so much else, that grifter Newtie paved the way.
Republican Establishment
Jebbie "told about 350 of the top donors to his super PAC on Sunday evening that the organization has raised more money in its first 100 days than any other Republican operation in modern history" [WaPo]. Attaboy!

W "opens up" about 2016: "He essentially said people don't want dynasties in America" [New York Times]. Eesh, do I hate that locution "open up."
Republican Principled Insurgents
Paul: "There is a valuable use for drones and, as much as I'm seen as an opponent of drones, in military and warfare, they do have some value" [The Hill]
Stats Watch
Redbook, week of April 25: "Behind the [Easter] distortions, however, Redbook does note that the overall performance is below plan"  [Bloomberg].
Consumer Confidence, April 2015: "Consumer confidence has fallen back noticeably this month, down more than 6 points to a much lower-than-expected 95.2." [Bloomberg]. "The most striking weakness in April is the assessment of future conditions with the expectations component. … And the most striking weakness among the sub-components is employment."
Richmond Manufacturing Index, April 2015: "All the early indications on the manufacturing sector show weakness this month" [Bloomberg]. "[E]mployment in this report, as it curiously has been in other manufacturing reports as well, is up."
Mosler comments on Redbook, consumer confidence, Richmond manufacturing: "Looks like more than a 'soft spot' as so far no improvement for Q2" [Mosler Economics]
S&P Case Shiller HPI, February 2015: "The Case-Shiller adjusted 20-city index rose a very strong 0.9 percent" [Bloomberg]. "The breadth of the gain is very convincing, with none of the 20 cities showing an adjusted monthly decline since all the way back in September." But Forbes' headline: "Home Price Growth Slows." The Wall Street Journal's: "Climbs modestly." Hmm.
State Street Investor Confidence, April 2015: "Confidence among institutional investors remains strong" [Bloomberg]. "the report questions whether strength in North America can continue given the negative effect that the strong dollar will have on overseas earnings."
If your macro index is skyscraper construction, be very afraid. Handy chart [The Economist, "Constructive one-upmanship"].
Black Injustice Tipping Point
Events in Baltimore have raced ahead of my capacity to track them, and so here is some background reading.
"The Brutality of Police Culture in Baltimore" [Conor Freidersdorf, The Atlantic]. Utterly essential reading, and then click through to the Baltimore Sun series that it summarizes. The incident where two cops co-operate to slit a dog's throat is good, but then so is the incident where a cop strangles his girlfriend's dog. Freidersdorf  is on the right, so maybe you can show this to "That Cousin" you can't talk to about race. Oh, and Baltimore's police chief, Anthony Batts, was previously chief in Oakland, now under Federal receivership, and has domestic violence issue. So awesome.
Orioles COO Angelos on Baltimore [USA Today]. Gene Sharp would call Angelos a pillar of the regime, making his views very interesting indeed. Adding: In my travels on the Twitter, I've noticed — sadly — that one reasonably reliable indicator of a tweet that I'm really going to regret having had to even see is the presence of a sports team's logo (granted, I have some priors here). So on the basest pragmatic level, I'm happy to have quotes from a team's family ownership to throw into the mix.
Ferguson has major corporations, but does not tax them. Hence, law enforcement for profit [St Louis Business Journal].
Police State
How judges let dubious tactics flourish [Baltimore Brew]. Not just the cops!
Class Warfare
"[A] moral claim that people deserve what they are paid … has meaning only if the legal and political institutions defining the market are morally justifiable [Robert Reich, The American Prospect].
On squillionaire Sam Zell giving Republican Illinois Governor Bruce Rauner, Democrat Mayor Rahm Emmanuel's BFF, $4 million for his campaign, presumably as a sort of tip: "I really don't want to be a class warrior, but what I continue to see going down is that rich people, no longer satisfied with the privileges of being rich, are going for complete control" [Chicago Sun-Times]. Ding!
Investors have been pouring money into fine wine, now thought to be a $5 billion-$10 billion market [The Economist, "Intoxicating"]. "[It has an] extraordinary nose of caramelised herbs, smoke, cedar, pen ink, blackcurrants and earth." I would have thought the odor was quite different. Oh, wait. Wine.
"The outlook for industry is better than it's been in a long time. American manufacturing was decimated during the first decade of this century, with six million jobs gone, and it was easy to believe that manufacturing was a lost cause. Yet it still accounts for more than two trillion dollars in output, and American factories are still among the most productive in the world" [The New Yorker]. Maybe.
News of the Wired
* * *
Readers, feel free to contact me with (a) links, and even better (b) sources I should curate regularly, and (c) to find out how to send me images of plants. Vegetables are fine! Fungi are deemed to be honorary plants! See the previous Water Cooler (with plant) here. And here's today's plant, the second of "Spring is here!" week one (Andrea):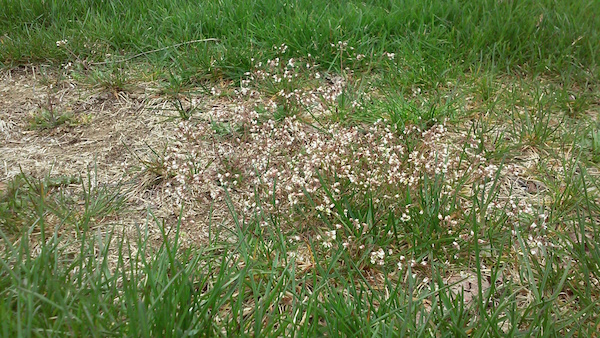 "Beautiful groundcover, by Nature!" One day, nothing but the brown and grey dirt and detritus of mud season. The next day, pop! Suddenly, color!
Please send me your plantings and garden projects!
If you enjoy Water Cooler, please consider tipping and click the hat. It's the soil, seeds, Fedco Tree sale, and planting season!
Talk amongst yourselves!