By Lambert Strether of Corrente.
2016
Clinton launch: "[A]ides have been instructed to be ready from Monday forward" [CNN].
Gary Hart: "If you've got to have a billion dollars to run for president, how many people can do that? Only the Clintons and the Bushes and one or two others" [Politico]. That's not a bug…
Biden to visit secretive network of gay donors [Bloomberg]. "[I]f Clinton should get beamed up by an alien spacecraft or is otherwise incapacitated," Biden will need the dough.
Establishment
Jebbie "made over $2 million from a hospital conglomerate that supports Obamacare and stands in the way of badly needed conservative health-care reforms" [National Review]. Let the oppo begin!

Jebbie listed himself as 'Hispanic' on voter form [New York Times]. More oppo. Pretty ironic that he didn't list himself as 'Black'; if he had, he could have been purged from the voter rolls when the Republicans were trying to steal Florida 2000.
Principled Insurgents
"Since at least 2013, [Rand Paul's] office has collaborated with black leaders in Kentucky on voter restoration and economic development" [that Dave Weigel, Bloomberg]. Interesting, but the rest of the article is a hatchet job.

"[Paul] consistently outperforms other Republicans when polled head-to-head against Clinton. A Quinnipiac University survey released this week found that Paul was the top Republican challenger to Clinton in Pennsylvania and Ohio, two battleground states that will be crucial in the 2016 race" [The Hill].
Bibi and Iran "are creating a rift in the durable alliance between Jews and the Democratic Party in the run-up to the 2016 elections" [Wall Street Journal]. Not so much Bibi as the Americans who financed 90% of Bibi's re-election campaign, and especially the three squillionaires who financed half of it.
"In the experiment, a political organization attempted to schedule meetings between 191 congressional offices and the organization's members in their districts who were campaign donors. However, the organization randomly assigned whether it revealed to congressional offices that prospective attendees had contributed to campaigns. When informed prospective attendees were political donors, senior policy makers made themselves available between three and four times more often" [American Journal of Political Science]. tldr; money talks.
Stats Watch
"Total U.S. rail traffic for the week ending March 28 was 563,280 carloads and intermodal units, down 0.7 percent compared with the same week a year ago" [Progressive Railroading].
PMI Services Index, March 2015: "[C]onditions look very solid with the PMI services index jumping" [Bloomberg]. "[T]oday's report is very strong and points to economic momentum going into the second quarter."
ISM Non-Mfg Index, March 2015: "Strength in new orders, at 57.8, is a key plus" as is "breadth of strength is especially encouraging with 14 of 18 industries reporting composite growth" [Bloomberg].
Gallup US Consumer Spending Measure, March 2015: "The $4 increase in March is consistent with the slight increases seen in March of every year since 2010 with the exception of last year" [Bloomberg].
Health Care
"I don't want to die because of money. That's stupid. Nobody should have to do that" [CNN]. Well, no. Under Rule #2 of neo-liberalism, that's exactly what you should do. Heartwarming story, otherwise.
Excellent reporting on King v. Burwell [Sam Stein, HuffPo]. On the topic of whether governors understood that if they did not set up exchanges, they would get no subsidies:
Over the past year, The Huffington Post has filed public record requests with multiple states and the Department of Health and Human Services to see if there was ever any discussion among federal and state officials about this very topic.

HuffPost examined results from within a specific time frame — after the passage of Obamacare and before August 2011, when the IRS issued its public ruling that subsidies should be universal — and focused on states that chose not to set up an exchange [plus] Oklahoma.

Among all the emails, letters and press releases reviewed, there was not a single instance of an administration official warning that if states decided not to run their own health care exchanges, their citizens would not be eligible for the tax credit subsidies. Nor was there a single instance of a state official recognizing or anticipating such consequences. As states faced the choice of establishing their own exchange, creating a hybrid exchange with the federal government, or letting the federal government have full control, no one appeared to be discussing what plaintiffs now say is the most consequential financial element of the whole arrangement. Only when the issue began percolating on conservative news outlets, and had life breathed into it from conservative think tanks, did officials start to notice.

To be clear, just because HuffPost couldn't find evidence of any discussion on the topic doesn't prove those discussions never took place. Public-record caches aren't always comprehensive, and there are states whose public records we did not examine. Moreover, there is evidence — slim, but still there — to suggest that officials did imagine subsidies being used as an incentive. The most famous example is a set of since-disavowed comments from former HHS adviser Jonathan Gruber that came well after the IRS ruling.

But if the subsidies were, in fact, structured in a coercive way, then the lack of warning from the federal government makes little sense, and the lack of any debate or apparent distress among state officials is truly remarkable.
Call me crazy, but I don't trust the they-said/they-said in the Beltway on this topic at all; not our elected officials, not the analysts. But Stein's work seems dispositive to me. So, if your baseline for sanity is that a Republican Supreme Court upholds RomneyCare, fear not! Or not.
Emanueldämmerung
Last campaign events today; voting day tomorrow; 142,300 voters cast early ballots, a record high [NBC]. Interestingly, the Garcia campaign pushed for early ballots.
"It is that lack of a detailed Garcia plan that Emanuel hammers away at in TV and radio ads, mailers and in debates. And polls show it appears to be effective" [NPR].
"At their final debate, held on Tuesday, March 31, Emanuel pulled out the Jewish card by characterizing Garcia as 'Hanukkah Harry' for offering a list of expensive proposals without explaining how he would find the necessary revenue. 'Such a deal!' Emanuel blurted out" [Haaretz].
"The Chicago Police Department has spent millions on high-tech spying equipment, including cell-phone tracking technology, but is extremely secretive about its use" [In These Times]. A bit diffuse to be an explainer, but good background. If only there were some sort of nationwide movement that raised the issue of how how law enforcement has become a profit center, especially in black neighborhoods…
"Several prominent union groups, including the Chicago Federation of Labor and the American Federation of State, County and Municipal Employees, have stayed neutral. And the election led to a split among Service Employees International Union groups" [New York Times].'
Water
"[Brown's] order doesn't include the agriculture industry, which accounts for roughly 80% of all human water use, according to the Public Policy Institute of California, a nonpartisan think tank. Mr. Brown defended that decision, saying to do so would undercut farmers' role in feeding the country" [Wall Street Journal, "California Gov. Brown Defends Scope of Water Restrictions"].
"[G]roundwater in most of the [California] has been a resource anyone could grab. Yet putting strict limits in place is expected to take years" [New York Times].
Class Warfare
"Slow, steady and responsible growth over eight years may not be rewarded by voters if there's a downturn in the summer of 2016" [Salon]. Credit: "Salon staff." And it's not hard to see why nobody would want to put their name on tripe like this. I love "slow, steady and responsible" — it's got that new focus-group smell — but can't the DNC propagate its own talking points without using a straw?
Gallup: "Half of all U.S. employees have at some point in their career quit their jobs to get away from their boss" [Bloomberg]. "Just 35 percent of U.S. managers said they felt engaged on the job. Fifty-one percent said they weren't engaged, and 14 percent confessed that they actively tune out at work." Which speaks well of managers, actually.
"Two former staff members who worked at Success Academy Harlem West, a middle school, in the 2013-14 school year, said that they recalled having to go to the supply closet to get extra underwear and sweatpants, , for students who had wet themselves" [New York Times]. Awesome. Excellent preparation for the workplace of tomorrow!
Inside the Foxconn plant where Apple products are made [Recode]. "For workers who suffer from clinical depression, Foxconn offers mental health counseling and a 24-hour hotline at its care center." 1000 calls a day; 7 counsellors.
Police State
"Cop 'can't remember' climbing on car hood and firing last 15 shots of 137-bullet barrage that killed unarmed couple (even though his footprints were found and his colleague says they talked about it)" [Daily Mail]. This being the Daily Mail, yes, that's the headline.
Law enforcement for profit again, as CPFB puts an end to a hedge-fund backed scheme where debt collectors paid local DAs to use their letterhead [Philadelphia Inquirer].
News of the Wired
* * *
Readers, feel free to contact me with (a) links, and even better (b) sources I should curate regularly, and (c) to find out how to send me images of plants. Vegetables are fine! Fungi are deemed to be honorary plants! See the previous Water Cooler (with plant) here. And here's today's plant, the first of "I Wish It Were Spring!" week four: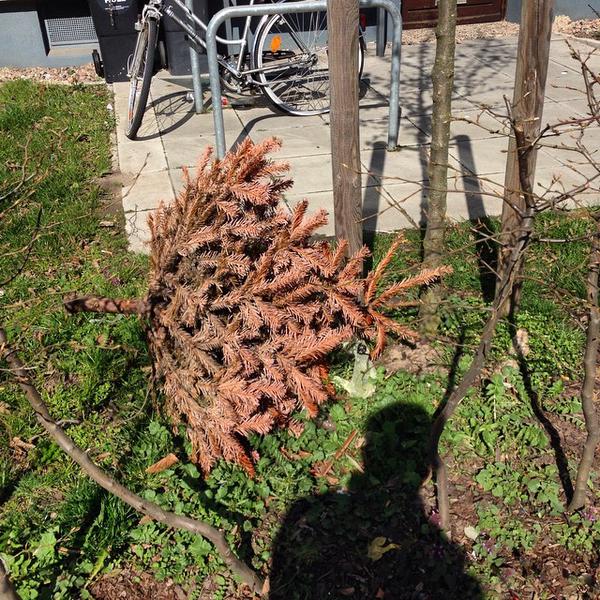 A cheerful sight!
Does anybody have any gardening photos yet? Too early?
If you enjoy Water Cooler, please consider tipping and click the hat. It's the heating season!
Talk amongst yourselves!