Brontosaurus Rising The New Yorker
Michael Bloomberg's ode to his old boss is a perfect example of a Wall Street that doesn't exist anymore Business Insider
Billy Salomon's Leadership School Bloomberg
IMF warns of long period of lower growth FT. Cheaper servants and guards, so what's not to like?
Record U.S. Capital Spending Is Last Thing the Market Wants Bloomberg
Repo Market Sees a Lending Shift as Rules Bite WSJ
Big Companies Pay Later, Squeezing Their Suppliers New York Times
The U.S. Job Market Is Losing Its Dynamism Bloomberg
It's Hard to Lift Wages if the Fed Doesn't Make It a Priority NYT
How the Geography of Jobs Affects Unemployment Federal Reserve Bank of Richmond
Wall Street wary of 'audit the Fed' campaign FT. Shocker!
TPP as Important as Another Aircraft Carrier: US Defense Secretary The Diplomat
Grexit?
The UK mood is shifting against austerity Business Spectator (Furzy Mouse)
In Photos: One Year Later, a Look at the Forming of the Donetsk People's Republic Vice
Syraqistan
The newest Duggar baby is named Israel, his father announced in an IDF T-shirt WaPo
China will struggle to keep its momentum Martin Wolf, FT
Big Brother Is Watching You Watch
U.S. secretly tracked billions of calls for decades USA Today. Scoop!

Rand Paul Vows to Stop NSA Spying 'on Day 1' of Presidency Reason

Court mulls revealing secret government plan to cut cell phone service Ars Technica
Dogs killed over unpaid fines CNN
Utility cut power to home before 8 died of gas poisoning News22. Rule #2 of neoliberalism?
Colleges Launch Food Pantries to Help Low-Income Students WSJ
Ex-SCGOP official arrested on domestic violence charge Charleson City Paper. Also an Internet troll!
Power surge knocks out electrical service across parts of D.C. WaPo. Welcome to the Third World, America!
Emanuel Wins Second Term as Mayor of Fiscally Ravaged Chicago Bloomberg
Class Warfare
Rich People Are Great at Spending Money to Make Their Kids Rich, Too The Atlantic

Slack's Stewart Butterfield, In His Own Words Inc. See "On the financial rewards of a successful startup," and "On caring about your work."
Maine farmers: Cultivating a profit from organics MaineBiz. (Here is the non-organic treatment of the same theme).
Economic history is dead; long live economic history? The Economist
America's Endless War Over Money NYT
Knowledge-Based Trust: Estimating the Trustworthiness of Web Sources [PDF] archiv.org (Furzy Mouse)
Having Fun LRB. Public shaming on the Internet.
'Sesame Street's' 'Game of Thrones' parody makes Iron Throne prediction Los Angeles Times
Dark Leviathan Aeon. "The Silk Road might have started as a libertarian experiment, but it was doomed to end as a fiefdom run by pirate kings." In a totally rights-respecting manner, of course.
Antidote du jour: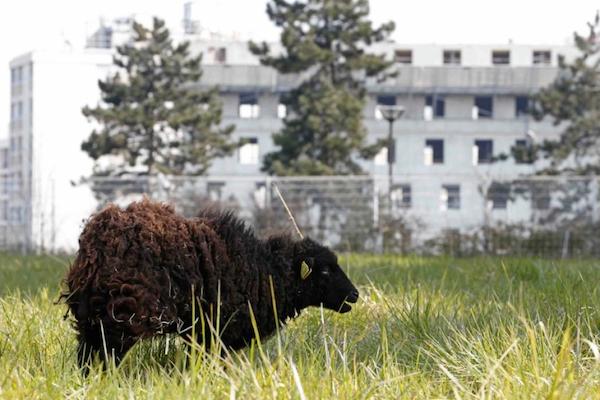 Readers, I struggled to find French animals suitable for Yves's visit to Paris, but the best I could do is this sheep maintaining the lawn at the National Archives, and while that's the sort of initiative I support, it's not a very good best. Thoughts?
See yesterday's Links and Antidote du Jour here.