Fruity! How 'transgender' avocado trees change their sex overnight in a matter of hours Daily Mail
Greatest mass extinction driven by acidic oceans, study finds Science Daily
Clam Cancer Spreads Along Eastern Seaboard NPR
QE may not have been worth the costs FT
Falling Import Prices in U.S. May Slow Rise in Interest Rate New York Times
Treasury Flash Crash of October 15, 2014 Still Has Wall Street in a Sweat Wall Street on Parade
Crisis Chronicles: The Panic of 1825 and the Most Fantastic Financial Swindle of All Time Liberty Street Economics. "Of all time"? Really?
Samsung Plans to Take Bitcoin Technology Beyond Virtual Currency Bloomberg
Buiter on the death of cash FT Alphaville
Maryland Shift of Pension Cash to Wall Street Delivered Below-Median Results: Study David Sirota, International Business Times
Corruption 'Isn't Just the Cost of Doing Business' WSJ
TPP
50 Reasons We Cannot Afford the TPP Eyes on Trade. 50 for the 50 states. Use to write your Congress Critters!

Does the U.S. pay too high a cost for free trade in the TPP pact? Reuters
G.E. to Retreat From Finance in Post-Crisis Reorganization New York Times
GE to Cash Out of Banking Business WSJ
GM Said to Splurge $1 Billion Expanding Tech Center Near Detroit Bloomberg
Grexit?
Fusion's interview with Argentine ambassador Cecilia Nahón: The full transcript Felix Salmon, Fusion
Argentine court orders arrest of Justin Bieber The Telegraph. And high time, too.
Syraqistan
The New Deal New York Review of Books. With Iran.

Saudi Arabia Maneuvers to Retain Oil Crown WSJ

Exclusive: U.S. expands intelligence sharing with Saudis in Yemen operation Reuters
2016
Clinton studying up on upward mobility with Harvard economist Boston Globe

The mystery moneymen behind Ted Cruz's super-PACs Michael Isikoff, Yahoo
Has Obamacare Enrollment Peaked? Wall Street Journal. Shocker: ObamaCare wasn't universal care after all.
How much student testing is too much? McClatchy
St. Paul man whose home burned down had trouble canceling cable service Pioneer Press
Martinez signs bill ending civil asset forfeiture New Mexico Political Report. One down, 49 to go, plus the Feds.
Black Injustice Tipping Point
How the U.S. criminal justice system became an unforgiving machine Reuters

Fraternal Order of Police: Don't listen to 'professional race agitators' ABC Charleston
The Unlikely Paths of Grant and Lee Slate
The War Nerd: The Confederates who should've been hanged Pando Daily
The Sad Prescience of "The Birth of a Nation" The New Yorker
Big Brother Is Watching You Watch
Eighth-grader charged with felony for shoulder-surfing teacher's password Ars Technica

Army Recruit Charged With Helping ISIS Watched by FBI, Given Clearance by Army The Intercept
Spotting lies, and the lying liars who layer them FT Alphaville
How to Beat a Polygraph Test NYT
How the U.S. spends more helping its citizens than other rich countries, but gets way less WaPo
How Robots & Algorithms Are Taking Over New York Review of Books
Comrades, The Lannisters Have No More Gold! Paul Mason
Mark Thoma, information equilibrium is the model you're looking for Information Transfer Economics
The Burden of Denial The Archdruid Report
Antidote du jour, and thanks to reader Bunny for suggesting the Lady and the Unicorn tapestry at the Musée de Cluny. (I couldn't bear to crop out a single animal, so here's the entire thing.)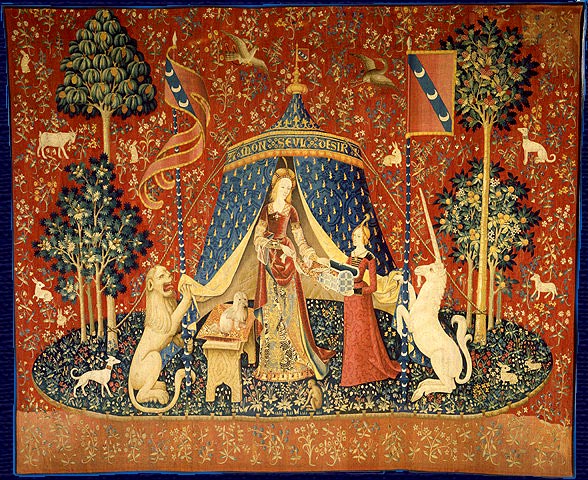 See yesterday's Links and Antidote du Jour here.