New TSA Precheck Program Offers Expedited Interrogations For Muslim Passengers The Onion (Chuck L)
Buildings collapse, hundreds killed as 7.9 magnitude quake strikes Nepal South China Morning Post
Nepal earthquake: death toll exceeds 1,800 and terror reaches heights of Everest – rolling report Guardian
Why Bad News Is Good News Pacific Standard (Bob H)
How a Giant Ball Will Help This Man Survive a Year on an Iceberg Outside Online. Chuck L: "Darwin Award watch."
Liquid mercury found under Mexican pyramid could lead to king's tomb Guardian (Chuck L)
The Anti-Corruption Drive and Risk of Policy Paralysis in China Center for Foreign Relations
Europe Has Completely Lost It Ilargi '
Grexit?
Urkaine/Russia
Ukrainian analysis by the Saker: no hope for peace left Vineyard of the Saker (Chuck L). Conclusion: "War therefore appears to be inevitable." And this means a bigger-scale war.
Syraqistan
Yemen crisis: This exotic war will soon become Europe's problem Independent (Chuck L)
Big Brother is Watching You Watch
Obama hacked Russians read president's emails in security scare for White House Guardian

Computers That Know How You Feel Will Soon Be Everywhere Wired

To help spread its message, the NSA has produced a coloring book. You know, for kids Pando
Imperial Collapse Watch
Army morale low despite 6-year, $287M optimism program USA Today (Chuck L)

A tale of two cities: Part 1, The epicenter of America's transportation system Affordable Housing Institute (Qrys). From the beginning of this series of posts: "Within a year, two at the most, Chicago will be the next 'biggest US municipal bankruptcy ever,' overtaking Detroit for that dubious honor….How did Chicago become to large to be sustainable?"
Trade Traitors
The Revolution Will Not be Fast-Tracked Counterpunch
While Hillary Was Secretary of State, Foreign Corporations in Favor of TPP Paid Bill over a Million Dollars Alternet
2016
Jeb's scary new adviser: Meet Jordan Sekulow, global attorney for the religious right Salon

Obama Ribs Those Jockeying to Succeed Him at White House Correspondents' Dinner Bloomberg
Police State Watch
A Residence With Locking Doors And A Working Toilet Is All That's Needed To Justify A No-Knock Warrant Techdirt (Chuck L)
Illinois Gov. Bruce Rauner Accuses Unions Of Manipulating Elections International Business Times
Baltimore Freddie Gray protests turn violent as police and crowds clash Guardian
New York police shoot unarmed man dead during East Village arrest attempt Guardian
Just How Leaky Is the Fed? More Than You May Realize Bloomberg
Wall Street can't stop talking about the 'ridiculous' arrest of the 'Flash Crash' trader Business Insider
New Reverse Mortgage Policy Leaves Widows and Widowers Homeless Philly (Paul Tioxon)
Racial Inequality and the Economics of Social Justice Truthout
Why can't we read anymore? Medium (Bob H). Wow, I can't relate to this. Do you? I assume not since NC posts are long! I've read four books in the last three months despite having virtually no leisure time (although I do read books on the treadmill). This information processing issue is alien to me. But 1. I do not own a smart device of any sort (when I leave my desk, I do not want the Internet following me) and 2. I suspect I do not have the dopamine reaction this article describes (I get so many messages I find them to be an intrusion and stress inducer, save for ones from certain key people).
Antidote du jour. chitownrdh: "Poor bugger, he has been hanging on since last night. He is alive just trying to wait out this cool, 39 degree, with wind gusting at 20mph, Chicago day."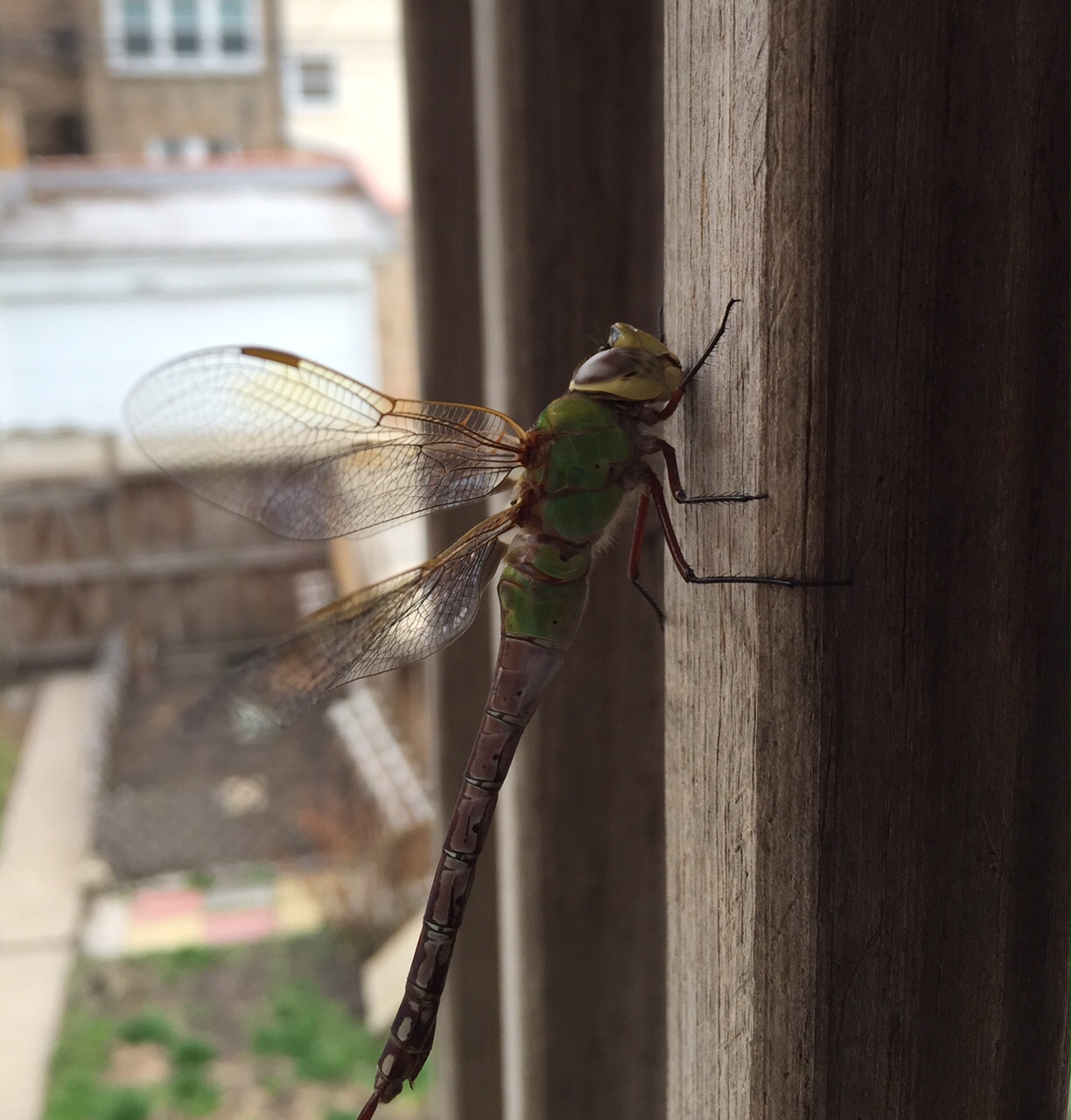 See yesterday's Links and Antidote du Jour here.