By Lambert Strether of Corrente.
"The old is dying and the new cannot be born." –Antonio Gramsci
Mud season is making me cranky and stupid and lethargic. And there seems to be some crankiness in the zeitgeist, too, if my Facebook page and Twitter feed are any guide — and Yves's monitor dying fits right in here — but I'm not sure why, since it's not mud season everywhere; perhaps it's the after-effects of tax day. Or perhaps it's all the whining the money men had to do over the past couple of weeks to keep borrowing money for nothing, back when everybody was worried about some sort of "take off."
Anyhow, mud season is, so far as I know, a New England thing. The ground freezes deeply in winter, and thaws in the spring from the surface down. But until the ground is completely thawed, snow melt and rain can't percolate all the way down into the soil, and so remain on the surface, puddling and pooling and creating mud and ruts and slop and a general air of discouragement and disarray. It's better, of course, to look up at the trees and see the buds against the sky, but looking up still doesn't seem quite natural, after having walked hunched over in the dark for so many months, bearing the burden of February to come, or February, or February not quite having been thrown off, even now, with the wood stove inactive.
Of course, I don't live in the woods, so there aren't any ruts where I am. Mud season, to me, looks like this: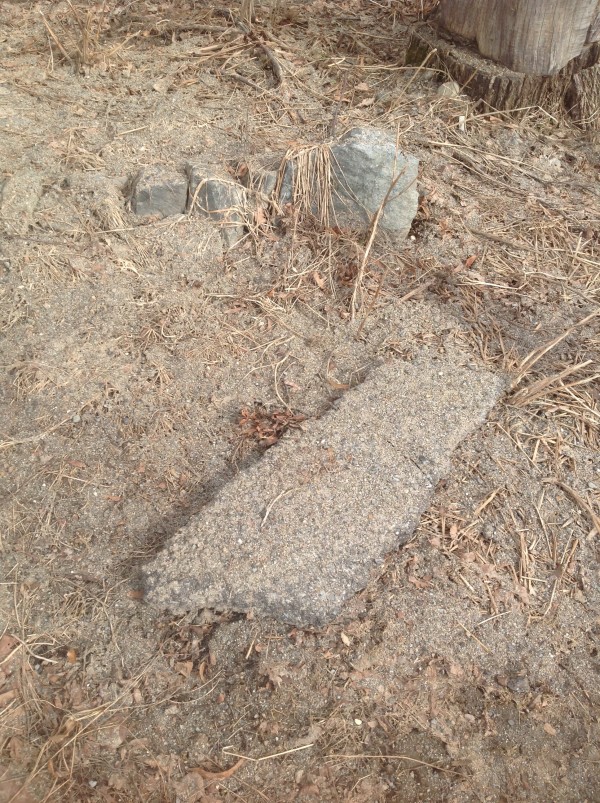 Sand from the plows, along with a big hunk of tar from the road thrown up by the blade. Nice! (Happily, the town does not use salt.) What an enticing prospect! Of course, intellectually I know that the rain will wash this detritus away, and in any case sand lightens up my clayish soil, and soon I will have sown this discouraging area with wildflowers, and soon the pollinators will appear, but it certainly doesn't feel that way now.
What does "soon" mean? By tradition and bitter experience, planting before Memorial Day is a bad idea, and that's — let me break out my day-to-day calculator, here — 36 days away. Hmm. Memorial Day comes early this year, I guess; since this is the second week in May, I would have thought it was six weeks. Well, I still reserve the right to be cranky!
So, I thought I would put up two permaculture videos, and comment on them. I should say I've come to realize I'm a bad permaculturalist, or at least an out-of-band one — my primary goal for my garden is not yield, or self-sufficiency, since I give my vegetables away, but "the augmentation of the complexity and intensity of the field of intelligent life," so that I can sit happily at my worktable in the midst of all the buzzing and blooming confusion and and write, or take pictures. Of course, when there's no water in California two years from now, and the food riots begin, or the trucks stop, I may change my plans and focus on yield once more, but for now, my goal is pure pleasure. And why not?
So here is the first video. It's not an especially good video, but I find that it touching anyhow, for reasons I'll explain:
Caveat that the videographer/gardener is in the frame far too much, so in a way the video is an extended selfie. Kids these days! The tats. And the hoodie. But hoodied or not, he "got the OKs for my research" and also has cats. So this old codger is encouraged. But I really picked the video because it's a walkthrough in a northern climate, and that's what we do, in mud season: We walk the ground, and visualize how things will go, when spring comes.
…getting ready for a spring work party…
The "work party" is a collective aspect of permaculture that I generally give a miss, I'm not sure why. Probably because organizing such things is work, and I'd rather just putz along.
… soil building….
This guy uses wood chips — I assume from his own trees, so there aren't any chemicals — but I build soil using sheet mulch; see the video below.
… different hot and cold compost …
Not only am I too lazy for compost, I don't generate enough food scraps. I prefer to leave the plant matter ("detritus") where it falls, generally, as green manure — never let organic matter leave the property! — and only monstrosities like quack grass or extremely invasive weeds go in the compost, so my compost is not very good. So, "hot and cold" compost — how very ambitious!
… the goal is not to have to buy soil or soil amendments but just to be building our own soils here …
Yes! Here, however, I'm lazy again; not only do I have the straw for my sheet mulch (see below) delivered from Blue Seal, I buy a few yards of soil as well! To be fair, I am making up for years and years of neglect, and this year I may spread new soil only on new beds, and see how five or six years of sheet mulching have worked out for the existing ones. (I know, I know; I should do a soil test. But I'm lazy.)
… the fruit trees are just beginning to bud…
I think I made a mistake a lot of people make; I started out with a few tomatos, got hooked, and kept expanding, and after several years, branched out into nut trees and shrubs, which will take a few more years to mature. If I had started by planting trees, in the first year, I would be eating filberts by now, assuming the squirrels don't get them.
… welcome to my new hot house…
It occurs to me, now, that if I had a hot house I'd be growing stuff in it by now and not whining (assuming it wasn't a lot of work); season extension is big in Maine, and a hot house is one of the main techniques. This particular hot house looks a bit flimsy to me, especially for a Maine winter, but perhaps it is meant to be disassembled? If so, I had better get a more rugged one, because I doubt I'm going to be stirring my stumps to assemble a hot house in February.
… More seed sprouts for building up the guilds, so perennials, different types of flowers, herbs, things that attract beneficial insects…
Now I'm talking myself into this hot house thing. Flats at the farmers market are cheap and don't involve work, but guilds are plants that offer each other mutual support (like the famous "three sisters": Corn, beans, and squash) and it's likely one would have to assemble the guilds one's self.
…. the kitty blocker screen… cat nip ….
I had a cat living under the porch after the skunk was induced to leave, and part of me would like a "barn cat" (as we call them in Maine). However, my project this year is to attract more birds, because I like birdsong — and maybe birds will eat bugs, even Japanese beetles?! — and I think those two goals are incompatible. Sigh. (The "kitty blocker" is a screen placed over a pot so the cat doesn't think it's a litter box.)
… I made this hugel bed and that's going to have watermelons in it …
A hugel bed is "pretty much nothing more than buried wood," which rots, making very rich soil. I had very good luck growing tomatoes in a hugel bed last year; I made the bed out of wood detritus from the couple of cords of firewood I brought in, and then covered it with some extra stone dust and a layer of dead leaves; I'm going to build a second hugel bed this year, in my best sunny spot, though I'm not sure what I'll put there yet; tomatoes again, probably.
… had to net it against both the deer and the cats…
For whatever reason, the deer have only nibbled round the edges of my garden; last year I got shiny strips that blew in the breeze, reminding the deer, who don't see well, of dangerous edged weapons or possibly gunstocks, and scaring them away; that was my theory, anyhow!
… wild onion is native to Washington but it's also really good at keeping deer at bay…
I'll try anything!
… this Asian pear tree is loaded with blooms…
So far ahead of me! I wonder when the forsythia will come out… Forsythia, lilacs, iris, roses….
* * *
And this is the second video, on sheet mulching. Sheet mulching is the gateway drug to permaculture, and I highly recommend it.
(The guy, IMNSHO, makes one mistake: He steps on the soil, and even runs a wheelbarrow over it. Never scar the soil by compacting it!)
When I sheet mulch, my approach is simpler, cheaper, and lazier. Lest you feel intimidated by the diagram, I use only three layers because I'm cheap and lazy: At the bottom, compost or earth, then newspaper, and then on top, after soaking the newspaper, straw (and not hay; hay has seeds, and you don't want them. You want your own seeds). Then I punch holes through the sheet mulch for the seedlings.) Sheet mulch is great for these reasons:
1. Very little weeding. The newspaper serves as a light block, so weeds don't sprout. (I do have a problem with quack grass where the plants have been punched in, because the soil is exposed, but generally weeds are easy to pull out of a sheet mulched bed when they do grow, because the soil is so soft.)

2. Very little watering. I was away for the month of July, which was very dry, and the tomato beds weren't watered at all. I came back, and they are as you see [very healthy]. The straw captures any rain that falls, the newspaper lets it soak through to the soil, and the newspaper also prevents evaporation.

3. Less disease. Molds and spores and TMV live in the soil, and the sheet mulch prevents them from infecting the plants through the leaves. When I didn't sheet mulch, and watered, the plants would get infected from splashed bare soil, and by this time [August], two or three tiers of leaves would be yellow or even blackening (depending on which mold attacked them).

4. Lazier staking. Tomatoes that touch or rest on the soil are goners. Not so with tomatoes that rest on clean dry straw (though if it rains, raise them up or pick them!)

5. Better soil. A lot of the improvement is due to the compost, the leaves, and the soil amendment. However, worms also like sheet mulch because the soil is not compacted. Worms also like darkness and moisture, which the newspaper layer provides. Further, over a season, the new mulch will settle, and open up an air gap between the soil and the newspaper. Just as in your house, the air gap insulates, and so the soil temperature doesn't fluctuate so much. So, the worms aerate the soil and also leave their lovely nutritious worm castings. (If I were more ambitious, I'd be doing vermiculture.)

So, less work, better soil, improved work — what's not to like?
And sheet mulch is a great way to get rid of your lawn, too. Surely you don't want to waste your time cutting the grass!
Makes me less cranky, just thinking about it! How is your garden doing?