By Lambert Strether of Corrente.
TPP
"Selling Out the Constitution and Main Street on Trade" [Washington Times]. "The TPP and other trade agreements surrender American sovereignty." This really is the killer argument because it applies across the spectrum.
2016
Sanders
Nader: "We don't want a coronation of Hillary Clinton. We want a vibrant debate in the televised primaries next year, and Bernie Sanders will provide an alternative view of where the country should be going" [Democracy Now].
The S.S. Clinton
Larry Flynt supports Clinton because Supreme Court [Bloomberg].

Bernie helps Hillary: "Hillary's Harlem (err Brooklyn) Globetrotters now has its Washington (err Vermont) Generals" [NBC]. Granted, the Democrats can now have discussions on "income inequality, curtailing the role of big money in presidential politics, climate change." And that's good, and kudos to Sanders. But let's be clear about the limits that discussion will have. I got my fundraiser mail — subject line: "Bernie Sanders!" — from DNC 2016 this morning.

"[Clinton's] conservative adversaries are seizing on the unrest in Baltimore to repackage small-government nostrums as the solution to issues most of them have made their careers ignoring" [The New Republic].
Charlie Cook: "Why are so many Republicans running for president? [National Journal]. So it's not free money from squillionaires and a job for life. Good to know. To be fair, this is actually worth a read.
Because SuperPACs can raise unlimited amounts of money, candidates will outsource as many functions as possible to them [Wall Street Journal, "Roles of Presidential Super PACs Expanding"]. Presumably, candidates will keep "core functions" in house. But what are those functions?
Republican Establishment
Jebbie: "We need to be engaged in this debate as conservatives and say that there's a bottom up approach and it starts with building a capacity so people can achieve earned success (by) having higher expectations and higher accountability and dramatically different kinds of schools" [Tampa Bay Times]. So the answer is charters.

Jebbie: "If you're born poor today, you're more likely to stay poor We need to deal with this" [National Journal].
Republican Clown Car
Huckabee to run against "Bill Clinton's Arkansas" [Political Wire]. I understand that Huckabee can stomp Democrats, but Walker does it harder, and in living memory, too.

A primer on Bridgegate, in which Chris Christie is still mired [New York Times].
Podcast recommendation: I've been listening to two podcasts a lot over the last few months (to be fair, I use them as sleeping aids). One is is Mike Duncan's The History of Rome, and the other is Revolutions, which so far has covered the England, the United States, France, with Haiti next up. The lesson I take away is the scale and complexity of these events, and how history offers a baseline for today. In particular, lots of smart, hard-working people knew the ancien regime was broken in the 1740s, and tried to fix it. But it wasn't fixable. However, chance has its role to play as well: Louis XVI, like Charles I, was not a particularly competent king. Geography counts too: The continental scale of the American revolution was key to victory; as was the concentration and intensity of Paris, which gave the sans culottes an important role. Oh, and a key event that ended feudalism in France was when the peasants burned all the land records. Duncan's history is definitely popular, and to my taste focuses far too much on elite maneuvering, but then again elites matter, he has a taste for vivid set pieces that decribe key incidents, and its very good to get the timelines fixed firmly in one's mind.
Stats Watch
Jobless claims, week of April 24, 2015: "Initial claims, not skewed by special factors, plunged 34,000" [Bloomberg]. "The Fed is ready now to pull the trigger at anytime and today's jobless claims data may have their finger a little itchy." Boo hoo, no more free money for rich people (Cue mental reaction: "I'm not really rich.") Missed this stat yesterday; sorry.
Construction Spending: "March construction spending dropped 0.6 percent against expectations" [Bloomberg]. "While weather can still be blamed for some of the decline, a basic weakness in the building sector was apparent."
PMI Manufacturing Index, April 2015: "Production is the softest it's been all year" [Bloomberg]. "Despite all the weakness, employment, as it has in other reports, continues to expand and at what this report describes a "robust" pace. But strength here will prove fleeting if orders don't pick up."
ISM Manufacturing Index, April 2015: "There's a new unwanted wrinkle in the ISM report and that's weakness in employment …. Employment has been holding strong in other reports [Bloomberg]. "Other indications, however, are positive. New orders actually rose."
Consumer Sentiment, April 2015: "Strong," both for expectations and current conditions [Bloomberg]. "[D]espite the strength in the overall reading, strength in sentiment has yet to translate to strength in spending."
"Note the inventory build" [Mosler Economics].
Health Care
State exchanges wrestle with surging costs, especially for IT and call centers — and tepid enrollment numbers [WaPo]. And a lousy product.
Republicans prepare for horse-trading if the Supreme Court rules against subsidies in King v. Burwell [WaPo]. "A number of key swing presidential swing states are home to high numbers of people who could see subsidies evaporate." Coincidence?
Black Injustice Tipping Point
Guess who: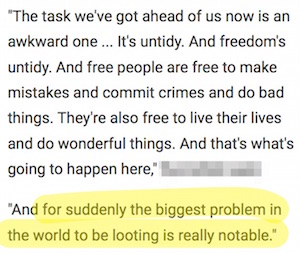 Answer below*.
Detroit prosecutor Teana Walsh: "'Solution. Simple. Shoot 'em. Period. End of discussion [Daily Mail].
Baltimore suspended legal procedures and imposed bail bonds of up to half a million dollars on the city's most impoverished residents [Guardian]. Sounds like law enforcement for profit, just like in Ferguson. The jail part makes it a two-fer.
Baltimore prosecutor Mosby indicts cops on Freddie Gray: Six officers face multiple charges. "Gray suffered a 'severe and critical neck injury' as a result of being handcuffed, shackled and being unrestrained in the van [Baltimore Sun]. "The highest charge, second-degree depraved heart murder, went to the driver of the van, Officer Clarence." I like "depraved heart." That's a keeper. Best snark: "It's not the prosecutor's job to make the defense's case for them. This isn't St Louis."
Law enforcement for profit: "A Baltimore Sun review of 63 recent drug-related cases in Maryland showed that property was forfeited in 30 of them, even though court records showed no conviction" [Baltimore Sun]. I've been told that law enforcement for profit happens in Baltimore, as in St Louis, and I'm looking for the mechanism and the numbers; I'm not turning up fines. Am I wrong? Readers?
"[T]he problem rests on the continued profitability of racism" [D.B. Connolly, New York Times]. "[H]ousing and commercial real estate have come to occupy the heart of America's property regime, replacing slavery."
"It is all too common to live in a city with a wide variety of ethnic and racial groups — including Chicago, New York, and Baltimore — and yet remain isolated from those groups in a racially homogenous neighborhood" [FiveThirtyEight].
"The Clock Didn't Start With the Riots" [Ta-Nehisi Coates, The Atlantic].
Movement conservaties on Rodney King [The Atlantic]. Where are they now?
U.K. Election
"14 Photos Of British Politicians Improved By "Game Of Thrones" Quotes" [Buzzfeed].
Corruption
BFFs Christie and Cuomo veto NY, NJ to "de-politicize" New York Port Authority [Bloomberg]. Interesting read that zooms out to infrastructure issues (but "depoliticize"? I'm sure that Bloomberg has privatization and "public-private partnerships" in the back of its tiny collective neo-liberal lizard brain. Those are as "political" as it gets.
Politically wired Chicago "community organization" and the board of the charter whose buildings it owns are feuding [Sun Times]. Of course, the public is picking up the tab for it all, because markets.
Medical marijuana in New York: "Some bidding groups – acting on inside information – staked out dispensary locations months ago and will have no problem in meeting all of the requirements on a 30-day deadline" [NY2NY].
Yahoo gets half a billion in subsidies for locating in desperate upstate New York [Investigative Post]. And they'll pick up and move in a heartbeat.
How the Texas Tea Party came to love corporate subsidies [The Atlantic].
Gun Culture
Officer from McConnell's security detail left his Glock in the bathroom of the Capitol Visitor Center; then an officer from Boehner's detail did the same thing [Roll Call]. A worker found the first, a child the second.
Class Warfare
"California's low-wage workers are older and more educated than they were three decades ago — but they earn less, according to new research from UC Berkeley" [Los Angeles Times]. So wait, education wasn't the answer?
Squillionare Peter Thiel: "Always aim for a monopoly. It's one big transgressive idea, and you're not allowed to talk about it. That's a clue that it's an under-explored idea. There are questions on what point is it good or bad for societies. From society's perspective, it's complicated. But from the inside, I always want to have a monopoly" [Business Insider]. Thiel was interviewed by Niall Ferguson, which is practically pornographic. "Transgressive," eh? "From the inside," eh?
News of the Wired
Drone vandalism begins wtih "epic NYC tag" [Wired].
Music, reading-aloud, digital techs opens up new interpretations of Finnegans Wake [Guardian]. I hope so. I've tried, I've really tried….
"Why Are We Losing in the Middle East? Too Much STEM, Not Enough Humanities" [HuffPo].
ANSWER
"Rumsfeld: Looting is transition to freedom," UPI, April 11, 2003.
* * *
Readers, feel free to contact me with (a) links, and even better (b) sources I should curate regularly, and (c) to find out how to send me images of plants. Vegetables are fine! Fungi are deemed to be honorary plants! See the previous Water Cooler (with plant) here. And here's today's plant, the fifth of "Spring is here!" week one: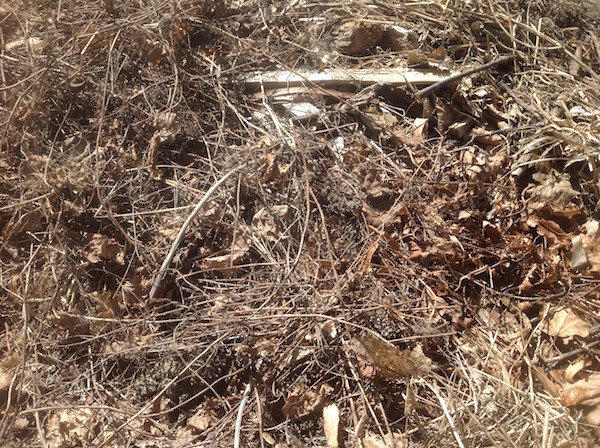 This is a picture of my hugel bed. Underneath the top layer of leaves and twigs and grass is a big pile of scrap from the firewood pile. When I cover this with earth and then sheet mulch, the tomatoes I plant in it are going to be very happy!
I'd like more pictures of people's gardens. As this image very clearly shows, they don't have to be pretty!
If you enjoy Water Cooler, please consider tipping and click the hat. It's the soil, seeds, Fedco Tree sale, and planting season!
Talk amongst yourselves!