By Lambert Strether of Corrente.
TPP
Key Senate vote today (May 12) on fast track, so call your Congress critter (Senate; House)  [The Hill]. The Machiavellis have managed to embody the political conflict in procedural issues, as usual:
But with most Democrats now demanding that all four trade bills — fast-track, TAA, a customs enforcement bill and a package of trade preferences for African countries — move in a single package, Senate Majority Leader Mitch McConnell (R-Ky.) will have trouble rounding up enough votes.

It's unclear if the White House and GOP leaders can get to advance the legislation. Senate aides on both sides of the debate anticipate a close vote.

Florida Sen. Bill Nelson, one of seven Democrats to vote for fast-track in the Finance Committee last month, said Monday afternoon he would not vote to end debate on the motion to proceed to trade legislation unless all four bills are combined.

He said the Democratic caucus is unified on the question, kicking the ball back into McConnell's court.
It would be nice, however, to see a good old-fashioned real filibuster, with no bathroom breaks and Senators sleeping on mattresses. 
Fourteen Senators urge labor protections before TPP is passed in letter to Obama [The Hill]. 
The Democrats signing the letter were Sens. Sherrod Brown (Ohio), Ben Cardin (Md.), Charles Schumer (N.Y.), Debbie Stabenow (Mich.), Bob Casey Jr. (Pa.), Al Franken (Minn.), Ed Markey (Mass.), Tammy Baldwin (Wis.), Gary Peters (Mich.), Tom Udall (N.M.), Richard Blumenthal (Conn.), Brian Schatz (Hawaii), Jeff Merkley (Ore.) and Elizabeth Warren (Mass.).
Who is writing the TPP? [Elizabeth Warren, Boston Globe].
Most Americans don't think of the minimum wage or antismoking regulations as trade barriers. But a foreign corporation has used ISDS to sue Egypt because Egypt raised its minimum wage. Phillip Morris has gone after Australia and Uruguay to stop them from implementing rules to cut smoking rates. Under the TPP, companies could use ISDS to challenge these kinds of government policy decisions — including food safety rules.
Maine has, through immense effort, developed a strong industry of local farms growing food that is "good, clean, and fair" and anybody that cares about local food sovereignty should resist the TPP vehemently. I absolutely want Maine farms protected from foreign food because when the trucks stop, we need to be able to feed ourselves. 
"Clinton's silence on trade, coming at the worst possible time for Obama, dovetails with her transformation into a presidential candidate eager to align herself more squarely with the liberal wing of her party" [WaPo]. I like her silence, but I'd like a full-throated denunciation even more. 
Now that he's got his Foundation up and running — ka-ching! — Obama feel free to show his rather unlovely pissy and arrogant side [WaPo]. And Representative Levin of House Ways and Means calls bullshit on him:
So I have deep concern — and some dismay — when the president says that "we are just wrong," or we are "satisfied with the status quo," or worse, we are "making this stuff up" when we express concerns about the status of the Trans-Pacific Partnership (TPP) trade negotiations.

House Democrats know a progressive trade agreement when we see it because we are the ones who built the foundation. We think the TPP agreement, as it stands today, falls short of what is needed. And we don't want to give up our leverage by granting "fast-track" authority until we know that TPP is on the right track.
"Concern," in the Beltway, is something you have when you're about to say "I'm not saying 'No.' I'm saying 'Hell, no!'," or when you are about to pull the plug on a major program or, in general, break somebody's rice bowl.
2016
Sanders
"When it comes down to it — he's doing this not just because he's trying to demonize the industry but this populist stuff is popular with his base," a second banking lobbyist said" [The Hill]. That's ignorant or deceptive. On the ground, the right hates the banks, too, and that's hardly Sanders' base.
The S.S. Clinton
Respected watchdog Charity Navigator executives complain Clinton Foundation operatives tried to muscle them behind the scenes to get off the CN "watch list" [New York]. Thughish and meta at the same time.That's so cool.
Republican Establishment
Bush cloaks campaign advisors from FEC scrutiny with non-profit [WaPo].
Republican Principled Insurgents
Rubio seeks to keep USA PATRIOT Act intact [The Hill]. But Paul may filibuster against it [The Hill].

Scott Walker to kiss Bibi's ring on Israel visit [CNN]. Oh wait. It's a "listening tour," nothing to do with the campaign [New York Times]. Sorry. But haven't I heard that phrase before?

"The promised revenues from Walker's previous budget moves have not fully materialized" [WaPo]. True throughout Kochistan. It won't matter to the base, though, any more than it has in Kansas, since Walker stomps Democrats.

Walker still running the cheap-shirt-at-Kohl's riff [Detroit News]. If you've got the coupon! Note to staffers: Need new material.
Republican Clown Car
Christie spent $82,954 at the Metlife Stadium (East Rutherford, New Jersey) concession stands [Watchdog.org]. For those following along at home, one 16-ounce beer at Metlife Stadium costs $8.75, so that translates to 9480 beers. As is my policy, I have resisted making jokes about Christie's girth. Hitherto.
"Seventy-one percent of Americans are Christian, an almost 8-percentage-point drop since 2007" [The Hill]. I can't help but think that policy outcomes and perceived competence of the explicitly Christianist Bush administration have something to do with this.
Stats Watch
JOLTS, March 2015:  "very soft as is today's JOLTS report where job openings fell 2.9 percent," well below consensus [Bloomberg]. Mr. Market breaths sigh of relief, as Fed loanable funds-based free money policy for those who already have lots of it is likely to continue. "Despite the March fall-off, workers appear to be confident in the labor market judging by their willingness to quit." Either that, or the jobs are so crapified almost anything would be better. Mosler: "And you have to read pretty far into this story before you realize the numbers were down vs the prior month" [Mosler Economics].
Redbook, week of May 9, 2015: "Soft" [Bloomberg]. "Retail sales picked up slightly in the May 9 week as Easter-effects finally fade." But don't worry! Mother's Day is coming! Then graduation!
NFIB Small Business Optimism Index, April 2015: "rose solidly," "higher than expected" [Bloomberg].
Black Injustice Tipping Point
"Dear Idiots On My Facebook Feed: Here's Why Calling for Protests Over Slain Cops Makes No Sense" [Alternet]. "It's simple: one doesn't protest something the system already agrees is bad. That's it."
"Running From Police Is the Norm, Some in Baltimore Say" [New York Times]. Since anybody who doesn't run deserves a Darwin Award, well, yeah.
St Louis municipalities extort citizens by holding up their driver's licenses until they buy stickers, even though that's not permitted by statute [St Louis Dispatch]. What we have here is not only "a secretive, self-policing municipal court system designed to pump revenue into many cities," but a judicial system that's acting with legislative powers — one of Madison's criteria for tyranny. I read this shit, and it's entirely out of my experience, and I'm amazed that the entire city of St. Louis hasn't been burned to the ground by an outraged citizenry. The local power structure should consider themselves very lucky.
"Oprah is one of a new group of elite storytellers who present practical solutions to society's problems that can be found within the logic of existing profit-driven structures of production and consumption" [Guardian]. Headline: "Oprah Winfrey: one of the world's best neoliberal capitalist thinkers." Ouch!
Baltimore public defender questions legality of mayor's curfew [Baltimore Sun].
Corruption
Game theoretical look at corruption: "In righteous societies, police were not a separate, elite order. They were everybody. When virtually all of society stood ready to defend the common good, corruption didn't pay" [Aeon]. Thinking of witness via cellphone cameras, I find this hopeful. Can readers actually conversant in game theory assess?
Looks like Obama's going to follow the Clinton model, and set up a foundation [WaPo]. Here's the site. With [gag] the Obama "O" trade dress. In Chicago, naturally. The patterns of corruption seem to follow partisan culture: Republicans seem to have no problem giving fealty to a squillionaire, while Democrats set up complex systems of obfuscation under the cover of public purpose. But it all comes to the same thing in the end, as Hillary's privatization and subsequent destruction of her email at State proves.
[OBAMA:] I'll go back to doing the kinds of work that I was doing before — just trying to find ways to help people, help young people get educations, help people get jobs, help bring businesses into neighborhoods that don't have enough businesses.
Translating, servicing Chicago's real estate interests any way he can, through gentrification, especially. And no doubt Rahm has plenty of privatization deals teed up, and the Obamas will get their cut. Then of course there's Michelle's Senate seat. These grifters will be with us a long time, sadly.
Gov. Chris Christie on Monday conditionally vetoed a bill that would have added reporting requirements for tax incentive-based economic development programs based on detailed performance indicators, saying they were too narrow [Star-Ledger]. "New Jersey has awarded more than $5 billion in incentives under the Christie administration." Ka-ching! Turning economic development programs into cookie jars, sometimes privatizing them, is a common thread in Republican states, including Wisconsin and Ohio.
Cuomo throws donors more bond fees [David Sirota, International Business Times]. Ka-ching!
Oil
Pro-train bomb Big Oil sues Feds over train safety rules [McClatchy]. Take the brakes off!
Class Warfare
Reporter goes undercover as an Uber driver [City Paper]. $9.34 an hour. That explains Uber's valuation, I guess.
"Cuba has for several years had a promising therapeutic vaccine against lung cancer. The 55-year trade embargo led by the US made sure that Cuba was mostly where it stayed" [Wired]. Gee, it sure is odd that a communiss country like Cuba can do this, and Big Pharma can't. Almost makes you wonder whether the capital market serves any useful social function whatever.
News of the Wired
"Mother Still Searching For Preschool That Focuses Exclusively On Her Son" [The Onion]. Dateline Boulder. I would have thought New York.
"Whistleblower accuses cybersecurity company of extorting clients" [CNN]. It's an updated version of the business model Crassus had for fire-fighting just before the collapse of the Roman Republic.
* * *
Readers, feel free to contact me with (a) links, and even better (b) sources I should curate regularly, and (c) to find out how to send me images of plants. Vegetables are fine! Fungi are deemed to be honorary plants! See the previous Water Cooler (with plant) here. And here's today's plant, the second of Garden Week (Marise):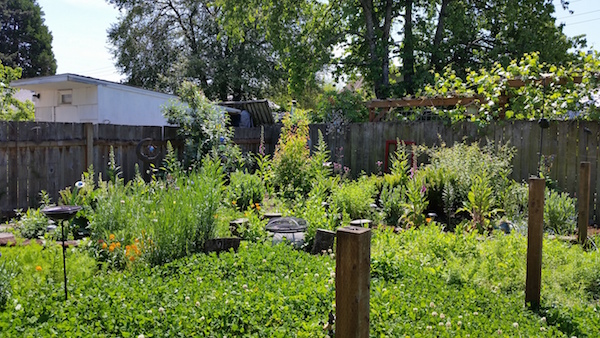 Marise writes:
Out west we didn't have a winter so the garden got away from us. We are luckier up here in the Willamette Valley in Oregon because we finally got some late season rain and snow so we are no longer under drought. The clover needs no watering and fixes nitrogen. We just need to beat it back from the blueberry bushes constantly or it'll steal all the water. Other than that, most of what you see volunteered.
The idea of that garden looks like the idea of my garden: A lovely place to sit, with lots of volunteers. I'm a huge fan of clover because I can seed it early, and you see green in about three days, which is a huge morale builder in that awkward time between the end of mud season and Memorial Day.
If you enjoy Water Cooler, please consider tipping and click the hat. It's the soil, seeds, flats, and planting season!
(Readers will notice that I have, at long last, improved the hat!)
Talk amongst yourselves!