By Lambert Strether of Corrente.
TPP
Pro-slavery Republican Paul Ryan to join forces with pro-slavery Democrat Obama to remove the Mendendez anti-trafficking provision from Fast Track, through language in a customs bill that will come to the floor after Fast Track does [HuffPo, and kudos to HuffPo for their TPP coverage]. It's bipartisan. So that's alright, then. And nice work on the "cooling saucer" thing, dudes.
"The TPP is nothing but an effort by the globalists to circumvent American sovereignty" [Dick Morris, The Hill]. "The long-term goal of the globalists is an international rule of law unaccompanied by democracy."
Clinton State department Flexians pass through the revolving door, lobby for TPP [First Look].
"Here's how much corporations paid US senators to fast-track the TPP bill" [Guardian]. Not very much, either!
Guide from EFF on how to set up a meeting with your representative [Electronic Frontier Foundation]. Do it!
"Julian Assange on the Trans-Pacific Partnership: Secretive Deal Isn't About Trade, But Corporate Control" [Democracy Now!]. Interview.
2016
Sanders
"'Today, with your support and the support of millions of people throughout this country, we begin a political revolution to transform our country economically, politically, socially and environmentally,' the U.S. senator from Vermont told supporters in Burlington." [McClatchy].

"7 ways Bernie Sanders will run against Hillary Clinton" [WaPo].

"Bernie Sanders: Hillary Clinton's money 'hustle' could isolate her from reality" [Yahoo]. Or involve her intimately with it.

The Sanders "404 not found" page [Bernie Sanders].
The S.S. Clinton
"Hillary Clinton's financial disclosure omitted 'pass-through' company used by Bill Clinton to collect consulting fees – and nobody knows how much" [AP, via Daily Mail].

The newly released financial files on Bill and Hillary Rodham Clinton's growing fortune omit a company with no apparent employees or assets that the former president has legally used to provide consulting and other services, but which demonstrates the complexity of the family's finances.

Because the company, WJC, LLC, has no financial assets, Hillary Clinton's campaign was not obligated to report its existence in her recent financial disclosure report, officials with Bill Clinton's private office and the Clinton campaign said.

The officials, who spoke on condition of anonymity because they were not authorized to provide private details of the former president's finances on the record, said the entity was a 'pass-through' company designed to channel payments to the former president.

I suggest "A pass-through entity for every American!" as a plank in the newly populist Clinton's platform.

Julian Castro auditions for role as Hillary's veep? [WaPo]. Corey Booker's not in the photograph. He must be very unhappy.
Republican Clown Car
"Rick Santorum launching second White House run" [WaPo]. Looks like Dan Savage's Google bomb still works.

"Lindsey Graham Knows the 'Iranians Are Lying' Because His Parents Owned a Pool Room" [Bloomberg]. Graham's just running for the book deal and the shouting head gig.
"How the Money Primary Is Undermining Voting Rights" [The Nation].
How to deal with so many candidates [Political Wire]. Too many choices cause depression….
"Woman Gets 3 1/2 Years In Prison For Running Over Her Husband For Not Voting For Romney" [The Viral Vault].
It's becoming cooler to call yourself a liberal [WaPo].
Dear Old Blighty
"Understanding the unthinkable post-2015 cuts"  [Wonkhe]. U.K. voted for austerity and now they're going to get it. Hard.
"Labour dies again" [London Review of Books]. Another fine post mortem.
"Sir Malcolm Bruce, Ex Deputy Lib Dem Leader, Admits Lying Politicians Are 'Widespread' In Defence Of Alistair Carmichael Leak" [HuffPo]. Film at 11?
Black Injustice Tipping Point
"American Civil Liberties Union says Cleveland has long way to go after consent decree" [Plain Dealer].
"Cleveland consent decree being watched in Baltimore" [Baltimore Sun].
Why DOJ police reforms fall short [Vox]. Not possible. I mean, this is Obama we're talking about.
"More Than 20 U.S. Cities Are Currently Under a DOJ Consent Decree, But Do They Really Work?" [Blue Nation Review].
Corruption
"New York Real Estate Executive With 'Access to Politicians' Is at Center of Scandals" [New York Times]. Shocked, shocked.
"Major End Of Session Legislation In Limbo Because Preet Bharara Is In Senate GOP's Heads" [The Albany Project]. Including rent control, which might expire. So, life's little ironies, Bharara anti-corruption campaign may have the (unintended?) effect of giving a sloppy wet kiss to New York real estate interests, who could kick thousands of not-so-rich New Yorkers out of their homes so they can make a quick buck selling luxury apartments to Saudi and Russian squillionaires, who then leave them vacant and don't even bother to turn on the lights, because markets.
FIFA
"U.S. indicts world soccer officials in alleged $150 million FIFA bribery scandal" [WaPo].

"FIFA Inquiry Yields Indictments; U.S. Officials Vow to Pursue More" [New York Times].

"Fifa in crisis amid corruption arrests and World Cup voting inquiry – live updates" [Guardian, live blog].

I Can't Believe it's Not #Blatter pic.twitter.com/SE5OgI2hKs

— Marcus Green (@MarcusInStroud) May 27, 2015

IRS chief on FIFA bribery scandal: "[T]he World Cup of fraud" [WaPo]. Oh, really? The Swiss have banks, I understand. As does the United States. And the U.K. #JustSaying.

"Qatar Is Treating Its World Cup Workers Like Slaves: Nepal Earthquake Edition" [Mother Jones]. 4,000 deaths seems like rather a lot of dead labor to condense into a stadium. #JustSaying.

"Statement: FIFA is fully cooperating as injured party in the actions by Swiss authorities" [FIFA].
Water
"Rain was in the forecast, but not 162 billion gallons of it" [Houston Chronicle]. Federal assistance no doubt on the way to the Republic of Texas.
"Epic Rains, Disastrous Floods Plague Texas, Oklahoma" [Weather Underground].
"Roughly 75% of the cattle in San Luis Obispo County have been sold or taken out of state over the last four years to escape conditions in the most drought-stricken region in California" [Los Angeles Times]. Meat should be a condiment anyhow.
California Drought: El Niño Won't End Dry Times In California [Capital Public Radio].
Drought-policy expert Linda Botterill of the University of Canberra: "We can expect longer, deeper and more severe droughts in Australia, and I believe the same applies in the U.S. As a result, we need to develop strategies that are not knee-jerk responses, but that are planned risk-management strategies" [US News].
"[I]f you're searching for profligate water users, immigrant communities, which are typically low-income, are the wrong place to look" [Michael Hiltzik, Los Angeles Times].
"The [Los Angeles Municipal Water District will boost its turf-replacement budget by $350 million for one year, but will also change certain terms and conditions of the extremely popular program. The district voted to cap the total reimbursement for residential customers at $6,000, paying $2 per square foot of lawn removed." [Los Angeles Times]. The photo caption says the money goes to "plant drought-resistant plants," which would be great. If the money goes to (petroleum-based) Astroturf, because freedom, that would be awful. Readers?
A drought watch has been declared in 27 northeast and central Pennsylvania counties after low groundwater and surface water levels have been identified [Patriot-News].
America the Petrostate
California gives free solar panels to the poor [Motherboard].
"Solar as Fastest Growing U.S. Power Source Rivals Shale Boom" [Bloomberg].
Class Warfare
"Today there are nearly 40,000 foreign contract workers on bases in the U.S. military's Central Command" [Al Jazeera].
"At a maid-training center on Jakarta's outskirts, dozens of women on floor mats listen intently to an instructor talking about how to manage money" [Wall Street Journal, "Indonesia Trains Migrant Workers to Make Most of Their Earnings"].
"Toronto Real Estate Is So Preposterous People Are Protesting Condos That 'Only' Cost $500K' [Buzzfeed].
Media heads rule ranks of best-paid CEOs [AP].
News of the Wired
Facebook and the media unite to attack the web [Baldur Bjarnason]. This is a very important post that all publishers should read:


[Y]our web developers are treating the web like an app platform when your very business hinges on it being a quick, lightweight media platform with a worldwide reach.

I honestly think it could be time to stop using the world "developer," so familiar from real estate. How about "web devolver"?

"Introduction to Keyboard Programming" [MassDrop].
Open office: "[A] sense of privacy boosts job performance, while the opposite can cause feelings of helplessness" [WaPo]. So, it's a two-fer: Capitalism sabotaging industry and power tripping in the business.
Twitter bans Charles Johnson after he tried to crowdsource funding to "take out" @deray [WaPo].
"'Free range' parents cleared of child neglect in 1 case" [AP]. I really ought to file these stories under "Police State."
"Getting old ain't for sissies" [Jack Ohman (Kevin F)]. Part I.
"Tribes withdraw from Maine Legislature" [Bangor Daily News].
"Kendell Jenner is good for business" [Fashion Law]. Gotta keep those Bangladeshi sewing machines humming….
"Peggy Noonan Joins George Will in Being Enraged at Rape – Victims" [New Economic Perspectives].
* * *
Readers, feel free to contact me with (a) links, and even better (b) sources I should curate regularly, and (c) to find out how to send me images of plants. Vegetables are fine! Fungi are deemed to be honorary plants! See the previous Water Cooler (with plant) here. And here's today's plant, the third of Gardens, Week Four: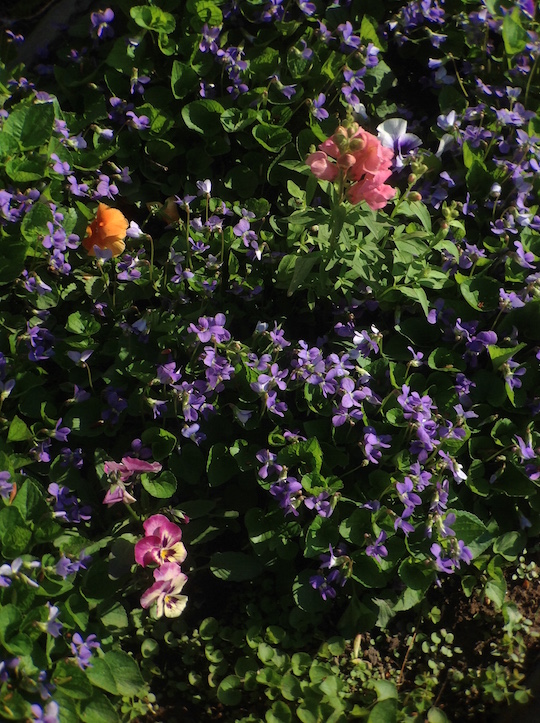 Paging Claud Monet….
NOTE: My contact form has a poor user experience: It defaults to my email when you don't fill in yours. I have to fix this, but in the meantime, please remember to fill in your email if you want me to contact you!
If you enjoy Water Cooler, please consider tipping and click the hat. It's the soil, seeds, flats, and planting season!
(Readers will notice that I have, at long last, improved the hat!)