By Lambert Strether of Corrente.
TPP
Food sovereignty: "The widely popular Country of Origin Labeling law, supported by ranchers and consumers alike, is now the victim of a NAFTA trade dispute before the World Trade Organization. The WTO may fine the U.S. for enforcing our labeling law. TPP endangers our 'Made in Montana' labels" [Great Falls Tribune]. And you can bet that goes for every other product that uses local branding. This is another talking point that resonates on both left and right. Use it!
Strange bedfellows: Senator Jeff Sessions opposes TPP for five reasons [The New American]. Two overlap with the critique from the left:
1. Consolidation of Power in the Executive Branch.

3. Ceding Sovereign Authority to International Powers.
So those are the points to reinforce with your Congress critter — or that cousin you can't talk to.
Support, USA Today: "It's time for the U.S. to set aside petty concerns and stand up for its strategic interests. The Trans-Pacific Partnership shouldn't even be a close call" [USA Today]. Under the door in every hotel room in America…
Support, Democrats: "It's been tough to pinpoint a number of Democratic supporters — many have kept their powder dry through the debate — but experts on and off Capitol Hill put the number somewhere between 15 and 30" [The Hill].
Support, Democrats: "Since Obama was elected in 2008, the share of Democrats who view trade as an opportunity has risen from 36 percent to 61 percent, according to Gallup" [FiveThirtyEight]. Interesting on the shift of the Democratic base away from manufacturing.
Wall Street Journal/NBC poll: 37 percent of adults polled last month said that free trade with foreign countries had helped the U.S., compared with 31 percent who said free trade had hurt. "But that is a turning point: it marks the first time in more than 15 years that a plurality of Americans said that free trade helped" [Politico].
Secrecy, Lloyd Doggett (D): ""My chief of staff who has a top secret security clearance can learn more about ISIS or Yemen than about this trade agreement" [Politico]. And Keith Ellison (D): "[Obama's] indignant when we say it's secret Maybe there's some definition of secrecy he knows that I don't know." Which would be standard operating procedure, actually.
Secrecy, Japanese Diet may get access to TPP text before deal, "in keeping with what the Obama administration is doing for the U.S. Congress" [Japan Times]. Everybody but the voters, eh? And:
[Yasutoshi Nishimura, senior vice minister of the Cabinet Office] said the fate of the next round of ministerial talks on the TPP planned for May 26 to 28 in the Philippines will hinge on whether the U.S. Congress can pass a key bill by then that could help speed up the talks. "It would be difficult" to hold the next ministerial talks if things go wrong with the bill for so-called trade promotion authority, Nishimura said.
Even I know what "difficult" means in Japanese diplo-speak. OTOH, now Japan was US agreement and support for offensive war, makingi them somewhat less of a military protectorate. Maybe that's what they really care about, and — as the rice farmers and kobe beef dudes would live — the TPP can go off in a corner and die a quiet death in Japan? Optimism!
"But the biggest [Latin American] losers would be Brazil, Argentina, Venezuela, and other countries that have relied on commodity exports, and that badly need to diversify their exports to grow in the long term" [Desert Sun]. "Economists tend to agree that, within Latin America, Mexico would be among the most to benefit from the proposed agreement. Mexico is highly integrated into the U.S. economy." Just like NAFTA….
"Broadly speaking, the TPP reflects the U.S. commitment to markets with a limited role for government in the economy" [Brookings (#eventheliberals)]. Well, unless reinforcing monopolies in intellectual property, of course. To be fair, the ISDS does "limit" the role of government. By gutting it.
Reid deking McConnell and McConnell is ticked [The Hill]. Machiavelli vs. Machiavelli.
2016
"14 Things You Should Know About Bernie Sanders" [Newsweek]. Not bad.
Over Sanders career, "the vast majority of his funds come from individuals, and also (at least recently) from small donors — those who give $200 or less [Open Secrets].
Sanders on the banks [WaPo]. Good quote:
I do not believe that Congress has the capability of regulating Wall Street. I believe that Wall Street regulates the Congress and that you gotta break these guys up
The S.S. Clinton
Clinton fundraising in Silicon Valley [Politico]. "Clinton hasn't articulated a specific tech agenda, but many industry insiders believe she's on the same page as them." "I serve as a blank screen"?

Clinton campaign launches "fact-checking website" to counter Schweitzer oppo book [New York Times].

Bill Clinton gave 542 speeches between 2001 and 2013 and made $104.9 million [WaPo]. "I gotta pay our bills," says the Big Dog. Wait, that quote is about the Foundation, not the speeches. So the Foundation pays the bills, and not the speeches? Confusing!
Republican Principled Insurgents
"Two career prosecutors–one a Republican, one a Democrat–just called Scott Walker a liar, and not a single national newspaper took notice" [HuffPo]. Yes, Walker's criminal investigation is still rolling along in the background. Walker's got brass ones, for sure.

Scott Walker, on the trail in Michigan, on the 2011 State Capitol Occupations: "We had death threats. We had nonsense. We had protesters not just at the capitol, in front of our actual family home" [Michigan Live]. He'll keep repeating this, but AFAIK, all of this (except for maybe "nonsense") is from the personal testimony of Scott Walker. Somebody should ask him if he ever asked for a police investigation of the so-called death threat, and, if so, what the result was.

Scott Walker stomps Democrats: "We went from all Democratic control, to all Republican control, much like you did here" [Free Press].

Rubio gets "notable bounce" in support since entering the race. [Wall Street Journal, "WSJ/NBC Poll: Marco Rubio Most Broadly Acceptable Candidate for GOP Voters"]. So I guess that speech works.
Republican Establishment
"Jeb Bush sends out Happy Cinco de Mayo message en Español" [WaPo].
Republican Clown Car
"The bipartisan legislation on Chris Christie's desk on Monday was designed to stop New Jersey public officials from delivering lucrative pension deals to their campaign contributors. Gov. Christie vetoed the bill" [David Sirota, International Business Times].

Relentlessly trivial Ben Carson coverage [WaPo]. Thanks, Internet!

On the day Carly Fiorina was fired, Hewlett-Packard's stock jumped 6.9% [CNN]. And for good reason [Bloomberg].

Mike Huckabee's post-FOX life — he's now officially in the race — includes "the 10,900-square-foot beachfront mansion he built on Florida's Panhandle, worth more than $3 million" [Politico]. I don't think that will resonate; he's just livin' the dream. And reading the quotes, Huckabee is smooth like old Bourbon. But how many Democratshas he stomped lately? Clinton's Arkansas was a long time ago.
A non-soporific Elizabeth Drew article [New York Review of Books].
[G]rowing dangers to a democratic election, ones that could decide the outcome, are being essentially overlooked. The three dangers are voting restrictions, redistricting, and loose rules on large amounts of money being spent to influence voters. In recent years, we've been moving further and further away from a truly democratic election system.
Yes, and one proxy for this is that nobody, but nobody, mentions Jebbie trying to help steal Florida 2000 for his brother. The whole topic has been airbrushed away.
Stats Watch
International Trade, March 2015: "First-quarter GDP, barely above zero at plus 0.2 percent, may move into the negative column on revision following a much higher-than-expected March trade deficit of $51.4 billion" [Bloomberg]. "Today's report offers stark evidence of how much the port strike really did impact the economy."
Gallup US Economic Confidence Index, April 2015: "Gallup's U.S. economic confidence index was minus 9 for the week ending May 3 — its lowest weekly score since December" [Bloomberg]. Many factors over-determine: Gas up, stocks sketchy, GDP reports.
Redbook, week of May 2, 2015: Easter distortions have held down readings for the three reports [Bloomberg]. Mother's Day is "May's first shopping event." Then Memorial Day (planting in Maine!). Mosler comments: "Still blaming the Easter Bunny" [Mosler Economics].
PMI Services Index, April 2015: "Strong," which "underscores the strength of the domestic economy" [Bloomberg].
ISM Non-Manufacturing Index, April 2015: "[E]xtended its strong and unusually stable trend," pointing to a "rebound" [Bloomberg]. "New Orders are very strong, at 59.2, as are backlog orders, at 54.5 which is unusually strong for this reading. Strong orders point to future hiring which is already very strong,"
Health Care
"The remarkable thing is that Republican ideologues could, right now, be taking a huge victory lap with the apparent success of ObamaCare. All they had to say was: "[T]his is really RomneyCare.' But they didn't" [Brad DeLong]. Neither party can admit it!
"Pioneer Model Saved Medicare Nearly $400 Million in Two Years" [Wall Street Journal]. Chump change, beside single payer. And aren't ACOs (the "Pioneer Model") rebranded HMOs?
U.K. election
Handy interactive map [Bloomberg]. We live in a Golden Age of data visualization….
Class Warfare
"Hamptons summer rentals approach $2M mark" [The Real Deal]
Mexico
https://firstlook.org/theintercept/2015/05/04/mexico-ayotzinapa-43-students-disappeared-part-2/
Black Injustice Tipping Point
The fruits of government-sponsored housing segration [EPI]. Important!
Water
Foam in Pennsylvania waters linked to fracking [Post Gazette].
News of the Wired
"What I think of the Apple Watch after using it for one week — and what people are getting wrong about it" [Business Insider].
DOJ's new FOIA fees [Sunlight Foundation]. Charging the people to get at the data they already own.
* * *
Readers, feel free to contact me with (a) links, and even better (b) sources I should curate regularly, and (c) to find out how to send me images of plants. Vegetables are fine! Fungi are deemed to be honorary plants! See the previous Water Cooler (with plant) here. And here's today's plant (Michael):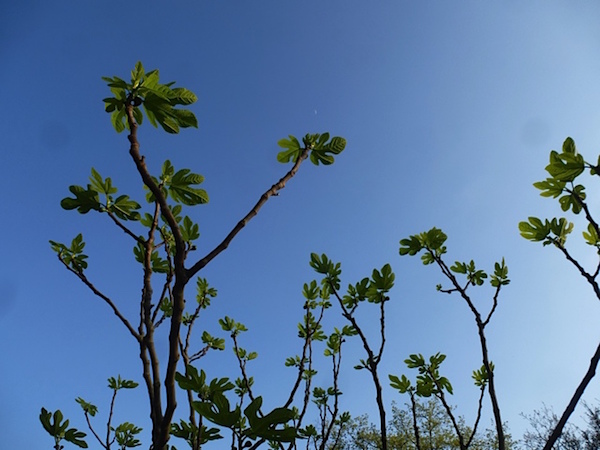 A fig tree. One of the more pleasant mud season moments is looking up and seeing branches with buds against the sky….
I'd like more pictures of people's gardens. As this image very clearly shows, they don't have to be pretty!
If you enjoy Water Cooler, please consider tipping and click the hat. It's the soil, seeds, Fedco Tree sale, and planting season!
Talk amongst yourselves!