Mr. Market had a swoon on Thursday because the data are coming in in a mixed picture, which always makes things confusing, and in a combination that does not look conducive to Fed friendliness. On Tuesday, the preliminary estimate for first quarter GDP was a mere 0.2%, well below consensus estimates. And even worse, when you backed out inventory increases, the economy contracted. The analyst community fingered one-time factors like the lousy weather and the port strike, but remember, they knew about that and their previous estimates were higher. The open question is how much of the downdraft was due to factors that are still in play, like the strong dollar.
By contrast, today we had much stronger news on the jobs front, with pay increasing in the first quarter by 2.8% and prior week jobless claims falling to their lowest point of the last 15 years. But Personal Income and Outlays for March showed "somewhat cautious" spending, which does a bit to reconcile the difference between what the GDP report said versus the later jobs data. Nevertheless, this combination made investors decidedly unhappy, since the Fed is itching to get out of ZIRP and is looking for signs that the labor market is strong enough to handle interest rate hikes.
In comments, New Deal democrat took issue with the conventional wisdom that consumers would soon open their wallets and spend their gas savings:
Income was flat, but spending rose .4%, because people dug into their savings. The personal saving rate fell from 5.7% to 5.3%. I.e., consumers started to spend some of their gas savings in March. Gallup's daily numbers suggest that has continued this month.
I try to avoid listening to financial media commentary on data releases, but managed to catch snippets of discussions on Bloomberg and CNBC. Blooomberg took the "the first quarter was just a pothole" line, while the CNBC crowd simply denied the first quarter results ("The economy doesn't feel bad").
In our last request for members of the commentariat to tell us about how their local economy was faring, the picture was that a few sections of the country, like the Bay area and Washington DC, were smoking, others like the Minneapolis-St.Paul area and Seattle were humming along nicely, while others were more mixed, with the most prevalent pattern being that upper income areas were doing well and middle-lower income were not. This is consistent with the fact that job ads in Carol B's part of New Jersey don't seem to be participating at all in the supposedly improving labor market (as in she's been sending job listings off and on for years and the wage levels and conditions for this sort of job hasn't budged):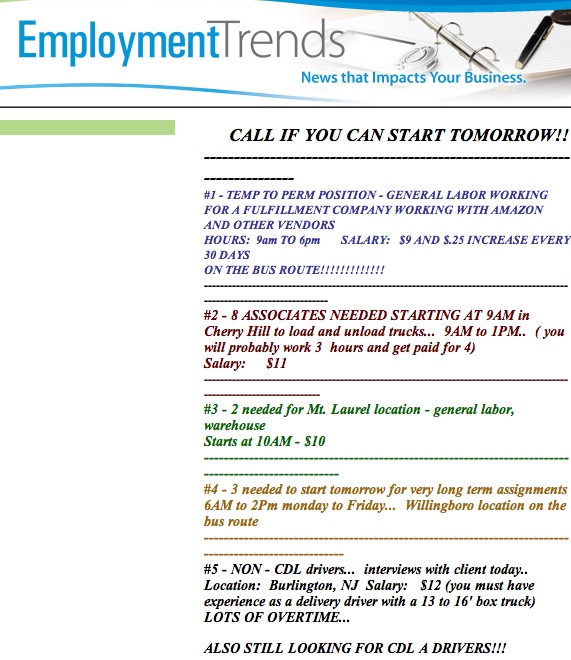 So we'd love to hear about conditions in your area. Are restaurants, stores and hotels busy or slack? How is the real estate market? Do you see signs of changes in business openings and closings? Some indicators, like whether dentists are getting more or less busy, or architect bookings, are particularly good leading indicators.
In particular, we're curious as to whether your local economy got caught in the first quarter downdraft, and what you think the trajectory is, Is the two tier "recovery" more or less on track, or do you see changes in the dynamics?