Yves here. There is of course the nasty issue of greenhouse gasses..
By Gaurav Agnihotri, a mechanical engineer and an MBA -Marketing from ICFAI (Institute of Chartered Financial Accountants). Originally published at OilPrice
History has been so fascinated with oil and its price movements that it is indeed hard to imagine our future without oil. Over the last few months, we have witnessed how oil prices have fluctuated from a 6 year low level of $42.98 per barrel in March 2015 to the current levels of $60 per barrel. It is interesting to note that, in spite of the biggest oil cartel in the world deciding to stick to its high production levels, the oil prices have increased mainly due to falling US crude inventories and strong demand. However, the current upward rally might be short lived and there may yet be another drop in the international oil price when Iran eventually starts pumping its oil into the market at full capacity, potentially creating another supply glut. In these endless price rallies, it is important to take a holistic view of the global energy industry and question which way it is heading. Are the dynamics of global energy changing with current improvements in renewable energy sources and affordable new storage technologies? Can the oil age end in the near future? Will we ever stop feverishly analyzing the rise and fall of oil prices? Or, will oil remain irreplaceable in our life time?
Are Renewables Ready to Take Over?
With little or no pollution, renewables like solar, wind and biofuels are viewed by many as a means to curtail the rising greenhouse emissions and replace oil as a sustainable alternative. There is little doubt as to why China, US, Japan, UK and Germany, some of the world's biggest energy gluttons have invested heavily in renewables.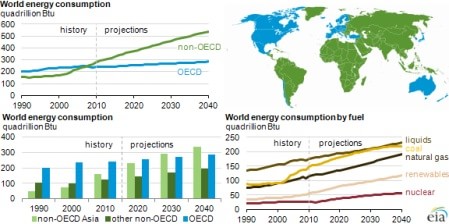 Image Source: EIA
However, according to a study conducted by Frankfurt School-UNEP Collaborating Centre for Climate & Sustainable Energy Finance, the United Nations Environment Program (UNEP) and Bloomberg New Energy Finance, the total global investments in renewables fell by 14% to $214 billion in 2013. One of the major reasons of this fall was the backing out of some big oil firms such as BP, Chevron and Conoco Phillips. These companies significantly reduced their investments in renewables and decided to focus on their 'core' business; that is, oil and gas. As per Lysle Brinker, an oil and gas equity analyst at IHS "It's not their (Big oil majors) strong suit to be spending a lot of money and time on renewables when they are definitely challenged in their core industry."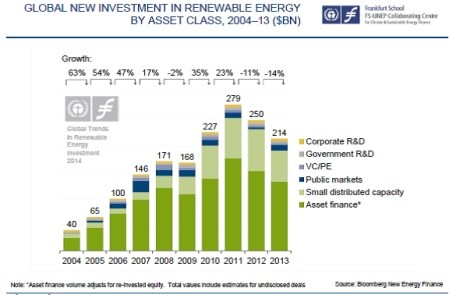 However, if we take the example of the solar industry, where the cost of an average photo voltaic panel is declining at a rate of more than 10% per annum we see that, in spite of reduced global investments, renewables still hold a lot of promise. Some of the major integrated oil and gas companies such as Shell, Total and Statoil have actually been slowly and steadily increasing their renewable related investments. Shell is investing big time in biofuels, while Total, with its stake in Sunpower, is investing substantially in the solar sector while Statoil is placing its bets on wind energy. This shows that renewables are a phenomenon that many believe can give oil a run for its money.
Is Saudi Arabia Sensing anEnd of Oil Age?
"No one can set the price of oil – It is up to Allah", this is what Saudi Arabia's oil minister Ali Al Naimi had to say while speaking to CNBC recently. OPEC, which holds around 40 % of the world's crude output, is showing no signs of reducing its production levels, even if Iran starts pumping more oil after sanctions are lifted should the international nuclear deal with P 5+ 1 counties prove successful. Many see this move by OPEC as a means to protect its market share and drive US shale players out of business. But is the decision of OPEC (especially Saudi Arabia) part of a much bigger game? The Saudis, who lead OPEC, would obviously be very interested in delaying 'Peak Oil Demand' after which global demand for oil would start declining steadily, along with Saudi oil revenues.
According to Bank of America and Merrill Lynch commodity researchers, if crude prices stay in the range of $50 – $70, peak oil demand would be pushed beyond 2030. This delay in peak oil demand would definitely hurt renewables and anyone who is investing in them. As per Alex Thursby, Chief Executive at the National Bank of Abu Dhabi, "Renewable energy technologies are far further advanced than many may believe: solar photovoltaic (PV) and on-shore wind have a track record of successful deployment, and costs have fallen dramatically in the past few years. In many parts of the world, indeed, they are now competitive with hydrocarbon energy sources. Already, more than half of the investment in new electricity generation worldwide is in renewables. Potentially, the gains to be made from focusing on energy efficiency are as great as the benefits of increasing generation. Together, these help us to reframe how we think about the prospects for energy in the region."
Yes, OPEC has sensed the end of its glory days. And it is obvious that Saudi Arabia, with 85% of its export revenues coming from petroleum exports does not want the oil age to end anytime soon.
What Can We Expect?
If we look at China, the second biggest global consumer of oil, we find that its oil consumption rate constitutes about one third the world's total consumption rates and shows no signs of slowing. In fact, EIA even predicts steady growth of China's oil production reaching 4.6 million barrels per day in 2020 and 5.6 million barrels per day in 2040.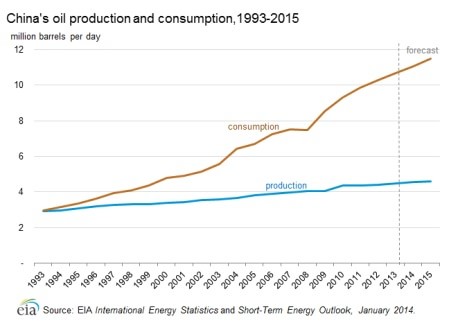 China has also invested heavily in building its strategic petroleum reserves and plans to expand them to 500 million barrels by 2020.
Now take India, a country that is considered by many as the next solar investment hotspot. India has been investing heavily in building its own strategic petroleum reserves and its public sector undertaking, Oil and Natural Gas Corporation Limited (ONGC) is planning to invest about $62 billion on its discoveries in Krishna Godavari Basin block KG-D5.
These are two of the world's fastest growing economies that are investing heavily in renewables but also safeguarding their oil and gas aspirations. Moreover, when we analyze past oil price trends, we find that volatility related to geopolitical equations, speculations, wars, economic sanctions and climate change have always kept the global energy markets guessing about the future. The world is still myopic when it comes to energy. Yes, it wants to embrace renewables but not at the cost of oil. Whatever happens to oil prices in the coming years, one thing is certain: that the age of oil isn't ending anytime soon, at least not in the next 30 years.