As the world has floundered in low growth post-crisis, with advanced economies still suffering with credit overhangs and hypertrophied, largely unreformed financial services sectors, it has become acceptable, even among Serious Economists, to question the logic that a bigger financial sector is necessarily better. Of course, the logic of "more finance, please" was never stated in those terms; it was presented in the voodoo of "financial deepening," meaning, in layperson's terms, that more access to more types of financial products and services would be a boon. For instance, one argument often made in favor of more robust financial services is that they allow for consumers to engage in "lifetime smoothing" of spending. That basically means if times are bad or an individual has a big investment they to make, he can borrow against future earnings. But we have seen how well that works in practice. Most people have an optimistic bias, so they will tend to underestimate how long it will take them to get back to their old level of income, assuming that even happens, which makes it too easy for them to rationalize borrowing rather than going into radical belt tightening ASAP. And we've seen, dramatically, on how college debt pushers get students to take on debt to "invest" in their education, when for many, the payoff never comes.
Moreover, despite an enormous increase activity and widespread use of technology, costs of financial intermediation have increased, as Walter Turbewille shows, citing a study by Thomas Philippon: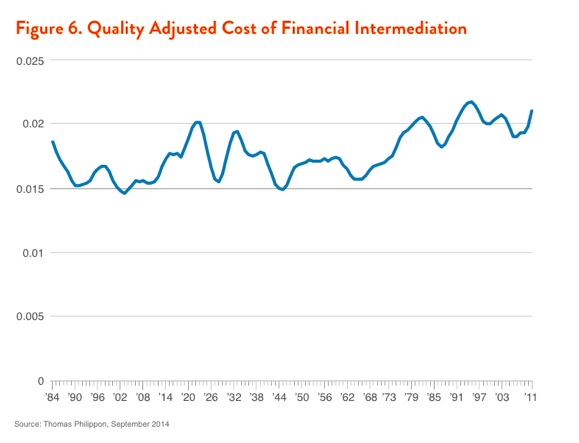 But the recent IMF paper, Rethinking Financial Deepening: Stability and Growth in Emerging Markets, is particularly deadly. Even though it focused on the impact of financial development on growth in emerging markets, its authors clearly viewed the findings as germane to advanced economies. Their conclusion was that the growth benefits of financial deepening were positive only up to a certain point, and after that point, increased depth became a drag. But what is most surprising about the IMF paper is that the growth benefit of more complex and extensive banking systems topped out at a comparatively low level of size and sophistication. We've embedded the paper at the end of this post and strongly urge you to read it in full.
The contribution of the IMF paper is that the authors developed a new index to do a comprehensive job of capturing financial activity. Previous work had tended to look either at the size and sophistication of financial institutions, or the depth and complexity of financial markets. The new index incorporates both aspects of financial activity, as well as incorporating access. The writers concede that their measure is still imperfect, but is an improvement over other approaches. They also stress that they are well aware of the issue of establishing that the relationship between the size and complexity of the financial sector is causal, and not a mere correlation:
Empirically, establishing causality from finance to economic growth has been a key challenge. King and Levine (1993) were the first to address this issue in a cross-country regression context. Their paper found that initial levels of financial depth—approximated by the size of the banking system relative to GDP—could predict subsequent growth rates over extended periods, even when controlling for other explanatory variables. Stock market depth was also incorporated later by Levine and Zervos (1998), with the finding that causality went from finance to growth. These results held up with further refinements of the approach, by using instrumental variables (Levine, Loayza, and Beck 2000). In the 2000s, the empirical work continued to evolve with the application of dynamic panel data techniques, using lagged values of the financial variables as instruments and controlling for other determinants of growth (Beck and Levine 2004). The present paper follows this last approach, using similar control variables and econometric techniques to ensure that the relationship is not one of simple correlations but of causality that goes from finance to growth.
This is the money chart: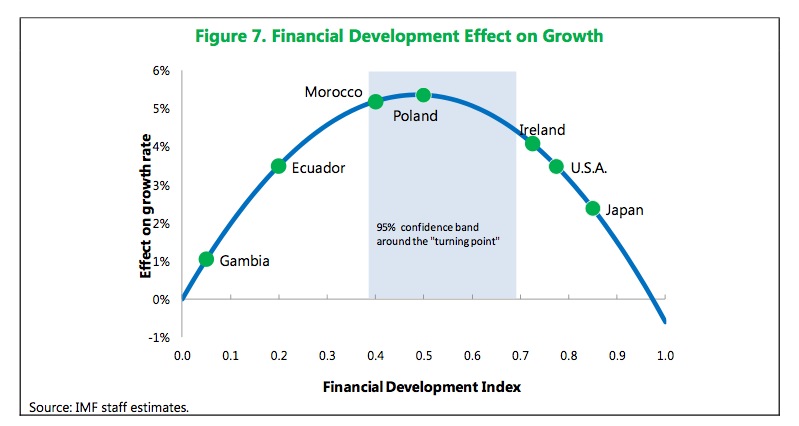 The authors have a more sophisticated and nuanced assessment than "Having a financial sector that is more developed than Poland's is a bad idea." From the paper:
There is no one particular point of "too much finance" that holds for all countries at all times. The shape and the location of the bell may differ across countries depending on country characteristics including income levels, institutions, and regulatory and supervisory quality. In other words, a country to the right of the average "too much finance" range may still be at its optimum if it has above average quality of regulations and supervision; conversely, a country to the left of the range with weak institutions may have reached its maximum already.
This implies that countries like the US, UK, and Japan before its crisis, went pedal to the metal in the wrong direction by deregulating institutions and markets at the same time. That policy shift, in combination with overt and covert subsidies, fostered explosive growth in products and trading volumes, particularly is the least regulated sectors.
The authors used the subcomponents of their index to decompose why "too much finance" hurt growth and whether certain aspects of increased financial activity might still be salutary. They concluded that excessive financialization hurt total factor productivity. The most commonly cited mechanism for that is the brain drain: that top college graduates, and in particular, highly talented mathematicians, physicists, and computer professionals get sucked into Wall Street when they could be curing cancer or developing new materials that would reduce the demands that we make on resources. And the "curing cancer" issue is no exaggeration. I had one reader provide a long, detailed anecdote which I was told I could not quote because it might expose him and the individual, in which he interviewed a medical researcher who had written important papers in cancer research. She professed to have a keen interest in finance but it was clear that her real motivation was she would immediately triple her pay by changing careers.
The IMF team did find that expanding access (as in letting more companies and individuals able to use existing financial products and services) was positive for growth:
Specifically, access has a positive linear relationship with growth, while efficiency on its own does not have a robust positive association with long-term growth. This implies that countries that may have reached the maximum benefits in terms of growth from deepening financial institutions and
markets may still reap further growth benefits from better access. As an example, Chile stands out as a country with an above average FD index, with deep and efficient financial institutions, but could gain from greater access to both institutions and markets
Again, the US is going in the wrong direction as more and more people are unbanked.
The IMF paper is generally in line with the argument that banking should be boring, meaning that complexity, opacity, and leverage typically work far more for the benefit of the financier and at the expense of customers and society at large. Frances Coppola tries to turn that argument on its head and say that banking, particularly retail banking, should be fascinating. Huh?
At least in the US, the perception of boredom has a lot to do with one's status, which generally means pay, and the caliber of one's colleagues, which means how socially elite they are (a function of credentialing and sometimes education). In the old days when banks did character-based lending, the branch manager was typically a middle-of-the-pack performer in the bank credit officer training program, and those credit officers were typically good but not stellar academic performers at pretty good colleges. In England, retail banking in the 1980s was populated heavily by people with only a high school education; the old British "clearers" (clearing banks) were a great path for upward mobility for numerate, industrious working class men.
If Coppola has dealt much with retail banks recently, she'd know that the trend in the US has been to further de-skill the branches and turn them into retail stores (my bank even calls them stores) by not allowing lending decisions to take place at branches, but to have them serve as front ends for account opening and loan transaction processing. Retail loans are scored using standardized metrics, with the badly flawed FICO score as a major input.
Moreover, I was an investment banker and the work content was boring. It was largely repetitive and did not get much better as one became more senior, save as in most organizations, client interaction became more important (but at Goldman, that was handled mainly by the salesmen in the Investment Banking Services Department; the product specialists provided analysis for the sales efforts and transaction execution). It nevertheless required smart people due to the extremely lean staffing most firms maintained (everyone was constantly juggling far too many deadlines and reprioritizing during the day) and to justify the fees. Of course, at more senior levels, internal coordination and jockeying for resources, aka politics, became more important, even at a Goldman that worked very hard at keeping that down to the bare minimum.
And to confirm that my view is not dated, consider this recent sighting from the Financial Times:
The work is dull, the pay flat and your colleagues lousy. But that could well be your lot in financial services, according to a global survey that has uncovered deep frustrations at the heart of the industry.

According to the survey, carried out between January and March by Options Group, a New York-based executive search and consulting firm, just one-fifth of participants said they were content with their job, their firm, their pay and their prospects. Half of the 100 people interviewed — in a range of mostly senior positions at banks, brokers and asset managers — said they were unhappy on all four fronts.
Mind you, this survey is of the people who have more power, control, and scope, and thus should be more satisfied with their jobs than average incumbents. But this survey reveals that what has drawn people to banking in recent decades is the allure of the money, and once they start making such lofty pay and have such narrow skills, they can't get off the greasy pole without taking a very big drop in status and income. And in some fields, the antipathy was large even before the post-crisis people led to more aggressive internal jockeying as most businesses showed flattening growth. For instance, in the early 1990s, when derivatives were the hot new thing and Morgan Stanley was one of the up and coming players, Frank Partnoy wrote in his book Fiasco how his colleagues they'd rather do anything other than sell derivatives (you had to be dedicated to ripping off your client, or as they put it, "ripping off their face" or "blowing them up"), including digging ditches, if they could make the same amount of money.
So the notion of moving to more simple-minded financial services, and having people who would like the sort of job that that sort of industry would provide work in it, is much to be desired. In the early 1980s, the banking industry on average had pay levels similar to that of other private sector jobs. While it seems hard to think that we can get back there from here, having finance be perceived to be just another line of work, as opposed to something special, would be a big step in the right direction.
IMF-Rethinking-Financial-Deepening
IMF Rethinking Financial Deepening