Aussie scientists declare El Nino onset, forecast 'substantial' weather extremes Japan Times
Space agency targets 'tick disease' BBC (David L)
Can we all agree the justifications for this AOL/Verizon deal are batshit insane? Pando
Thousands take part in Estonia's war games Financial Times
Pentagon weighs sending planes, ships near disputed South China Sea reefs Reuters
The United States should not seek strategic primacy in Asia China Spectator
Beijing Lashes Out Over U.S. Plan on South China Sea Wall Street Journal
China's Factory Output, Investment and Retail Sales Miss Forecasts Reuters
Euro-Area Growth Picks Up as France Outperforms Germany Bloomberg. "Picks up" is a whopping 0.4%.
UK elections
Cameron to sell Thatcherian old-fashioned "patriotic" neoliberalism failed evolution
Grexit?
REPORT: The IMF won't join in a third bailout for Greece Reuters. Note that this has yet to be confirmed by other sources (my reader of the German press has not seen any independent accounts there; readers of the European press please indicate if you've seen any stories that do not rely on the El Mundo account). Even if true, this is Less significant than it seems, since the IMF was included in the European bailouts only because thelofficialdom wanted to share the pain. There is a fair bit of opposition among European officials, including Jean-Claude Juncker, to the IMF's role. But for the contingent that still wants the IMF in (to act as designated kneecap breaker?) the IMF threat to exit gives them bargaining leverage to press Greece on structural reforms.

Greece and eurozone agree bailout extension Financial Times. While this report is clearer than other accounts of where exactly Greece got the money, someone who is in contact with knowledgeable sources disagreed on one element of the FT story (as to which account the Greek government used) which has implications for when Greece will run out of dough. However, Varoufakis said that the government only has about two weeks. In the past he's tended to obfuscate or issue confident statements. Note that the FT and my source do agree that whatever account the Greek government used, it had the right to access it. That is significant in that it means Greece making the money was not an extend and pretend gambit by the Eurocrats, but a clever move by the government. We hope to get to the bottom of this.

EU said to consider plan for Greece in event of Euro exit Irish Times

Europe's well of sympathy for Greece runs dry Reuters. Notice Syriza impact on Podemos plans.
Ukraine/Russia
America's Achilles' Heel ClubOrlov (Chuck L). Overwrought at points but nevertheless worth reading.
Syraqistan
Jeb Bush won't answer Iraq 'hypothetical CNN (furzy mouse)
Big Brother is Watching You Watch
Pentagon hunts for ISIS on the Secret Internet CNN. Notice how an "ISIS inspired attack" is equated with ISIS.

Rand Paul Is Fighting for Your Privacy—Unless You're a Woman The Nation (furzy mouse)
Trade Traitors
The 10 biggest lies you've been told about the Trans-Pacific Partnership Dave Dayen, Salon (Brindle)

For Senate Democrats, a Win in Trade Vote's Failure Wall Street Journal

How to lose a trade agenda Albany Democrat-Herald (Sanctuary)

In case you missed it in comments yesterday, Lune gives a good analysis of how Obama's horse-trading went awry. Lune also thinks, like our Congressional source, that Obama does not have an easy solution and Fast Track therefore is in big trouble.

TTIP: Why the EU-US trade deal matters BBC

EU's New 'Scrutiny Board' To Implement Key US Demands For TAFTA/TTIP Even Before It's Completed Techdirt (Mel)
Black Injustice Tipping Point
FBI's warning of white supremacists infiltrating law enforcement nearly forgotten The Grio (JB). While this does appear to be contributing to police brutality towards blacks, this post is thin on concrete evidence, in fairness because the problem has not been investigated.
Moody's downgrades Chicago to junk Financial Times. The probable bankruptcy of Chicago is curiously underreported.
Amtrak Train Crashes in Philadelphia, Killing at Least Five People Wall Street Journal Maybe we need to invest in infrastructure.
At least 5 dead as Amtrak train derails in Port Richmond. Lambert: "Picture looks bad."
U.S. May Scrap UBS Libor Deal, Seek Prosecution Bloomberg
Partisan rancour hits US bank bill Financial Times. The claim that big banks weren't making the case for the changes may be narrowly true but is substantively misleading. The large banks have been using community bank interest groups as their water carriers.
Fed Officials Tell Markets the Training Wheels Are Off WSJ Economics
Bond Rout Deepens to $433 Billion as Bull Positions Unwound Bloomberg
Oil prices rise as OPEC ups demand outlook CNBC
OBL's Story Lives
The Loneliness of Sy Hersh New Republic. Glenn Greenwald tweet: "Alternative headline to this @tnr article on Hersh: how Dems radically change their beliefs based on who occupies WH"

It's a Conspiracy! How to Discredit Seymour Hersh The Nation (furzy mouse)
Antidote du jour: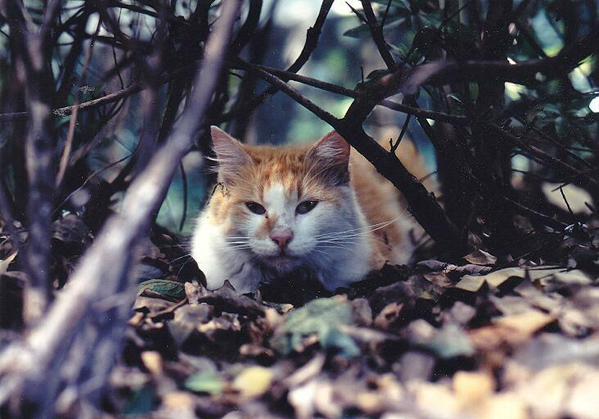 See yesterday's Links and Antidote du Jour here.