This photo shows a mysterious mechanism of the sun that has baffled scientists for centuries Business Insider (David L).
Twitter using shark becomes social media sensation The Drum (RS).
Why finance is too much of a good thing Martin Wolf, FT
JPMorgan Chase Writes Arrogant Letter to Its Swindled Forex Customers Wall Street on Parade. It's not so much that they're "arrogant"; I mean, they're investment bankers, and water is wet. It's that they're still ripping their customers' faces off. As they kindly explained in that letter.
City trader accused of being 'ringmaster' in Libor-rigging fraud boasted: 'You want every little bit of money you can possibly get' Daily Mail and Understanding the Libor Scandal CFR
UPDATE 2-U.S. SEC charges Atlanta firm over public pension funds Reuters. Abynormal: "They were under investigation since 2013… I am seriously SICK"
Dollar Bulls Rally Around Atlanta to Justify Money-Losing Trades Bloomberg
The taming of the Fed's balance sheet FT
Fed's Yellen Plans to Skip This Year's Jackson Hole Conference WSJ
Recession of 1937–38 Federal Reserve History
One of the Biggest Tech IPOs of All Time Is Getting Bought by a Teen Clothing Store Bloomberg
Investors are playing a 'greater fool' game FT
Spanish Elections
Europe's anti-austerity movements: from Podemos to the SNP Channel 4 News
Why Greece's Negotiators Can't Afford to Ignore Spain Now WSJ
Grexit and the Morning After Paul Krugman, NYT
Grexit?
Ukraine
Russian Mobile Crematoriums? Shades Of Saddams Mobile Weapons Labs! Sic Semper Tyrannis
Syraqistan
Key Iraq War Architect: "Our Objective Should Be a New Sunni State Out of the Western Part Of Iraq, the Eastern Part of Syria" Washingtons Blog

Saudi Arabia beheads 88th person this year, passing total for 2014 Middle East Eye. Billmon: "'Now you guys are just running up the score,' whines ISIS."

Reports of deal with Pakistani spy agency rile some in Afghanistan Los Angeles Times
Macau casinos eye resorts to counter slowdown CNBC
Big Brother Is Watching You Watch
Sorry……Not All Lives Matter Colorado State Lodge Fraternal Order of Police
Supreme Court Agrees to Settle Meaning of 'One Person One Vote' NYT. I have a bad feeling about this… And: Major test on voter equality set for review SCOTUSblog
Sotomayor And Roberts Clash As Supreme Court Expands Power Of Bankruptcy Courts Forbes
Appeals court rules against Obama on immigration WaPo
Four Words That Imperil Health Care Law Were All a Mistake, Writers Now Say NYT
Class Warfare
Elizabeth Warren: No Need to Stop Uber-ized Workforce, but Must Invest in Education, Research ReCode. Eesh. Senator. So today's "Shafting Economy" kidz have to wait twenty years for your policies to kick in? And go even more into debt? WTF?

Tim Smeeding on how to reduce income inequality Lane Kenworthy
Danish Radio Station Defends Host Who Clubbed Rabbit to Death During Animal Welfare Debate NYT
Robotic Butt Helps Medical Students Learn Professional Intimacy KQED. EM: "Do Androids Dream of Electric Turds?"
Art World Hunt: The Quest for Hitler's Lost Treasures Der Spiegel
PowerPoint should be banned. This PowerPoint presentation explains why. WaPo
The mystery of the power bank phone taking over Ghana Quartz
Antidote du jour (via):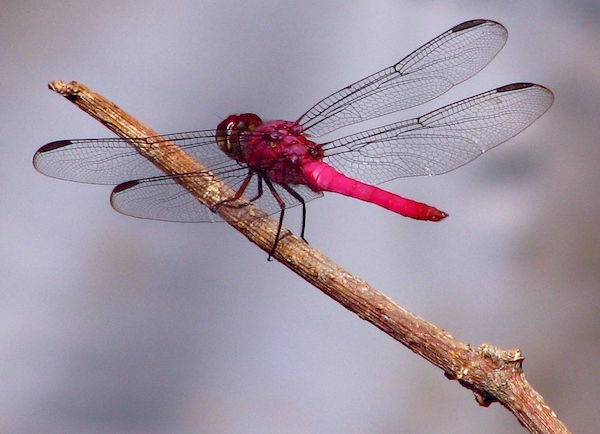 I was super chuffed to spot my first dragonfly of the season yesterday!
See yesterday's Links and Antidote du Jour here.