By Lambert Strether of Corrente.
TPP/TTIP/TiSA
"Emails: corporate lobbyist thanks US Trade Rep for pasting his wish-list right into TPP" [Boing Boing]. In case you were in any doubt about the level of corruption involved: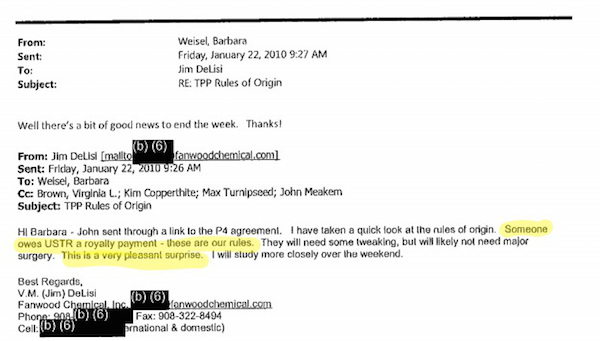 "10 Reasons the TPP Is Not a 'Progressive' Trade Agreement" [Ralph Nader, HuffPo].
House vote this week? [Politico]:
The House is expected to vote on the legislation this week if Republicans leaders and Democratic supporters can secure the 217 votes needed to pass the measure — a likely scenario as pro-trade lawmakers are increasingly confident they've marshaled enough votes. Rice's announcement [below] that she plans to vote for fast track pushes the number of Democrats planning to support the measure into the 20s.
No sourcing on the whip count, though.
"Top 10 undecided House members to watch on trade" [The Hill]. Most of the contact forms filter by zip for constituents.
House member flips: "Freshman Rep. Kathleen Rice, D-N.Y., had publicly opposed [TPP], but in an about-face over the weekend, she said she'd finally been persuaded by the president's case. She said too often, Washington politics muddies arguments about what's really best for the middle class" [AP]; Rice contact info. "The President is Right on Trade" [Kathleen Rice, The Hill]. AFL-CIO makes six-figure ad buy against her; Rice unrepentant [Politico].
Weak (declared) support for TPP in California the result of "a ham-fisted campaign of political intimidation spearheaded by organized labor" [Daily Beast]. The more ham-fisted the better, so far as I'm concerned. Congress critters who would sell out our national sovereignty deserve polite treatment only for tactical reasons. (I'm concerned about the "labor muscling Democrats" line for a couple of reasons; First, it's if not exactly untrue, not the whole truth; there's plenty of opposition to TPP across the political spectrum. Second, it sets labor up as the single point of failure in case of defeat, a narrative beloved by our famously free press.
"At the end of last month, the AFL-CIO launched an ad buy just under $85,000 in [TPP supporter Ami Bera's] California district, where a narrator warns, 'Congressman Ami Bera will do anything to keep his job, including sending your job overseas'" [National Journal]. Local Democrats ticked, labor ticked, national Democrats (of course) ride to Bera's rescue. Bera won his last election by 1,455 votes. If he doesn't recant on TPP, he needs to lose the next, and be seen to have lost because of labor.
About those high standards: "Section 103(b)(2) of the Trade Act of 2015 says a trade agreement will be considered under the expedited rules of TPA "if such agreement makes progress in meeting the applicable objectives described" (emphasis added)" [The Hill]. Oh. "Makes progress."
Yes, the Senate is cutting Medicare for the so-called Trade Adjustment Assistance scam [Wall Street Journal], in a good summary of issues raised, except — bad Wall Street Journal! Bad! Bad! — ISDS and loss of national sovereignty. Must be the one they have no answer for, not even a talking point.
House Democrats are displeased that the Senate bill would increase automatic budget cuts to Medicare by about $700 million to help cover the $2.9 billion cost of Trade Adjustment Assistance. House Minority Leader Nancy Pelosi (D., Calif.) called the offset a "non-starter," while Mr. Boehner and Rep. Paul Ryan, chairman of the House Ways and Means Committee, said they were open to changing the way trade adjustment assistance is funded. Lack of an agreement could jeopardize the whole package.
Not sure if this means Fast Track has to go to conference or not; I doubt it.
Timeline may mean that if TPP is passed, the next President may sign it [Politico]. Former US Trade Representative Susan Schwab:
We should note that even if TPP were closed tomorrow, it still takes a very long time — months, six months or more, to clean up, I mean literally clean up tariff schedules, clean up chapters and turn it into something that's signable. And under TPA the text is going to have to be made public for 60 days before it is signed, you've got to have hearings, it has to be submitted. Depending on how long this takes, we're beginning to look at the possibility that this legislation gets introduced and voted on not in this Congress, but in the next Congress.
More on timeline: "[A]nalysts say their research already shows signs that supply chains are beginning to shift ahead of TPP [Just Style] (apparel industry view).
While the content of the final agreements remains unclear, including the timing of potential duty phase-outs and exclusions, the analysts suggest TPP implementation in 2018 is the most likely scenario–but that mid-2017 also possible.

The fact that 2016 is an election year could also complicate matters, and perhaps push out the time line for implementation. This is because Republicans running for President may move away from trade deals to a more populist/protectionist position that could, in turn "start a cascade of Republicans lining up against TPP." On top of this, public sentiment could change quickly as details of the final agreement are released.
"[W]hy doesn't Congress just subpoena the entire contents of the documents and publish them on the website of the Library of Congress?" [Chronicles] (from the right). "[T]he real problem is … GOP leaders in Congress."
2016
Sanders
"Bernie Sanders to hold 6 Iowa events next weekend" [Des Moines Register].

"Don't Pay Attention To That Wisconsin Straw Poll" [FiveThirtyEight]. "A few more highly motivated Democrats in Wisconsin cast their lot with Clinton than with Sanders. That's it."

"[Sanders] is campaigning like a cannonball on a shoestring budget against seemingly impossible odds … but objects in your mirror are closer than they appear" [William Rivers Pitt, Truthout].

Axelrod: "Voters appreciate someone who has a point of view and goes out and fights for it" [Wall Street Journal, "What Bernie Sanders's Campaign Is Really About"]. Also, standing-room-only crowd of 800 in Keene. Not bad for 518 days before the election.
The S.S. Clinton
On the trail, Clinton downplays personal ties and interests on issue of epidemic of prescription drug deaths [Reuters].

Clinton campaign requires staffers to take the bus, not the Acela [WaPo]. Including Podesta (at least for this story), a sign of support for campaign manager Mook.

Clinton strategy could yield an election win but no mandate [National Journal]. Yep.
Republican Establishment
Jebbie to git tough on Putin [AP].

Jebbie switches campaign managers [NBC]. So much for the juggernaut.
Republican Principled Insurgents
Rubio "struggled financially" until "a publisher" (who?) paid him $800K for his book [New York Times]. Of course, the $80,000 boat didn't help any.
Republican Clown Car
"One voter shows up at Santorum event in Iowa" [Politico]. I actually have compassion for the guy. Electoral politics is not an easy calling.
"Louisiana GOPers In Fiscal Mess Beg Grover Norquist To Relax No Tax Pledge" [Talking Points Memo]. I know! Let's call a meeting of the Estates General!
"Several presidential hopefuls are getting help from allied tax-exempt nonprofit groups that have anonymous donors" [Wall Street Journal, "Tax-Exempt Groups Give 2016 Hopefuls a Boost"]. Funny how all this money was on the sidelines 'til people could give anonymously. Why is that?
Herd on the Street
Bonds and equities now moving in tandem (charts) [Bloomberg].
"Waning breadth" in the market [Bloomberg]. But then I'm a bear, temperamentally and from life experience. In case you hadn't noticed.
Stats Watch
Portuguese 10-year bonds: "GSPT10YR:IND Yield 2.997; up 0.012; change: 0.40% " [Bloomberg]. Still up. Mr. Market's worries on contagion are real, but very mild.
Redbook, week of June 6, 2015:  "continues to report depressed sales" [Bloomberg]. "One factor behind the latest disappointment is this year's calendar shift for Father's Day."  Now that the weather is good…  "It's up which is good, but not even back to q1 January high and below historic 'good economy' levels" [Mosler Economics].
NFIB Small Business Optimism Index, May 2015:  "well above expectations" [Bloomberg]. "[H]ints at the big second-quarter rebound that many have been expecting." Contrast: "Nothing to Write Home About" [NFIB]. "Back to normal levels."
JOLTS, April 2015: "[H]ighest reading in the history of the series" [Bloomberg]. "[W]ill boost talk among the hawks that slack in the labor market is evaporating." Heaven forfend that wages should rise. Then workers could buy stuff. But: "The problem with this data series is the backward revisions which makes real time analysis problematic" [Econintersect].
Wholesale trade, April 2015: "inventories up 0.4 percent but far below a giant 1.6 percent surge in sales" [Bloomberg].
US NABE Survey: Economists Downgrade Growth Outlook For 2015 [MNI].
Black Injustice Tipping Point
Chicago: "Rep. Monique D. Davis, D-Chicago, has put forward House Bill 5395 that will privatize the eviction process" [Rolling Out]. 
Key FBI informatant in Black Panthers [Reveal]. As usual, the one who knows where to get the guns is the cop.
"15-Year-Old Who Shot McKinney Pool Party Video Speaks Out" [CW33]. Good for him!
Class Warfare
"How Big Is the Penalty For Not Paying a 34-Cent Bill?" [Kevin Drum, Mother Jones].
"The Messy Link Between Slave Owners And Modern Management" [Forbes]. Stale, but still useful. The beatings will continue until morale improves.
News of the Wired
"Why Technology Hasn't Delivered More Democracy" [Foreign Policy].
"David Graeber and the Bureaucratic Utopia of Drone Warfare" [The Intercept].
* * *
Readers, feel free to contact me with (a) links, and even better (b) sources I should curate regularly, and (c) to find out how to send me images of plants. Vegetables are fine! Fungi are deemed to be honorary plants! See the previous Water Cooler (with plant) here. And here's today's plant, the second of Gardens, Week Six (Matthew Crabbe):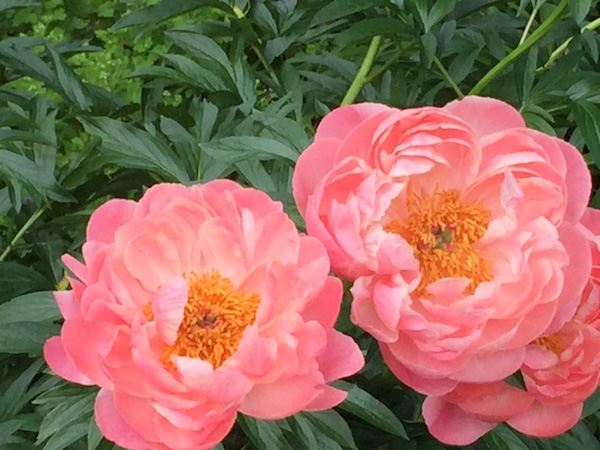 Matthew writes:
Greetings from chitownrdh. Most beautiful peonies brought to you from the South Pond Nature Boardwalk at Lincoln Park Zoo.
Readers, the weekend's discussion for "Open Thread on Water" was terrific. So many interesting projects! Please, send me pictures of your projects, at least if plants are involved, and when aren't they? If only of maple twirlers in gutters!
If you enjoy Water Cooler, please consider tipping and click the hat. I need to keep my server up! And pay the plumber….
(Readers will notice that I have, at long last, improved the hat!)