By Lambert Strether of Corrente.
Readers have enjoyed NC's semi-regular link collections on Water, in Water Cooler, if "enjoy" is the word I want. Reader different clue commented:
The subthread way up above about water shortage, deserts, how to cope, what grows where, etc. was so valuable that one hopes our co-host/blogger Lambert Strether will be able at some point to do a Permaculture post on some corner or version of that subject . . . and invite the readers to offer they think they know about desert water-handling, what grows, tree-management, etc. Such a post and thread could be found easily in the Permaculture Topic section whereas this thread will be hard to find in a year or two by people remembering the desert subthread and hoping to find it again.
This is that post. "Everything!" Normally, I'd try to write the best post in the world on water, in high flourishing style, as befits NC, but today was the day of the Church plant sale — "We don't sell anything that isn't invasive" — and the first day it was really warm enough to go to the Farmer's Market and buy flats and my soil came yesterday, so after a long day outside I got quite a late start this evening, and so this is not that post. (We already have one post on permaculture and water, here.) So I'm going to begin with my personal practice on the patch of land I work, zoom out to the locality, and then out to the state of Maine. Readers will then know the extent of my knowledge and practice — not that much! — and then they go on to fill in the vast blank areas. (For example, I know nothing about "desert water-handling"[1], or tree management[2].)
So, the patch that I work: I live in a very large, very old house on a very small patch of land. I've done very little with water management on the house, other than water efficient toilets and an Energy Star washing machine. In a perfect world, I'd collect roof run-off in cisterns, but my roof is pretty icky, and I'll wait for the happy day when I can install a metal roof for that. As for the patch of land:
I'm not optimized to miminize water usage absolutely, but given the givens as I wish them to be given. For example, I have abolished my lawn entirely — so, no mowing and no "watering" — but I haven't replaced it with, say, gravel, or paved it over, neither of which would require any water at all. The given is that I have a garden, instead of a lawn. Tomatoes were my gateway vegetable, but by now my garden is a pretty well complexified. Stylistically, it's a grandmother's garden; think masses of color. Here is a small corner of it, last summer: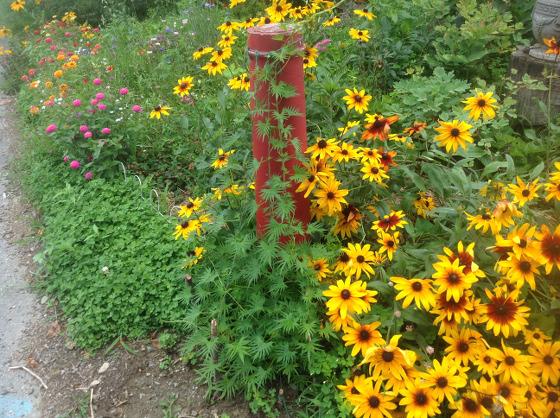 (The flowers don't need to be watered at all, perhaps because they are sown so thickly.) I started out in the depths of the recession after the Great Financial Crash, with the idea that I might need to grow my own food, but as it turned out, I ended up giving the vast bulk of my vegetables away, because I grew far more than I could use personally, and also because I didn't have time to figure out how to preserve them (or to build a root cellar; my basement is a really ugly place to be).
So I reformulated my goals to giving away the vegetables, and to sitting in my garden in the midst of the blooming and buzzing profusion, and making the garden my "office," in which I work on my computing devices. Which has turned out to be one of the great pleasures in life. The garden is also an exercise in diplomatic relations with the town, in that it communicates visually that I'm taking care of the property, am not a crazy recluse, am here for the long haul, in short, that I'm part of civil society — and not only in the town, but here, since the garden also serves as a proof of concept for permaculture practices.
Those then are the "givens," and I use one technique to minimize "watering," and capture as much water as possible, not only rain, but dew. Sheet mulch!
Here is how I sheet mulch (though others have more elaborate methods):
Assuming the bed to have been previously mulched:

1. In the fall, I lay down leaves collected from the last fall over the beds, and material from my compost bins.

2. Over the winter, we get snow, rain, etc., which the leaves, the compost, and the existing sheet mulch soak up.

3. In the spring, I buy a couple of yards of really good compost (I use seafood compost. Do not use compost any compost that doesn't have a clear source; Municipal Solid Waste-derived compost from a landfill operator, for example). This means that the property is not self-sufficient but, though with more work I could, I do not generate enough mulch on my own. I also buy straw (generally too much, and not hay, which has seeds).

4. After the danger of frost, that is, when I can turn on the outside water, I build the sheet mulch in layers as follows:

a.) Shovel a layer of compost onto the beds, over the leaves and the last year's sheet mulch.

b.) Cover the newly composted bed with newspaper. (Some advocate cardboard, but I can get newspaper within walking distance, it covers more area for the weight, and I like the way newspaper adapts to the shape of the terrain. Some say don't use color sections in the newspaper because of the ink, but nowadays almost all colored ink is soy-based. The paper is flimsy and the sheets are smaller, so I avoid color for that reason.)

c.) Soak the newspaper with the hose to prevent it from blowing, and to add water to the mulch.

d.) Cover the newspaper with an inch or two of straw — enough so the newspaper doesn't show through.

e.) When the time comes to plant seedlings, "punch in" a hole through the sheet mulch with a trowel and put the seedling into it. (I dump soil amendments into the hole, also.) No, I don't know how to sheet mulch for rows of seeds, like carrots or lettuce, without adding the sheet mulch after they've sprouted, which is a pain.

Other that adding the sheet mulch, I don't do anything else to the beds, like till them. In fact, I try not to walk on the soil at all. Over time, as layer and layer and layer, you will find the soil becoming softer and darker and more crumbly.

This is a very lightweight (cheap, "quick and dirty") approach. Here's a much more heavy duty approach, maybe more suitable for breaking new ground.
Here's what the sheet-mulched beds look like, early in the season: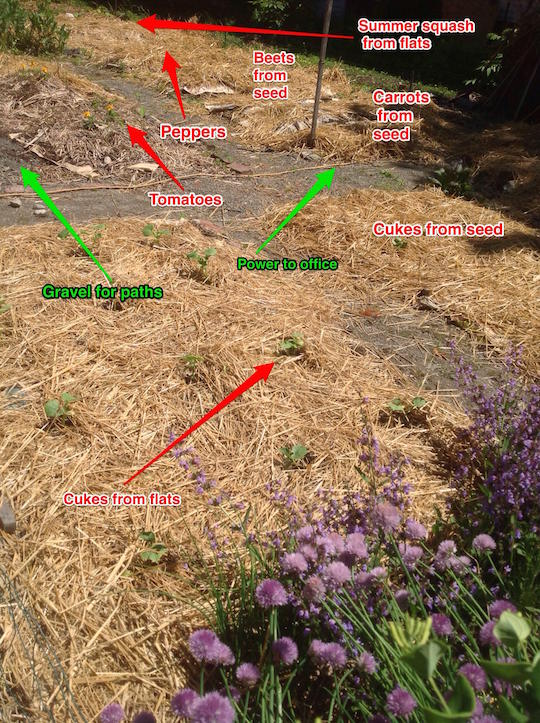 But back to water: I water the flowers until they're established, and the vegetables until the first real (not baby) leaves appear. Then I don't water at all, because the plants don't need it. The sheet mulch captures any rain, and all the dew. And the soil never dries out. (And there are other advantages, like no weeding. One form of water I'm saving is sweat!) So, basically, I water for the last two weeks in May, and the first two weeks in June. Then I stop, and I don't water for July, August, or September. (This isn't perfect, and perhaps readers can suggest a better approach, but it's certainly an improvement over my practice when I started, when I watered each tomato plant, daily, for the entire summer.)
So that is sheet mulch in Zone 5b. I know people in the South who mulch with straw; and I don't know what people in the deserts — or the rainforests — do at all!
The town, despite being at the confluence of two rivers and being, in its private aspect, garden mad, seems determined to cover the entire "downtown" with impermeable surfaces, leaving no soil[3] for plants. Parking lots, sidewalks, stone steps, stone plazas, and on and on and on: Hard surfaces over which the rainwater runs, never captured, never soaking into the soil, until it goes into the storm drains and thence the river.[4] Discouraging! Of course, the hard surfaces will crack in the winter, demanding to be replaced (in a small example of a self-licking ice cream cone), but perhaps we can get the surfaces opened to the soil instead.
Zooming out to the state level, I've previously written of successful resistance to landfills, and (so far) to the East-West Corridor, both of which endanger the Penobscot Watershed. We also have Nestlė's Poland Springs operation, which is sending water out of state in bottles. Finally, the Penobscot and Passamaquoddy Tribes have withdrawn from the Maine State Legislature, with over fishing rights on the Penobscot River, for which the tribes have stricter water quality standards than the EPA. Personally, I wonder if it might not be best to hand the entire watershed over to the Tribes to be run as a Common Pool Resource, given what we've done to it with landfills, pulp and paper, the now-mostly-dead mills, and mercury pollution.
* * *
So that's my practice and that's what I know. If there are any water experts in the NC commentariat, they will be able to see how primitive my practice is, and how little I know! I'd love to hear about people's water situation in other parts of the country and other parts of the world: How people garden, how their town manages water, and how their state does. I'd especially enjoy hearing from people working in climates even more extreme than Maine's: Xeriscaping in the desert, or the special problems in the tropics (the leaves don't seem to rot to form mulch. Why is that?)
Readers?
Notes
[1] Except that replacing one's lawn with AstroTurf can't be the solution; it's just replacing the oil from the lawnmover, fertilizers, and insecticides with the oil in the plastic grass!
[2] Except that when a friend called in an arborist to prune their peach trees, those peach trees were suddenly extremely prolific!
[3] To be fair, there are two or three beds that are bark-mulched. Ugh.
[4] If I had my way in my local Jobs Guarantee committee, I'd plant edible forests everywhere, and maintain them.