By Lambert Strether of Corrente.
TPP/TTIP/TiSA
It ain't over 'til it's over, so call your Congress critter and make sure they understand the right way to vote. You can even call your Congress critter to thank them if they voted the right way. When I did that last week, the staffer on the other end of the line was shocked into silence. So I think on a simple human level it would be good karma to do that. How often do you get a chance to make a stranger's whole work day better?
Rubinite Larry Summers weighs in: "Perhaps success can be achieved if the TPP's advocates can acknowledge that rather than being a model for future trade agreements, this debate should lead to careful reflection on the role of trade agreements in America's international economic strategy [WaPo]. Give credit, Larry knows how to sell. I'm sure that will play in Peoria.
TPP is important because Asia pivot [New York Times]. Really? Why won't bilateral agreements without the sovereignty destroying ISDS and "Living Agreement" clauses do the trick? OTOH, if you view TPP as an anti-Chinese military alliance in embryo, this grand strategery foo-frah makes total sense. Oddly, or not, I didn't get the memo on this from elite thought leaders.
Fine compilation of TPP evasions by Clinton spokesholes over the weekend [Alternet].
"The administration and House Republicans would somehow need to convince approximately three times as many Democrats to vote in favor of the measure, knowing that by doing so they would effectively be granting the TPP negotiation process a major boost. Getting Republicans to back TAA isn't a serious option for either Boehner or the president" [The Diplomat].
"Do they really get 90 members of the House to switch their votes to enact something by Tuesday?" [Guardian]. With sufficient money and muscle.
"House Republicans to Assess Next Moves on Obama's Trade Bill" [Bloomberg].
"[T]he other guys get to have do overs until they get the outcome they want" [Truthout].
UPDATE "ISDS Provisions in TPP Violate Article III of the U.S. Constitution" [Down With Tyranny]. Nut graph: "[ISDS] improperly removes a core judicial function from the federal courts and therefore violates Article III of the Constitution." Important point to raise with your Congress critter, and tees up court challenges as well.
2016
O'Malley takes his shirt off [WaPo]. Well, it worked for Obama.
Sanders
Warren Mosler endorses Sanders [George Fisher].

Sanders on Warren: "Senator Warren is a good friend of mine and her views and mine are pretty close on most of the major issues, so we'll be bringing in some of those people into our organization" [Politico].
The S.S. Clinton
The rollout: Hillary goes populist up to a point [John Cassidy, The New Yorker]. Readers, does the New Yorker represent the Upper East Side, the Upper West Side, or both?

The rollout: Clinton comes out swinging [The Atlantic]. But did she land any punches?

Clinton signals aggressive engagement if ObamaCare is overturned in King v. Burwell [WaPo]. Somebody should ask her whether that would include joining with Sanders to support single payer.

On ObamaCare fixes, Clinton does not address estate recovery: That when ObamaCare forces over-55s into Medicaid, their heirs can lose the family home if they get sick, thereby vitiating what was ostensibly one of the main purposes of the law [Des Moines Register].

"Why Hillary Clinton Will Be Hard to Beat " [Wall Street Journal].
Long-form essay on the Republican candidates [London Review of Books]. "Failure isn't just an option for the vast company of Republican presidential hopefuls, it's a well-trodden career path." A brutal compendium of oppo.
Republican Establishment
"Five generations of an American dynasty" [Wall Street Journal]. Indeed.

Jebbie unveils his logo [Bloomberg]. I think Clinton is ahead in the all-important "trade dress" primary.
Republican Clown Car
Ivanka wholeheartedly supports The Donald [Daily Mail].
The Hill
Another Blue Dog, Joe Baca ("D"-CA) admits he's a Republican and switches parties [Down With Tyranny]. Good. There are many trade traitors in the list of Blue Dogs in the post; get rid of them. And speaking of the Democratic debacles in 2010 and 2014: If Massachusetts voters hadn't voted for Scott Brown and against establishment Democrat Coakeley in 2010, Elizabeth Warren wouldn't have that Senate seat today. 
Herd on the Street
"Misrated Muni Market Hoists $1.8 Billion Annual Tab on Taxpayers " [Bloomberg].
"Bond Swings So Extreme Even BlackRock Rewrites Risk Measures" [Bloomberg].
Stats Watch
Portuguese 10-year bonds: "GSPT10YR:IND Yield 3.253; up 0.216; change: 7.11% [Bloomberg]. Not a double digit bump, but bigger. Mr. Market's contagion worry approaches consciousness.
Housing Market Index, June 2015: "The new home market is perhaps becoming the economy's leading sector, underscored by the recent jump in new home sales and the surge in starts & permits and now by a major 5-point spike in the housing market index to 59 for June which is well outside Econoday's high-end forecast" [Bloomberg].
Empire State Mfg Survey, June 2015: "no bounce at all in" [Bloomberg]. "[N]ew orders point to greater weakness ahead." "The manufacturing sector is supposed to be building up steam, not losing steam."
Industrial Production, May 2015: "instead of rebounding from a weak first quarter, appears to be slowing further" [Bloomberg]. Weak exports?
Police Watch
Useful map of Twitter followers of the Baltimore PD [Technical.ly]
"[P]olice work inherently exposes officers to death, tragedy, violence, and trauma. Being aware of how those stressors affect officer decision-making and performance is an important part of improving law enforcement by protecting officers and civilians alike" [Talking Points Memo]. Fair enough. But we should really figure out a way to do policework such that cops don't whack people with impunity, stressed or not.
Big Brother Is Watching You Watch
"[UK's] Sunday Times' Snowden Story is Journalism at its Worst — and Filled with Falsehoods" [First Look]. Sunday Times responds with a DMCA infringement notice [News UK]. Classy!
Squillionaire Wretched Excess Watch
The Rothschild mansion (photo) [New York Review of Books]. Super-ugly and vulgar.
Class Warfare
Study: "In fact, one in four consumers would even consider sharing their DNA with their financial institution, if it meant it would make authentication easier and their financial and personal information more secure" [Realwire]. A PR feed, to be sure, but…. Yikes.
Headline: "Class war locks poor kids out of top U.K. jobs" [CNN]. Amazing to see "Class War" in a headline on CNN Money, even if it is the UK.
"Cartier boss with $7.5bn fortune says prospect of the poor rising up 'keeps him awake at night'" [Independent].
News of the Wired
"The forgotten legacy of Tom Green, the original troll [Kernel]. I dunno. Slathering one's entire body with mustard in a convenience store, having established an identity as a Mustard Inspector, seems a bit more creative than mere trolling.
The Clash, "Live in Tokyo" [Open Culture].
Making sense of complex data with acoustic infographics [Storify]. Neat idea.
About Twitter's investors…. [Farukat.es].
"Why Apple Should Kill Off the Mac" [Wall Street Journal].
13 Ways to be a Winner, according to Anna Wintour [The Fashion Law].
"Pizza Hut thinks this insane hot dog pizza can save it" (with picture (!)) [Fortune].
Governor Abbott signs bill allowing people to carry guns on college campuses — and carry handguns out in the open [KXAN]. At a gun range. Finally, ammosexuals can come out of the closet!
Non-violent discipline and violent flanks [Rational Insurgent]. 
"The Magna Carta laid a foundation for lasting legal concepts like the ban on cruel and unusual punishments, trial by a jury of one's peers and the idea that justice should not be sold or unnecessarily delayed" [History]. 1215. In 2015, we get Listicle headlines: "6 Things You May Not Know About the Magna Carta."
* * *
Readers, feel free to contact me with (a) links, and even better (b) sources I should curate regularly, and (c) to find out how to send me images of plants. Vegetables are fine! Fungi are deemed to be honorary plants! See the previous Water Cooler (with plant) here. And here's today's plant (Anne):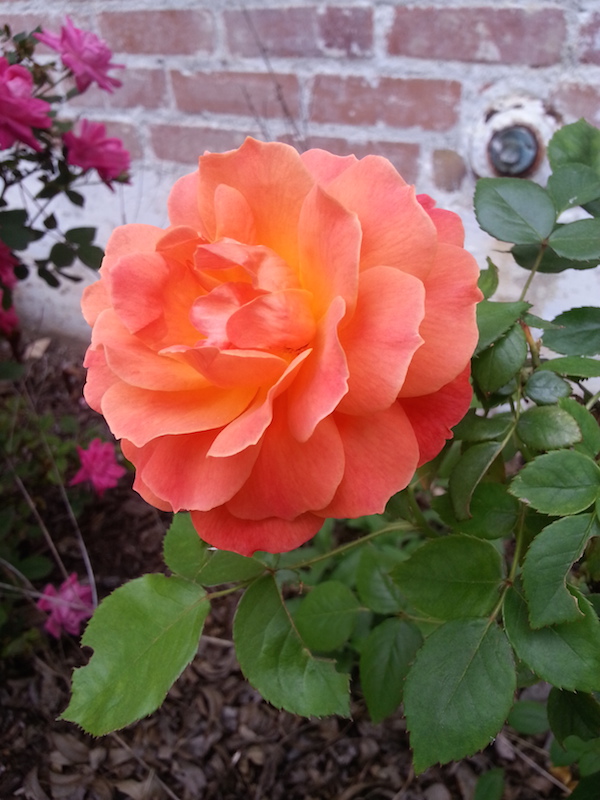 Her neighbor's roses…
If you enjoy Water Cooler, please consider tipping and click the hat. I need to keep my server up! And pay the plumber….
(Readers will notice that I have, at long last, improved the hat!)