Households flee as Alaska wildfire mushrooms in heart of sled dog country Japan Times :-(
Global water supplies are 'in distress', scientists warn Financial Times. I have been saying for years that water is the natural resource for which we will hit supply constraints first. This was based on research in Australia in the early 2000s, so this should have been recognized as a major problem long ago (as in the research in Oz was unlikely to be the first to make this observation).
Renewable energy from evaporating water PhysOrg (Robert M)
GMOs and the Neoliberal Apologists Counterpunch
Sovereign debt needs international supervision Joseph Stiglitz, Guardian
North Korea hit by 'worst drought' BBC
The Le Pen Factor Politico
Grexit?
Divorce in haste, repent at leisure, says Martin Wolf Financial Times. Lead story.

Greece's pension paradox: Many elderly are broke, despite government's costly spending on system Financial Post

Austrian chancellor sides with Greece in debt row Reuters. If this is what support looks like, it's not much different aside from the friendlier packaging; "Faymann, a Social Democrat who has taken a relatively lenient line with Greece, told broadcaster ORF that Athens had to live up to commitments under its current bailout plan but needed support to keep it from leaving the euro zone. " So that means Greece is to take its austerity medicine, as in stick with the current memorandum, but it gets a couple of pieces of "support" candy. And Eurozone officials are making clear that this is not an authorized visit: I'm not quite sure what the Austrian chancellor is doing in Athens," says senior #EU official. #Greece @SpeigelPeter

Greek travails turn spotlight on Spanish defences Financial Times

Drip Feeding Greece Will End in Default Real News Network. NC gets a shout out at 19:30 on Nathan Tankus' work on a Grexit. Also confirms our fear that there is no Plan B.

Greece blames everybody but itself for its economic woes Harry Theoharis, Guardian

Europe Asks the Impossible of Greece Bloomberg. Note that Crook is pretty conservative and this is crisp and very well put. But he ignores the other side of the impasse: that having made such a big issue of the pensions (as in broadcasting it as a focus of the fight, so it is a heightened issue domestically and in the international media), it's also impossible for the Eurozone countries to concede, since Greeks actually have (in cases like Slovakia) or are perceived to have better pensions than their citizens do.

Hydrocarbon block tender still on ekathimerini

U.S. Treasury Secretary Lew Urges Greece to Reach an Agreement NASDAQ

ND doubts Tsipras is searching for agreement ekathimerini

Tsipras misleading Greece, says EU commission chief Juncker DW. This probably does not matter in terms of outcomes, since the ECB and the IMF are the power players, but alienating the EC, which has been trying to find ways to square the circle, wasn't necessary and can't help.
Ukraine/Russia
Russia to increase nuclear arsenal as U.S. plans more firepower in Europe Washington Post

Upsides for Steel Industry in a Russian Downturn, Despite Sanctions New York Times (reslic)
Syraqistan
Offering Services, ISIS Digs In Deeper in Seized Territories New York Times
Imperial Collapse Watch
As Stress Drives Off Drone Operators, Air Force Must Cut Flights New York Times (Lambert)

Bombing the Arctic: US Navy War Games in Gulf of Alaska Threaten One of World's Most Pristine Areas Democracy Now. Glenn F: "This is incredible.
Trade Traitors
House Moves to Delay Action on Trade Bill for 6 Weeks New York Times

Failure of Obama's Trans-Pacific Trade Deal Could Hurt U.S. Influence in Asia New York Times. This is the new sales pitch.
2 shocking polls show a Democratic challenger picking up steam against Hillary Clinton MSN (Kevin C)
Issa escorted out of Benghazi deposition The Hilln (furzy mouse)
Surviving the Drought in California: Farm Workers Struggle to Put Food on the Table TruthOut
The Shockingly Racist Contrast in How the Media Describe Black Protests and White Riots Alternet
Fremont woman loses bid to learn why husband denied a visa SFGate (Fred A)
Judge in A.I.G. Case Rebukes Davis Polk Law Firm New York Times
Why Janet Yellen sounds more like a hawk Wall Street Journal
Housing advocates: FHFA won't reduce principal, offers discounted NPLs Housing Wire (Deontos). The report cited is much more to the point: "Do Hedge Funds Make Good Neighbors?"
Hedge-Fund Bet Hits Pensions Wall Street Journal
After 25 Years of Losing to Wall Street, Left-Wing Democrats Are Winning The Nation (furzy mouse)
Class Warfare
Walmart Accused Of Using Its Charitable Foundation To Build More Walmarts Consumerist

In Turnabout, Disney Cancels Layoffs of Tech Workers New York Times (Lawrence R)
Antidote du jour. Gary O: "Here's a link to photos and story about six four-week old wolf cubs, from The Local: German news in English, "Hand-raised cubs to boost wolf numbers: Nearly 135 years after the last wolf in the Hunsrück area of Rhineland-Palatinate is believed to have been shot dead, six baby wolves are being nurtured by hand."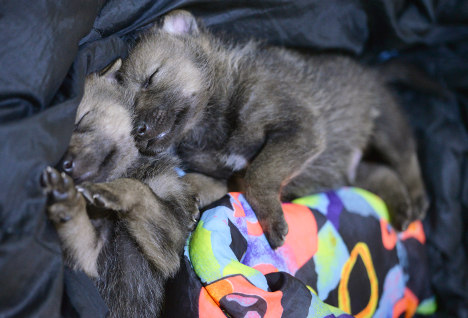 See yesterday's Links and Antidote du Jour here.