By Lambert Strether of Corrente.
TPP/TTIP/TiSA
Japan: With Abe's government losing popular support over its attempt to ram through controversial security bills, and distracted by inter-party squabbling over comments made by Abe allies last week against media outlets that do not toe the government line, any [TPP] agreement still faces numerous political hurdles" [Japan Times].
Australia: "Australia to contribute $930 million to Asian Infrastructure Investment Bank, [Treasurer] Joe Hockey says" [ABC].
Bold-faced names: Democrat trade traitors. Readers, more like this, please (contact form below). List of traitors; is one of them "your" "representative"?
2016
Ohio candidate for Senator takes to Twitter after Democratic regulars shut him out of a meeting [Cincinatti.com].
Sanders
"My guy, Bernie Sanders (video)" [Justin Lane, Ring of Fire Radio]. Cute!
The S.S. Clinton
UMKC decides not to fork over $275,000 fee for Chelsea Clinton speech [WaPo]. They're from Missouri….

Clinton launches a Pinterest page [Elle].
Republican Clown Car
"One [Christie] adviser is Robert E. Grady, a former Carlyle Group LP partner, who in March joined San Francisco-based Gryphon Investors Inc., a private-equity firm, after resigning as chairman of the New Jersey State Investment Council" [Bloomberg]. Cozy!

Christie opposes "automatic voter registration upon applying for a driver's license" [Star-Ledger].

"The New Jersey governor faults President Obama's focus on "redistribution of wealth" for weakening the U.S. economy, and vows to reverse course" [Bloomberg]. Of course, income inequality accelerated under Obama after Bush, so in a way, Christie is right.
"7 things that prove D.C. politics is a lot like high school" [WaPo].
The Hill
Are any readers familiar with a chart that shows the life-cycle of reactionary form of resistance? I have to think that "nullification" is a pretty last ditch effort [Talking Points Memo].
Stats Watch
Consumer Confidence, June 2015: "June consumer confidence confirms last week's consumer sentiment report, that spirits — and especially expectations — are rising to their strongest levels of the recovery. The consumer confidence index jumped nearly 7 points to a 101.4 level that easily surpasses the Econoday high estimate for 99.0" [Bloomberg]. Expectations surge, and present situation is strong.
State Street Investor Confidence Index, June 2015: "Led by unusually strong North American appetite for risk, the investor confidence index for June is up" [Bloomberg]. "The report attributes North American confidence to a dovish Fed which at mid-month lowered its 2015 economic forecasts and seemed in no hurry to raise rates." If I were wealthy enough to get free money, you can bet I'd be confident too!
S&P Case-Shiller Home Price Index, April 2015: "Growth in home prices slowed sharply in April" [Bloomberg]. For the first time since all the way back in September, minus signs suddenly appear on the city breakdown list with 8 of 20 cities showing contraction in April." But this is a three-month rolling average and so because winter. "Home price growth is still over twice as high as wage growth" [Confounded Interest].
Redbook, week of June 27, 2015: "Redbook's call is a sharp 1.5 percent contraction for June in what is a negative signal for the government's core ex-auto ex-gas reading" [Bloomberg].  "This measure of retail sales remains surprising depressed, even to me" [Warren Mosler]. This is chain store sales, and I wonder if Amazon is eating their lunch. I'd also like to see a dollar store breakout.
Chicago Purchasing Managers Index, June 2015: "The market expected the index between 48.5 to 55.0 (consensus 50.6) versus the actual at 49.4. A number below 50 indicates contraction" [Econintersect].
Chicago Purchasing Managers Index, June 2015:  "Chicago's PMI sample remains surprisingly depressed" [Bloomberg]. Look, by now readers know I have all the priors of a Maine bear. But "surprisingly"?
Thumbtack, June 2015: "For the second month in a row, small businesses expressed increasing pessimism about future economic conditions, which has been the largest contributors to the decline in overall sentiment" [Econintersect].
"The *** cough *** expansion *** cough *** already has gone on longer than the postwar average of just under five years and next month will match the duration of the 2001 to 2007 upturn." [Bloomberg].
Grexit?
Who Owns Greek Debt
1 Germany
2 France
3 Italy
4 Spain
5 IMF pic.twitter.com/gWgYc8AWc3

— ian bremmer (@ianbremmer) June 30, 2015
"Italy sells €6.8bn in debt despite continuing Greek crisis" [Irish Times]. That doesn't look like fear of contagion to me.
Marine Le Pen on the referendum:  "Beautiful democracy lesson" addressed "to the Eurocentric class" [HuffPo]. Of course, Golden Dawn voted for Syriza's referendum too. Strange bedfellows wherever you look these days, I suppose….
Survey data: "Greeks do not unconditionally reject austerity measures. [Unsurprising, then, that Syriza accepted some.] Rather, a majority of the Greek public appears willing to vote in favor of a package that would include both spending cuts and painful tax increases, as long some areas — pensions, education and marginal income tax rates — are largely untouched" [New York Times].
"[F]or over half of its existence since becoming an independent state in 1830 it has been in default, with the British most memorably sending the Royal Navy to seize marine assets in 1850 to pay off the country's debts" [The Economist, "Third time lucky?"]. Of course, the Germans would find it harder to send tanks overland, and no doubt most Greek maritime assets are sailing under flags of convenience. From the 300,00 foot perspective, then, we might look on the financial warfare being carried on at present as a civilizational advance, but that may not provide much comfort to Greek voters.
"'If Greece leaves the eurozone, there is unlikely to be a big bang moment when the country adopts the drachma (the currency it used prior to adopting the euro in 2001),' said Mark Zandi, chief economist at Moody's Analytics, a unit of the ratings firm." [USA Today]. 'It will happen over time, as the Greek government issues IOUs that effectively become the new currency,' he said." Not sure the organizational capacity exists for a Big Bang, in any case.
[Wall Street Journal, "Greece's Five Possible Future Currency Arrangements"]. 1) Greece stays in the eurozone; 2) Greece keeps the euro, but sits outside the eurozone; 3) A currency board; 4) A dual system; 5) The new drachma.
Interesting post, since it relates the Greek crisis back to the Cyprus crisis  [Stratfor, via Econintersect]. Quoting a great slab of it:
For the Germans, Greece represented a dam. What was behind the dam was unknown, and the Germans couldn't tolerate the risk of it breaking. … Germany's first choice to avoid the default was to create the illusion of Greek compliance. Its second option was to demonstrate the painful consequences of Greece's refusal to keep playing the first game.

This was the point of the Cyprus affair. Cyprus had reached the point that it simply could not live up to the terms of its debt repayment agreements. The pro-EU government agreed under pressure to seize money in bank accounts… The Germans may have claimed the Cypriot banking system contained primarily Russian money, but – although it undoubtedly contained plenty of Russian funds – most of the money in the system actually represented wealth saved and used by Cypriots in the course of their lives and business [Yves was tenacious on this point; and correct]. The result of raiding those accounts was chaos. Cypriot companies couldn't pay wages or rent, and the economy basically froze until the regulations were eventually eased – though they have never been fully repealed.

The Germans were walking a fine line in advocating this solution. Rather than play the pretend game they had played in Greece, they chose to show a European audience the consequences of genuine default. But those consequences rested on a dubious political foundation. Obviously the Cypriot public was devastated and appalled by their political leaders' decision to comply with Germany's demands. But even more significant, the message received by the rest of Europe was that the consequences of resistance would be catastrophic only if a country's political leadership capitulated to EU demands. Seizing a large portion of Cypriot private assets to pay public debts set an example, but not the example the Germans wanted. It showed that compliance with debt repayments could be disastrous in the short run, but only if the indebted country's politicians let it happen. And with that came another, unambiguous lesson: The punishment for non-compliance, however painful, was also survivable – and far preferable to the alternatives.
"The Restoration of Dignity" [Jacobin]. Versus: "[T]here is a punchy but elegant Greek phrase that summarises the moment when delusion and deception are exposed: telos pia ta psemmata, the end of lies" [Guardian]. Hope that translation is correct…
"Greek Bailout Fund" [Indiegogo]. Dunno if this scales. And wouldn't humanitarian funding direct the money to the people who really need it?
"Or, in an age of failing states, collapsing stability in western Asia, and massive migration inflows, might Greece flounder and revert to the borderless Hellenism that characterised Greeks for most of their history?" [Al Jazeera].
Black Injustice Tipping Point
"Did the slaves here appreciate the care they got from their mistress?" [Vox]. Life on the plantation. As a tour guide.
Federal Judge: We need a Marshall Plan for the war on drugs [The Atlantic]. Which — hold on to your hats here, folks — we lost decisively, unless funnelling a generation of black men into the prison-industrial complex be considered a victory. Ka-ching.
Heritage rally to be held on South Carolina state capitol grounds [Talking Points Memo].
Confederate Vice President Alexander Stephens and his Cornerstone Speech [Virally Suppressed].
"Our new Government is founded upon exactly the opposite ideas; its foundations are laid, its cornerstone rests, upon the great truth that the negro is not equal to the white man; that slavery, subordination to the superior race, is his natural and normal condition. This, our new government, is the first, in the history of the world, based upon this great physical, philosophical, and moral truth."
And:
All of the furor over the Confederate flag flying outside the South Carolina Statehouse would lead one to believe that it had been there since time immemorial, but actually, the first time the flag was flown at the Statehouse was in 1961 to celebrate the 100th anniversary of Civil War.
Justice: "Police trying to control the Ferguson protests and riots responded with an uncoordinated effort that sometimes violated free-speech rights, antagonized crowds with military-style tactics and shielded officers from accountability" [St Louis Post-Dispatch]. So in the official mind, the Ferguson model is a failure, and by implication the Occupy model is a success.
Climate
"The shift to renewables is happening shockingly fast, but not fast enough to prevent perilous levels of global warming" [Bloomberg].
America the Petrostate
"Californians most exposed to the risks of oil train derailments or fires overwhelmingly live in poorer, minority neighborhoods" [Raw Story]. Landfills in Maine would be hella regulated if Cape Elizabeth were the sacrifice zone.
Imperial Collapse Watch
"According to the DOD's recently released Law of War Manual, harm to human shields, no matter how extensive, cannot render an attack unlawfully disproportionate" [JustSecurity]. What could go wrong?
Canadian test pilot: F-35 "is dead meat in an air battle" [War is Boring, Medium]. But ka-ching. So it's all good.
"Kuwait says in 'state of war' with militants, warns of other cells" [Reuters]. Conflict investment strategists take note!
Agnotology Watch
"Where 15 or 20 years ago the big trade publishers were, oddly, swamping the market with sort-of-scholarly micro-histories of salt or longitude, they now seem, with exceptions of course, to be tiptoeing away from specific, knotty, deeply researched and nuanced books about things. The sorts of book on which they tend now to rely are investigations of 'big ideas'" [Guardian]. "These are talking-point books." Hat tip, Malcolm Gladwell, for the business model.
Class Warfare
"The new luxury buildings have laundry rooms for the people who live there, but at the rate things are going I'll be doing my laundry in the bathtub the way I used to do it in the 80s when I lived surrounded by ruins down in the Alphabets. I didn't like doing my laundry that way then, and I don't think I'll like doing it that way again" [Vanishing New York].
"Therein lies the problem: Those are some big dreams, and they have very little in common with my employer's dreams. I can do my best to find the overlap, but it's the side signing the paychecks that gets the final say" [Vox].
News of the Wired
Post apocalypse skillz [Crafts Institute].
Online is IRL [Terrible Minds].
"FBI Builds Silencers For The Mentally Ill" [Another Word for It]. You've got to read this; it's like "The Aristocrats" translated into the surveillance state's bureaucracy.
"In recent years, Apple's strategy towards the web can most charitably be described as 'benevolent neglect'" [Read the Tea Leaves. "Safari is the new IE"]. No, malevolent. Siloed apps with gate-keeping fees that destroy or obfuscate URLs — promoting "sharing" as the alternative — will destroy the web if left unchecked. It's not a coincidence that in Safari other functions are gradually impinging on the URL's real estate, in a sort of digital gentrification.
* * *
Readers, feel free to contact me with (a) links, and even better (b) sources I should curate regularly, and (c) to find out how to send me images of plants. Vegetables are fine! Fungi are deemed to be honorary plants! See the previous Water Cooler (with plant) here. And here's today's plant: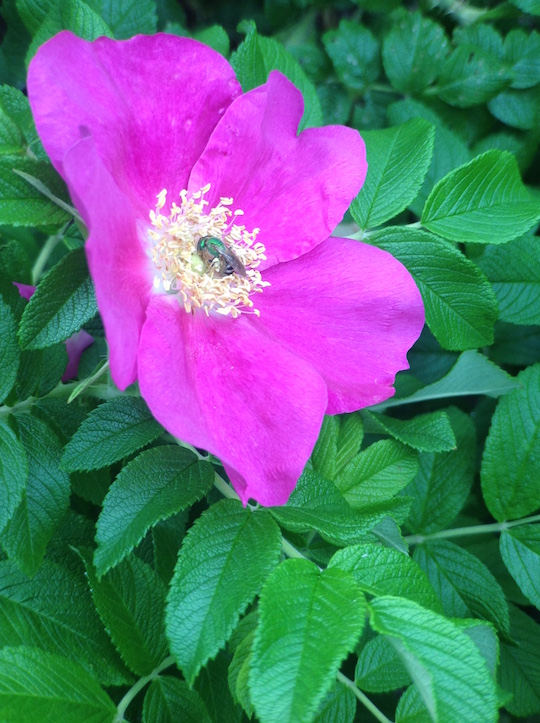 This photo of a pollinator isn't nearly as spectacular as the one JohnB's wife took yesterday. The progression of spring into summer always seems like a miracle to me; I don't know why we don't worship what's right in front of us, that we can see! And I don't care that Rosa Rugosa aren't heirloom and are invasive! They bloom prolifically, smell nice, and the town can't kill them with road salt!
If you enjoy Water Cooler, please consider tipping and click the hat. I need to keep my server up! And pay the plumber….