By Lambert Strether of Corrente.
Sorry for the 2:02PM post: The router hiccuped as I pressed Submit.
TPP/TTIP/TiSA
Australia: "[A] parliamentary committee has slammed the deal-making process saying it lacks adequate 'oversight and scrutiny'" [CNET].
Australia: "There seems to be the beginnings of a rear-guard uprising against the Trans-Pacific Partnership" [Macrobusiness]. "The TPP is an unmitigated dud, strengthening patent and copyright protections at the expense of Australian consumers/taxpayers, introducing risky investor-state dispute settlement provisions that could permit foreign firms to sue Australian taxpayers if/when the Government legislates in the national interest, all the while doing little to free-up agricultural protections for Australian farmers."
Australia: "Few Australians would see America's healthcare system as one we'd choose to emulate. But obligations we acquire via the Trans Pacific Partnership Agreement could drive us inexorably towards the US model" [Canberra Times]. "Under proposed Investor State Dispute Settlement provisions litigious US corporations could sue over for example, policies designed to promote affordable access to healthcare or protect public health."
Malaysia: "However, we may have serious problems in 'adequately addressing' our special concerns at home. These are related to our state enterprises (government-linked companies or GLC's), Bumiputera interests, government tenders and contracts and other protected individuals, interests and procedures" [Free Malaysia Today, "Let's fast track and join the TPP too"].
Canada: "Speaking to CTV's Question Period, Fast refused to confirm reports that the deal, touted as one of the largest in history, could be wrapped as early as August" [CTV].
United States, U.S. Business & Industry Council: "Most significantly, the TPP does not address a massive cost to U.S. goods and services that has a chokehold on our export levels: foreign Value-Added Tax (VAT) schemes. The United States is one of only a handful of nations worldwide that does not charge a VAT on incoming manufactures and services.  But 10 of the 11 TPP member states do, which means that, even with tariff-free access, high barriers remain [The Hill, "Whoops! We forgot to include the VAT in the TPP"]. "Every time a trade agreement reduced tariffs it was undercut by our trading partners' raising their VATs to compensate for tariff cuts." The closer you look, the less "trade deals" look like they're about trade.
Bold-faced names: Democrat trade traitors. Readers, more like this, please (contact form below). List of traitors; is one of them "your" "representative"?
2016
Republican Establishment
The Bush Dynasty [Nomi Prins].

"Jeb Bush dogged by decades of questions about business deals" [WaPo].
Republican Clown Car
Christie lies. Film at 11 [Star-Ledger].

Republican establishment "scoffs" at Trump surge [The Hill].
Poking the Republican Pyramid [New York Times].
"Increasingly the urban-rural divide looks less like a political split and more like socio-economic and cultural chasm that looks very difficult to bridge" (charts) [NBC].
The Hill
" Marriage Ruling Spurs Calls for Protection for Religious Dissenters" [Bloomberg].
Stats Watch
IMF paper: "The Federal Reserve should wait until the middle of 2016 to start raising short-term interest rates from near zero to ensure the economy is on a firmer footing and inflation is returning to the central bank's 2% target after undershooting it for more than three years" [Wall Street Journal, "Fed Should Keep Rates at Zero Until Mid-2016 to Avoid 'Dark Corners,' IMF Paper Says"]. "Dark corners"? What "dark corners"? This is the greatest recovery ever. How could there be dark corners? Here's the paper. From the abstract:
[This paper] emphasizes the importance of avoiding "dark corners", outcomes that could potentially lead to very unfortunate movements in inflation and/or output. In particular, it addresses ways of avoiding deflationary spirals and very weak economies in circumstances in which the central bank is limited in the use of its traditional  policy tool, the policy interest rate, because of the zero lower bound.
The paper also has suggestions for "improvements to the Federal Reserve's communications strategy." Hmm.
Pending Home Sales Index, May 2015: 0.9 percent, beating expectations [Bloomberg]. "Solid momentum is building inside the housing market based on the ongoing run of very strong data." Case-Shiller tomorrow. "Keeping things real – home sales volumes are only 2/3rds of previous levels" [Econintersect]. 
Dallas Fed Manufacturing Survey, June 2015: "The Texas manufacturing sector is still falling but not falling as fast as prior months. The general activity index improved but to a still very weak minus 7.0" [Bloomberg]. "This is the last of the regional manufacturing surveys from the Fed and the bulk, with the exception of the Philly Fed, pointing to another month of weakness." "Of the five Federal Reserve districts which have released their June manufacturing surveys – two forecast weak growth and three are in contraction" [Econintersect].
"[T]he government [of Puerto Rico] has suddenly switched its approach to its problems from what many critics said was an 'extend and pretend' approach to a decision announced over the weekend to simply 'extend.' It is declaring the island cannot repay its $72 billion in debts [Market News]. "Puerto Rico is the US version of Greece. Our own Suicide King" [Confounded Interest]. That parallel may be too easy. Readers?
Grexit?
Live blog [Telegraph];  live blog [Guardian]. Common theme as of this writing: Euro vs. Drachma. Guardian crawler: "Governments of France, Germany and Italy all warn that Greeks are voting on their eurozone membership on Sunday, as banks remain shut."
"̌Athens confirmed it wouldn't be able to make a loan repayment to the International Monetary Fund due on Tuesday" [Wall Street Journal, "Greece to Default on $1.73 Billion IMF Payment"]
"Panic Sets in Among Hardy Hedge Fund Investors Remaining in Greece" [DealB%k, New York Times]. "Hardy" is indeed just what they would have had to be. "[L]uminaries like David Einhorn and John Paulson…have collectively poured more than 10 billion euros, or $11 billion, into Greek government bonds, bank stocks and a slew of other investments."
"Hedge funds are notorious for herd mentality. If Einhorn and Paulson are on the wrong side of Greek trades, you can bet others are as well" [Wall Street on Parade].
" The deteriorating situation in Greece… could [lead to "social unrest"] if voters there refuse to accept creditor-imposed reforms in a referendum this coming Sunday, said billionaire Wilbur Ross, who has a large interest in the country" [CNBC].
"Investors Across the Globe Run for Safety as Greek Negotiations Take a Turn for the Worst" [Bloomberg].
Then again: "Where is the Greek contagion?" (video) [Financial Times]. "Despite the tragedy unfolding in Athens, investors have piled in to buy the dip. James Mackintosh examines the evidence of contagion from Greece and why there is so little of it."
"Obama and Hollande (!) to Join Forces for Greek Crisis" [Greek Reporter].
Dijsselbloem: "I continue to say that, for us, the door is still open, although in the meantime the possibilities and time are very limited,' the head of the group of eurozone finance ministers told journalists in The Hague" [RTE News].
"Greek Referendum Ballot Revealed" (image) [Greek Reporter].
Water
"In California and much of the West, most rights to surface water are based on when flows were first diverted and used, a priority system known as "first in time, first in right." The most senior rights predate 1914, when the state started to issue diversion permits. In times of drought, those with junior rights are cut off first to leave water for more senior diverters" [Los Angeles Times].
"Who has what rights to extract and use how much water from which California rivers and aquifers is an almost impenetrable thicket of state laws, regulatory decisions, judicial actions and, in some cases, royal decrees dating back to the pre-statehood era of Spanish and Mexican rule" [Sacramento Bee].
"You'll hear a version of that from just about everyone who works on water issues in California, that there's a sort of inertia tied to the hope that a wet winter is just an El Niño away. Instead of solving the problem—by funding a staff or overhauling the archaic water rights system—we just have to wait for the inevitable return of the rain" [Take Part].
"The sinking [from groundwater drilling] is starting to destroy bridges, crack irrigation canals and twist highways across the state, according to the U.S. Geological Survey [Reveal]. "No agency is tracking the sinking statewide, little public money has been put toward studying it and California allows agriculture businesses to keep crucial parts of their operations secret."
"PreliminaryAnalysis: 2015 Drought Economic Impact Study" [UC Davis] (PDF). "The 2015 drought is not as severe as initially anticipated, but worse than 2014 in terms of reduced water availability and economic impact to agriculture. Groundwater substitution, water market transfers and grower use of limited water for the most profitable crops are key factors buffering the economic and employment effects of drought."
"Texas, Louisiana and Mississippi sued the Obama administration Monday to stop a new regulation asserting federal authority over minor waterways like streams and wetlands" [The Hill]. "While about 3 percent more area is now covered by the Clean Water Act than before, the protections are still smaller than they were during President Bill Clinton's administration."
Blacks and Hispanics drink more bottled water. Study: "The preferences of these minority groups are not driven by concerns about convenience, but rather perceptions about water quality" [Quartz]. Next: Bottled air!
"ICYMI: E.Coli Concerns Prompt Bottled Water Recall; Company Defends Product" [Reston Patch].
Yemen: "While the war is going on, the water level in the aquifer is going down, so the [water] problem may end up being bigger than the war." [Gulf News].
Black Injustice Tipping Point
NASCAR to take down Confederate battle flag [HuffPo].
Leap Second
"Clocks to read 11:59:60 as time lords add leap second" [Telegraph]. Tomorrow, June 30.
"With 61 Seconds in a Minute, Markets Brace for Trouble" [Bloomberg].
"What Should You Do With Your Extra Second?" [BuzzFeed].
"Leap second boffins prepare to fiddle with the FABRIC of TIME" [Register].
"Leap Seconds: Keeping our clocks in time with the sun" [UK Public Dialogue]. Signs of the times: the National Measurement Office outsourced the "public dialogue": "This website is a UK Public Dialogue, being conducted by OPM Group on behalf of the NMO."
Class Warfare
News of the Wired
"Rosetta Sees Signs of Water Ice on Comet Surface (Photos)" [Space]. That's woo-ter ice.
Early Modern Print: Text Mining Early Printed English [Early Print].
The Story Of Nancy Drew, Once Far More Ballsy Than The Girl Sleuth You Know [HuffPo].
Hagoromo chalk: Why the demise of a Japanese company is a blow to mathematics [Independent].
"Protest is Broken" [Micah White]. 
* * *
Readers, feel free to contact me with (a) links, and even better (b) sources I should curate regularly, and (c) to find out how to send me images of plants. Vegetables are fine! Fungi are deemed to be honorary plants! See the previous Water Cooler (with plant) here. And here's today's plant (John P):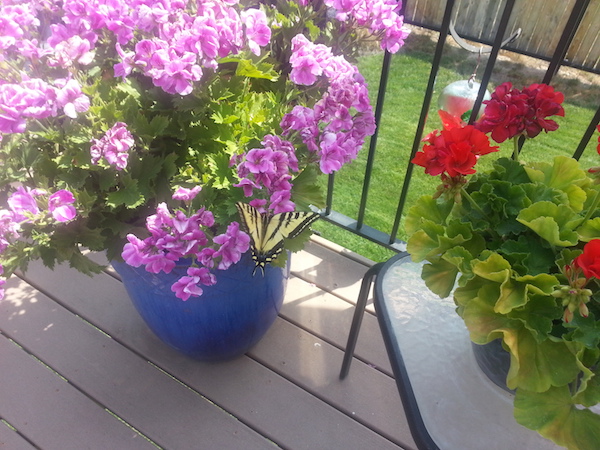 The pollinator photo to end all pollinator photos, isn't it? Much better than my carpenter bee! Taken by John's wife on their deck.
If you enjoy Water Cooler, please consider tipping and click the hat. I need to keep my server up! And pay the plumber….