By Lambert Strether of Corrente.
TPP/TTIP/TiSA
TPP nukes the Tenth Amendment [Bleeding Heartland]. Talk to your state reps, too. Not only are they even more accessible than the Washington critters, they talk to your local oligarchy.
By STATE REP. CHUCK ISENHART, Dubuque

For two years, along with other state legislators, I have waved yellow flags about the Pacific and European trade deals being negotiated by the Obama Administration.

As Congress moves to give the president authority to "fast-track" trade treaties with other nations — meaning Congress would give up its ability to change the agreements — those flags are turning red.

Why do state legislators care? Proposed language in the Trans-Pacific Partnership agreement could threaten our ability to enforce state laws. This undermines the 10th Amendment of the U.S. Constitution: "Powers not delegated to the United States by the Constitution, nor prohibited by it to the States, are reserved to the States." Congress may give the President the ability to effectively negotiate this amendment away.
Potentially decisive in the House are "moderate, pro-growth members" of the New Democrat Coalition [Wall Street Journalist]. Well, the Third Way/DLC types are Republicans, after all. Hi, Steve Israel! [waves]. Another New Democrat Coalition story [WaPo]. 17 Democrats support TPP, and 25 are needed, so the remaining few Blue Weasels Dogs who haven't been tossed out by the voters in favor of real Republicans may hold the balance of power.
Obama failing to come up with enough ka-ching to sway the Congressional Black Caucus: "'That's bullsh*t,' one member responded when asked if summer jobs money, or a deal on the Cadillac tax was enough to win their vote. That response was not atypical. Several members expressed skepticism that the White House could find the money to even pull off such gifts" [Crew of 42]. "Gifts." Let us remember that Obama successfully whipped the CBC during the TARP fight.
Polling shows support for "free trade" on the rise [Wall Street Journal]. But polling results are all in the questions …
U.S. Trade Rep calls in the DHS after AFL-CIO demonstration knocked on the agency's closed doors [International Business Times]. Theatre, but good theatre.
Charles Freeman, Nixon's interpreter in China: "In the real world, there is no way that new rules for trans-Pacific trade, written without regard to China and without Chinese participation, will somehow pivot the United States into a lasting position of supremacy in China's backyard" [Boston Globe].
"If I had to pick a single reason for the degraded quality of our trade debate, it is the relentless refusal by the supporters of freer trade to acknowledge that trade creates both winners and losers" [CFR]. Well, the losers are clearly workers, or the administration wouldn't be proposing "workers' courts" to compensate workers for lost wages, just as ISDS compensates the 1% for "lost profits." Oh, wait….
WIkileaks published new "Trades in Services Agreement" documents [Sidney Morning Herald].
The leaked draft TiSA financial services chapter shows a continuing strong push by the United States, Australia and other countries for deregulation of international financial services
2016
Giving Ilya Sheyman a well-deserved kick on the way out, along with Run Warren Run [Wonkette].
O'Malley
"O'Malley's immediate problem isn't the large lead for Clinton in name recognition and opinion polls. It's that Senator Bernie Sanders has already claimed the "progressive alternative to Hillary" niche" [Bleeding Heartland]. Yep. And Sanders isn't walking around worrying about Baltimore in the hot summer, either. True, O'Malley has nicer hair.
Sanders
Sanders on his 1972 essay, on MTP: "Something like Fifty Shades of Grey—very poorly written 40 years ago" [Bloomberg]. Incidentally, the Mother Jones reporter who broke the "story" said he didn't get an oppo dump. So, I was too cynical, and kudos to the reporter. Good wrapup from Bloomberg.
The S.S. Clinton
"Her campaign says she will attend a campaign organizing event in Iowa, but no word yet on where it will be or who may attend" [Des Moines Register]. In Iowa terms, OUCH! Let's apply our Iowa-ology skills, helped by alert reader and Iowan NT: The constraints of "Iowa nice" demand that you "be polite to a fault, and couch your criticisms in the weakest terms possible." Hence the "OUCH" sentence, which translates to "Clinton is taking Iowa for granted," is buried at the very end of the article.

Also on Iowa but re: Sanders, NT confirms that hundreds of people did indeed attend the Sanders events, but the halls were too small to hold the crowds. Both facts show good advance work; you should always hire a hall that's too small, because a hall that's too big generates a "disappointing turnout" story. So if you're a Sanders supporter, that should encourage you.

"The approval of American chemical weapons sales to Egypt as Mubarak's associates were stocking Clinton family interests with cash is but one example of a dynamic that prevailed though Hillary Clinton's tenure as secretary of state" [International Business Times].
Republican Clown Car
Huckabee on Caitlin Jenner: "Now I wish that someone told me that when I was in high school that I could have felt like a woman when it came time to take showers in PE" [USA Today]. Well, the Clown Car is a fun-filled riot of laughs….
"How Democratic or Republican is your job? This tool tells you" [WaPo]. This is fun, but it's also self-reported data. So it's easy to guess that somebody who reports their occupation as "sovereign nation" is a Republican, but… I dunno….
Stats Watch
Portuguese 10-year bonds: "GSPT10YR:IND Yield 2.875; up 0.032; change: +1.13%" [Bloomberg]. Still going up, so Mr. Market's nervousness over Greek contagion persists, but moderated. Yves says that Mr. Market always interprets motion as progress, so the moderation may be a reaction to yesterday's exciting events.
MBA Mortage Applications, week of May 29, 2015: "sputtering with MBA's composite index down a very steep 7.6 percent" [Bloomberg].
International Trade, April 2015: "Second-quarter GDP looks to be getting a lift by a decline in imports" [Bloomberg]. "Consumer goods show the strongest improvement on the import side."
ADP Employment Report, May 2015: "[P]rivate payrolls rose a moderate 201,000 in May which is right at the Econoday consensus for 200,000" [Bloomberg]. "Likely seasonality issues with this data series" [Econintersect].
Gallup U.S. Job Creation Index, May 2015: "New high" for "perceived job creation" [Bloomberg]. "Altogether, the economy appears to show a mixture of good signs and bad signs. However, this new high in perceived job creation is a good sign for U.S. employment."
PMI Services Index, May 2015: "[V]ery solid rates of growth though at a little slower pace" [Bloomberg].
ISM Non-Manufacturing Index, May 2015: "solid but at the low end of expectations" [Bloomberg].
And then there's this from AEP:
Atlanta Fed's instant GDP tracker still running at just 0.8% for Q2 to early June. Either it is wrong, or US stalled pic.twitter.com/9pg6y4sjDX

— A Evans-Pritchard (@AmbroseEP) June 3, 2015
Yes, the Atlanta Fed is right, or wrong. Nevertheless.
Black Injustice Tipping Point
"Consistent disparities in labor market outcomes demonstrate the failure of markets to advance racial equity since the 1960s, even after decades of equality in law" [Demos]. That's not a bug.
Our Famously Free Press
Boston cops whack a guy, claim he has a machete, which the press immediately propagates. Later photos show he had a knife [The Intercept]. And it all went downhill from there.
On FIFA, 72-year old investigative reporter Andrew Jennings broke the story, and now he's got a stuffed and mounted Blatter in his den [Wapo]. Here's how it's done:
"I'm a document hound. If I've got your documents, I know all about you," [Jennings] said. " You have to. That's what we do. The rest of the media gets far too cozy with them. It's wrong. Your mother told you what was wrong. You know what's wrong. Our job is to investigate, acquire evidence."
Meanwhile, the boys on the Acela are blinding and stiffing because the Clinton campaign won't let them do access journalism. They held a meeting (!), which First Read covered. Headline: "Why the Media's Fight for Clinton Matters." I've helpfully annotated the meatiest whinging:
By trying to play by the same set of rules that govern the White House press corps (background briefings, tightly regulated pool coverage, and very limited questions to the principal), Team Clinton is [1] playing into the exact narrative they've pledged to avoid – appearing to hold a coronation, not a contest. If the media feels as if Clinton has the attitude that her campaign is above press accountability, [2] the coverage is going to reflect that. And by the way, this isn't just about playing nice with reporters and bringing donuts to the back of the campaign bus. It's about [3] treating the process with respect.
[1] Note lack of agency: "playing into the exact narrative." Well, who writes the narrative? Little elves? [2] Oh, now we descend to open threats! [3] I think the phrase "Homeric laughter" was invented for this. Was Judy Miller at the meeeting? More to the point, Jeff Gerth? "Spiky" Issikoff? No? What I think is interesting here is that the press is making themselves the story, which they always try to avoid doing. Maybe that was the Clinton campaign's evil plan.
Corruption
"So much of our corruption is in plain sight these days" [Charles Pierce, Grantland]. FIFA, the poster child.
Squillionaire Watch
The Moustache of Understanding uses Baltimore to pimp his squillionaire spouse's charter school [Thomas Friedman, New York Times]. Could have filed this under "Our Famously Free Press," "Black Injustice Tipping Point," "Corruption", "Class Warfare"…. It all hangs together.
Jamie Dimon now a billionaire [Bloomberg].
With JPMorgan shares near a record high, Dimon's net worth is about $1.1 billion, according to the Bloomberg Billionaires Index. …. Dimon's status is unusual because, with the exception of former mentor Sanford "Sandy" Weill, few bank managers accumulate that much wealth.
Another squillionaire makes his money the old-fashioned way… By stealing it! (Well, modulo the bonuses paid out of our bailout money. I wonder if Bloomberg's Index adjusts for that?)
Class Warfare
Squillionaires on ROI for buying election [Reuters]. David Walsh, a retired investor living in Jackson, Wyoming, who would not disclose his net worth but has given several multimillion dollar gifts:
"I do believe — and I've told my kids this — that I can do more for them by giving money to the right presidential candidate in 2016 than by leaving them double that amount in my will."
Remembering that the Framers understood citizenship to be a public office, Walsh exempiflies the "self-serving use of public power for private ends" that is the very essence of corruption.
Hilsenrath reflects on his humorous-except-not piece from yesterday (hat tip alert reader JCC) [Wall Street Journal]. Hilsenrath:
A number commented on the tone of the commentary. While a small number found the tone to be clever, many found it offensive. Some said the item showed this reporter is arrogant, elitist and out of touch with the challenges faced by many Americans. That spoke to a broader mistrust that many respondents expressed toward a wide array of American institutions, including the Federal Reserve, banks, the media, corporations and the Obama Administration. Moreover many expressed a lack of conviction that the U.S. expansion would last, or that it was spreading prosperity beyond America's elites. Others described serious continuing financial burdens related to high debts, a rising cost of living, health care costs, and a lack of wage growth.
In a way, Hilsenrath's post was a lot like the posts Yves runs, where she solicits anecdotes. Hilsenrath concludes:
Judging solely from the responses of Wall Street Journal readers, however, you should not expect a big spending rebound. They say a deep undercurrent of mistrust and economic strain still holds back many Americans, regardless of what the numbers say.
I understood the post was ironic. However, it's hard to imagine people who lost their jobs and their homes due to the actions of the people Hilsenrath's publication services were ready to laugh at the joke; I felt it was like getting an anecdotal reading on the medical equipment market by going out and kicking a cripple to see if they fell down. We are not amused.
News of the Wired
John Waters' commencement speech at RISD, 2015 (transcript) [Fawny].
"Legislation would put hidden sections of Maine's constitution back into print" [Portland Press-Herald].


The sections, which included the treaty obligations with Indian tribes that Maine agreed to assume as a condition of its separation from Massachusetts in 1820, are still forbidden to be published with the rest of the state's fundamental laws, the result of a constitutional amendment ratified by Maine's people in 1875 and which went into effect the following year.

Sounds like the TPP! Maine's motto is Dirigo, after all.

"I Made an Untraceable AR-15 'Ghost Gun' in My Office—And It Was Easy" [Wired]. With a $1500 gun mill. Freedom of the mill belongs to those who own one.
* * *
Readers, feel free to contact me with (a) links, and even better (b) sources I should curate regularly, and (c) to find out how to send me images of plants. Vegetables are fine! Fungi are deemed to be honorary plants! See the previous Water Cooler (with plant) here. And here's today's plant, the third of Gardens, Week Five, in which Lambert expresses his frustration with mud season in June: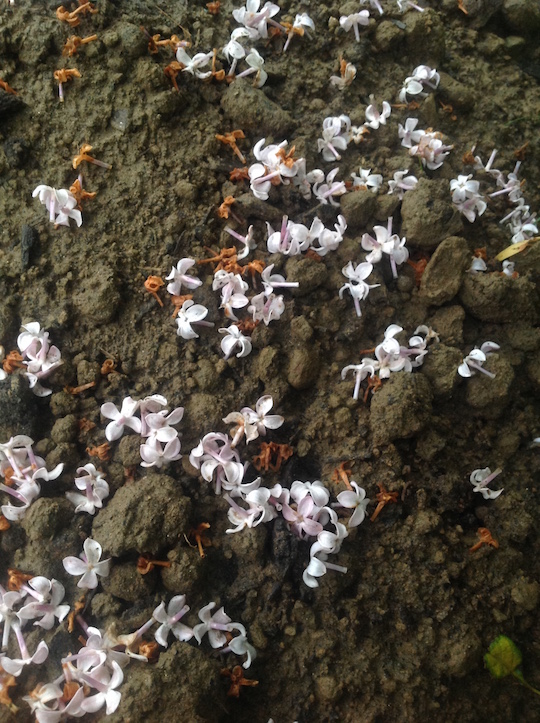 Lilac blossoms landing on my yards of soil. If this were a Japanese woodblock print, we'd have cherry blosssoms, not lilacs, and probably not mud, either. I had Skippy in mind when I picked this…
Readers, the weekend's discussion for "Open Thread on Water" was terrific. So many interesting projects! Please, send me pictures of your projects, at least if plants are involved, and when aren't they? If only of maple twirlers in gutters!
If you enjoy Water Cooler, please consider tipping and click the hat. It's the soil, seeds, flats, and sheet mulching season, so I need straw!
(Readers will notice that I have, at long last, improved the hat!)