By Lambert Strether of Corrente.
TPP
Wikileaks crowd-sourcing $100K as bounty for complete TPP text [The Week]. Seems low for a career-destroying move. And Snowden didn't need a bounty.
Barney Frank on Obama negotiating: "He's dealing with the people who want to kill every other part of his agenda, and giving them what they most want — trade — without getting anything in return. Let's do a little trading at home" [HuffPo]. Frank Op-Ed: "In Congress, I was disinclined to help people who were killing legislation important to my values without some discussion of mutuality." [Boston Globe]. "Mutuality," for Obama, is funding for his slush fund Presidential library. That is the "return." End of story.
A Singapore ISDS tribunal is hearing a "lost profits" Philip Morris Asia is bringing against Australia. In secret [Australian Financial Review]:
The case is proceeding under a version of the Investor State Dispute Settlement (ISDS) procedures that the US insists must be embedded in the TPP. ISDS tribunals are not courts, don't follow court rules, nor publish transcripts. They allow investors to seek compensation for the loss of future profits due to policy and administrative changes, or even judicial decisions, in host countries.
"[T]he White House has been left to whip votes [in the House] without the public support of a single Democratic leader in Congress" [The Atlantic].
Sherrod Brown on why trade is like baseball: "I like to look at things in baseball terms. Lauding gains from exports while ignoring a flood of imports – and skyrocketing trade deficits – is like reporting half of the score of a baseball game. The Cleveland Indians scoring three runs doesn't help the team much if the Yankees scored six runs" [Times-Journal].
"[T]he TPP would allow domestic food inspections to be outsourced to foreign countries if they merely claim that their food processing standards are equivalent to our own standards even if their standards violate key U.S. food safety principles" [Honolulu Civil Beat]. When Chinese mainlanders go to Hong Kong to buy baby formula…
"Only 17 Democrats out of 188 have come out in favor of so-called fast-track authority — and many of them are being hounded by labor and environmental groups to change their minds. Opponents of the trade deal say just seven Democrats remain truly undecided" [New York Times].
Letter to the editor, Texas: "Most of what I've read and heard about TPP tells me that former U.S. Trade Representative Ron Kirk was right in saying the reason the treaty has to be kept secret is it couldn't be adopted if people knew what was in it" [Statesman-Journal].
Letter to the editor, California: "As a person of faith, I have deep concerns that the TPP will harm the very people Jesus said we should be most concerned about: the poor, the widow, the orphan. It will make medicine more expensive for the poor in many countries and could make it harder for poor countries to protect the health and safety of their citizens. " [The Union].
Austrialian legislators told they can view the current Trans-Pacific Partnership negotiating text if they sign "a four-year confidentiality provision" [Guardian]. That's a confidence-builder!
SEIU throws AFL-CIO under the bus on making example of Congressman who took union cash support and voted for TPP [Politico]. 
2016
Sanders
More debates: "I have been hearing concerns from voters about the need for vigorous candidate debate" [Time]. "The people of this country are tired of political gossip, personal attacks and ugly 30-second ads." True enough. Getting rid of that stuff would break a lot of rice bowls, though: campaign consultants, oppo researchers, access journalists, the networks, cable, the pollsters to measure the effects….

Sanders agrees with Paul on surveillance [HuffPo]. "I wouldn't say in lockstep, but we both have the same concerns."

Chuck Todd tries to bait Sanders on Press the Meat, but Sanders outsmarts him [Christian Science Monitor]. Granted, that's not hard.
The S.S. Clinton
Clinton to hold formal launch June 13 on Roosevelt Island [Wall Street Journal]. I'd like it to be the Roosevelt part that appeals, but perhaps it's the island…

"Hillary Rodham Clinton's top campaign lawyer has filed a second voter-access lawsuit accusing a Republican-led state of trying to suppress the vote" [New York Times]. Good!

Press ticked off that Clinton campaign doesn't give them enough access, so they can't do access journalism [WaPo]. Idea: Stop whinging, start reporting? Make some calls? Do a public records search? 

"For the 'Conversation with Hillary' earlier that day in Boston, a 'Friend' of the campaign can attend for as little as $1,000" [The Intercept]. One more reason to hate that word "conversation," at least when used by Democrats.
Republican Establishment
Poll of 120 people who worked for W show 25 support Jebbie, 50 neutral, and 45 did not respond [New York Times].
Republican Clown Car
Trump's interview with the Des Moines Register, annotated [WaPo].
"Run Warren Run" suspends activity [Politico]. That Ilya Sheyman….
Stats Watch
Portuguese 10-year bonds: "GSPT10YR:IND Yield 2.84; up 0.10; change: +3.80%" [Bloomberg]. Still going up, so Mr. Market is nervous about Greek contagion.
Gallup Economic Confidence, May 2015: "Declined to an average of minus 7 in May, down from minus 3 in April. This drop continues the monthly downward drift since confidence peaked at plus 3 in January" [Bloomberg]. "Confidence remains much higher now than what Gallup has found in most months since Americans started to feel the recession's effects in 2008." Pretty low baseline!
Factory Orders, April 2015: "fell 0.4 percent in April for the 8th decline in 9 months, a depressing streak" [Bloomberg]. The bright spot: Civilian aircraft. "Ugly." " The data is contracting year-over-year" [Econintersect].
Redbook, week of May 30, 2015: "[C]ontinues to report low rates of year-on-year sales growth" [Bloomberg].
Motor Vehicle Sales, May 2015:  "Steady but not accelerating" [Bloomberg]. "Vehicle sales offer the very first hard data on any month's consumer spending. "
"The latest Blogger Sentiment Poll released 01 June 2015 by Ticker Sense shows bloggers are neutral or bearish in their view of the markets" [EconIntersect]. "This blogger poll is noisy," so FWIW.
Police State
"Two major news investigations have shed new light onto who dies at the hands of the police—and how" [Mother Jones]. Too much to summarize, but good reporting. Amazing, or not, that there are not already government figures.
Police reform bill banning chokeholds and requiring body cams to be on "most of the time" clears Illinois legislator [Crains Business Chicago]. To be funded by — get this — " a $5 hike in fines for some traffic violations." So we just intensified law enforcement for profit.
"The Counted," interactive graphic of police killed this year [Guardian]. It would be handy to have a date filter on the map view (the list view has one).
"A recruitment video used by the [Portsmouth, Virginia police] department features a team of officers in military-style uniforms staging a Swat raid on the house of a robbery suspect. A sniper in bush camouflage lies in wait ready to take out escapees" [Guardian]. And they got the personnel they recruited for….
Big Brother Is Watching You Watch
Former NSA general counsel Stewart Baker: "The whole notion that NSA is just evilly determined to read the law in a fashion contrary to its intent is bullshit" [Guardian]. Alrighty, then.
Black Injustice Tipping Point
"Protesters Were Tased on Sidewalk Before Arrest for "Impeding Traffic," Video Shows [Riverfront Times].
Corruption
The Cuomo administration "is blocking the release of details about transactions between the state and the governor's top campaign donor. [New York] state's housing agency says it cannot release the documents because it is 'cooperating' with a federal prosecutor's probe of financial relationships between New York lawmakers and campaign donors in the real estate industry" [International Business Times]. "
Squillionaire Watch
Koch calls for speed-up clemancy for non-violent offenders [USA Today].
Class Warfare
Interview with Josu Ugarte, the president of Mondragon International [Too Much]. Important!
News of the Wired
* * *
Readers, feel free to contact me with (a) links, and even better (b) sources I should curate regularly, and (c) to find out how to send me images of plants. Vegetables are fine! Fungi are deemed to be honorary plants! See the previous Water Cooler (with plant) here. And here's today's plant, the second of Gardens, Week Five (Diane):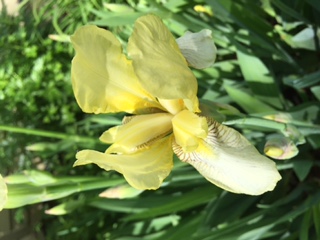 Diane: "My Montana garden." Way ahead of mine!
Readers, the weekend's discussion for "Open Thread on Water" was terrific. So many interesting projects! Please, send me pictures of your projects, at least if plants are involved, and when aren't they? If only of maple twirlers in gutters!
If you enjoy Water Cooler, please consider tipping and click the hat. It's the soil, seeds, flats, and planting season!
(Readers will notice that I have, at long last, improved the hat!)