AT&T faces $100 million fine for quietly throttling data speeds (update: AT&T responds) engadget. EM: "AT&T's 'unlimited' data plan — the broadband equivalent of an 'all-you-can-eat' buffet where you get a single tea-saucer-sized plate and each trip through the buffet line takes 20 minutes."
Biotech's Coming Cancer Cure MIT Technology Review (David L)
Industry's Growth Leads to Leftover Embryos, and Painful Choices New York Times (furzy mouse)
Fructose powers a vicious circle MedicalXpress (Chuck L)
60 Million People Fleeing Chaotic Lands, U.N. Says New York Times
Hong Kong vetoes China-backed electoral proposal Reuters
China responds to Donald Trump's insults Asia Times
Cyprus peace talks: Rocky road to reunification BBC
Grexit?
EU confronts Greek legal puzzle Politico. Undue hope that Merkel will wave a magic wand.

Merkel says Greece deal still possible if it meets reform pledge Bloomberg

Merkel sees Greece deal if Athens 'musters the will' Financial Times. This account has more detail on Merkel's emphasis on the need to preserve the Eurozone. However, she appears to have fallen short of explicit calls for creditor sacrifice, while she does clearly state that Greece must "muster this will " to come to a deal. Michel Sapin of France gave a similar message on French radio.

Greek showdown widens Merkel's rift with Schäuble Financial Times. The reading is that Schauble will support Merkel in the end but is undermining her behind the scenes now. Remember that when in "time is of the essence" mode, that can be much more powerful than usual.

Guest post: The Greek standoff is no Prisoner's dilemma FT Alphaville. Another way of setting forth the Greece/creditor conflict.

Bank savings in front line as Greece hurtles toward default Associated Press

Greece says deal on debt crisis unlikely at Thursday talks BBC

Can ECB arrest pernicious effects of a Grexit? Financial Tiems

Greek banks face capital hole even if bailout agreement reached Bloomberg

Greek debt crisis: Key dates on the road to a possible Grexit Financial Times

What If Greece Just Disappeared? Bloomberg. Some useful information on the terms the debt to the EFSF; " No European state will be unable to balance its budget because of missing Greek interest payments, which have already been deferred by 10 years and would in any case be linked to the European Financial Stability Facility's minuscule funding costs."

Greece declared fictional Daily Mash
Syraqistan
The War Nerd: A Glorious Victory, For Once! Pando (Howard Beale IV)
Big Brother is Watching You Watch
Privacy Advocates Leave In Protest Over U.S. Facial Recognition Code of Conduct Slashdot (Jeff P)

Hayden Mocks Edward Snowden's Effect on NSA Surveillance Intercept (reslic)

The Pentagon is researching how to create drones that target and kill without human oversight Business Insider (David L)
Trade Traitors
Karen Bass And Keith Ellison Just Threw A Wrench Into The Republican Trade Strategy Huffington Post

Starbucks closing La Boulange shops by September's end US News (EM)
Obamacare
Majority in U.S. wants Congress to ensure Obamacare subsidies, poll finds Los Angeles Times
Economists predict shockwaves if Obamacare subsidies are nixed Reuters (furzy mouse)
Which Presidential Candidate is the Most Conservative? Wonk Wire (furzy mouse)
Canadian rocker Neil Young strikes sour note on Donald Trump's use of song Reuters (EM)
Teen mom who attempted suicide speaks out after deportation McClatchy (Chuck L)
Judge rules California owes $331 million to homeowners Reuters (EM)
Black Injustice Tipping Point
Gunman kills 9 people at African-American church in South Carolina Reuters
What Drought? Oblivious Rich People Whine About Brown Golf Courses, Normal People Drought-Shame Them Common Dreams (furzy mouse)
California Water Cuts Leave City Days Away From Running Out Of Water CBS Sacramento (furzy mouse)
The Watchdogs of College Education Rarely Bite Wall Street Journal
SEC Chair's Conflicts Fuel Sympathy for Wall Street, Group Says Bloomberg. Has a link in the story to a site to protest more Mary Jo White-like SEC appointments.
Fed, in Shift, Expects Slower Increase in Interest Rates New York Times
Meet the New Shadow Bank (It's a Lot Like the Old Shadow Bank) Bloomberg (Scott), Important.
Goldman to summer interns: Don't stay in the office overnight Reuters. EM: "'We told them not to stay overnight' seems like a weak-tea PR ploy, of the 'wink wink, nudge, nudge, if you want to keep your job you'll continue being an all-nighter drudge' variety. How about a hard cap on weekly or monthly hours worked?"
Class Warfare
The Sweatshop Feminists Jacobin (Gabriel)

In California, Uber driver is employee, not contractor Reuters (furzy mouse). Couldn't happen to a nicer bunch.
An Affirming Flame Archdruid (Chuck L)
Antidote du jour (@World):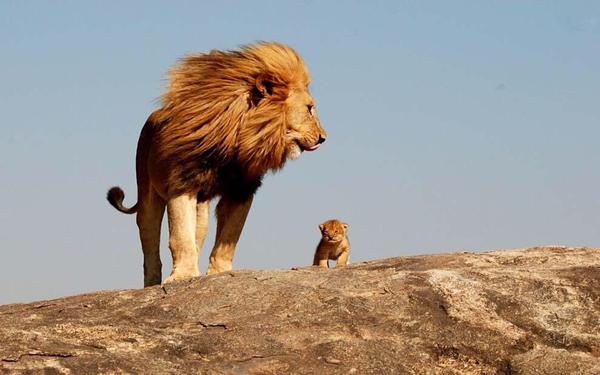 And a bonus, courtesy furzy mouse, from the New York Times story, A Robotic Dog's Mortality.
See yesterday's Links and Antidote du Jour here.