US readers: Please call your Senators this morning and tell them "Hell no!" on Fast Track. Give a short reason or two. Press everyone you can to make similar calls. Find Senate contact numbers here. Thanks so much!
Cat Takes Accidental Ride On An Airplane (VIDEO) Huffington Post
Why lions in the backyard could be a good thing BBC (furzy mouse)
Fracking and the Franciscans New York Times. Reslic: "You know the Pope is on to something good when Brooks doesn't like it. I guess Brooks hasnt been to China, India, Brazil to see the water and smog, or is it just the GOPer green colored glasses of cashflow above all else?"
Why climate change is increasingly seen as an urgent health issue Vox (reslic)
Solar Storm Strikes Earth, Spawning Low-Latitude Aurora NBC (David L)
Spark at the Center of a Technology Revolution MIT Technology Review (David L)
With a nod and a wink, Microsoft gives away Windows 10 to anyone who asks ZDNet (furzy mouse)
Why Australia may need a recession Business Spectator
What if Beijing and Washington understood each other perfectly…but still clashed? China Spectator
China Margin Trades Buckle Leaving $364 Billion at Risk Bloomberg (furzzy mouse)
U.K. Bankers More Likely to Misbehave Under Pressure, PwC Says Bloomberg. Quelle surprise!
Erdogan Isn't Finished American Interest. Dani Rodrik: "If you read just one thing one Turkey this whole year, let this be it—and yes I'm talking to you in DC and Brussels"
Grexit?
Painful reality — creditors will support Greece in any case Financial Times

Greek offer to creditors runs into angry backlash at home Reuters

Stathakis: Greece rescued BBC. Notice no announcement that the proposal was accepted, as Greece had hoped. And if a Wall Street Journal report yesterday is accurate, the "not crossing pension red lines" is a stretch. The benefits are not being reduced, but recipients are required to make higher health care contributions, reducing net payments markedly. Moreover, other links below indicate that the Germans are not satisfied, in that at a minimum they want legislation passed and what amount to performance guarantees. How much the Germans get of what they want is to be determined, but no deal is done until it's done.

Germans' impatience with Merkel on Greece bailout talks grows Financial Times

No deal, but some hope, on Greece Politico

Lessons from the plight of the Greek banks Financial Times. The money quote, in both senses: "Analysts at Citigroup reckon in any case that at the current elevated rate of deposit withdrawals, the banks have sufficient collateral to secure only another 20 days of ECB money."

Energy, foreign ministers divided on Russia gas deal ekathimerini. We warned that a preliminary memorandum is a long way from a done deal.

The no-solution summit Politico.

Tax matters – Greece bailout deal hinges on collection rates Guardian (IsabelPS)

EU slams Greek 'waste' of time Politico

63% of Greeks are not afraid Grexit Poll Bridging Europe. I need to debunk this since it is making the rounds on Twitter. It's an online poll. Online polls are utter garbage. They can't and therefore don't adjust the sample to be representative (you can't collect enough accurate demographic to do so; serious pollster contact people about whom they already have demographic information, so the self-selecion also introduces considerable bias). On top of that, the results may have been gamed, since the results are allegedly only from 22 to 45 year olds. Syriza's base is younger Greeks, and many younger people are so desperate that they are willing to risk any big change from the status quo, on the assumption things can't get much worse.

Greece is a sideshow. The eurozone has failed, and Germans are its victims too Guardian. While the criticisms are well warranted, Chakrabortty tries pulling a sleight of hand right before the reader's eye. He equates a promise merely to have a convergence of living standards with a pledge to increases living standards. I've long assumed the Eurozone to be all about crushing workers since that is what it has delivered.

Greek public stops paying off personal debts as uncertainty grows Financial Times. Important as well as sad.
Syraqiatan
Germany frees Al-Jazeera journalist sought by Egypt Associated Press

U.N. Report on Gaza Finds Evidence of War Crimes by Israel and by Palestinian Militants New York Times

Isis suspends two boys from pole in Syria for eating during Ramadan report Agence France Presse (furzy mouse)
Big Brother is Watching You Watch
Insurer monitoring your heart rate? Allstate's patent makes it possible – Sun Sentinel (Chuck L). Matt Stoller warned this was coming in 2012.
Trade Traitors
Nonsense Brokers Harper's Magazine. Reslic: "All these whore Democrats are just GOP Lite. Not filling and no taste."
Fewer Poor Uninsured, Study Finds in Health Law New York Times
Senator Bernie Sanders Town Hall C-Span. In Denver. I had this on in the background while working on Links. Broad-ranging and sensible.
The Obama Gap New Republic. Amazing. How can you write about Florida, particularly around Orlando, and NOT mention foreclosures or home prices? Florida was one of the worst hit states and the Democrats did nothing to alleviate the damage. As Thomas Ferguson ad Jie Chen found, it was unemployment and housing prices (as in the lousiness of both) that drove the Scott Brown Senate upset in Massachusetts. Also no mention of Alan Grayson, who has succeeded in Florida more or less over the dead body of the Democratic party.
Body of ex-White House chef found in New Mexico: police Reuters (EM)
Every American Golf Course Should Look Like This Year's U.S. Open New Republic (reslic)
Black Injustice Tipping Point
Supreme Court rejects Madoff trustee's appeal over $4 billion recovery Reuters (EM)
Renewed appetite for US hostile takeovers Financial Times. Another sign of froth.
Black box' trading strategies could be the source of the next big financial scare Business Insider. Lots of quant hedge funds hit the wall in the crisis.
Clearing houses reduce risk, they do not eliminate it Financial Times
Yellen: Fed Was Advised Against Fully Complying With Subpoena on Leak Probe Wall Street Journal (Scott). DC insider: "Fed gonna Fed."
Class Warfare
Antidote du jour. IsabelPS: "A Portuguese modern family: two mothers and one baby."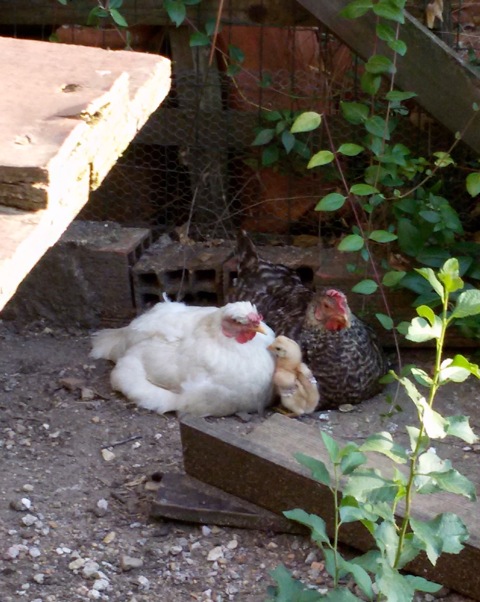 See yesterday's Links and Antidote du Jour here.