Cambodia trains rats to detect landmines Daily Star
Worse fur wear! Drunk raccoon stumbles and falls over after getting sloshed on spilled beer in a warehouse. Includes video. Daily Mail
The History and Psychology of Clowns Being Scary Smithsonian
Heinz says sorry for ketchup QR code that links to porn site appygeek (Chuck L)
Earth 'entering new extinction phase' – US study BBC
Industrial Agriculture Is a Threat to World Food Supply Truthout (furzy mouse)
National Center for Public Policy Research Defends Trans Fats Intercept (furzy mouse)
Discovery of graves nothing new, says ex-US Senate staffer Star Online (Malaysia)
Chinese shares in biggest weekly drop since 2008 Xinhua
That was nuts. Is this the crash? FT Alphaville
European Regulators Lay Out Demands and Fines in Google Antitrust Case New York Times
Grexti?
EU Commission President Juncker: 'I Don't Understand Tsipras' Der Spiegel. Important.

Kremlin Denies Discussing 'Loan' To Greece Sky News

Russia and Greece Flaunt Solidarity, but Deals Are Scarce New York Times

Does Greece Need More Austerity? Paul Krugman

Merkel's one big reason to hold on to Greece Financial Times

Greek banks: Athens' Achilles heel Financial Times

Banks quit Greece to safeguard cash Times

Greek debt: Merkel urges deal before Monday summit BBC

Tusk tells Greece it is heading for default if it does not reach deal on Monday ekathimerini

A modern Greek tragedy – the crisis years in context Financial Times

Every month brings 1 bln of new tax debts ekathimerini

Months of Greek debt talks yield bad blood but no deal Financial Times. A must read. We long thought Tsipras was naive to regard Merkel as an ally. The handwriting was on the wall but Tsipras did not get the significance: "Mr Tsipras told colleagues that Ms Merkel had been helpful, saying she would support any deal backed by the IMF." Merkel made equivocal statements in public until three weeks ago when she made it crystal clear to the broader public that she was backing the IMF.
Syraqistan
MISRATA, Libya: Chaos in Libya paves way for Islamic State expansion McClatchy

Locals fear IS jihadists quietly slipped into Turkey Al-Monitor
Big Brother is Watching You Watch
Mixed Effects Are Seen if Health Care Law Is Repealed New York Times
American politics? They've become a family affair. McLeans
Rand Paul comes to the rescue of America's most vulnerable: Its wealthy Salon (furzy mouse)
Health Care Fraud Takedown: 243 Arrested, Charged with $712 Million in False Medicare Billings FBI.gov. This is actually a big number. One wonders what they'd get if they ever bothered to go after private insurer abuses.
Black Injustice Tipping Point
City of Clanton ends contract with firm allegedly running 'debtor's prison' AL.com
New Rules Allow Early Adopters to Become Early Investors Tech Crunch (David L)
Share sale signals from bank executives Financial Times
The Most Powerful Person at the Federal Reserve You've Never Heard Of Bloomberg. Fromm a DC insider: "Alvarez at the fed under fire."
Class Warfare
'Poshness tests' are about what you know Financial Times
Antidote du jour. Isabel: "Baby bird saved by its parents after falling from the nest."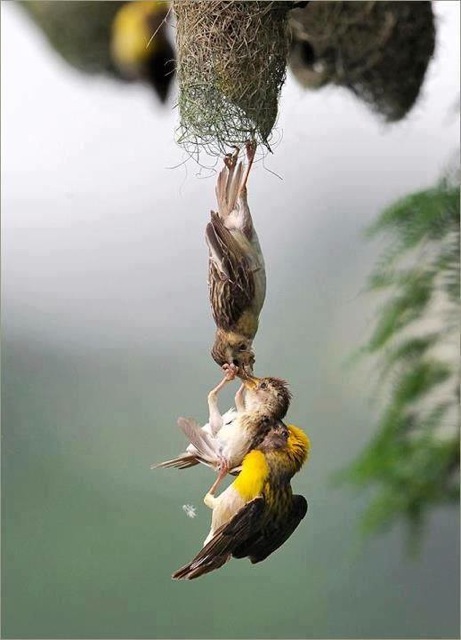 See yesterday's Links and Antidote du Jour here.