Mystery of the Texas 'earthworm herds' that form a perfect line on roads: Scientists baffled by strange behaviour since storms Daily Mail
Eating with cats Reuters
Woman Suing Ebay Claims She Owns The Sun, Has The Right To Sell Real Estate There Consumerist
Why Ban Laughing Gas? The Best Things in Life Are Psychoactive Guardian (Dr. Kevin)
Why hardly anyone dies from a drug overdose in Portugal Washington Post (Ryan R)
How this brilliant scientist went from working at Subway to becoming one of the greatest mathematicians of the 21st century Business Insider (David L)
The Pentagon Wants These Robots To Save The Day NPR (David L)
Open Letter on the Digital Economy MIT Technology Review (David L)
Digital Journalism: The Next Generation New York Review of Books
Apple Is the New Pimco, and Tim Cook Is the New King of Bonds Bloomberg
Why China has the U.S. over a barrel in the South China Sea Reuters (MS)
Grexit?
Why Greece Will Cave—and How Foreign Affairs Kevin C). Explains a key element of the Greek equation, the list system, that I must confess to not having known about. The author argues strengthens Tsipras' position v. the Left Platform and limits how much they can constrain them. However, I am not sure since my assumption has been that the Left Platform MPs, in the event the split worsen, would leave Syriza entirely.

Greece takes one more step towards euro exit Financial Times. Editorial.

Tsipras Says Deal Near Even as He Pans Plan From Greek Creditors Bloomberg. Notice the poll results mentioned at the very end of the article.

Greek Prime Minister Calls Proposal by Creditors Irrational Wall Street Journal. Key paragraph:

However, senior government officials have indicated that the Greek government is already preparing a fresh proposal with further concessions, and is aiming to present them to European Commission President Jean-Claude Juncker in the coming days.

Greek PM addresses parliament about bailout talks – as it happened Guardian. Key point:

There's a troubling inconsistency at the heart of Alexis Tsipras's speech tonight. On the one hand, he emphatically rejects the proposals from Greece's creditors (he rejects pension cuts, VAT rises on electricity, penurious budget targets)

Minutes later, he's pledging that a deal is closer than ever before.

But he's not about to cave in. And it's not obvious that the IMF, ECB and EC are going to suddenly fold either. So how can a deal happen?

Tsipras dismisses 'absurd' creditors' offer as Greek markets slide Financial Times

Europe's Last Act? Joseph Stiglitz, Project Syndicate

IMF has betrayed its mission in Greece, captive to EMU creditors Ambrose Evans-Pricthard, Telegraph. "Sigh*. Lagarde can't buck or tell off the EMU lenders. They all have votes on the IMF board. And IMF debt is senior, so when the eventual restructuring occurs, the IMF will take less of a hit than other creditors. The issue is that no one ever wants to recognize losses, but they already exist.
Big Brother is Watching You Watch
The media genius of Edward Snowden Daily Dot (Chuck L)

Drone buzzes Southwest flight in Dallas, plane lands safely: FAA Reuters
Protect NYC parks — and deep-six NYU expansion New York Daily News (furzy mouse)
Ukraine/Russia
A short and medium term comprehensive strategy for the new Ukraine (Chuck L). Noted the URL includes "Soros-Ukraine" and "new Ukraine" is one of his big claims, that there's a new, entrepreneurial non-corrupt Ukraine, ready to burst out, as Athena did from the head of Zeus. The problem is every time I hear "new Ukraine" I think of New Coke.

High Inflation Makes Ukraine's Troubled Situation Worse New York Times
Syraqistan
Circle of deceit: Hani Mujahid's path to Al Jazeera Al Jazeera (Chuck L)
Yellen: Fed won't comply with House subpoena yet The Hill
Special Report: Website 'The Counted' Tracks Police Shootings of Americans (Judy B) Resistance Journals
The largest grocer in the Texas is now rationing eggs Washington Post
Corruption
Donations to cancer charities enriched leaders instead, FTC says Reveal
Justice Department Readies New Bank Settlements Wall Street Journal. Again, settlements rather than prosecutions. And what will the admissions of fact be like?
Standard Deduction: How a Carried Interest Tax Could Raise $180 Billion New York Times. "…about 10 times what the government estimates." This is by Victor Fleischer, a tax heavyweight.
Sturdy U.S. jobs report boosts chances of Fed rate hike Reuters
High time for greed to yield to fear Financial Times
Versailles Watch
A flush #toilet decorated with 72,000 @swarovski crystals is on display at Kitchen & Bath China 2015 in Shanghai Wed @PDChina. Too obviously an exercise in conspicuous consumption for its own sake.
Class Warfare
Gawker's Idealism Is Exactly What the Labor Movement Needs New Republic

Twilight of the Professors CounterPunch
Owen Jones on Magna Carta: a striking example of useful myths New Statesman (Chuck L)
#7 — mark twain's mother — 6/5/15 DelanceyPlace (Chuck L). Today's must read.
Antidote du jour. Stephen L: From the FB page of the Florida Wildlife Commission Fish and Wildlife Research Institute:
Fish and Wildlife Research Institute added 2 new photos.
On May 29, FWC panther biologists Marc Criffield and Mark Lotz responded to a call about a possible Florida panther kitten found near a brush fire site in Lee County. Our biologists eventually identified the animal as a baby bobcat, and after an examination biologists noticed some of the hair on its coat was singed and it had blisters on its feet from walking on the burned ground. Overall the young bobcat was energetic and healthy, and a decision was made to leave the animal near where it was found in the hope that its mother would come back and find him. The kitten was checked every morning over the weekend and given water and milk replacement and had ointment placed on the blisters on his feet, but mother never came. On Monday, June 1 Marc Criffield pulled the kitten from the wild and the six week old male bobcat was taken to the Clinic for the Rehabilitation of Wildlife (CROW), hopefully he can be returned to the wild. To learn more about bobcats, visit our website: http://bit.ly/1yJm5DY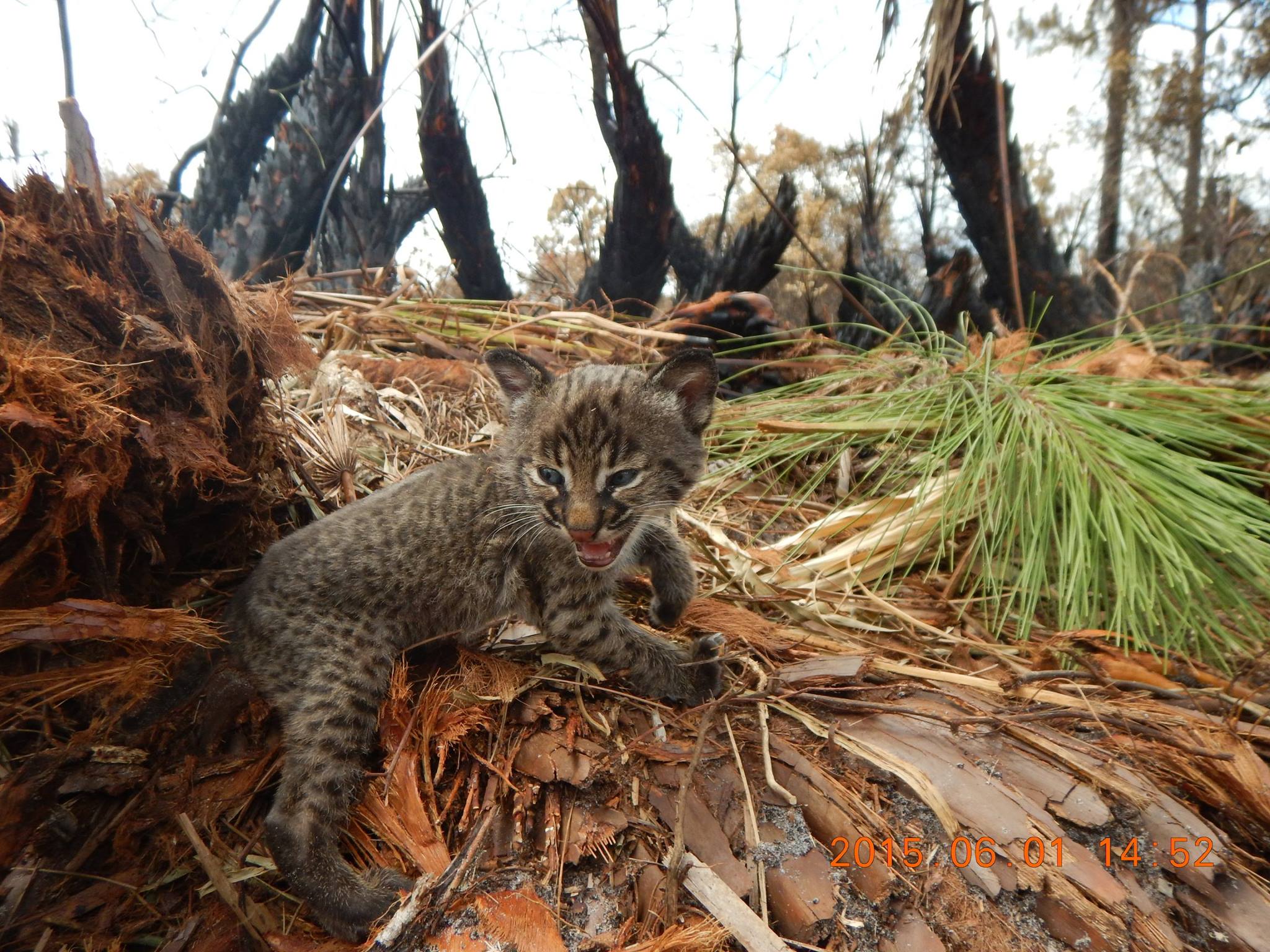 See yesterday's Links and Antidote du Jour here.