By Lambert Strether of Corrente.
In my post on Clinton's speech, I had explained that I was opening comments there because I didn't hit the 2:00PM mark for Water Cooler, and readers would expect to be able to comment, somewhere, at 2:00. Unfortunately, the system had other ideas, and the version of the post with that explanation disappeared, along with the announcement that I would post a "Clinton-shortened" Water Cooler post later in the day. So here is the 2:00PM Water Cooler, at 5:24PM. And now to try Neem Oil on my poor, suffering cucumbers. –lambert
TPP/TTiP/TSA
List of traitors in House and Senate, with phone numbers. Hat tip, reader Vatch. Be sure to visit them when they return to the district. If a traitor is mentioned in Water Cooler, their name is in bold. (A reader helpfully sent me an updated version with phone numbers which I will install shortly!)
"Both the House and Senate had exactly the number of votes needed — and not one more — because they knew everyone who voted for the unpopular Fast Track risked their political career" [Bud Myers]. It's the least we can do. See the list above, and brighten the corner where you are.
"Below is a list of 605 corporate advisers who have been allowed access to the TPP text" (as of 2102) [Flush the TPP!]
TISA and open source: "TISA has the potential for the most widespread impact, with Europe, the U.S., and many more countries negotiating in secret. A recent leak included a particularly nefarious term: a prohibition on governmental mandates for free software. Article 6 states that "No Party may require the transfer of, or access to, source code of software owned by a person of another Party, as a condition of providing services related to such software in its territory" [Free Software Foundation].
TPP and WTO: "The main goal of the U.S. and friends is to clear a path in the WTO to introduce a dangerous set of new issues that correspond to their agenda in the Transatlantic Trade and Investment Partnership (TTIP) and the Trans-Pacific Partnership (TPP)" [HuffPo].
2016
Sanders
"Self-styled socialist candidate Bernie Sanders often avoids the personal politics of race. After all, he serves a mainly white working-class constituency in Vermont and his most radical ideas are about the economy (tax the rich), education (make college free) and healthcare (institute single payer)" [Latin Times]. On the other hand, won't making college free and single payer benefit the marginalized — however marginalized — disproportionately?

"What Sanders proposes is a reasonable equilibrium between public goods and private interests, one that existed for much of the 20th century. He doesn't want to change America so much as make it work in ways it once did. The hysteria surrounding his candidacy is manufactured, a ploy to marginalize his voice, which is much more mainstream than his opponents would have you believe" [Salon].

Sanders on groaf: "Unchecked growth – especially when 99 percent of all new income goes to the top 1 percent – is absurd," he said. "Where we've got to move is not growth for the sake of growth, but we've got to move to a society that provides a high quality of life for all of our people. In other words, if people have health care as a right, as do the people of every other major country, then there's less worry about growth" [WaPo]. Clinton's speech is quite a contrast!

"The public skepticism of Sanders' bid reflects how rapidly he's gone from peripheral figure in the Senate to serious factor in the 2016 primary." [Politico]. This wording implies that skepticism about Sanders comes from the public, rather an being expressed in public by a gaggle of Clintonistas from Politico's Rolodex.

"If Mr. Sanders did build a coalition of working-class voters, it would look a lot different from the coalitions assembled by recent liberal Democratic primary candidates. It would be positioned to do far better among Hispanic, black and less educated white voters than recent anti-establishment Democratic challengers, like Barack Obama, Howard Dean, Bill Bradley and Jerry Brown" [New York Times].
The S.S. Clinton
Economic speech: See here at NC.

Economic speech: "Clinton is asking America's progressives to trust her. She is offering sentiment without specifics" [Gawker].

Economic speech: "[Clinton] did not talk about expanding Social Security, she did not call for raising the national minimum wage to $15 an hour, and she did not explicitly disapprove of President Obama's trade deals with Pacific Rim nations and Europe" [WaPo]. Plus she thinks problems in capital allocation can be solved if only banksters with hearts of gold gather together. Let us know how that works out.

Economic speech: Clinton's $1,500 tax credit for hiring workers: "[S]ome Democratic lawmakers and liberal economists say the tax credits don't provide the jobs they are designed to deliver" [Bloomberg]. And this is about the only specific we have.
Poll: "Donald Trump leading the Republican presidential field with 17%, followed by Jeb Bush at 14%, Scott Walker at 8%, Ted Cruz at 6%, Marco Rubio at 5%, Ben Carson at 4%, Mike Huckabee at 4% and Chris Christie at 3%" [Suffolk University]. Part of me says: "Pass the popcorn!" Another part of me says isn't "We can control him" what German conservatives thought in the 30s?
Israelis give their marching orders on Iran deal [The Hill]. Hey, now that the Republican caucus is running their own foreign policy, maybe they can invite Netanyhu back to give another speech in the Capitol!
Republican Establishment
"U.S. Republican presidential candidate Jeb Bush on Tuesday said a new nuclear agreement with Iran was a 'dangerous, deeply flawed and short sighted deal'" [Reuters].
Republican Principled Insurgents
"Rubio's burn rate is around 19 percent, which is low, and suggests he's running a streamlined campaign that's not bleeding money on consultants and staffers. His campaign released a cash-on-hand figure, which suggests they're proud of this" [National Review].

Walker: "The left claims they're for American workers, and they've got lame ideas, things like minimum wage" [Politico].

"If Democratic turnout in Wisconsin's three biggest counties had been at presidential-election-year levels, Walker would have struggled to win reelection as governor" [National Journal]. Yeah, too bad the national Democrats didn't lift a finger to help the Wisconsin Democrats. How hard could it have been to cut a check for a GOTV operation?
Republican Clown Car
"[Christie] aides officially pushed New Jersey's subsidies to corporations over the $6 billion mark — a record. One of the tranches of public money was a $40 million package of tax incentives to a firm founded by real estate mogul Murray Kushner, who has delivered more than $125,000 to Christie's campaigns and to state Republicans since 2009" [International Business Times]. Christie really does give zero f***ks.
Stats Watch
NFIB Small Business Optimism Index, June 2015: "Small business optimism fell very sharply in June" [Bloomberg]. "Today's report, like the June employment report, could be a surprise signal for slowing ahead. "
Retail Sales, June 2015 "The second-quarter suddenly doesn't look very strong as retail sales for June, showing broad weakness, came in way below expectations" [Bloomberg]. But "Our view is that this month's data has improved the rolling averages" [EconIntersect].
Business Inventories, May 2015: "Rose modestly in May in line with sales"  [Bloomberg]. "Looks to me like business is likely to be cutting output to reduce inventories" [Mosler Economics].
"Now five of 12 regional Federal Reserve Banks are signaling Fed headquarters that their directors want the discount rate to go up, the Fed said Tuesday, a sign of growing impatience with the zero-rate environment that Fed Chair Janet Yellen said last week is likely to change this year" [Market News].
"[F]our misperceptions have pushed Treasury bond yields to levels that represent significant value for long-term investors. … The most widely held view of these four misperceptions is that the poor performance of the U.S. economy thus far in 2015 is due to transitory factors. As those conditions fade, the economy will strengthen, sparking inflation and causing bond yields to move even higher. The premise is not compelling, as there is solid evidence of a persistent shift towards lower growth" [Econintersect].
"Investors ramped up their cash holdings in July to the highest level since the global financial crisis in 2008 as China's stock market plunged and the Greek crisis reached boiling point, a closely watched survey showed on Tuesday [Reuters].  Monthly Bank of America Merrill Lynch poll of 191 fund managers survey.
"Mapping the market" [China Economic Review]. Mapping provinces by stock market exposure.
Class Warfare
"Survivors of modern-day slavery in Britain are at high risk of falling back into the hands of traffickers because of gaps in the government support system, a report published on Monday said" [Reuters].
"In retrospect, the Uberization of the economy began innocently enough back in the late 1970s….. [I]nvestors and management gurus began insisting that companies pare down and focus on what came to be known as their "core competencies," like developing new goods and services and marketing them" [New York Times]. Interesting idea. Then we had outsourcing. Then we outsourced everything.
Black Injustice Tipping Point
"Hiding in Plain Sight" [Scalawag]. Very good.
Gaia
"No, the Earth Is Not Heading for a 'Mini Ice Age'" due to sunspots [Slate].
Corruption
"Pre-trial hearing set in Hastert hush-money case in Chicago" [Wild About Trial]. How are the mighty fallen. And to think that Hastert was one of the Republicans clutching his pearls and moaning about moral standards during the Lewinsky Matter.
News of the Wired
"Mozilla blocks all versions of Adobe Flash in Firefox" [ghacks].
"Health officials leading the fight against Ebola in Sierra Leone say fear, fatigue and denial are allowing the virus to continue to spread" [BBC].
"This Is Your Brain on Jane Austen: The Neuroscience of Reading Great Literature" [Open Culture].
* * *
Readers, feel free to contact me with (a) links, and even better (b) sources I should curate regularly, and (c) to find out how to send me images of plants. Vegetables are fine! Fungi are deemed to be honorary plants! See the previous Water Cooler (with plant) here. And here's today's plant: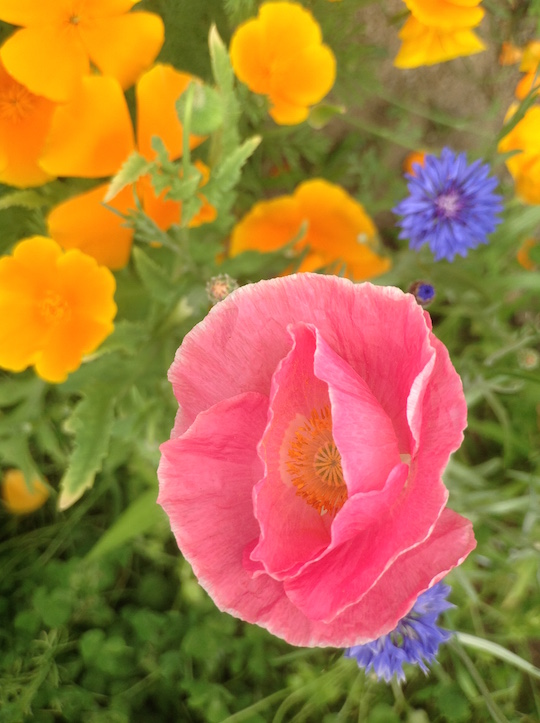 A photographer friend says this looks pretty good. I wonder if it's too gaudy!
NOTE: Please free to test the donation dropdown, where the amount you select should finally appear on the PayPal form. Thanks to kind reader DK, who fixed my code. (And if you have problems, please let me know using the contact link, so as not to clutter the thread.)
If you enjoy Water Cooler, please consider tipping and click the hat. I need to keep my server up! And pay the plumber….