By Lambert Strether of Corrente.
TPP/TTiP/TISA
List of traitors in House and Senate, with phone numbers. Hat tip, reader Vatch. Be sure to visit them when they return to the district this week. If a traitor is mentioned in Water Cooler, their name is in bold.
Hawaii session: "Stage set for 'final' negotiations on proposed TPP trade deal. "Akira Amari, Japan's minister in charge of TPP negotiations, said significant progress was made as a result of 'tough' bargaining between chief negotiators in the run-up to a crucial four-day ministerial session starting Tuesday on the Hawaiian island of Maui" [Japan Times]. "The Hawaii session is viewed as a last opportunity to sign a deal by the end of the year, given the United States will soon be preoccupied with campaigning for the 2016 presidential election."
New Zealand cartoon: "The Pencilsword: Who's afraid of the TPPA?" [The Wireless] (TPPA = TPP).  Well drawn and very funny, and raises ISDS effectively. "Sir, I told you already, this is a secret matter. Move along."
ISDS: "Left gathers forces for final push against TPP" [The Hill]. I'd be a lot happier if the headline read "Left and Right." TPP's surrender of national sovereignty under TPP can unite left and right, but somehow our famously free press has erased that from the discourse.
Promises, promises: "A complaint alleging that the Government of Peru is failing to comply with the labor standards of the U.S.-Peru Trade Promotion Agreement (PTPA) was filed on July 23, 2015, by the International Labor Rights Forum (ILRF), Peru Equidad, and Peruvian unions representing workers in the textile & garment and agro-export industries. The complaint alleges that the Government of Peru is failing to enforce basic labor laws in its garment, textile, and agricultural export sectors, which together employ hundreds of thousands of workers who produce billions of dollars of goods for the U.S. market" [International Labor Rights Forum]. "It also raises new questions regarding the labor rights record of a key member of the Trans-Pacific Partnership (TPP), the Obama Administration's proposed mega-trade deal that will, on paper, require all members to maintain and enforce labor laws consistent with recognized International Labor Organization standards."
Promises, promises: "In attempt to quell the controversy surrounding the TPP, the administration is recycling the same lofty promises that were used to push for passage of CAFTA: the deal would safeguard public health, spur economic prosperity at home and abroad, and protect workers, consumers, and the environment" [Eyes on Trade]. "After 10 years of CAFTA, the emptiness of such promises is on full display."
TPP is pro-slavery:  "It appears Malaysia will be given a free pass on human trafficking in order to protect the controversial trade deal" [The Nation]. So "America's first Black President" reinforces slavery in South East Asia. Nice. "[T]he move suggests the administration isn't serious about enforcing other areas of fast track and the TPP when it comes to other human-rights, environmental, or labor standards."
TPP is pro-slavery:  "Malaysia controls a key oil shipping lane to China, and the U.S. sees it as a key strategic partner in efforts to neutralize China's growing influence in Asia" [The Intercept]. One imagines an earlier empire making the same arguments in favor of slavery when William Wilberforce was agitating to abolish it. "But what about the sugar trade?"
TPP is pro-slavery:  "Sen. Sherrod Brown (D-Ohio) said, 'Giving countries with clear evidence of human rights violations, like Malaysia, a front-row seat to join the Trans-Pacific Partnership is unconscionable" [The Hill]. "Sarah Sewall, Under Secretary of State for Civilian Security, Democracy, and Human Rights, insisted Monday that Malaysia's qualification to remain part of the TPP didn't come into play when evaluating its status." BWA-HA-HA-HA!!!!!
Malaysia: David Cameron to visit Malaysia starting Thursday. Opposition leader: "On Thursday Cameron will be standing beside [Prime Minister Najib] praising him uncritically as a Muslim moderate and committing the UK to cooperate with Najib on and a mutual security agenda " [Telegraph].  Cameron is arrivine "as the country reels from a multi-billion dollar scandal engulfing a controversial state investment bank founded and headed by Mr Najib," of which Najib is trying to suppress press coverage.
The disabled and IP: "The Trans-Pacific Partnership (TPP) threatens all users' ability to access information and participate in culture and innovation online, but it's especially severe for those with disabilities or who otherwise depend on content in accessible formats. That's because it doubles down on broken policies that were heavily lobbied for by Hollywood and other major publishers that impede the distribution of accessible works" [EFF].
2016
Readers, I have recategorized this section. I had been filing items in candidate- and party-focused buckets, but I think that's encouraging people discussing their votes or, worse, proselytizing for candidates or even parties. We have Kos, Reddit, and any number of conservative sites for that. I hope this recategorization encourages discussion of policy and structural issues, though I have to confess I love the human interest of the campaign trail, which is in there too. I'm retaining the Clown Car because the stupid! It b-u-r-r-n-n-n-n-s!!!!!
Policy
"Calling climate change one of the "most urgent threats of our time," Hillary Rodham Clinton laid out elements of a sweeping plan Monday that would see every U.S. home powered by renewable energy by 2027, even as she declined to take a position on the Keystone XL oil pipeline opposed by environmental activists" [AP]. Clever to drive a news cycle with a fact sheet, then expand on the ground. I wonder how many of those solar panels will be made in China?

"During an Iowa speech on climate change Monday, Clinton refused to weigh in on the project. She argued that because she served as President Obama's secretary of State when the pipeline was under consideration, it would be inappropriate for her to comment" [The Hill]. Oh, come on. Anyhow, we can check her email! Oh, wait.. 

Sanders' plan: "[W]ould look like a tax on carbon; a massive investment in solar, wind, geothermal; it would be making sure that every home and building in this country is properly winterized; it would be putting substantial money into rail, both passenger and cargo, so we can move towards breaking our dependency on automobiles" [Think Progress].

Former U.S. Ambassador to Israel Daniel Kurtzer:" Huckabee Guilty Of Same 'Incitement' That Led To Rabin Assassination" with "to the ovens" comment [Talking Points Memo].
The Voters
Recap of Florida 2000 from Avi Berman [The Nation]. "If 12,000 voters were wrongly purged from the rolls, and 44 percent of them were African-American, and 90 percent of African-Americans voted for Gore, that meant 4,752 black Gore voters—almost nine times Bush's margin of victory—could have been prevented from voting. It's not a stretch to conclude that the purge cost Gore the election."

It's important to understand that Berman is retailing a self-serving and self-exculpatory Democratic lie myth. 308,000 Florida Democrats voted for Bush; that's two orders of magnitude greater than the voters Jebbie disenfranchised. Democrats lost Florida for Bush, and nobody else. And the party has never been able to look itself in the mirror on this. Never. It's always somebody else's fault with these guys.
Money
Democrats make up half of Jebbie fundraiser in the Hamptons: "'This guy sells well,' said Kenneth Lipper, the money manager and registered Democrat who hosted the event, after Bush left. Virtually the only one who left without writing a check, Lipper said, was a buck deer that wandered past the group assembled on the wooded grounds" [Bloomberg]. And the deer wasn't the only pest on the grounds, was it?

"Map: Where 2016 Candidates Raised Their Money" [National Journal].
Legal Troubles
"Ivana Trump once accused the real-estate tycoon of 'rape,' although she later clarified: not in the 'criminal sense.'" [Daily Beast].

"Clinton's new e-mail storm is no criminal scandal" [WaPo]. As I keep saying, the Clintons have always been lucky in their enemies.
The Trail
Top Ten List of Republican Candidates: 1 Trump: 18%;  2 Bush: 14%;  3 Walker: 10.6%;  4 Rubio: 6.2%;  5 Paul: 6%;  6 Cruz: 6%;  7 Huckabee: 5.6%;  8 Carson: 5.2%;  9 Christie: 3%; 10 Perry: 2.2%. [First Read]. These are the candidates who would make the cut for the Presidential debates today, and so not Kasich, Santorum, Jindal, Fiorina, or Graham. Waiting to see Trump beat Bush to death with his combover, then scoop out his skull and use it for a drinking cup. And the crowd goes wild!

Rand Paul seems to be missing in action [WaPo].

Republican strategist: "Imagine a NASCAR driver mentally preparing for a race knowing one of the drivers will be drunk. That's what prepping for this debate is like" [@JWGop].
Our Nation's Capital
"House to vote on three-month highway bill, break for recess" [The Hill]. So make sure to visit their offices and share your views, especially on TPP.
Stats Watch
S&P Case-Shiller HPI, May 2015:  Case-Shiller reports surprising weakness in home prices. The data include a sizable downward revision to April" [Bloomberg]. "Declines are widespread, hitting 12 of 20 cities including a second straight decline, at a steep minus 0.7 percent in May, for the usually very strong San Francisco." But year-on-year: " the year-on-year rate is seen posting a very solid gain to plus 5.6 percent from April's 4.9 percent. This report, as well as the FHFA housing price index, are on steady moderate climbs consistent with underlying strength in existing home sales". And: "The non-seasonally adjusted Case-Shiller home price index (20 cities) year-over-year rate of home price growth was unchanged from last month's 4.9%. The authors of the index say: "Over the next two years or so, the rate of home price increases is more likely to slow than to accelerate" [Econintersect].
PMI Services Flash, July 2015: "Service sector growth is strengthening slightly this month" [Bloomberg]. "[O]ptimism in the 12-month outlook, perhaps shaken by the outlook for the global economy, is the softest it's been in three years."
Consumer Confidence, July 2015: "Consumer confidence has weakened substantially this month" [Bloomberg]. "Weakness is centered in the expectations component which is down nearly 13 points to 79.9 and reflects sudden pessimism in the jobs outlook where an unusually large percentage, at 20 percent even, see fewer jobs opening up six months from now." And: "[S]ending early hints of second-half slowing, slowing that could push back of course the Fed's expected rate hike." Oh, well then… 
Richmond Fed Manufacturing Index, July 2015: "The Richmond Fed is reporting the best strength of any manufacturing region this month" [Bloomberg]. "New orders are especially strong. Hiring, however, is slowing." And: "Of the five regional Federal Reserve surveys released to date, three show manufacturing expanding and two are in slight contraction" [Econintersect].
State Street Investor Confidence Index, July 2015: "The investor confidence index is down sharply this month but from an unusually high reading in the prior month" [Bloomberg].
"Along with the troubles in China, the U.S. economy is facing a rash of equally serious headwinds. Canada has now entered a technical recession with two back to back quarters of contraction this year. Canada is the number one export market for U.S. goods, buying $312 billion from the U.S. in 2014 or 19.2 percent of all U.S. exports" [Wall Street on Parade].
"A sufficiently large reverse-repo facility is a way to ensure that the Fed will be able to meet some of the demand for a safe asset, preventing secured rates and unsecured rates from diverging again — and without resorting to the kinds of ad hoc measures that were necessary in the last crisis"  [Cardiff Garcia, FTAlphaville]. The mechanics of lift-off, if any, are as important as the fact of it.
"[Bank of England chief economist Andy] Haldane looked at the philosophy of shareholder primacy and questioned its legitimacy. He cited evidence of increasing short-termism by shareholders, of increasingly diversified shareholders failing to exercise corporate control and of the quest for shareholder returns fuelling risk taking" [Market News]. " Haldane says that by creating a diversified portfolio, shareholders become risk insensitive over their investments in any single company and, therefore, "unlikely to discipline risk-taking by management."
Dear Old Blighty
"Hard left actually a retired teacher with a duffle coat" [Daily Mash].
Corruption
Sausage-making in Chicago: The Obama Presidential Library (ka-ching) [The Baffler]. "Like so many things Obamian, when it comes to transparency, fantasies of reform turn to ashes in our mouths."
"I'd clearly leave them with an expectation that a fundraising request will be forthcoming,"  [K&L Gates oil lobbyist Peter] Gleason advised, according to the talking points, "and emphasize that he prefers to have these types of discussions before asking for money (i.e., 'it's the right thing to do')" [Post-Gazette]. Indeed! First of two parts on the fracking industry and Pennsylvania politics.
Our Famously Free Press
Gawker's Denton reaching out to Omidyar (!) [Daily Beast]. "I knew Graydon Carter and you, sir, are no Graydon Carter."
"[S]mall cues can lead to large differences in how people consume content" [Bloomberg]. A "respect" button instead of a "like" button, for example.
Wretched Excess Watch
"Hunter who killed Cecil the lion in Zimbabwe 'paid gamekeepers £36,000" [Daily Mail]. Corruption, too.
News of the Wired
"I want a moratorium on new browser features for about a year or so" [Quirks Mode]. "[W]e should focus on the web's strengths: simplicity, URLs and reach. The innovation machine is running at full speed in the wrong direction. We need a break."
"Goldman Sachs, arguably the most powerful bank in the world, quietly, without fanfare, is making a play to become one of the most influential investors in technology startups" [Bloomberg]. So good luck with the moratorium.
"In Praise of the AK-47" [Dear Design Student]. Must the beautiful always be good? Is the good orator always a good person?
"Pluto has nitrogen glaciers flowing down from its distinctive, icy heart" [Nature].
"Hurricane Katrina, 10 Years Later" [Buzzfeed]. First in a series of actual reporting!
"The NFL Just Hired Its First Female Coach *Ever*" [Marie Claire]. Just in time for the brain damage lawsuits to kick in…. 
"Women Who Code has taken its network to 53 cities and six continents in the past four years" [International Business Times].
Happy Birthday, World War I! [Business Insider].
Arthur Silber's requiem for his cat, Cyrano  :-( [Power of Narrative]. Silber is one of the great old-school bloggers, who tend to be prematurely correct a lot. He's always worth a read.
* * *
Readers, feel free to contact me with (a) links, and even better (b) sources I should curate regularly, and (c) to find out how to send me images of plants. Vegetables are fine! Fungi are deemed to be honorary plants! See the previous Water Cooler (with plant) here. And here's today's plant (IsabelPS). This view is very pleasing to the eye; I have the feeling Christopher Alexander would approve: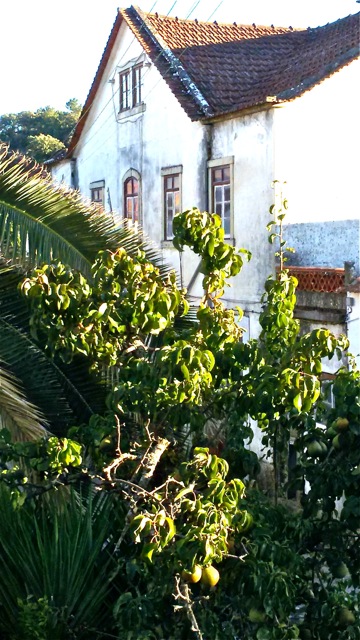 Can it possibly be true that Europe shuts down for the month of August?! If so, I hope more European readers will take a moment to send in photographs of European plants. We've had Dimitri's olives, and now Isabel's pears, but more would be nice!
NOTE: Please free to test the donation dropdown, where the amount you select should finally appear on the PayPal form! Thanks to kind reader DK, who fixed my code.
If you enjoy Water Cooler, please consider tipping and click the hat. I need to keep my server up! And take a trip….