By Lambert Strether of Corrente.
TPP/TTiP/TISA
List of traitors in House and Senate, with phone numbers. Hat tip, reader Vatch. Be sure to visit them when they return to the district this week. If a traitor is mentioned in Water Cooler, their name is in bold.
New leak: Secret Trans-Pacific Partnership Agreement (TPP) Treaty: State-Owned Enterprises (SOE) Issues for Ministerial Guidance [Wikileaks]. Important! Dunno if that's going to go over big in Malaysia, or big enough, even though we did them a solid by deep-sixing all that slavery stuff. 
Australia: "TPP negotiations threaten to forcibly commercialise state-owned bodies" [The Saturday Paper]. "[T[he futures of publicly owned enterprises such as Australia Post, the ABC, SBS and state power utilities may be on the negotiating table in secret talks under way in Hawaii this week."
Australia: "TPP: Former WTO head Pascal Lamy says TPP benefits 'modest'" [Financial Review]. Unlike its proponents and beneficiaries.
Malaysia: See under Corruption for a **** cough *** totally unrelated incident  *** cough *** in Malaysia. (I'm coughing from the smoke, sorry.)
Canada: Prime Minister "Harper hopes to sign TPP deal before federal election kickoff" [National Observer].
United States: "A group of pro-trade House Democrats penned a letter on Wednesday calling on the Obama administration to lock in strong environmental provisions as part of a massive Asia-Pacific trade deal" [The Hill]. And by "lock in," we mean, give us some verbal cover in 2016.
United States: "The criminalization of IP infringement in a multilateral agreement would give the United States legal teeth for enforcing its preferred system of intellectual property protection across the world" [The Diplomat]. Please. Let's not pretend Hollywood and Big Pharma represent anyone other than themselves. TPP "gives" the "United States" nothing, less than nothing.
2016
Readers, I need a really good campaign travel tracker. At the National Journal, nobody told the JavaScript dude to consider UX. Any suggestions?
Policy
"'If you're getting high in Colorado today, enjoy it,' Christiesaid Tuesday during a town-hall meeting at the Salt Hill Pub in Newport, New Hampshire. 'As of January 2017, I will enforce the federal laws'" [Bloomberg].
The Voters
"After upticks in good economic feelings in recent months, surveys this week suggest Americans are growing increasingly edgy about the country's economic future headed into the election season" [Wall Street Journal, "Americans' Sour Turn Puts Economic Worries Back in Spotlight"]. Bad for incumbents.
The Trail
Walker's union-made Harley is a centerpiece of his union-busing campaign [Reuters]. Free rider problem, eh?

Trump leads in Florida [SaintPetersBlog]. Ouch!

"Out of 114 minutes of coverage from the beginning of June to Friday, Trump gobbled up a full hour, or 52 percent of the airtime" [International Business Times].
Clown Car
"[I]s there a single word that combines revulsion, amusement, respect and confusion?" [WaPo]. Cilizza binge reads the collected works of Donald Trump. Me ne frego… 
I've lost count of how many Republican candidates there are, but now there's another one [France24].
Our Nation's Capital
On those 18-year-old truckers the Senate wants: "When you make your workers lives worse, and you don't compensate them with cash money to make up for it, you find your workers quitting. That's what's happening here. [W]e either need to improve truckers' work experiences or pay them more. There's no worker shortage, there's simply an unwillingness, on the employers' side, to face up to the facts" [Mathbabe]. Funny how often "the market" isn't about price, but power.
Stats Watch
GDP, Q2 2015: "GDP came in on the lower end of expectations in the second quarter, up 2.3 percent vs the Econoday consensus for 2.9 percent" [Bloomberg]. "The second quarter wasn't that great, showing much less of a bounce from a weak first quarter compared to last year." Lots of handy charts: "[Y]ear-over-year growth declined so one could say economic growth was mixed.There are significant 'buts' relative to this advance GDP estimate" [Econintersect]. "A particularly telling representation of slowing growth in the US economy is the year-over-year rate of change.
Jobless Claims, week of July 25, 2015: "at rock bottom levels, at a lower-than-expected 267,000" [Bloomberg]. Continuing claims are also "are also very low readings."
Bloomberg Consumer Comfort Index, week of July 26, 2015: "Retracement in consumer confidence readings is becoming an early feature of the third quarter. The consumer comfort index is [steeply[ down for a 4th straight week"  [Bloomberg]. Hmm. "Retracement" isn't in the Shorter OED. I wonder what kind of indicator it is when Bloomberg invents or propagates a new word?
"Rail Data Still Soft But Marginally Better Than Previous Week" [Econintersect].
Seven-year Note Auction: "Foreign demand has been a key driver for Treasuries as an asset class vs. lower-yielding European sovereigns and the liquidity provided by the auction could prove enticing – foreigners average 20% of new 7-years" [Across the Curve].
 "New surveys covering actual and planned pay awards by thousands of companies show flat or even declining wages overall despite some higher increases for in-demand fields like computer technology. Ahead of the second-quarter Employment Cost Index release Friday, compensation consultants said there's no evidence employers are raising pay at a higher rate than in recent years despite steady increases monthly payrolls and a national jobless rate approaching 5%" [Market News]. The new normal. Thanks, Obama!
"The Federal Reserve remains on track to raise interest rates later this year, and perhaps as soon as its next policy meeting in mid-September, as economic growth continues to meet its expectations" [New York Times]. "One and done." That's the ticket…. 
Grexit?
"Yanis Varoufakis faces criminal prosecution over clandestine 'Plan B' currency plot" [Daily Telegraph]. The Greek right has its Benghazi at last. May they choke on it. 
Big Brother Is Watching You
"Although we all love to hate passwords, they're shared secrets which can be changed with just a few clicks [Paul Moore]. "If your biometric behavioral profile is shared/stolen, the consequences are far-reaching and considerably more difficult to mitigate." Interesting read.
Dear Old Blighty
Shook his hand and wished him all the best as he travelled on a London bus late at night with the riff raff. #Corbyn pic.twitter.com/jmNUH5z7Ep

— Stuart (@stu_low) July 29, 2015
* * *
"[Communication Workers Union" backs Jeremy Corbyn 'to oust Blairites'" [BBC].
"Jeremy Corbyn has tossed a grenade among unaccountable elite in Labour Party" [Belfast Telegraph].
"Some of the grassroots engagement and debate seen in Scotland's referendum last year is finally creeping south" [Guardian].
"Corbynism is a retreat into the type of self-indulgent posturing that Attlee detested" [New Statesman].
"Of the four Labour leadership candidates, Corbyn is the only one to have said the words 'Yes' or 'No' in recent weeks" [Daily Mail]. You can see the Mail deploying the cultural markers as it moves in for the kill, though.
Gaia
Carbon sinks in groundwater under deserts from arid farming [New Scientist].
"Fossil fuels are reaping support of $550 billion annually, according the International Energy Agency (IEA), an organisation that represents oil- and gas-consuming countries, more than four times those given for renewable energy" [The Economist, "The global addiction to energy subsidies"]. Because markets, ya know.
"The bioeconomy is rising up the political agenda… [But] there is no consensus on what 'sustainable' means. Biomass assessment is a patchwork of voluntary standards and regulations. With many schemes comes a lack of comparability. Confusion leads to mistrust and protectionism, international disputes and barriers, slow investment and slower growth" [Nature].
Pesticide makers now making false claims of beating herbicide-resistant weeds with products that use carbon nanotubes [Mother Jones]. "Carbon nanotubes  are one of the most controversial nanoparticles—often compared to asbestos for their ability to lodge into the lungs and cause trouble when they're breathed in."
Corruption
Fire breaks out at the Malaysian police national headquarters in Kuala Lumpur:
Fire breaks out at Bukit Aman http://t.co/t5bi9PS1zW | https://t.co/7auFTLBjBW pic.twitter.com/HoNWJ0cZlR

— malaysiakini.com (@malaysiakini) July 29, 2015
State of our country: Bukit Aman on fire and first thing people ask is whether the Task Force documents are there.

— Syahredzan bin Johan (@syahredzan) July 29, 2015
Malaysian police:  "Only unimportant documents destroyed in Bukit Aman fire" [Straits Times]. Nothing to do with 1MDB Task Force, then. Move along, people, move along. There's no story here.
"[Grosvenor Capital Management] is run by Democratic Party financier Michael Sacks, a major campaign contributor to Chicago Mayor Rahm Emanuel and a prodigious fundraiser for President Barack Obama. As the Sackses escalated their giving to a PAC that supported [Democratic then-Governor Pat] Quinn, his appointees signed off on shifting hundreds of millions of dollars to [Grosvenor]. That decision was made even as Grosvenor was underperforming less expensive stock index funds [David Sirota, International Business Times]. Somebody should ask Clinton what she'll do about this "when" she becomes President.
"The Financial Services Conflict of Interest Act would prohibit government officials from accepting "golden parachutes" from their former employers for entering public service." Warren supports it; Clinton doesn't [David Dayen, The Intercept]. "One possible explanation for Clinton's lack of interest in banning golden parachutes is that she tolerated them when she ran the State Department — for two of her top aides. Robert Hormats and Thomas Nides previously worked as executives for financial firms Goldman Sachs and Morgan Stanley, respectively." 
"The illegal killing of a lion in Zimbabwe by a Minnesota dentist has focused attention on the elite hunting industry in southern Africa, which critics say is poorly policed and riddled with corruption" [Los Angeles Times].
Cambodia allows cops to pocket 70% of all the traffic fines they collect [Time]. What could go wrong? And least Ferguson had the common decency to launder the take through the municipal budget! Because that's how we do it in the First World.
Wretched Excess 
"The latest outrage was sparked when the French magazine Marianne reported that King Salaman had reportedly asked a French policewoman to step away from his villa's security perimeter so that she would not be close to men when they went swimming" [Business Insider]. As long as they spell the name right…
MH370
"Discovery in Réunion: A wing and a prayer for Malaysia Airlines breakthrough" [The Economist].
"Number on Reunion Island [flaperon] debris corresponds to Boeing 777 component" [CNN]. Single-sourced and the part is being examined in Toulouse. And I believe — putting on my tinfoil hat, here — that the MH370 777 is the only missing 777. But is this the only missing 777 flaperon?
"Finding on Whether Debris Is From Malaysia Airlines Flight 370 May Take a Week" [New York Times].
Class Warfare
"Moreover, they say, Mr. Moynihan, 55, has surrounded himself with a close-knit circle of loyal lieutenants — many from his days at the regional bank FleetBoston Financial, which was acquired by Bank of America in 2003" [DealB%k, New York Times]. Boy, that's a shocker. A Big Man surrounded by cronies and sycophants. Probably not an introvert in the bunch.
"Bankers make ideal altruists, says philosopher" Peter Singer [The Star].
News of the Wired
R.I.P Maine's Vic Firth, legendary stick man [Press-Herald].
Unix for poets (PDF) [Stanford's CS124].
"President Obama has established a new initiative across multiple government agencies that will focus entirely on creating the fastest supercomputers ever devised. The National Strategic Computing Initiative will attempt to build the first ever exascale computer, which would be more than 30 times faster than today's fastest supercomputer" [VICE].
Forthcoming Onion VICE parody: "With a team of more than 300 news warriors, Edge pummels readers with immersive reporting that is uncaged, unaccountable, and totally f*cked up" [Wired].
Scientist on time: "'The block universe theory says you're spread out in time, something like the way you're spread out in space,' Dr Skow said. 'We're not located at a single time.' Instead he says we are in a 'temporarily scattered' condition [Daily Mail]. I suppose a lot of NC readers could have told him that… 
"Overwhelming genetic evidence shows that Homo sapiens had sex with Neander­thals, Denisovans and other archaic relatives. Now researchers are using large genomics studies to unravel the decidedly mixed contributions that these ancient romps made to human biology — from the ability of H. sapiens to cope with environments outside Africa, to the tendency of modern humans to get asthma, skin diseases and maybe even depression" [Nature].
"New analysis of old finds upends conventional wisdom about where and when the first artists evolved. Hint: They weren't Homo sapiens" [Discover].
Buffalo snow pile from last winter still not melted [ABC]. Boston's is gone. I wonder if anybody made book?
"F. Scott Fitzgerald Conjugates "to Cocktail," the Ultimate Jazz-Age Verb (1928)" [Open Culture]. Gorgeous handwriting.
Competitive bagpipers blow competition in Canada after days of heavy drinking [Boston Globe]. If the instrument's that effing complex, why are people trying to play it hung over?
"8 hours of sleep can make you happier" [Business Insider]. Jawbone also has some good maps on sleep habits by county.
Fifty top psychologists [Business Insider]. Interesting round-up. Hopefully none of them experts on torture.
2009 profile of Walter Palmer, Killer Dentist [New York Times]. "Palmer, said to be capable of skewering a playing card from 100 yards with his compound bow, has cultivated a purist's reputation for his disinclination to carry firearms as backup." That's because, by court order, he can't use firearms, after he lied to the Feds about where he shot a bear.
* * *
Readers, feel free to contact me with (a) links, and even better (b) sources I should curate regularly, and (c) to find out how to send me images of plants. Vegetables are fine! Fungi are deemed to be honorary plants! See the previous Water Cooler (with plant) here. And here's today's plant (Kurt):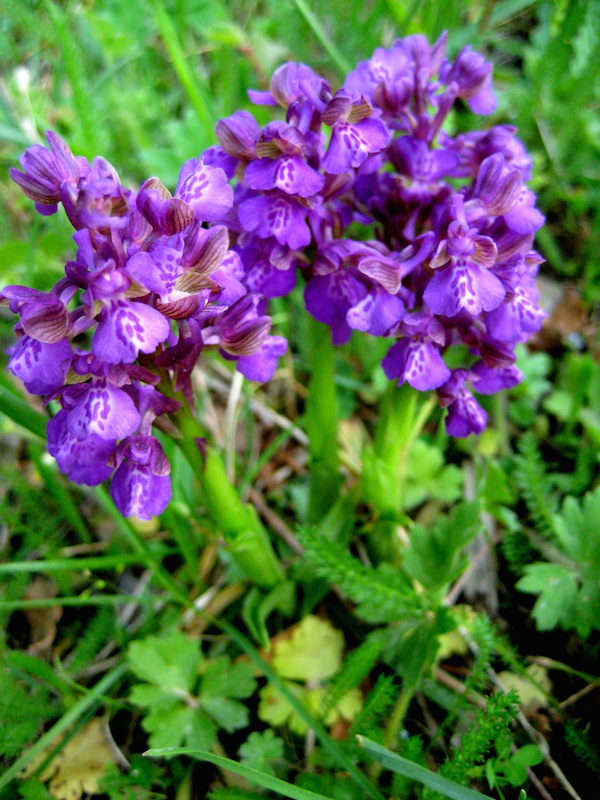 Here is another flower from, AFAIK, Kurt's European trip. It's pretty, and I wish I could plant some. But what is it?
NOTE: Please free to test the donation dropdown, where the amount you select should finally appear on the PayPal form! Thanks to kind reader DK, who fixed my code.
If you enjoy Water Cooler, please consider tipping and click the hat. I need to keep my server up! And take a trip….