By Lambert Strether of Corrente.
TPP/TTiP/TSA
List of traitors in House and Senate, with phone numbers. Hat tip, reader Vatch. Be sure to visit them when they return to the district.
Australia: "As I keep warning, the Coalition looks set to make the same mistakes with the TPP as it made in negotiating the Australia-US FTA in 2004. That is, signing onto a deal that imposes significant costs on Australia's consumers, taxpayers, and our world-class health system by placing the interest of US pharmaceutical and digital companies ahead of our own, all the while the US fails to free up access to its markets for our farmers" [Macrobusiness].
Froman: "A lot of opposition we heard during this debate on TPP was based on myth and misinformation. I can't wait for this thing to be done and fully out there in public to say, 'We told you this was going to have fully enforceable and binding labor obligations', and it does" [Politico].
Australia: "A HIGHLY secretive deal being negotiated in Geneva [TISA] could see giant international childcare providers enter the Australian market with more limited future government control on how they operate" [News.com]. What could go wrong?
2016
Sanders
Portland: "What was scheduled as a town hall forum had become a full-blown rally by Monday night. Sanders' speech was delayed by 20 minutes as organizers let in the throngs of people still awaiting entry. Estimates pegged the crowd at 8,000 to 9,000 people" [Bangor Daily News]. Idea: Sanders should pay a Brooklyn graphic designer a ton of money for a logo people can use to tweet selfies. What's wrong with this guy?

"[T]he last three Democratic winners of Iowa (Al Gore, John Kerry and Barack Obama) did win their party's nomination" [NBC]. Trade traitor and Clinton surrogate McCaskill's anti-Sanders scare quote still making the rounds…

Black injustice: "I do not separate the civil-rights issue from the fact that 50 percent of African-American young people are either unemployed or underemployed" [Salon].

Iowa: "So does he think Iowa farms are getting too big? 'Good question, I just don't know' [Daily Times Herald]. "I'm not a great fan of factory farming, I should tell you that."

Iowa State University Political Science Professor Steffen Schmidt said Sanders' "don't know" response on the size-of-farm query is hardly surprising. It's the sort of candor that makes Sanders, 73, so popular, Schmidt said.

'When he doesn't know something, he says, 'I don't know,'" Schmidt said. "Isn't that better than if he came up with some BS.

It will be even more impressive if Sanders follows through with a policy response. But is his campaign operation up to that? Time will tell.

Ammosexuals and gun-humpers rejoice! Sanders does not want to grab your consumer fetish object! [Christian Science Monitor].
The S.S. Clinton
"Hillary Clinton Says Puerto Rico Should Have Access To U.S. Bankruptcy Laws" [Reuters]. Clinton's policy on student debt "has not yet been finalized." Regardless, why didn't they come first? And will Clinton and the Democratic loyalists adopt another half-assed Republican plan? [Business Insider].

Experts are already drawing comparisons between student debt and [so-called] universal healthcare [ObamaCare], which several presidential administrations tried to tackle before it took the spotlight during the 2008 election. Then, Democrats touted the successes of Massachusetts' 2006 healthcare reform just like they're now pointing to Tennessee's 2014 college promise plan that lets high schoolers get two years of free tuition at a local community or technical college.

Yeah. I mean, it's not like working class people deserve a university education. Let's be realistic! After all, we're not a first-world country like Germany!

Last month, Hillary Clinton addressed America's youth unemployment problem in a speech at South Carolina's Trident Technical College to a predominantly black crowd [Fusion].

But where Sanders, a socialist, identified black youth unemployment as a civil-rights issue, Clinton portrayed it as solely an economic one, and did not identify specific proposals for black youth in her speech.

The Clinton campaign said last month it plans to outline economic policies proposals related to young black adults sometime this summer.

Clinton proposed a $1,500 tax credit to businesses that brought on young apprentices.

The vaunted Clinton policy apparatus needs to stop coming up with pissant proposals. This is school uniforms territory.
Republican donors call for calm [Yahoo].
"Exactly two weeks after the splash of his planned announcement on July 21, Fox News Channel will average together the latest polls of the Republican field and determine which 10 of the 16 announced candidates will participate in the first debate in Cleveland" [Politico]. Fingers crossed for The Donald!
Republican Clown Car
Trump's Willie Horton? [Los Angeles Times]. Politifact: "Trump immigration claim has no data to back it up" [Politifact].

"Trump's DC Hotel Is Being Built by Undocumented Immigrants He Despises" [Gawker]. So what's the point? That Trump is savvy enough to be President?

"Chris Christie Administration Whistleblower To Justice Department: Bridgegate Prosecutor May Be Compromised" [Bloomberg].
Stats Watch
Job Openings and Labor Turnover Survey, May 2015: "Job openings are up and employers are holding onto the employees that they have." [Bloomberg]. "Payroll growth has been slow this year." And: "The BLS Job Openings and Labor Turnover Survey (JOLTS) can be used as a predictor of future jobs growth, and the predictive elements show that the year-over-year unadjusted private non-farm job opening growth rate declined significantly. The jobs growth rate predicted is about average for times of expansion. The problem with this data series is the backward revisions which makes real time analysis problematic" [Econintersect].
International Trade, July 7 2015: "[T]rade gap came in near expectations" [Bloomberg].
Gallup US Economic Confidence Indicator, June 2015:  "Most readings on confidence are going up but not Gallup's economic confidence index which fell" [Bloomberg]. Lowest reading since November.
Redbook, week of July 4, 2015: "Hot weather triggered demand for seasonal goods"  [Bloomberg]. "But the reading is still soft and does not point to strength for the government's core retail sales reading." Fifty lashes with a wet noodle for Lambert:  An alert reader recommended a better indicator and I didn't bookmark it.
"The latest Blogger Sentiment Poll released 07 June 2015 by Ticker Sense shows bullish bloggers are have mostly disappeared" [Econintersect]. FWIW!
China Markets
"Chinese Trading Suspensions Freeze $1.4 Trillion of Shares Amid Rout" [Bloomberg].
"The immediate question that comes to mind is that to qualify as a stock market, there has to be a two-sided market. If an investor can't exit 26 percent of the stocks that are listed on the exchanges, if an investor and the marketplace have no idea where a quarter of the market is priced, is this really still a stock market?" [Wall Street on Parade]. "A trading 'halt' suggests a temporary measure; a trading 'suspension' suggests a much longer-term time frame."
"The sell-off on Chinese stocks continued on Tuesday despite government efforts to bolster the markets amid investor unease that premier Li Keqiang failed to mention the deepening crisis in a statement on the economy" [Guardian].
"[The sell-off is] also causing a lot of pain in the commodities complex, where oil and copper prices are plunging amid fear lost wealth in China due to stock losses could slow China's economy — the world's second biggest — more acutely. While China's A-shares have little linkage to other global markets due to the local nature of the investor pool and, therefore, is unlikely to cause contagion, there are risks" [USA Today].
"Still, there are warning signs that more pain may be coming. According to Oxford Economics, shares may have to fall another 35% or so to bring them into line with long-term averages" [CNN]. Fits this Maine bear's priors!
"Of course, the right strategy is to leave it alone. The whole point of stocks is that they go down on occasion…. Unless the people and institutions holding them are highly leveraged" [The Grumpy Economist]. Indeed?
"[T]he Shanghai bust [is not a] disaster in and of itself. At a 15% share of household financial assets equity holdings are relatively minor. Add property and the share becomes small" [Macrobusiness]. So the main threat, then, would be to highly leveraged insiders? How de-li-ci-ous….
" [U]nless the 'Xi put' is way larger than the "Greenspan put" was back in the day, Chinese stocks still have a long way to fall" [WaPo].
Ongoing Developments in China [Econbrowser]. Some handy charts.
"China's Policy Timeline" [Bloomberg]. Excellent graphic!
Corruption
Flexian Eric "Place" Holder returns to Covington & Hotsheet Burling [National Law Journal]. "With somebody as talented as Eric is, I'm sure he will have lots of opportunities quickly." Indeed! "Covington literally kept an office empty for him, awaiting his return" [The Intercept]. Ka-ching.
Health Care
"The Real Story of ObamaCare's Birth" [The Atlantic]. I don't have time to shred this, alas.
News of the Wired
The Grateful Dead's "Wall of Sound" [Vice]. Speaking of tech….
"Augmented reality" — as with heads-up displays in cars — isn't a good idea when critical fast-time reaction is required [Ars Technica].
"Google unveils Material Design Lite to help websites look more like Android apps" [The Next Web]. Why, Google? Why?
"Who is Victoria Taylor, the woman at the heart of the Reddit revolt?" [WaPo].
"Reddit CEO Says Miscommunication Led To Blackout Protest" [NPR].
"This weekend at Anime Expo, the manga community learned that Tokyopop would be officially returning to business. But not everyone is happy" [Daily Dot].
"Japanese men refusing to leave their bedrooms create social, health and economic issues" [ABC].
* * *
Readers, feel free to contact me with (a) links, and even better (b) sources I should curate regularly, and (c) to find out how to send me images of plants. Vegetables are fine! Fungi are deemed to be honorary plants! See the previous Water Cooler (with plant) here. And here's today's plant-related project (Scott):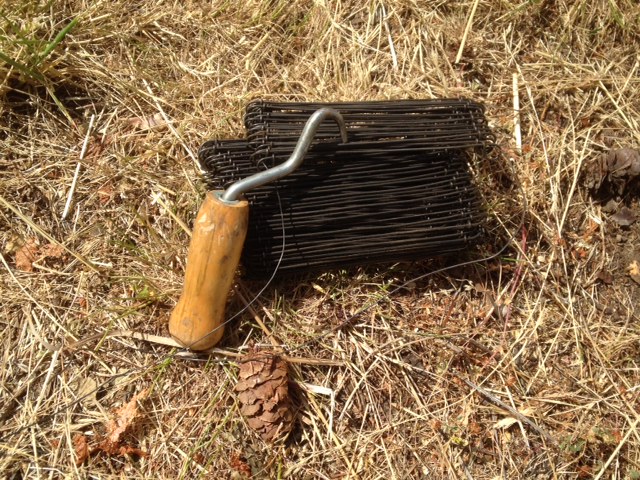 Scott calls this "Bag Ties and Twister Tool Garden Fencing" and writes:
Use with Rebar to anchor in ground then tie wood stakes or bamboo securely. Then use chicken wire or similar product to keep predators out!
I recall H's lovely grape (and cucumber) arbor in Texas, also created with rebar. Maybe I have to hone my rebar chops!
Readers, if any of you did work in the garden over the long weekend, please use the contact form, and send in some photos to show off your work!
If you enjoy Water Cooler, please consider tipping and click the hat. I need to keep my server up! And pay the plumber….