By Lambert Strether of Corrente.
As Yves linked yesterday, details of Syriza's "Plan B" are beginning to emerge, or, more plausibly, their "Plan Bs," or even their "Plan to Have Plan Bs," given that so many important details vary across accounts. It's worth noting that the Telegraph's Ambrose Evans-Pritchard, who is close to Syriza, had the broad outlines first, on June 14:
The radical wing of Greece's Syriza party is to table plans over coming days for an Icelandic-style default and a nationalisation of the Greek banking system, deeming it pointless to continue talks with Europe's creditor powers.

Syriza sources say measures being drafted include capital controls and the establishment of a sovereign central bank able to stand behind a new financial system. While some form of dual currency might be possible in theory, such a structure would be incompatible with euro membership and would imply a rapid return to the drachma.

The confidential plans were circulating over the weekend ….
In this post, I'll summarize the main points from yesterday's story in the Financial Times, and today's important story from Ekathimerini, which provides insight into the IT dimensions of the "Plan Bs," and further insight into the politics of it. Then I'll raise a few issues, and conclude with the moral of the story on planning. (Let me caveat by saying that the whole drama feels to me like it's being told by unreliable narrators. The foreign tongue and different alphabet don't help this monolingual American much, either, but I suspect even sophisticated Europeans experience communications barriers with this material.) Since there's been so much talk about democracy, let's check popular opinion on a return to the drachma:
According to a poll by Metron Analysis for Parapolitika newspaper on Saturday, 61% of Greeks had a positive view of Tsipras, compared with 36% who disapproved. An overwhelming majority – 78% – still wanted Greece to stay in the eurozone against 19% in favour of going back to the drachma.
(Kudos to Tsipras, who whatever else he may be, has demonstrated amazing abilities as a politician.) Even talking Greek polling with a dose of salts, the Greek people clearly don't want to return to the drachma; double the 19% in favor, and you don't have anything like a majority.
Groundwork laid, let's look at the FT story from links yesterday, July 25, first disposing of the Sun- or New York Post-style headline:
Syriza's covert plot during crisis talks to return to drachma
First, the "plot" wasn't Syriza's as such; it was a work product "hatched" by a faction, as the story itself says. Second, "covert" plots tend not to involve  briefing "sympathetic journalists"  "waiting outside the gathering." Can do better, pink paper!  That said, here are the main points of the FT's Plan B, discussed July 14 in a meeting "at the Oscar Hotel in a shabby downtown district of Athens." It's not clear who authored the plan, though Panayotis Lafazanis, the former energy and environment minister and leader of Syriza's Left Platform, advocated for it. Of the three points, #2 holds the most interest for us:
1) Arresting the central bank's governor.
Meanwhile, the central bank would immediately lose its independence and be placed under government control. Its governor, Yannis Stournaras, would be arrested if, as expected, he opposed the move.
I pause to admire the piety of the FT's claim that the Greek Central Bank is independent, when in fact it's a mere creature of the ECB. And though the FT clearly means this text to be shocking, I don't have any principled objection to arresting bankers; in fact, we should arrest arrest more of them. 
2) Emptying the central bank's vaults.
[T]he Syriza government should seize control of the Nomismatokopeion, the Greek mint, where the bulk of the country's cash reserves are kept.
Mr Lafazanis said the reserves, which he claimed amounted to €22bn, would pay for pensions and public sector wages and also keep Greece supplied with food and fuel while preparations were made for launching a new drachma.
3) Appealing to Moscow for help.
Given the communist past of Mr Tsipras and other leading government figures, Athens [not Syriza? Not the Left Platform?] believed it would be a simple matter to win $5bn to $10bn in financial backing from Vladimir Putin, the Russian president.
Highly dubious; the Greek government kept going to Moscow and coming back with, well, a plan to have a plan. As Yves wrote: "Putin has been quite pointedly avoided being seen as meddling in Greece now; he can always pick up any pieces later."
So let's focus on #2. After all, it's easy to arrest a banker, and trivial to issue an appeal. But paying for pensions and launching a new drachma takes what Nathan Tankus calls "organizational capacity" (here, here; and here) and that's what the FT hones in on:
The plan demonstrates the apparently ruthless determination of Syriza's far leftists to pursue their political aims — but also their lack of awareness of the workings of the eurozone financial system.

For one thing, the vaults at the Nomismatokopeion currently hold only about €10bn of cash — enough to keep the country afloat for only a few weeks but not the estimated six to eight months required to prepare, test and launch a new currency.
Pausing to admire how the FT characterizes Syriza as "ruthless" — By what standard? The gentle ministrations of the troika? — we come away with two problems: (1) Syriza is apparently $12 billion off in its estimates of cash on hand, and (2) introducing a drachma takes months, not days or weeks, as we have shown here. There's not enough runway. Once again, financial time moves more rapidly than political times.
Could there have been more to "Plan B"? Additional detail emerge in Sunday's Ekathimerini. Here's the page as it ran in the printed edition (page 12):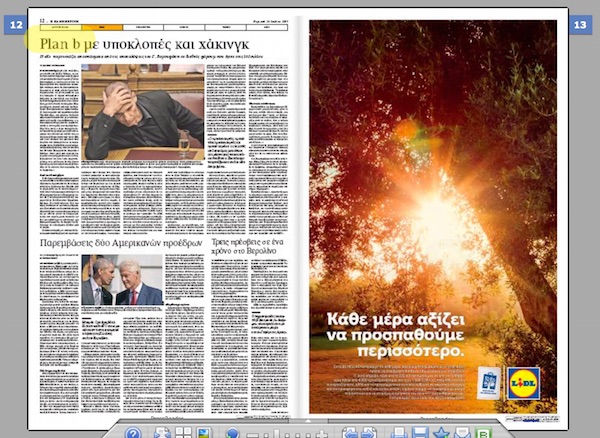 And here is the English edition from Ekathimerini — which appeared after I made that screen capture! Caveat: I don't know if the English edition is an abridged version of the Greek; I suspect that it is, since it seems shorter, and the Greek headline begins with "Plan B," and the English headline doens't. [1]. The Sunday Ekathimerini story was also covered, in English, by Protothema, and in Greek by ΣΚΑΪ.)
In a teleconference call with members of international hedge funds that was allegedly coordinated by former British Chancellor of the Exchequer Norman Lamont, Varoufakis claimed to have been given the okay by Tsipras last December – a month before general elections that brought SYRIZA to power – to plan a payment system that could operate in euros but which could be changed into drachmas "overnight" if necessary

Varoufakis worked with a small team to prepare the plan, which would have required a staff of 1,000 to implement but did not get the final go-ahead from Tsipras to proceed, he said.
(Note that spinning up a staff of 1,000 involves both organizational capacity and time, and that the story says "plan" and not "build." Perhaps if Syriza had gone on a war footing immediately upon their election, this might have been possible "with a level of effort," as we say.) The teleconference was recorded, and Varoufakis had this to say:
[VAROUFAKIS:] The work was more or less complete: We did have a Plan B but the difficulty was to go from the five people who were planning it to the 1,000 people that would have to implement it. For that I would have to receive another authorisation which never came."
(As an IT person manqué, I really don't like the sound of that "more or less complete." I don't think the 1,000 new hires would like it much, either.)
Here are the three steps in Varoufakis's Plan B, with the text taken from the recording:
1) Hack into the General Secretariat of Public Revenues website and steal taxpayer registration numbers (AFMs).
[VAROUFAKIS:] The General Secretary of Public Revenues within my ministry is controlled fully and directly by the troika. … The general secretary of information systems on the other hand was controlled by me, as minister. … [H]e said: "Listen, if I ask for permission from [the troika] to start implementing this program then the troika will immediately know we are designing a parallel system."  [S]o we decided to hack into my ministry's own software program in order to be able break it up to just copy just to copy the code of the tax systems website onto a large computer in his office so that he can work out how to design and implement this parallel payment system."
Caveat: If you read Varoufakis carefully, the text does not say what Ekathimerini says it does.  Ekathimerini: "The plan would involve hijacking the AFMs of taxpayers and corporations by hacking into General Secretariat of Public Revenues website, Varoufakis told his interlocutors." That's not at all the same as "copying the code of the tax system's website." However, since both Protothema and ΣΚΑΪ support Ekathimerini's summary — both having "hacking" in their URLs — I'm going to assume there are communications issues here, either in translation, or between Varoufakis and his technical team, or both.)
2) Map each AFM to a newly created, "parallel" electronic bank account, one for each AFM.
[VAROUFAKIS:] We were planning to create, surreptitiously, reserve accounts attached to every tax file number, without telling anyone, just to have this system in a function under wraps.
3) If Plan B is activated, send each taxpayer a special PIN number so they can transact with their (hitherto secret) "parallel account" (thereby bypassing the banking system controlled by the ECB).
[VAROUFAKIS:]  And, at the touch of a button, to allow us to give PIN numbers to tax file number holders, to taxpayers. So let's take for instance the case the state owed 1 million euros to some pharmaceutical company for drugs purchased on behalf of the National Health Service. We could immediately create a digital transfer into that reserve account of the tax file number of the pharmaceutical company and provide them with a pin number so that they could use this as a kind of parallel payment mechanism by whichever partof that digital monies to any tax file number for whom they owed money or indeed to use it to in order to make tax payments to the state. That would have created a parallel banking system while the banks were shut as a result of the ECBs aggressive action to deny us some breathing space."
So, there are several interesting features to this new revelation of Plan B. One is the sheer audacity of it (though I'm sure the Eurogroup would prefer the phrase "breathtaking effrontery"). More importantly, it sheds light on the two issues of organizational capacity mentioned above. First, cash on hand: Could Varoufakis have planned on plugging that $12 billion hole via, er, fiat? (Here again, the dichotomy between audacity and effrontery seems relevant.) Second, runway: At least Varoufakis and company were planning earlier than we had previously thought they were (though in all likelihood not early enough). So in these ways, the Ekathimerini story may complement and extend the FT story.
* * *
However, the Ekathimerini story also raises a number of questions that I will simply ask in the order that they occurred to me.
1) Why the heck did "former British Chancellor of the Exchequer Norman Lamont" co-ordinate the conference call? What was in it for him?
2) Why the heck was Varoufakis talking to hedgies? What was in it for them? Yves writes: "These clowns all use prime brokers or buy those services unbundled, so they know zip re ops," and Plan B is all about operations. And: "[Hedgies] don't make markets in currencies. They don't support the efforts of central banks; in fact they undermine them when profitable." (And if you're thinking, as I thought, of Soros taking on the Bank of England and betting against the pound, that works when the central bank is trying to support the currency; but Draghi is happy to have the Euro fall, since it boosts exports. And is a modern-day Soros — were he to exist — likely to bet that the Euro will rise if Greece goes back to the drachma? How would that work? How big is the bet? Worth a conference call to hedgies, plural?)
3) Who exactly would the parallel accounts serve? The use case Varoufakis gives is for 1 million Euros, which is not a transaction Joe Ouzos typically performs. Protothema and ΣΚΑΪ, however, are clear that the parallel accounts apply to all taxpayers. Varoufakis seems to think that at some future date, they would:
"This was very well developed and I think it would have made a very big difference because very soon we could have extended it, using apps on smartphones and it could become a functioning parallel system and of course this would be euro denominated but at the drop of a hat it could be converted to a new drachma."
Leading me to my next two questions:
4) Can Varoufakis possibly believe that with "apps on smartphones and it could become a functioning parallel system" when cellphone penetration in Greece was 32.5% in 2013? And while we're at it, how do people without smartphones get their PINs? And what do they do with them once they have them?
5) Can Varoufakis possibly believe that "at the drop of a hat it could be converted to a new drachma"? Again, see here and here. Sure, flipping the switch is the work of an instant; but Varoufakis, with his crew of five, is nowhere near having done the design, engineering, and wiring that are behind that switch.
Finally, the digital money in the parallel accounts is a cash equivalent (and so the usual qualifications about foreign exchange in oil and pharmaceuticals apply). But Greece already has cash: The Euro. Granted, it doesn't have enough cash in Euros, but it does have cash, if only in the mattress or offshore. Suppose we think of this digital money as scrip; the scrip will trade at a discount to the Euro, just as scrip did against the dollar in California, when the state issued scrip to workers because of a budget imbroglio. So — I hope I have this right — if I'm owed, I'm going to want to be paid in Euros. If I owe, I'm going to want to use my parallel account. How does that work?
* * *
At the beginning of this post, I mentioned that 19% of the Greek people favor returning to the drachma. Here's what Varoufakis thinks about that:
[VAROUFAKIS:] I have to admit we did not have a mandate for bringing Greece out of the euro. What we had a mandate to do was to negotiate for a kind of arrangement with the Eurogroup and the ECB that would render Greece sustainable within the eurozone. The mandate went a bit further, at least in my estimation. I think the Greek people had authorised us to pursue energetically and vigorously that negotiation to the point of saying that if we can't have a viable agreement, then we should consider getting out.
Varoufakis contradicts himself. He says: "I have to admit we did not have a mandate for bringing Greece out of the euro." And one sentence later he takes back the admission: "The mandate went a bit [!] further, at least in my estimation…." I'll pass over the idea that there's only "a bit" of difference between staying in the Euro or leaving it; the essential point is that Varoufakis, and Syriza, were never honest with the Greek people about what they were planning. Looking on the bright side, at least we don't have to listen to any more yammering about democracy; the informed consent of the Greek people was clearly not a concern; if it were, it would have been quite simple for Syriza — given Tsipras's political abilities — to elict that consent. That was never done.
Academics often have a tragic flaw: over-confidence that their theory will prove out. From that flaw comes their tendency to view people as experimental test subject, essentially as lab rats, and failure of empathy for those to whom they owe a duty of care; thinking all transactions in the parallel accounts can take place via smartphones is a small example of this. Hubris is especially characteristic of economists, as two generations' worth of dominance by neoliberals in academia has shown. Sadly, I believe a different school of economics has shown itself susceptible to the same flaw.
NOTES
[1] There are surely some translation issues. The story reads "a parallel payment system that would operate using wiretapped tax registration numbers (AFMs)," but whatever AFMs are, they aren't "wiretapped."
* * *
Comments are on because I asked so many questions, and there are also possible translation issues. Please stay on point!
UPDATE From Ambrose Evans-Pritchard:
I spoke to 2 people in London who listened to Varoufakis comments on Plan B. Confirm everything. My view: @ekathimerini got legitimate scoop

— A Evans-Pritchard (@AmbroseEP) July 26, 2015
And AEP's follow-on here.