NASA estimates 1 billion 'Earths' in our galaxy alone WaPo
Dark Pion Particles May Explain Universe's Invisible Matter Live Science
Emerging market currencies crash on Fed fears and China slump Ambrose Evans-Pritchard, Telegraph
Weekly Commentary: Same Old Same Old Credit Bubble Bulletin (SF).
Are China's Problems Responsible For Recent Market Slides? Econospeak
IMF Seeks More Overhauls as China Pursues Reserve Status for Yuan WSJ
The Economist: With no clear replacements, Najib looks set to stay in power Malaya Mail
What happens when policy is made by corporations? Your privacy is seen as a barrier to economic growth Evgeny Morozov, Guardian. (TTiP in the URL, but not the title.)
Revenue & Customs goes online to tax the sharing economy FT
Outrage as multi-million dollar startup trashes San Francisco park during farewell party Daily Mail. Froth.
Is Wage Growth Accelerating? All signs point to Yes! The Conference Board
The New American Slavery: Invited To The U.S., Foreign Workers Find A Nightmare Buzzfeed
Foreign criminals push up London house prices FT. What, in London?
The Impact of the Home Valuation Code of Conduct on Appraisal and Mortgage Outcomes (PDF) Federal Reserve Bank of Philadelphia
Blogs review: Understanding the Neo-Fisherite rebellion Breugel
Grexit?
Finland is the poster child for why the euro doesn't work WaPo
EU referendum: David Cameron fast-tracks vote on Britain's membership of European Union to June 2016 Independent
Syraqistan
Black Injustice Tipping Point
"Between the World and Me": Ta-Nehisi Coates Extended Interview on Being Black in America Democracy Now!

In Cleveland, Black Lives Matter Readies For Its Next Big Step Buzzfeed News. Still waiting for an event to be disrupted where the Democrat has actual power.
Chicago Just Fired An Investigator Trying To Hold Cops Accountable For Unjustified Shootings HuffPo. Goods cops are whistleblowers.
America's Top Killing Machine The Atlantic (from January, but not linked here). "Gun deaths are poised to surpass automobile deaths in the United States this year." But surely that's a small price to pay for our Second Amendment freedoms….
Winchester Unveils New 9MM Stray Bullet Guaranteed To Hit Innocent Bystanders The Onion
Port Arthur Massacre: The Shooting Spree That Changed Australia's Gun Laws NBC
Pentagon Asks 'Armed Citizens' Not To Stand Guard At Recruiting Centers NPR
Law Enforcement Seizures Misspent, Missing Oklahoma Watch. "Among the violations were using seized money to pay on a prosecutor's student loans and allowing a prosecutor to live rent-free in a confiscated house for years, records show." Admirably simple and straightforward!
2016
Hillary Clinton to appear before Congress on Benghazi McClatchy. I'm gonna have to understand Benghazi. Please kill me now.

Clinton: I did not send or receive classified emails on private account Reuters

The Unanswered Questions From The NY Times' Debunked Clinton Emails Report  Media Matters

Exclusive: AFL-CIO may delay endorsement of Clinton as 2016 presidential candidate – sources Reuters

Private Prison Lobbyists Are Raising Cash for Hillary Clinton The Intercept

The Vile Language Hurled At Hillary Clinton on Social Media Vocativ. Plus ça change….

There's No Stopping the Trump Show The Atlantic

The 20 percent of the party that loves Trump may be dumb or racist or angry or wrong, but the Republican Party cannot live without them. The GOP is damned if Trump stays and damned if he goes, and no one knows how the show will end.

In Europe Donald Trump would have his own party and seats in a parliament The Economist

To difficult questions Mr Trump offers appealingly simple solutions, starting with this most painful puzzle for conservatives: if America is the mightiest country in the world, how come it feels so weak? His answer goes beyond blaming Barack Obama and the Democrats. The fault, he insists, lies instead with the governing class in both parties, which has betrayed a great nation.

Crazy talk!

Column: Our generation needs Martin O'Malley in the White House Des Moines Register. Identity politics rolls on…

Biden or Bust National Journal

Red-state Democrats fret about leftward shift Politico. Good. Maybe they'll have to figure out a way to win other than trying to be fake Republicans.
U.S. District Court Rules Pennsylvania System of Imposing Costs on Minor Party Petitions that Lack Sufficient Signatures is Unconstitutional Ballot Access News. Important, because the legacy party duopoly uses tactics like this to deny emergent parties ballot access.
US income inequality rises up political agenda FT. "[M]any fail to address one of the root causes of America's income stagnation — dismal productivity growth." Caused, in turn, by the bloated financial services sector.
Health Care Sleaze: The Person Who Ran Medicare Is Now in Charge of the Insurance Lobby Wendell Potter, Alternet
Millennials No Less Trusting (or Distrusting) of News Sources Pew
Pearson says in talks to sell The Economist share France24
Chrysler's Solution To The Jeep Hack Is 1.4 Million USB Drives TechCrunch. I wish I knew who invented the phrase "an abundance of caution."
A Common Hospital Infection May be Coming To Us From Food National Geographic
Picked Out a Coffin Yet? Take Ibuprofen and Die Counterpunch
On Live and Death After 85 NYT
How Artificial Intelligence is Reinventing the Art of Influencing Human Behavior The Vital Edge
Interview: Paul Mason's guide to a post-capitalist future Prospect
Antidote du jour, from the Bear Cam at Brooks Falls, Katmai National Park, Alaska: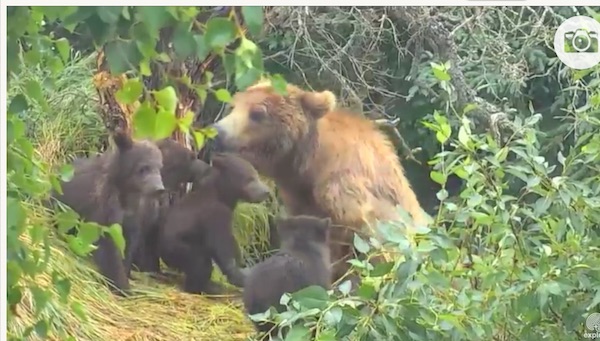 See yesterday's Links and Antidote du Jour here.