By Lambert Strether of Corrente.
2016
Policy
"Former Rep. Ron Paul said in two recent interviews that he supports the Obama administration's nuclear agreement with Iran, calling it 'to the benefit of world peace'." [The Hill].

Trump on Fed policy: "From a business standpoint, 'I like low interest rates,' Trump said. Yet he added that 'from the country's standpoint, I'm just not sure it's a very good thing, because I really do believe we're creating a bubble' [HuffPo]. Trump's Fed Chair fave: Volcker.

Obama is beginning to sound like a climate change leader. When will he act like one? [Naomi Klein, Democracy Now].
The Republican Debates
"Bush [described Trump as 'a buffoon,' 'clown' and '@sshole'" [Politico]. Boy, that's the mother of all money quotes, isn't it? My understanding is that in Southern honor culture, "@sshole" is a very bad word indeed, a fighting word. I don't know about Queens. (Best euphemism: "Glass bowl.")

For some reason, there's a plethora of Republican debate drinking games. A random selection of excuses to hoist one:

Quotes from a Democratic apparatchik's rolodex [Greg Sargent, WaPo]. The vile Celinda Lake:

"The number one challenge for Democrats will be whether they pull ahead on the economy," Lake adds. "Democrats will look for who can really communicate the sense that he can create jobs — who can communicate an economic message in a general election, particularly to blue collar America."

Like Obama's Democrats are so good at that.
Voters
Unknown truck driver wins nomination for Mississippi governor over Democratic regular [The State].
Criminal Indictments
"Three Ron Paul 2012 Staffers Charged with Bribing Iowa Official" [Iowa Public Radio]. In a perfectly "rights-respecting manner," no doubt. And #awkward, since one of them, Jesse Benton, is a Rand Paul confidante.
Money
Rules of campaign cash (handy chart) [Bloomberg]. Yet another absurdly complex and obfuscatory system. 
Our Nation's Capital
Obama ad man Mark Putnam goes to work for AIPAC [WaPo].
"The IRS severely mismanaged the applications of Tea Party groups seeking tax-exempt status, a long-awaited and bipartisan Senate report said Wednesday" [The Hill]. But the two parties can't agree on whether it was intentional or not.
"[O]pponents [of the Iran deal] need to basically run the table, getting all but one of those 14 Senators" remaining undecided [WaPo].
Stats Watch
"Traders have never been more convinced of a September rate hike by the Federal Reserve" (chart shows a smidge over 50% believers, at last) [Bloomberg].
"It is too late for OPEC to stop the shale revolution. The cartel faces the prospect of surging US output whenever oil prices rise" [Ambrose Evans-Pritchard, Telegraph].
Chain Store Sales, July 2015: "Amid what is described as consumer apathy, July was a weak month for chain stores which are reporting lower rates of year-on-year sales growth compared to June" [Bloomberg].
Challenger Job Cut Report, July 2015: "A major Army cutback made for an outsized 105,696 layoff count in July" [Bloomberg].
Jobless Claims, week of August 1, 2015: "Companies may not be hiring but jobless claims are very low. Continuing claims are also very low" [Bloomberg]. "All the readings in this report are at or near historic lows or multi-year lows."
Gallup US Payroll to Population, July 2015: "Unchanged from the previous month, and the highest rate Gallup has measured for any July since tracking began in 2010." [Bloomberg].
Bloomberg Consumer Comfort Index, week of August 2, 2015: "Consumer confidence readings continue to move lower" [Bloomberg]. "[T]he second lowest reading since November and largely reflects concerns over personal finances."
"Bank of England Governor Mark Carney said Thursday that the likely timing of the first Bank Rate increase from the current record low level is drawing closer" [Market News].
"Super Thursday has arrived at the Bank of England. Here's what policymakers on Threadneedle Street think about growth, jobs, and most importantly, interest rates" [Telegraph]. Ha ha. Speaking of jobs: "Unemployment is expected to fall much more slowly in the coming months than policymakers were expecting just three months ago." Most awesome recovery ever.
"The Amazon founder and CEO sold more than 1 million shares of his company this week, raking in about $532 million along the way" [Business Insider]. Remodelling his bathrooms with Louis Quinze taps?
TPP/TTiP/TiSA
List of traitors in House and Senate, with phone numbers. Hat tip, reader Vatch. Be sure to visit them when they return to the district this week. If a traitor is mentioned in Water Cooler, their name is in bold.
Canada: "To trade negotiators and legacy-seeking politicians, the failure to finalize the world's biggest trade deal in Hawaii last weekend was a frustrating setback. To Canadian voters, it was welcome pause" [Toronto Star]. "Pause," eh?
WikiLeaks: "May 11, 2015 consolidated text of Intellectual Property Chapter for TPP" [KEI Online]. Reaction from the Association of Research Librarians. "10 countries unequivocally support mandatory criminal penalties for altering or removing 'rights management information' (RMI) like a digital watermark, or the name of a song and the artist who recorded it" [Vice]. 
New Zealand: "Papers were filed in the High Court in Wellington today seeking an urgent judicial review of Trade Minister Tim Groser's blanket refusal to release any documents sought in a comprehensive Official Information Act request made by University of Auckland law Professor Jane Kelsey in January this year" [Scoop].
Australia: ISDS applies under bilateral agreeements, too: "The NSW government has the final responsibility for approving a mining lease [for the the Shenhua Watermark coal mine on the Liverpool Plains]. Should community opposition result in this being refused or postponed after the China FTA comes into force, Shenhua could launch a case under the Investor-State Dispute Settlement (ISDS) provisions of the China FTA [Sidney Morning Herald].
Australia: " It's that fact that gives the lie to the claim that ISDS cannot force a government to change its laws. While that's true in theory, in practice governments are very likely to choose capitulation as the cheaper and easier option, recognizing that the whole process is biased against them. After all, unlike companies, a government can never win an ISDS case: the best it can hope for is not to lose" [Techdirt].
Health Care
"About 1.8 million households that got financial help for health insurance under President Barack Obama's law now have issues with their tax returns that could jeopardize their subsidies next year" [Business Insider]. Well, what's one more screwup among so many, and it's only the poors anyhow.
"Untangling The Many Deductibles Of Health Insurance" [NPR]. Helpful hints for rats caught in the maze.
"A decades old Medicare rule requiring a three-day hospital stay before patients can transfer to skilled nursing facilities may needlessly prolong hospitalizations" [Reuters]. "There really aren't many benefits to staying beyond medical necessity," [David Grabowski, a health policy researcher at Harvard Medical School in Boston. Neither alternative is great, but Grabowski's confidence that medical necessity will be the grounds for retaining or changing the rule is touching.
"Cerner teamed up with defense technology contractor Leidos, Accenture Federal Services and Intermountain Healthcare in its winning bid for the $4.3 billion, 10-year defense contract" to modernize 16 million military health records [McClatchy]. Interestingly, they build a working model of the system first.
"By buying Humana for about $35 billion, Aetna gains 14.2 million medical customers, including 3.2 million in the private health plans for the elderly known as Medicare Advantage. Aetna has said it expects the deal to close in the second half of next year" [Bloomberg].
Dear Old Blighty 
"I admit it: PM Corbyn is a long shot right now – but only four weeks ago bookies were giving 100-1 against him even becoming the candidate. Now it's 7-4 on. Things can change, and quickly. I think we should have some faith and give it a try" [Brian Eno, Guardian]. Let's just hope Corbyn doesn't burn Eno's daughter the way Obama burned first-time voters in 2008.
[FT Alphaville, "Corbyn's "People's QE" could actually be a decent idea"].
The existing monetary policy tools also have the unseemly property of appearing to work mainly by making the rich richer and hoping that some of the extra wealth gets spent. Even if it's true that the rest of society benefits from this, because otherwise they'd be unemployed, this is trickle-down monetary policy. The Bank of England admitted that "in practice, the benefits from these wealth effects will accrue to those households holding most financial assets".

Cutting out the middle men is the most obvious way to improve the transmission of central banker desires into economic reality. If policymakers want people to spend, they shouldn't try to juice share and home prices, or fiddle about with borrowing costs at the margin, but actually give people money.
But policy makers don't want people to spend. Otherwise, they would be making policy that caused that to happen. They don't want too many people, or the wrong sort of people, to have jobs, either. At some point we really do need to stop listening to what they say, and watching what they do. I do like "unseemly property of appearing", however.
"Yet Donald Trump, 69, and Jeremy Corbyn, 66, have more in common than meets the eye. Straight-talking populist insurgents, both are tapping into frustration on either side of the Atlantic with the prevailing orthodoxy of bland centrist politics." [Reuters]. Carefully airbrushing Sanders out of the picture.
"What's been going on within Labour reminds me of what went on within the Democratic Party under Reagan and again for a while under Bush: many leading figures in the party fell into what Josh Marshall used to call the 'cringe', basically accepting the right's worldview but trying to win office by being a bit milder" [Paul Krugman, New York Times]. "[F]or a while"?!?!?
"[Corbyn] said that the UK would be safer from terrorist threats 'by not being part of US foreign policy at every step'. He explained his foreign policy as Labour leader would be focused on dealing with issues of inequality and environmental crises" [Middle East Eye].
Police State
"Training Officers to Shoot First, and He Will Answer Questions Later" [New York Times]. Must read on William J. Lewinski, expert witness in police shootings, trainer, researcher, and purveyor of his very own self-licking ice cream cone.
"A city-council committee in Cincinnati has voted to bar the University of Cincinnati Police Department (UCPD) from patrolling city streets" [Business Insider]. After they whacked Samuel Dubose, who was unarmed, in one of those "routine traffic stops" we keep hearing so much about lately.
"A group of armed bounty hunters surrounded the home of Phoenix's police chief Tuesday night, and one of them was arrested after a flawed search for a fugitive ended in a confrontation with the city's top cop, police said" [Los Angeles Times]. Oopsie. Good thing nobody got shot.
"A psychological firm paid to evaluate troubled Baltimore police, including a lieutenant charged in the killing of Freddie Gray, is under investigation by the city and has been put on probation by the state police for cutting corners in its mental health screenings of officers" [AP].
"Drone Drops Drugs Over OH Prison Yard, Sparks Brawl" [WBAL]. In daylight (!).
Our Famously Free Press
"A group of 17 investors recently raised $2 million to buy and revamp" Tiger Beat. Mike Allen will edit [New York Times]. Kidding! Interestingly, British great The Daily Mail is an investor.
New word: "Optionality" [Columbia Journalism Review]. Ugh, ugh, ugh. Apparently, it's something managers and executives wish to retain.
Corruption
"An unfolding political scandal in Malaysia is starting to reverberate far from Kuala Lumpur to the downtown New York headquarters of Goldman Sachs. State fund 1Malaysia Development Berhad (1MDB) is at the centre of allegations of graft and mismanagement. The furore has prompted renewed scrutiny of hefty fees the Wall Street bank led by Lloyd Blankfein earned selling bonds for 1MDB. The affair threatens to expose a blind spot in Goldman's processes for vetting sensitive deals" [Reuters].  That's "lucrative 'blind spot'." Fixed it for ya.
Class Warfare
"Privately-educated graduates in top jobs blag their way to higher salaries [ £4,500 more] because they are more assertive than their state school colleagues, a report has found" [Telegraph]. " Researchers said the difference can be explained partly by the importance of soft skills, like articulacy and assertiveness among privately-educated graduates." What's "soft" about skills like that?
"Wal-Mart employees are calling [raising the minimum wage] unfair to senior workers who got no increase and now make the same or close to what newer, less experienced colleagues earn…. 'It is pitting people against each other,' said Charmaine Givens-Thomas, a 10-year veteran who makes $12 an hour at a store near Chicago and belongs to OUR Walmart, a union-backed group that has lobbied for better working conditions. 'It hurts morale when people feel like they aren't being appreciated. I hear people every day talking about looking for other jobs and wanting to remove themselves from Wal-Mart and a job that will make them feel like that.' Some workers also said they suspect their hours are being cut and annual raises reduced to cover the cost of the wage increase for newer workers" [Bloomberg]. Pitting workers against each other isn't a bug. It's a feature.
"The Ideas That Won't Beat LinkedIn (& Some Which Might) [Hunter Walk]. A venture capitalist's blog. Fascinating for the world view, the language, and the explicit formulation of an invidual's "graph" as an asset.
Imperial Collapse Watch
"The US did in fact do something terrible, even evil to North Korea, and while that act does not explain, much less forgive, North Korea's many abuses since, it is not totally irrelevant either. That act was this: In the early 1950s, during the Korean War, the US dropped more bombs on North Korea than it had dropped in the entire Pacific theater during World War II. This carpet bombing, which included 32,000 tons of napalm, often deliberately targeted civilian as well as military targets, devastating the country far beyond what was necessary to fight the war. Whole cities were destroyed, with many thousands of innocent civilians killed and many more left homeless and hungry" [Vox].
News of the Wired
"[T]here's a new candidate for the elusive title of 'language universal' according to a paper in this week's issue of PNAS. All languages, the authors say, self-organise in such a way that related concepts stay as close together as possible within a sentence, making it easier to piece together the overall meaning" [Ars Technica].
"Just as smartphones drove the rise of emoji, mobile devices are propelling GIFs into a more widespread form of instant visual-messaging" [New York Times]. A whole new language?
"Shirley Jackson and Me" [The Toast]. A copy editor speaks!
"A Preliminary Review of Influential Works in Data-Driven Discovery" [Archiv.org].
The Londinium Tube Map [Londonist].
"Ultimate Frisbee, the game that filmmakers are probably contractually obligated to show during movies set on college campuses, was recognized as a sport by the International Olympic Committee this weekend" [New York Magazine].
"Hayao Miyazaki: Japan's political shift drew me out of retirement" [South China Morning Post]. Abe's militarization, which under TPP Obama traded for…. Nothing, as it turns out
"Two new reports on the prevalence of unhealthy sleep behaviors and self-reported sleep-related difficulties among U.S. adults provide further evidence that insufficient sleep is an important public health concern" [CDC].
* * *
Readers, feel free to contact me with (a) links, and even better (b) sources I should curate regularly, and (c) to find out how to send me images of plants. Vegetables are fine! Fungi are deemed to be honorary plants! See the previous Water Cooler (with plant) here. And here's today's plant: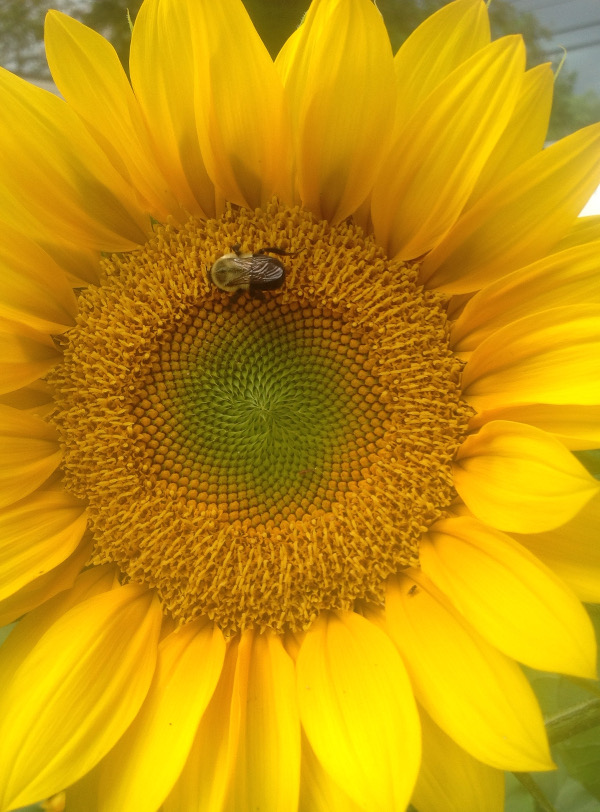 Moar pollinators! A better shot of yesterday's sunflower, with a busy bee oblivious to the approaching storm I didn't wait around for!
If you enjoy Water Cooler, please consider tipping and click the hat. I need to keep my server up! And take a trip….