Back in January, I broke the story of Power 8:
a Costa Rica-registered entity with an office in Spain, a hard-to-trace board, and no named auditor. It appears to sell its shares by pyramid methods, to poorly-protected investors in India, Hong Kong, Taiwan (and possibly other Chinese-speaking locations such as Singapore or mainland China). Despite an abundance of unsupported claims, Power 8's only confirmable business relationships are sponsorship deals with three reasonably high-profile European football clubs.
Those football clubs are RCD Espanyol, Everton FC and Fulham FC. The real Power 8 story is this: all three clubs have inadvertently lent their names to a giant international investment fraud. Back in January I enumerated the scam signs, adding:
Now, I'm definitely not saying that Power 8 is a Ponzi (I absolutely wouldn't ever do that). But I certainly am saying that right now Power 8 looks to me, on the balance of the available information, exactly the way a fairly ambitious Ponzi would look.
Six months on, a number of new sources have come forward, and there's more information. It's also really obvious now that I was wrong: Power 8's a pyramid fraud, not a Ponzi. Ponzis take a lot longer than six months to blow up, and Power 8 has blown up already, the way a pyramid would. Just the other day, some clumsy panicked slob deleted all the Power 8 web site content (last Google cache of the site here, dated 5th August).
We can now pencil in some of the investor losses attributable to the Power 8 scam. One of my sources has carried out a survey of the victims in Hong Kong and Taiwan. He has identified around $250Mn of self-reported losses. There is likely to be more. Pyramid scam victims are frequently too angry and confused, or embarrassed and ashamed, to come forward.
The losses in India, known to be part of Power 8's territories, are still unquantified. Widening the scam's geographical footprint still further, a furious, suspicious Malaysian responded to my January blog post, but, since NC's comment vetting robot was in "slow" mode at the time, concluded that I'd deleted his opening statement, and didn't stick around long enough to tell his story. I never did catch up with him. So one wonders how many other Indians and Malaysians are nursing losses, and whether even that's the end of Power 8's geographical footprint.
Meanwhile in the UK, Everton FC still seem reasonably pleased with the Power 8 tie-up. The link to the announcement on Everton's web site hasn't gone dead yet, though Phil Hardman, architect of the Power 8 deal, is employed elsewhere. Everton's fans seem less impressed: maybe Everton should listen to their fans a bit more. At Power 8.com's plausibility-enhancing Youtube channel, one can still view Everton boosting Power 8.
I suspect that link will soon go dead, but no matter. I have it archived, so, to save me an edit later, here it is again:
By way of additional update, let's set out some of the convoluted back story of the Power 8 scam. As usual, this takes us to registered New Zealand  Financial Services Providers, in particular, to a company called London Capital NZ Limited, and to a convicted international investment fraudster, an Australian gentleman called Bryan Leonard Cook. Here's the timeline:
Dec 2011                   London Capital NZ Limited is registered as a company in New Zealand, director and 100% shareholder Bryan Leonard Cook, company number 3687995. London Capital NZ Limited, company number 3687995, is also registered as a Financial Services Provider in New Zealand, FSP number 193025.

Dec 2011 or later   London Capital NZ Limited bluffs its way to a "non-connected" BIC code from Swift, LOAINZ21, (check it here) and is also accepted as a Broker on GXG Markets. Evidently, both GXG Markets and Swift have assumed that London Capital NZ Limited's FSP number implies that London Capital NZ Limited is supervised by New Zealand regulators. Both GXG Markets and Swift are mistaken, but it's an easy mistake to make.

11 Dec 2012             Via its local agent, Bell Gully, London Capital NZ Limited provides details of a new place of business: 124 Willis Street, Office 1.10, Wellington, 6011, New Zealand.

Jan-Feb 2013           NZ Companies Office suddenly notice that London Capital NZ Limited's new place of business doesn't actually have an "Office 1.10". That's because 124 Willis Street is a backpacker hostel. In earlier, grander times, as an upmarket hotel, it once hosted The Beatles, but it's never, ever been London Capital NZ's real home. NZ Companies Office ask some sharp questions of London Capital NZ.

27 Feb 2013             Sensing that the answers he provided to Companies Office aren't going to be satisfactory, Cook tries another gambit: he engages a new local agent, Crengle Shreeves and Ratner, who won't know anything about the London Capital NZ screwup. Via Crengle Shreeves and Ratner, Cook registers another company, Asia Finance Corporation. Staking all on Companies Office's short-term memory deficit, Cook applies to have Asia Finance registered as a Financial Services Provider, too.

7 Mar 2013               Cook was right about his unsatisfactory answers: London Capital NZ Limited is deregistered as a Financial Services Provider.

12 Apr 2013              Happily for Cook, he was right about Companies Office's short term memory problem, too: Asia Finance Corporation, with Cook as director and 100% shareholder, is now registered as a Financial Services provider. Cook restyles the entry at GXG Markets to cover up the change of entity. GXG Broker "London Capital NZ" becomes "Asia Finance Corporation, trading as London Capital NZ". GXG Markets remains oblivious to the shenanigans on the other side of the planet that led to this little update.
At this point, my story bifurcates, just like London Capital NZ's corporate identity. "Asia Finance Corporation, trading as London Capital NZ" spawns a whole series of international investment scams that I'll summarize in a forthcoming post. But there's a loose end: the original "London Capital NZ Limited", company number 3687995. What happened to that company, with its handy BIC code and, therefore, a very probable international correspondent bank relationship?
Sadly, New Zealand Companies Office's tidyup was incomplete. They had a brain fade, and never removed the original dubious backpacker-hostel-bank, London Capital NZ Limited, company number 3687995, from the NZ Company Register. That turns out to have been very convenient for Bryan Cook, in the end.
Let's leap off to Spain next, to find out why.
In Catalonia, El Periodico has reported that Power 8, RCD Espanyol's main sponsor, has long since vanished from its Barcelona offices. That's a big deal for Espanyol, though not a disaster. They were due to receive a handy EUR5.5Mn per year from Power 8. The quid pro quo included highly conspicuous naming rights: the Cornella-El Prat stadium is now the Power 8 Stadium. The sudden evaporation of Power 8 and its cash is embarrassing for Espanyol, but not terminal. Espanyol got their first year's cash from the Power 8 deal, and more; they just need to find a more reliable sponsor now, and in due course the "Power 8 stadium" can quietly change into something else, without anyone asking any awkward questions. It turns out that Espanyol already owe $44Mn to the tax man, so they have a sort of funding source there: slooow tax payment. I am told this is normal for Spanish football clubs.
El Periodico's team delve deeper into the underlying company structure than I did. As well as the Costa Rican "Power 8 Resources SA" there's a local Spanish entity, Power 8 Spain, originally registered as Picatis Trading in April 2013 by one Philippe Cappelle.
Cappelle can be shown to have been an acquaintance of Bryan Cook for several years. Until Power 8, it's clear that Cappelle had never done any real business with Cook, though. At the end of 2013, he was about to start finding out exactly what doing business with Cook is like.
El Periodico dig some more, and find that Picatis changed its name in December 2013, to "London Capital Spain". A new 100% shareholder, Bryan Cook, took ownership at the same time. Uh-oh. My own sources indicate that, slightly jumping the gun with the name change, "London Capital Spain" already had a deal in place by late November 2013, to provide services "London Capital NZ Limited", "company number 3687995". Uh-oh, some more. As we know, there's something toxic about both these "London Capital"s, of course. Not Philippe Cappelle, but the identity of the 100% shareholder of both companies at that time: Australian fraudster Bryan Leonard Cook.
Next, my sources tell me, by February 2014, three months after Bryan Cook assumed ownership of it, London Capital Spain had a formal agency agreement with Power 8 Resources SA of Costa Rica. My sources add that equipped with this authorisation, Cappelle, still the local director, tracked down RCD Espanyol and lined up a meaty sponsorship deal, a multi-year effort worth around EUR40Mn; EUR 5.5Mn a year. Power 8 Spain closes the deal with RCD Espanyol, to El Periodico's retrospective astonishment:
…the only recorded company accounts, 2013, show a company that has no income, only losses of up to 30,000 euros. It is difficult to understand how a start-up with such disastrous accounts can sign a multi-million contract with a sports corporation .
It's hardly any easier to understand when one knows some of the background. In May 2014, London Capital Spain changed its name again, to Power 8 Spain SL. The Spanish landlord, apparently the only character in this story actually capable of smelling a rat, point-blank refused to tolerate a tenant called "London Capital Spain" operating an office heavily branded as "Power 8". So the name was changed again. At about the same time Philippe Cappelle replaced Bryan Cook as sole shareholder. My sources tell me that the pretext for this was an apparent conflict of interest. Certainly, with London Capital Spain and London Capital NZ Limited both owned by Cook, the loan agreement between the two companies is pretty obviously a related party transaction. It's amusing to see Cook fussing so much about this, though – his contemporanous dealings on GXG Markets, and before that, on the Deutsche Börse, are a toxic brew of very, very profitable and entirely intentional conflicts of interest.
So I don't buy the conflict of interest story: looking at the net effect of these two changes, I think Cappelle is being set up. After these latest changes, Cappelle is stuck firmly in the middle. Power 8 Spain SL is by now just an intermediary. Its deals with RCD Espanyol and London Capital NZ are back-to-back. Via a loan agreement of late May 2014 that I have seen, Cook's London Capital NZ now has a major role: it is the source of funds for the Power 8 deal. But RCD Espanyol seem to have taken no interest in London Capital NZ's corporate profile at all. Of course, there are going to be some legal complications if the deal goes wrong: the Power 8 deal with RCD Espanyol is under Spanish law, while the deal with London Capital (NZ) is under New Zealand law.
There is now a sad but illuminating episode: in June, at least a hundred Far Eastern investors turn up in Barcelona, with their flights and hotels paid for by the Power 8 scammers. Each of them has paid in at least $100,000 to the Power 8 pyramid scam. They visit Power 8's Barcelona offices, returning home, no doubt to spread the happy word of Power 8's credibility to yet more investors. Bizarrely, they are escorted by a team of Rumanians. One of my sources, who witnessed this visit, instantly identified one of the Rumanian escorts, "Brandon", from publicity shots of another titanic Cook scam, Virgin Gold Mining Corporation. Here he is, on the left, going under the name, not of "Brandon", but of Bogdan Raduca.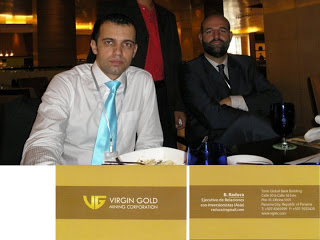 What happens if London Capital NZ stops paying over the sponsorship funding? From the look of it, Philippe Cappelle started discovering the answer to that question no more than a couple of weeks after signing the deal with London Capital NZ. According to my source, that's when the flow of loan monies from London Capital NZ to Power 8 Spain stopped, after just one month. It also just happens to be when London Capital NZ's owner and director Bryan Cook was arrested in Switzerland and extradited to Germany, where, after close to a year in detention as a flight risk, he was convicted of investment fraud and serious market manipulation, landing a 21-month sentence earlier this year.
From July onwards, money started coming in to Power 8 Spain from a whole bunch of other accounts, based in Singapore and Hong Kong. According to my sources, this almost instant breach of the London Capital NZ contract infuriated a bemused Cappelle, who was of course suddenly unable to contact Bryan Cook and sort it out. Cappelle was unaware of Cook's arrest until notified of it in late July by Bryan Cook's sister and loyal helper, Julie Cook, minding the shop for Bryan while he sat in German detention. By the time the unfortunate Cappelle knew that his business partner had been arrested, he had already inked the deal with RCD Espanyol, with full publicity, TV, camera, the works.
By October 2014, even the dribble of funds from unexpected bank accounts, covering a third of the agreed sponsorship payments for the subsequent season, had dried up, and there was big trouble. Cappelle was firmly on the hook, RCD Espanyol were sweating, and the Bank Of Spain had got involved, demanding a change to Power 8 Spain's service agreement, to include full details of the Hong Kong and Singapore companies that had suddenly started funnelling money to Power 8 Spain. The Hong Kong and Singapore companies, represented by another of Bryan Cook's cronies, aggressive dimwit Thomas Yi, point-blank refused to provide any details at all. One would expect that sort of non-disclosure to trigger a money laundering investigation by the Bank of Spain. I assume that one is underway.
In a particularly horrible piece of decoration, the Spanish Tax Office also seized a chunk of the money that had been paid into Power 8, in part settlement of RCD Espanyol's massive arrears.
It's an interesting chunk of money, that one. The thick end of the agreed sponsorship fees, EUR5.5Mn+, it must be traceable to the proceeds of some financial crime or other: the Power 8 scam itself, or pump and dumps on GXG Markets, or the giant Virgin Gold scam. Whichever it might be, the Spanish Tax Office has, in effect, seized purloined investment cash that really belongs to someone else entirely, most likely in South East Asia.
What an amazing mess all this is.
Somewhere out there, there's an additional $240Mn+ of stray Power 8 investor funds, too: by January 2015 the very same big Far Eastern investors who had trooped out to Power 8's Spanish offices were complaining that they couldn't get at their invested funds any more, and the fund-raising leg of the pyramid fraud had run its course.
Meanwhile, for Everton FC fans everywhere, there's another unpleasant spectacle. Here are their team, dutifully endorsing the Power 8 pyramid scam.
Reflect, as you watch this, that the reason for this fawning is that Everton FC has also been a beneficiary of dirty Power 8 sponsorship money. Some of the meaner Liverpool FC fans might enjoy this thought, I suppose, but for anyone else, it ought to be pretty painful.
Still, Everton can help, if they want to. It would be nice if Everton FC felt it was their civic duty to talk to an enforcement agency, such as the Serious Fraud Office, about their deal with the pyramid fraud Power 8. Obviously, Power 8 money did make it into Everton bank accounts, otherwise Power 8's logo wouldn't be visible at Everton games. So: which accounts did the money come from? Everton know.
Who represented Power 8 to UK-based Everton? It presumably wasn't Philippe Cappelle of Power 8 Spain. In fact, yet another source tells me, it was "the Orchards", by which he means David Orchard and Chris Orchard, a father and son duo who, via William Grosvenor & Partners Limited, are associates of Bryan Cook, for instance at now-dissolved Euro Forex Services (UK) Ltd, Euro Forex Management Ltd or City & Mayfair Services Limited.
Christopher Orchard, pictured below…
…and his father David…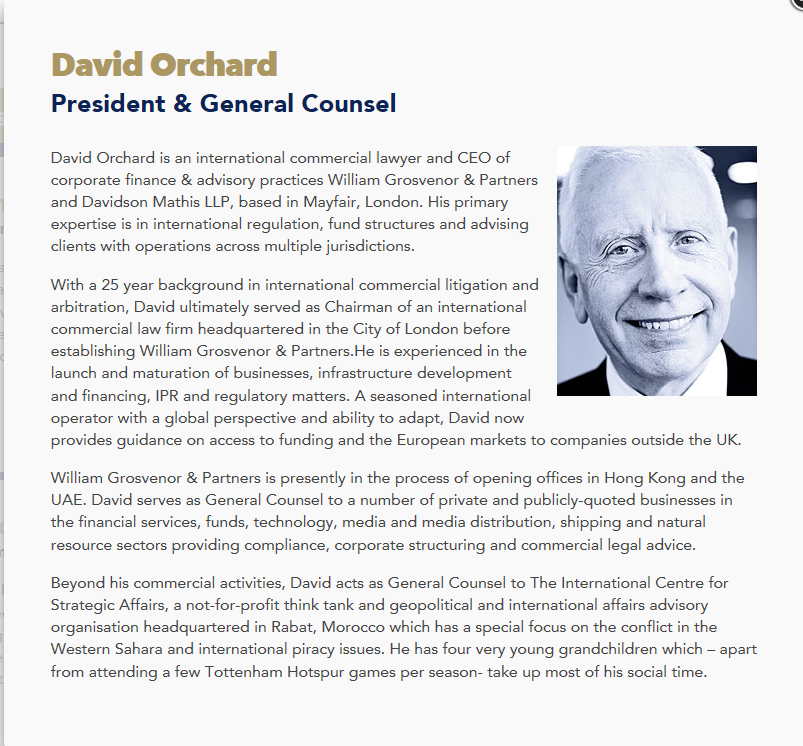 …promoted of two of Cook's other Far Eastern scams, with both father and son appearing (fourth and fifth from left, in spectacles; click the picture for a big undistorted image) at promotional gatherings for the $250Mn-$2Bn Virgin Gold fraud (source: The Australian newspaper, March 14th, 2015, paywalled):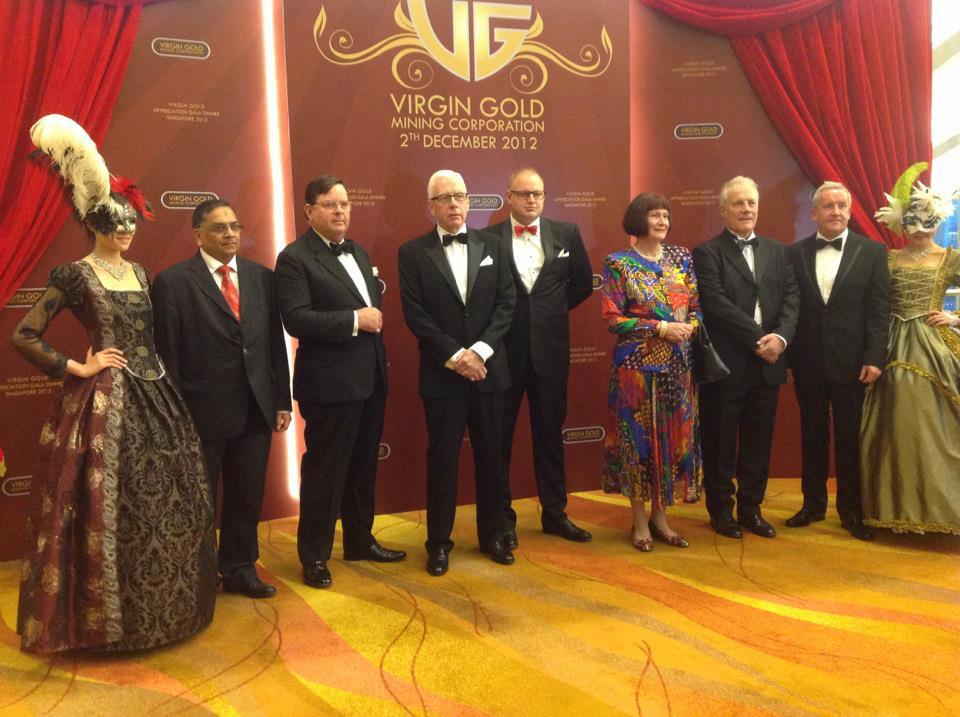 …and David Orchard also appears, fourth from left, sans specs this time, among a bunch of luminaries promoting another gargantuan Cook fraud, the $1Bn-$3Bn Euro Forex (EuroFX) caper, which you can read more about in the New Zealand press, here.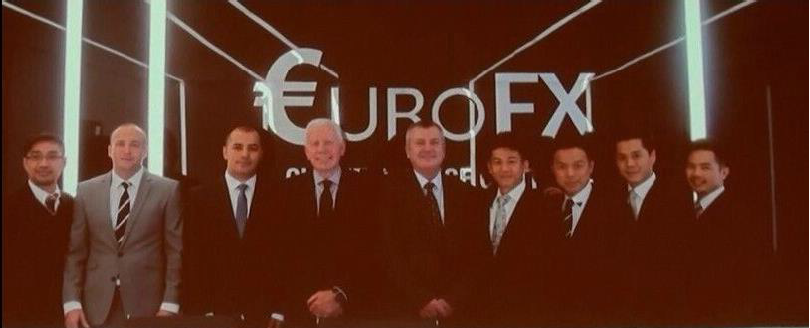 It must be high time for the Orchard duo to contact the Serious Fraud Office too. Just waiting quietly for the whole thing to go away would look like complicity, wouldn't it?
That's a point for Everton FC's PR people to ponder, as well; and RCD Espanyol's.