By Lambert Strether of Corrente.
2016
Policy
God bless Jerry Brown pic.twitter.com/r2GA85iaXg

— Larry Karaszewski (@Karaszewski) September 13, 2015

Sanders, 2002: "Mr. Speaker, in the brief time I have, let me give five reasons why I am opposed to giving the President a blank check to launch a unilateral invasion and occupation of Iraq and why I will vote against this resolution…" [HuffPo]. Just saying.
The Voters
"A new poll finds that 43 percent of Republicans believe President Obama is a Muslim, and 20 percent of all adults believe he was born outside the United States" [The Hill].
Money
"Mr. Trump said he has spent around $2 million of his own money to date," and "continues to resist the experts' view that he needs a conventional campaign apparatus" [Wall Street Journal, "The One-Man Roadshow of Donald Trump"]. His campaign manager uses Skype. His campaign HQ is in an unfinished space of drywall "that used to house parts of The Apprentice set." There are squillionaires who are cheap. And there are squillionaires with cash flow problems. Which kind is Trump? His tax returns might help. But he hasn't released them.
The Trail
"The [YouGov/CBS] poll: NH: Sanders, 52%; Clinton, 30%. Iowa: Sanders, 43%;  Clinton: 33%. South Carolina: Clinton, 46%, Sanders, 23% [YouGov]. Considering that Clinton's leads keep evaporating where challenged, here 20% lead in South Carolina may be weaker than it seems. (Biden is strong in South Carolina, weak elsewhere.)

"Team Clinton has telegraphed that they are building a southern firewall to lock up the Democratic nomination. Florida would be a part of that must-win turf. But so far, she hasn't spent much time there" [The Hill]. "'Other than coming to the great state of Florida to raise money, we haven't seen too much of Hillary,' said Daniel Smith, a professor of political science at the University of Florida."

Sanders to speak at Liberty University today (Monday) [Bloomberg]. Sanders: "It is very easy for a candidate to speak to people who hold the same views. It's harder but important to reach out to others who look at the world differently. I look forward to meeting with the students and faculty of Liberty University."

Gingrich on Trump: "[Trump's] going to have to learn to be more disciplined, because it's no longer funny" [The Hill]. Gingrich recommends discipline…

A Trump nightmare scenario [Michael Tomasky, New York Review of Books].

If he's still around next March, Trump could benefit from a change the GOP has made to how delegates are awarded. In primaries and caucuses before March 15, candidates will be awarded delegates proportionately to their vote total; but from March 15 onward, states will have the option of awarding delegates on a winner-take-all basis. …

On paper, this change was intended to benefit a front-runner such as Bush. But what if Trump is still running come March 15? He certainly won't lack for money. What if a still-plausible Trump wins primaries in some large, winner-take-all states?

Speaking of big states: "Poll: Trump tops GOP field in California" [The Hill].

"A 1991 documentary on Donald Trump which he suppressed from broadcast by legal threats is now available online. Entitled 'Trump: What's The Deal?,' the documentary paints an extremely unflattering picture of Trump as a businessman" [Shadowproof]. "The film claims that Trump's celebrated property on Fifth Avenue in Manhattan, known as Trump Tower, used undocumented Polish immigrant labor in the demolition process. The immigrants reportedly worked grueling 12-hour shifts with no overtime pay in asbestos-laden dust."

"In three pending lawsuits, including one in which the New York attorney general is seeking $40 million in restitution, former students allege that [Trump University] bilked them out of their money with misleading advertisements" [WaPo].

"In the battle for the soul of the Republican Party, Trump's gain has come at Rubio's expense. Rubio's candidacy is an outgrowth of a consensus among GOP elites that the party must "modernize" and appeal to a diversifying electorate if it ever wants to win the White House again. Trump represents the opposite: the white and nativist faction of the party that is anxious about the country's changing demographics" [Bloomberg].

"A RealClearPolitics polling average shows Walker in seventh place nationally in the GOP primary, with 4.8 percent support. Walker was in first place overall in that same polling average as recently as March" [The Hill].  I confess I thought he'd scrap and chew and claw and work the Kohl shirt riff into contending, but no. Part of Walker's problem must be Trump, not only because Trump sucks all the oxygen out of the room, but because where Walker stomps Democrats, Trump stomps everybody you hate and gets away with it. It may also be true that Iowans, at least, got to know their neighbor better:

"Why are people leaving Wisconsin? State ranked in top 10 for out-migration" [Journal Times].

"Walker job-creation officials promise to do better" [LaCrosse Tribune].

For candidates Jindal and Santorum, the relation between time spent in Iowa and support is inverse [Bloomberg].
The Hill
Trump dings Boehner, which will make the Tea Party happy [Columbus Dispatch].
Stats Watch
Readers, I must take public transportation to see a man about the house. If u cn rd ths, that means I couldn't get to a WiFi point in time to do stats.
Canadian Election
"The latest numbers for the three leading parties: Conservatives: 30.9 per cent; Liberals: 31.7 per cent; NDP: 30.1 per cent" [CTV]. That's a horse race!
"The Case Against Stephen Harper" [The Atlantic].
"'Stephen Harper isn't perfect': New Tory message raises eyebrows online" [CBC]. Who's doing his advertising? The same people who worked for Rahm Emmanuel?
"Canada must reclaim its role as a world leader" [Jean Chrétien, Globe and Mail]. "In my travels around the globe, I am regularly asked: What has happened to Canada?"
"For a $50 donation to the local NDP candidate, anyone can put a custom message on a campaign-style sign that will be placed near a Harper election sign" [CBC]. Creative!
"Federal NDP Leader Tom Mulcair criticized Quebec sovereignty on Tuesday but also brandished the nationalist card by promising Quebecers a special status in Canada if his party forms the government in this fall's election" [CBC].
"The CBC Should Be a Top Election Issue for Canadians" [HuffPo].
Our Famously Free Press
"'Cut up Khrushchev for sausages!' A history lesson for The New York Times" [Left East]. Important story from the old Soviet Union.
TTP/TTiP/TISA
Australia's Channel 9 bans GetUp anti-TPP ad [Macrobusiness]. So here it is:
Big Brother Is Watching You Watch
"First Library to Support Anonymous Internet Browsing Effort Stops After DHS Email" [Pro Publica].
Police State
"T-Shirt Sold At Law Enforcement Convention Claims 'Black Rifles Matter'" [Boing Boing]. "It wasn't intentional," [Chuck Garcia, who designed the t-shirt] said. 'All lives matter.'" Uh huh. Whenever you hear that phrase, "All lives matter," remember Chuck and his t-shirt.
Black Injustice Tipping Point
"woolman, singer, and reparations" [cheese it, the cops]. The argument for reparations. In 1763.
"Black designer hits back at police 'brutality and racism' with powerful collection of blood-spattered clothing – and starts his NYFW show with horrific footage of police violence, including Eric Garner's death" [Daily Mail]. Um.
"[#CampaignZero, led by DeRay Mckesson] a polished set of proposals with recommendations on the local, state, and federal levels — and the slate of proposals provides the kind of specifics that please donors and national Democrats, and is a favorite of Washington's black political class" [BuzzFeed]. "Campaign Zero has also become a source of contention within the broader Black Lives Matter movement, especially with the increased prominence of Mckesson, the Bowdoin graduate who left behind a six-figure salary with Teach for America to protest in Ferguson."
On broken windows policing: "Over the years the most progressive police agencies have understood that their role in protecting the quality of life is distinct from their role in controlling serious predatory crime. The task is not a matter of strictly enforcing clear-cut rules that everyone already understands but of reminding the users of public spaces about the special forms of self-restraint they need to observe in environments they share with others" [The Marshall Project]."
Ben Carson on Black Lives Matter: "[I]t's foisting yourself on people – rather than engaging in dialogue – and bullying people" [CBS].
Corruption
How La Paz, Bolivia's biggest city freed itself from a ubiquitous culture of corruption [Foreign Policy]. It can be done!
"How the GOP and Education Privatizers Are Using Charters to Bleed Pennsylvania Schools Dry" [Alternet].
[As Wythe Keever, spokesman for the Pennsylvania State Education Association] explains, 'When students and funding are drawn away from a traditional public school, the traditional public school can't reduce their overhead because they have fixed costs. They have to operate the buses and feed the students and pay the light and water bill. Charter schools taking away a few students from different grade levels doesn't produce any savings. You still have to staff the same number of classrooms.'"
Feh. Charters aren't supposed to produce savings. They're supposed to produce profits. What's wrong with this guy?
"After 25 Years, Teach for America Results are Consistently Underwhelming" [Nonprofit Quarterly]. "[T]he question of whether TFA is living up to its mission to enlist, develop, and mobilize future leaders to strengthen the movement for educational equity remains an unanswered one." Somebody tell Deray…
The bargain that closed St. Vincent's hospital [City and State]. "Nonprofits need the philanthropy provided by developers, who in exchange garner naming rights and influence in how the nonprofits operate – all as a way of 'giving back.' Nonprofits also count on the political clout of their real estate patrons, who shower politicians at every level with tens of millions of dollars. By some estimates the real estate industry provides 10 percent of all the campaign cash donated in the Empire State, which is funneled through limited liability companies to mask the source of the funds."
"[AIPAC] features multiple tiers of giving … all the way up to Minyan, 'an elite circle who participate in exclusive events and travel opportunities. They have engaged in intimate conversations with Israeli Prime Minister Benjamin Netanyahu, former President Bill Clinton, former Prime Minister Tony Blair, former Secretary of State Condoleezza Rice, Nobel Laureate Elie Wiesel and many others,' in exchange for a $100,000 annual donation [Foreign Policy]. "Minyan" has a different connotation for me, but whatever…
"When Filipino worker Berto Morales was digging on a government irrigation project in 1981, he literally struck gold. But what he found that day was worth more than its weight—he had uncovered evidence of a lost civilization" [Asia Society]. Something else I'd love to go see, if I were in New York. However, Morales's story is not a happy one…
Gaia
[T]the activist group "Feed The Birds" is distributing cannabis seeds across the country as part of a grassroots campaign to draw attention to the ridiculousness of prohibition" [Reset]. "Scattering cannabis seeds in a public place with the intention of offering nutritionally dense, mineral and omega fatty acid rich seeds to our feathered friends is not a crime."
Class Warfare
"Despite the large increases in economic inequality since 1970, American survey respondents exhibit no increase in support for redistribution, in contrast to the predictions from standard theories of redistributive preferences" [NBER]. "In particular, the two groups who have most moved against income redistribution are the elderly and African-Americans." Hmm.
News of the Wired
Once more on 9/11: "Never Forget (Except For The Stuff They Wish We'd Forget, Go Ahead And Forget That Stuff) [Gawker]. Remember "My Pet Goat"? Third-class intellect, second-class temperament…
"The 'granny for an hour' charity project in the Vladimir region near Moscow means that families with small children can borrow an older person 'to render help and assistance' several times a week, free of charge, Russian television channel NTV reports [BBC].
"High-Tech Lights to Help Baby Sleep, or Students Stay Alert" [New York Times].
"Visualizing the Meditative Lives of Bonsai Trees" [National Geographic (Furzy Mouse)]. Gorgeous!
* * *
Readers, feel free to contact me with (a) links, and even better (b) sources I should curate regularly, and (c) to find out how to send me images of plants. Vegetables are fine! Fungi are deemed to be honorary plants! See the previous Water Cooler (with plant) here. And here's today's plant (AH):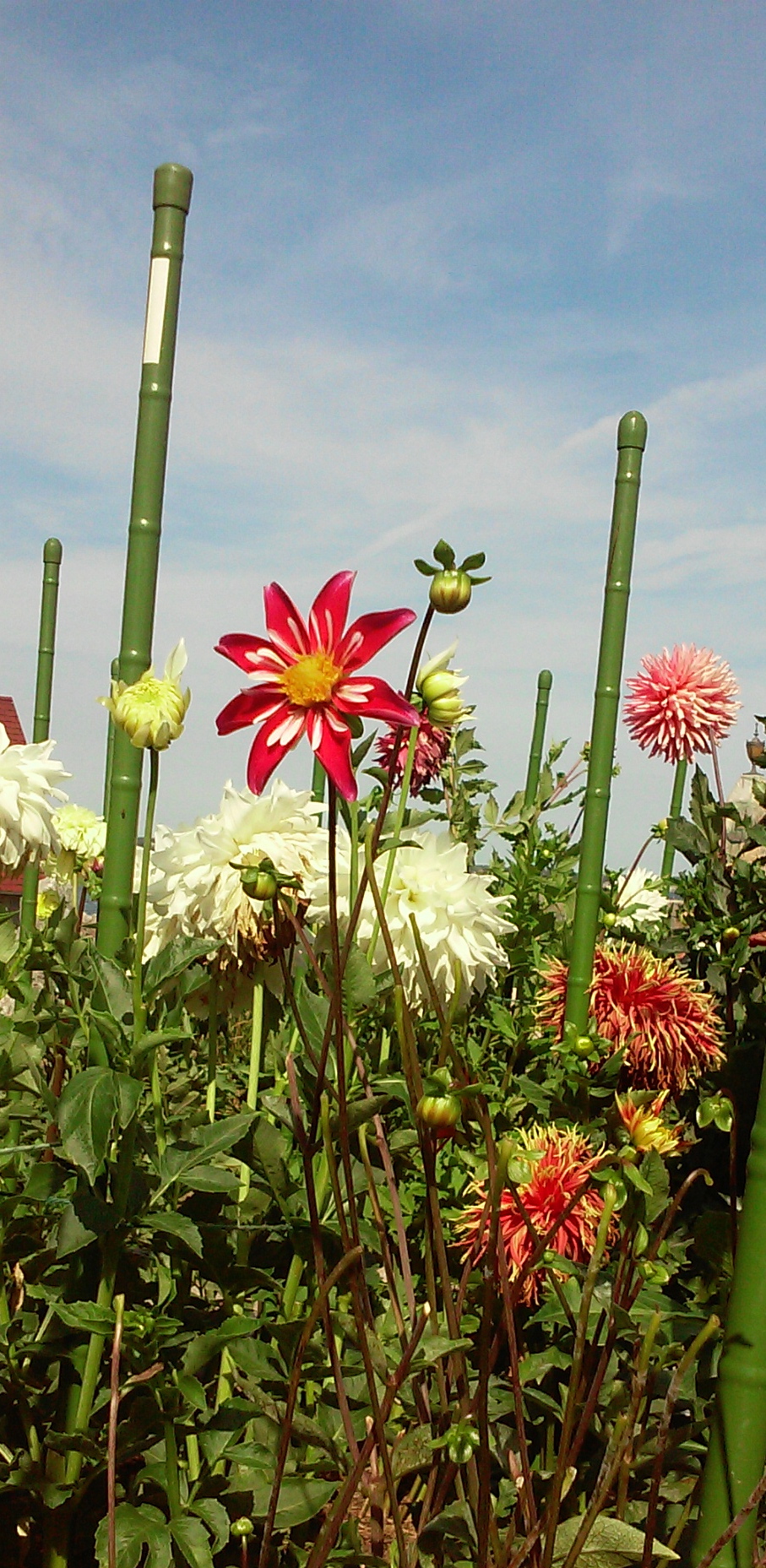 Dahlias against the sky….
If you enjoy Water Cooler, please consider tipping and click the hat. Winter is coming, I want to buy a few books, and I need to keep my server up, too.