By Lambert Strether of Corrente.
2016
The Voters
Dynasties: "If Americans have lost their taste for cross-generational political transfers of power, the broader map of US power is still strikingly dynastic. According to data cited by the Organisation for Economic Cooperation and Development, "intergenerational elasticity of income" is 47 per cent in the US — parents pass almost half their income to their children. That figure compares with 15 per cent in Denmark and 19 per cent in Canada. (The UK should not gloat: its level is 50 per cent.)" [FT, "Clinton and Bush test America's appetite for dynasties"]. At this point, we might remember that Trump, too, belongs to a dynasty.
Policy
"Since the housing bubble burst and construction jobs dried up, more unauthorized immigrants have left the United States than have come in" [New York Times]. It's the Crash wot did it.
The Trail
Check this out [McClatchy]. From the latest Clinton email dump:

And she had to look good doing it all. Even though she confided to an aide in December 2009 that she had "collapsed" with fatigue after a speech, Clinton was discouraged from letting on that her demanding job took a human toll. An April 23, 2010, email from outside adviser Sidney Blumenthal appears to chastise her after unspecified remarks for "stepping all over your story by saying you are tired."

"Tired." I know there are people who hate Clinton, but I am not among them, not least because hating is bad for me; to me, these exchanges present the tragic picture of a smart, experienced, and above all resilient woman, driven by a complex mixture of ambition, cupidity, and duty, while she single-handedly drags a massive entourage of networked hangers-on like Blumenthal behind her, when what she would rather do is… forget the dynasty, and just…. rest. But she can't. They won't let her.

And check this out. I know "body language" is mumbo jumbo, but just read [Reuters]. Forget the interpretation –it's a presser on the email saga — and look at the detail:

In Las Vegas, however, her expressions were more like a tired boxer's, slightly off-balance and woozy.

For relatively long stretches, given that she was holding a news conference, Clinton repeatedly closed her eyes. By itself, that facial muscle activity is a sign of sadness. But add to this how often she also raised her eyebrows, in ways not necessarily emphasizing her comments. This was unusual for her. And it usually signifies both sadness and anxiety.

"[L]ike a tired boxer's." Hmm.

Woz endorses Sanders [@stevewoz]:

Down on Republicans and Democrats, #Bernie2016 #FeelTheBern.

— Steve Wozniak (@stevewoz) September 1, 2015

Trump Unbound [@billmon]

Joyce, Faulkner, Trump — the acknowledged masters of the fictional stream-of-consciousness English prose style.
pic.twitter.com/AKbMdVhCZl

— Billmon (@billmon1) September 2, 2015

Indeed:

Trump cheats at golf [WaPo]. That's not the issue. The issue is playing golf at all. I mean, where do you think all the deals get cut? On the breezy and open golf course, far away from recording devices, that's where.

"[Walker]'s launched his most direct hit yet against a competitor with the release of a video this week critical of former Florida Governor Jeb Bush for not more forcefully opposing the nuclear deal with Iran" [Bloomberg]. Kicking down, since it's Trump that's killing Walker, not Bush.

Iowa, local poll: "With five months to go before the 2016 Iowa Caucuses, a pair of unconventional candidates top the large Republican field. For the 502 likely Republican caucus-goers polled statewide, billionaire real estate mogul Donald Trump and retired neurosurgeon Ben Carson are leading the field by a relatively wide margin. Former Florida Governor Jeb Bush is in a distant third place, and is the only other candidate with double-digit support as a first choice candidate" [Loras College].

Trumka to walk with Biden on Labor Day [Boston Globe]. Playing hard to get? Leaving the sinking ship?
Stats Watch
Because I had to miss these yesterday, a double ration.
The Fed, latest FOMC release: "By putting the discussion of the mechanics of raising rates and shrinking the balance sheet first the Fed clearly wanted to focus attention on it. But Big Media ignored all of it, proving that the Fed can't even control the message" [Econintersect]. "If the Fed can't even control its message in the media, how can it hope to influence the securities markets, the money markets, and the US economy?" To me, this makes sense. Can readers more knowledgeable than I am in Fedspeak, the money markets, and reflexivity generally comment?
"When in graduate school many decades ago we often discussed what we called "Brunner's Rule", named after the late pre-eminent monetary economist Karl Brunner.  At its core, Karl taught us that a [Central Bank] does not influence overall monetary conditions unless it buys or sells an asset" AND "to have an impact on their balance sheet the CB needs to NOT undertake offsetting domestic money market operations to "sterilize" the impact of the asset purchase or sale" [Across the Curve, "Draining the Liquidity Pool"]. "[I]t is NOT correct to assume that the full $12 trillion drop in measured reserves represents a drain of liquidity from global markets as there is no estimate of offsetting sterilization through domestic monetary operations." Any gentlemen who prefer bonds out there and have a mind to comment?
Motor Vehicle Sales, August 2015: "The auto sector helped lead the economy in May through July and extended the string to August" [Bloomberg]. "Strength in imports was centered in light trucks… North-American made vehicles slipped."
ISM Mfg Index, August 2015: "Lower-than-expected" [Bloomberg]. "[S]ignaling the slowest rate of growth for the factory sector since May 2013. And the key details are uniformly weak." 
PMI Manufacturing Index, August 2015: "Growth in Markit's manufacturing sample is as slow as it's been since October 2013" [Bloomberg]. "Failed to pick up the auto-led rebound for the factory sector in June and July."
Factory Orders, July 2015: "Pulled down by petroleum and coal products, orders for non-durables fell a sharp 1.3 percent, offsetting a very strong and upward revised jump of 2.2 percent in durable goods orders" [Bloomberg]. But check out the chart. And: "US Census says manufacturing new orders improved. Our analysis says new orders crashed. Unadjusted unfilled orders' growth is now in CONTRACTION year-over-year. No matter how you cut the data, it is bad. The headline analysis is extremely misleading this month" [Econintersect]. 
Construction Spending, July 2015: "Led by strength in single-family homes, construction spending rose 0.7 percent in July while an upward revision to single-family homes added to a sharp upward revision to June" [Bloomberg]. "In gains that belie concerns over weakness in business investment, manufacturing was very strong."
MBA Mortgage Applications, week of August 28, 2015: "A sharp drop in Treasury rates early in the August 28 week, tied to the global stock market rout, triggered a surge of mortgage applications" [Bloomberg].
ADP Employment Report, August 2015: "calling for a sub-200,000 flop on Friday" [Bloomberg]. "However spotty ADP's record is [and it has been], today's result is very likely to raise talk of a lower-than-expected report on Friday and a December, not a September, FOMC rate hike." It would be terrible to stop giving the 1% free money over the holidaze; I say January.  And: "The rolling averages of year-over-year jobs growth rate remains strong but the rate of growth continues in a downtrend" [Econintersect].
Gallup U.S. Job Creation Index, August 2015: "Unchanged" [Bloomberg]. "This is the best level in the 7-year history of the report and suggests that hiring activity is strong and has not been interrupted by volatility in the global markets."
"[R]eal wage growth more recently has not been commensurate with observed declines in the unemployment rate" [Liberty Street]. "[T]he survey evidence suggests that workers who do not experience a spell of nonemployment fare better than those who do in terms of job quality… These findings support the idea that perhaps we should explore the importance of job-to-job transitions—rather than movements in the unemployment rate alone—when thinking about the recent dynamics of wage growth." A Jobs Guarantee would fix that.
Productivity and Costs, Q2 2015: "The upward revision to second-quarter GDP gave a strong lift to nonfarm productivity" [Bloomberg]. "But year-on-year data tell a different story with productivity up 0.7 percent in the second quarter and labor costs up 1.7 percent. These readings reflect prior weakness in productivity tied to weak output in the first and fourth quarters."  But: "I personally do not understand why anyone would look at the data in this series as the trends are changed from release to release – and significantly between the preliminary and final release" [Econintersect]. On the brighter side: "[T]his methodology does track recessions. The current levels are well above recession territory."
Mr. Market
"How Tethered to China are the Wall Street Banks?" [Wall Street on Parade].
Black Injustice Tipping Point
"As my colleague Brentin Mock points out, to observe that homicides began increasing in St. Louis before the protests is not to make a subjective interpretation, but to offer a knowable and verifiable fact. If the "Ferguson Effect" is real, how can it be that it started before the Ferguson protests?" [Ta-Nahesi Coates, The Atlantic, "There Is No Ferguson Effect"].
Police State
"776 People Killed By Police So Far in 2015, 161 Of Them Unarmed" [Shadow Proof]. For comparison purposes, that puts us on track to comfortably exceed the highest number of Coalition troops killed in Iraq, 961 in 2007. Mission accomplished!
Health Care
The Republican alternative to ObamaCare [Wonkwire].
TTP/TTiP/TSA
"Japan and some other countries participating in Trans-Pacific Partnership negotiations are trying to arrange a plenary ministerial meeting in late September, informed sources have said" [Jiji Press]. Since the Japanese August 29 deadline slipped…. 
"'If we cannot hold a ministerial meeting in August, it is natural to consider September. Who would offer (concessions) when there is no (deadline for negotiations)?" [Japanese Economic and Fiscal Policy Minister Akira Amari ] said" [Market Pulse]. Perhaps an Asia hand can translate that Japanese diplo-speak? But to me, sheesh, why would the Japanese not want negotiate? Last time, Obama gave Abe remilitarization without getting anything in return! Sweet!
Auto: Look like the US made a side deal with Japan on auto, but did tell Canada and Mexico, who are understandably ticked off [Establishment Post].
"No News is Good News: An Update on the Trans-Pacific Partnership Agreement" [Health and Human Rights Journal]. "The government negotiators and the advocates that have resisted the US agenda for TPPA during years of negotiations—including Médecins Sans Frontières, Public Citizen, and Knowledge Ecology International, among many others—deserve the appreciation of the public health community."
"A Conflicted Liberal Explains How Obama Is Making Trade Deals So Hard To Support" [HuffPo]. Headline wins the Internet! (That whole slavery thing; so deeply troubling.)
"Holy Thomas Paine, I thought, [TPP looks like] a coup d'etat by the jefes of CorporateWorld! Surely this couldn't be. If it was true, wouldn't Obama and even the corporate-hugging, Boehner/McConnell Tea Party Congress be in an uproar? No, explained [Lori] Wallach [of Public Citizen]. They're in on the deal" [Jim Hightower].
I can tell you from experience that we populists win big legislative battles not by going inside capitol buildings, but by going out to the countryside. I learned this 30 years ago when, as Texas agriculture commissioner, I took on the prodigious clout of the chemical lobby by proposing strong pesticide protections for farmworkers, farmers, and consumers. Facing a wall of opposition from industry-funded legislators, I said to a group of allies: "You realize the odds are against us, don't you?" To which one replied: "Some of the evens are against us, too."

We ended up winning, but only because we got the hell out of the capitol city, took the issue directly to the grassroots, and rallied the outsider majority to stand against the self-dealing insiders. That approach, on a larger scale, is how we'll stop the global elite from hanging this TPP albatross around democracy's neck.
Our Famously Free Press
Why "The Donald is called 'The Donald'" [WaPo]. Spy Magazine!
"As giant platforms rise, local news is getting crushed"  [Nieman Labs].
News of the Wired
"27 Worst Charts of All Time" [Business Insider].
"Cooper Union's Free Tuition May Return After Lawsuit Settlement" [Gothamist]. Sometimes the good guys win!
"The Timothy Hunt Witch Hunt" [Commentary (RS)]. 
* * *
Readers, feel free to contact me with (a) links, and even better (b) sources I should curate regularly, and (c) to find out how to send me images of plants. Vegetables are fine! Fungi are deemed to be honorary plants! See the previous Water Cooler (with plant) here. And here's today's plant: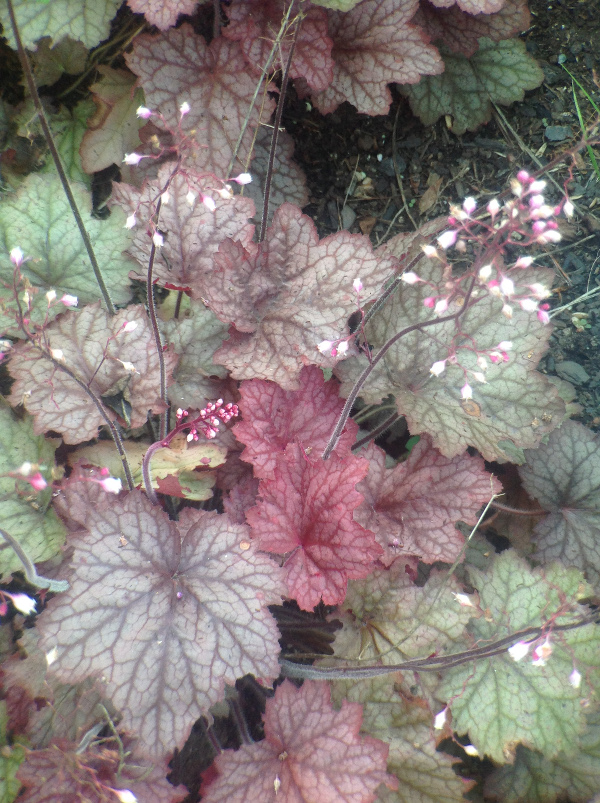 Heuchara, Maine Coast Botanical Gardens.
If you enjoy Water Cooler, please consider tipping and click the hat. This is turning into a tough month, and I need to keep my server up!