By Lambert Strether of Corrente.
Most coverage of ObamaCare lately has focused solely on increased enrollment numbers; as we know, this is a deceptive metric, and is probably due, at least in part, to an economy no longer in the depths of depresssion. However, the mere fact of enrollment tells us nothing — any more than a ticket to a movie means the movie ends happily — and so in this post I want to focus on "narrow networks," since it seems a common-sense notion that your doctor (whether you could "keep" them, or not) and your hospital are key determinants in your quality of care, especially if you require a specialist, and narrow networks limit both, as Modern HealthCare describes:
Narrow-network plans have grown in popularity, particularly on the Affordable Care Act's insurance exchanges, because their cheaper premiums appeal to price-sensitive consumers. About 70% of plans sold on the exchanges in 2014 featured a limited network, and their premiums were up to 17% cheaper than plans with broader networks, according to a study by consulting firm McKinsey & Co.

But there is significant consumer and provider dissatisfaction with how many of these plans are organized, including concern about inadequate access and information. Critics say insurers have made many missteps in building adequate networks and maintaining accurate, up-to-date provider directories. In some rural areas, there are too few in-network providers, forcing plan members to travel long distances to see one. Some patients find out that a hospital or doctor was out-of-network only after they receive a shockingly high bill. So far, federal and state regulations on narrow networks are vague and inconsistent, experts say.
Naked Capitalism readers, of course, have been warned about narrow networks starting in 2013: See here, here, and here, for starters. Modern Health confirms our warnings:
Anecdotally, narrow-network plans have led to surprise out-of-network bills for consumers. Hospitals often contract out for emergency physicians, radiologists, anesthesiologists and other hospital-based specialists. While a hospital may be in a patient's plan network, some of its doctors may not be—and patients may face bills based on out-of-network rates.
Of course, anecdotes are all we have, since oddlly, or not, the Obama administration never studied the matter. Now, however, we have a new study that at least gives us an idea of how prevalent narrow networks are. From the University of Pennsylvania's Leonard Davis Institute of Heatlh Economics, we haveDan Polsky and Jan Weiner's study, "Variation in Narrow Networks on the ACA Marketplaces" (PDF). And we see that narrow networks dominate many states, although we also see great variation between states. From Table I of that study: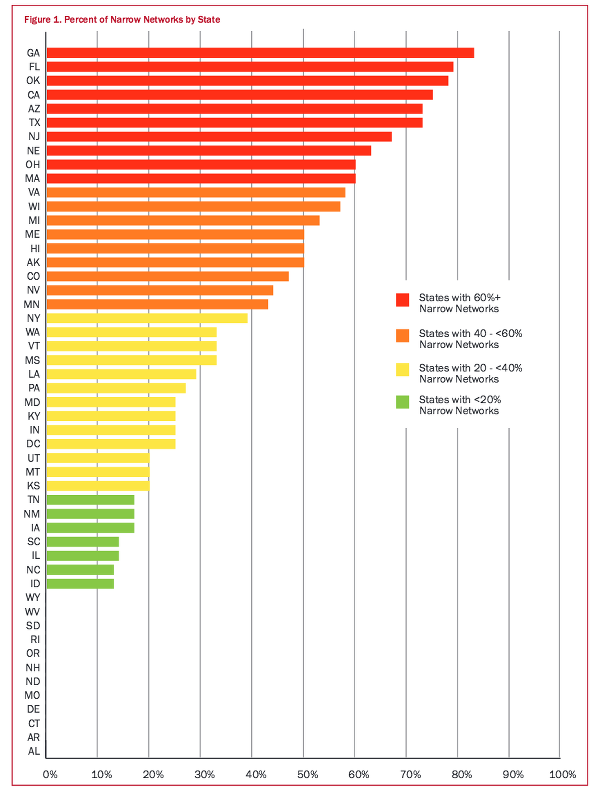 Or in prose:
The 83 percent of Georgia plans having narrow networks surpassed that of all other states, according to University of Pennsylvania researchers.

Georgia's narrow network rate was followed by Florida's 79 percent; Oklahoma, with 78 percent; California, with 75 percent; and Arizona and Texas, each with 73 percent.

Narrow networks were on the increase before the ACA was enacted, but they have become more prevalent under the health reform law.
However, we see not only variation between states, but variation within states. For example, North Carolina:
Taken as a whole, only 13 percent of ACA plans offered on the federal exchange qualify as narrow networks. However a closer look shows that those plans are concentrated in in and around the Triangle, according to the report, done by Dan Polsky and Janet Weiner, Janet Weiner of University of Pennsylvania's Leonard Davis Institute of Health Economics (LDI).
So how narrow are they? The San Francisco Business Times:
The average Obamacare health plan's provider network includes 34 percent fewer health care providers than the typical commercial plan, according to an analysis by Avalere, a Washington, D.C.-based health care consultancy.

Such exchange plan networks include 42 percent fewer oncologists and cardiologists, 32 percent fewer mental health experts and primary care doctors, and 24 percent fewer hospitals, Avalere said Wednesday.
Now, to be fair, there are studies that provide proxies for delivery of health care services that can be used to support a claim that narrow networks do not impact the delivery of health care. Health Affairs:
We found that the common belief that Marketplace plans have narrower networks than their commercial counterparts appears empirically valid. However, there does not appear to be a substantive difference in geographic access as measured by the percentage of people residing in at least one hospital market area. More surprisingly, depending on the measure of hospital quality employed, the Marketplace plans have networks with comparable or even higher average quality than the networks of their commercial counterparts.
However, averages mislead; as we know. For example, averages will conceal the fact that one Tennessee citizen dropped their care because their hospitial was an hour's drive away, even if another was satisfied. Averages conceal the fact that narrow networks discriminate against poor people with cancer. And averages conceal the fact that narrow networks create "medical homelessness" if citizens can't find primary care doctors. Worse, implicit in the very idea of applying an averaging methodology in this case is the value judgment that big variations in citizen access to potentially life-saving health care aren't in the least problematic; that a civilized society treats the health of its people as a crapshoot, albeit a highly profitable one (at least for a very few).
But wait! You say. All these problems happen because the citizen didn't pay the tax on their time invest sufficient hours in due diligence to find out whether the plan they are mandated to sign up for has a narrow network or not. Unfortunately, ObamaCare affirmatively conceals this information. Polsky and Weiner:
Within the current marketplaces, it is difficult for a consumer to assess network size, even as a broad concept. As a result, the trade-off between network size and premiums is not at all transparent. It is even hard to gauge which providers are in the network as this typically would involve checking the provider directories at the issuer's website for a particular provider for a particular plan. These provider directories are notoriously out-of-date.
Cindy Zeldin of the consumer group Georgians for a Healthy Future describes the effect on the consumer citizen:
"Right now, provider networks are a bit of a black box for consumers, preventing them from choosing the plan that best meets their needs and potentially limiting access to care,'' she said."

Zeldin said it's true that some consumers are willing to make the tradeoff of a lower premium for a smaller network. But that's not the whole story, she added."

"Others need a broader network to meet their health needs,'' she said. "And everyone deserves the tools and information to make that choice and to know that they can access services for all covered benefits."
(Of course, under the simple rules of neo-liberalism, nobody "deserves" anything except for what they get. What's wrong with you, Cindy?) Now, to be fair, the ObamaCare directories may improved in the coming year (that is, seven years after ObamaCare's enabling legislation was passed). Polsky and Weiner once more:
New federal rules for 2016 will require plans to publish up-to-date, accurate, and complete provider directories, including information on which providers are accepting new patients, the provider's location[1], contact information, specialty, medical group, and institutional affiliations.
Assuming this happens, which given ObamaCare's clusterf*ck-littered history is a big assumption, the consumer's citizen's fundamental problems with narrow networks are not solved by this minor fix. First, the issue is not providing information on any one plan, but on comparing plans, which the fix does not support; that is, ObamaCare's affirmative concealment of key information continues. Second, the fix goes meta in a particularly neo-liberal way: It assumes that providing information about services (in the argot, "transparency") is equivalent to actually providing services. I mean, what do I do when I use ObamaCare's spandy new directories, plural, and discover that the specialist I need is 500 miles away? Move? Finally, the fix makes a second classically neo-liberal assumption about consumers citizens: That acquiring and aggregating and making sense of information is frictionless and cost-free (as it is indeed for the top 10% who wrote this monstrosity and are busy using their expertise to cash in on it; they have lawyers and accountants and personal assistants and staff). In fact, that assumption is utterly untrue; we can see how hard it is to do research on the ObamaCare website from this post in 2013, where Dromaius researched for specialists. Now imagine somebody not middle-class, not technically inclined, and poor trying to do the same from a public library terminal. So we see this that ObamaCare's tax on time is especially onerous for the poor and the already sick, those who (assuming the program to have been designed in good faith) ObamaCare was designed to help.
So why is this so hard? Why is it hard to aggregate data across health insurance plans and present it to consumers citizens so that they can make informed decisions about their health care choices, even given the rotten circumstances Big Health has placed them in? Well, as it turns out, the reason is quite similar to the reason Greece couldn't escape the Euro: The health insurance industry has a concrete material basis in information technology, that technology wasn't designed or built with that function in mind, and it's difficult/risky/expensive/not in their interest for its owners to change it[2]. Here's what Polsky and Weiner had to do to get the data for their statistical study[3]:
From the 2014 list of all 1065 unique silver plans (and 6690 unique plan / rating area combinations) sold in the marketplaces for all 50 states plus DC as provided by HIX Compare, we identified 394 unique provider networks offered by 267 different issuers. We used the publicly available provider directories on the issuer websites of individual marketplace-based networks and plans to gather all providers in specified networks, including data on provider characteristics such as specialty, name, gender, and geographic location. These data were collected in the fall of 2014.

The provider lists from which these data were gathered were not uniform in their formats and coding. Thus we created a multi-stage cleaning process to integrate all lists into a list with unified formats for names, addresses, and specialties (see our first Brief for more details). We used national provider datasets to confirm unique physicians and to identify physicians in the rating area who did not participate in any plan.

We excluded non-matching records, physician locations outside of a plan's rating area, and issuers and networks without complete data. Our analysis dataset consisted of 450,232 physicians participating in plans issued by 267 carriers across 355 networks where we were successful in gathering information on all physicians. Table 1 lists the number of issuers and networks in each state's marketplace and the number of networks that we were able to collect for our analysis. Overall, our data sample includes 90% of all silver plan networks in the 2014 exchanges.
Building ObamaCare directories, plural, won't be an easy project because it involves the same systems and data issues. And it's also a back-end project: It doesn't involve the shiny, public relations-friendly website on the front end; it involves accessing multiple databases, gnarly data formats, and plenty of data conversion; all tasks that the administration has already shown it is simply not competent to perform. I mean, they still haven't fixed the existing back end. For example, the ObamaCare back end is still failing to validate applicants for eligibility, and that's its basic function:
[T]he government is unable to verify eligibility for insurance or subsidies. The Government Accountability Office recently announced it was able to successfully enroll 11 out of 12 fictitious applicants, (some with invalid or nonexistent social security numbers and others noncitizens claiming lawful presence in the U.S.) on the federal exchange in 2014 despite the fact that the GAO did not provide any supporting documentation requested by the exchange for some applicants and provided fabricated documents for others.

All 11 fictitious applicants who enrolled in 2014 were automatically re-enrolled under a Centers for Medicare and Medicaid Services policy that automatically re-enrolls policy holders for 2015. The outside document-processing contractor does not check for fraud beyond flagging obvious document alterations.

A just released report from the Department of Health and Human Services inspector general confirms that the federal exchanges internal controls were not effective in ensuring that applicants were eligible for enrollment in qualified health plans and for receipt of subsidies – other than
So, while from a humanitarian standpoint I suppose I should be happy that ObamaCare will sign you up as long as you aren't in jail, from a systems perspective, at the back end where the eligibility verification takes place, ObamaCare is the same clusterf*ck as it has been from the beginning. (The GAO report has dropped like a stone, out of the news flow, so the other defining characteristic of ObamaCare — nobody is ever held accountable for any failure, no matter how gross — holds good as well.)
In other words, don't assume those directories will work, because the administration seems not to have the operational capacity to build them. As a consequence, don't assume that the network you join isn't narrow, even if — after doing your many hours of research — you concluded it is not and signed up for it.
* * *
What are we to make of this? First, that ObamaCare's relentless creation of second-class citizens continues; the quality of health care you get is the luck of the draw. ObamaCare, being at its heart a bailout of the insurance industry, was not designed to change that, and hasn't.
But there are wider implications. Maggie Thatcher, bless her heart, came up with the neo-liberal trump card: "There Is No Alternative," which we often abbreviate as TINA. In the case of the Greek drachma, as we showed in remorseless and excruciating technical detail from people who actually build and maintain such systems, there was indeed "no alternative" to the Euro-based payments system available in a realistic time-frame. The concrete material basis in information technology did not permit it. That the Greek outcome was tragic makes it no less real.[4]
In the case of the health care system in the United States, however, there is an alternative, for which the concrete material basis already exists in the form of information technology: Medicare; a simple, rugged, proven, and popular program already used by millions. Here, however, we see a second tragic outcome: There seems to be no alternative because corrupt politicians from the legacy parties — for example, Hillary Clinton — carefully airbrush the real, existing alternative away.
Notes
[1] To best serve the consumer citizen, this information would have to be updated in near real-time, since people will be using it to make decisions in real time, and not merely during the "enrollment period."
[2] Which makes sense; a cartel doesn't tend to make it easy to compare products between cartel members; its simpler just to fix prices anyhow. Nor does any health insurer have any particular incentive to "transparency," given that they profit by denying care.
[3] The Polsky and Weiner study is static, mind you, a snapshot in time taken for academic purposes, which is very different from keeping an ObamaCare directory "up to date" so that consumers citizens can make decisions in real time. Their project scope is sufficient to create a sample from which generalizations can be made. The project scope of any ObamaCare directory is the entire country, all plans, and all providers; 100%, not 90%, and in near-real time.
[4] Indeed, if we cast Tsipras as the hero, we might even regard the moment where he rejects Varoufakis's hare-brained scheme as the moment of tragic recognition.
Appendix
Why the state-to-state variation? We don't know, but Polsky and Weiner suggest:
But what causes one state to have more narrow networks than other states? This is a question for future research. While we cannot answer that question, we do find a strong correlation between states that offer HMO plans and states that have more narrow networks. … Here we see that states with a high prevalence (60% or more) of narrow networks are dominated by HMOs, whereas states that have the lowest prevalence (20% or less) are dominated by PPOs.
HMOs were resoundingly rejected by (most) consumers citizens in the 90s, when Big Health first tried them. ObamaCare is doubling down on HMOs by rebranding them as Accountable Care Organizations (ACOs), and giving them another shot. So it seems likely that narrow networks will only increase in number and extent.
Readers, comments are open because I'd like to hear of your experiences on this issue!