By Lambert Strether of Corrente.
2016
Policy
Clinton advocates using governments purchasing power to lower the price of pharmaceuticals [Los Angeles Times]. Fine, that's the principle behind single payer's cost savings. So why doesn't putative policy wonk Clinton advocate for the real thing, instead of this pissant tweak?

That loveable goof, Joe Biden "has played a consistent and pivotal role in the financial industry's four-decade campaign to make it harder for students to shield themselves and their families from creditors, according to an IBT review of bankruptcy legislation going back to the 1970s. [International Business Times]. "Biden's political fortunes rose in tandem with the financial industry's."

"Republican presidential candidate Jeb Bush is expected Tuesday to propose a sweeping rollback of federal regulations on the environment, Wall Street and other areas: [Wall Street Journal, "Jeb Bush to Propose Rollback of Regulations"]. Nice to see new ideas from the Republicans.
Money
"A new report from Center for Responsive Politics finds single-candidate groups have spent $16.2 million total so far—- over 55 times levels seen in 2012—- and conservatives disproportionately benefit" [Informed Commment].
The Voters
"The Crisis of the Well-Crafted Candidate" [Stratfor]. "Trump and Sanders share something important. Neither is prepared to compromise who he is for the office he is running for." Privatizing her email server is who Clinton is, too. The problem is that voters don't like that, much.
The Trail
UPDATE More on the campaign trail, and sorry for the delay; I'm still fighting to get this fershuggeneh laptop to do what I want to do, rather than what it wants to do.

Sanders: "Last Tuesday, a Liberty alumnus who gave his name only as Jim posted a short sermon on the subReddit /r/SandersForPresident, explaining that as soon as he saw the "crazy, wild-haired Jew," he thought of John the Baptist" [New York Magazine].

Walker debacle: "Three months ago, he was polling in first place in Iowa and in some na­tion­al polls. In the CNN/ORC na­tion­al poll of Re­pub­lic­ans re­leased Monday, Walk­er didn't even re­gister at 1 per­cent among Re­pub­lic­an voters" [National Journal]. And here's a helpful timeline.

Walker debacle, theory #1, Trump did it: "From the day Trump entered the race in mid-June, Walker struggled to find his footing in a race in which the "star" was no longer Jeb Bush — a relatively conventional opponent — but rather an entertainer who would say and do anything to draw attention: [WaPo].

Walker debacle, theory #2, Walker's campaign did it: " It was Walker who failed to communicate to the GOP electorate how he would serve as an effective executive in the White House" [Commentary]. FWIW, I think theories #1 and #2 are both/and, not either/or. And apparently, Walker was his own strategist; reasonable for Triple-A ball, perhaps, but not for The Show. What I noticed is that Walker started focusing on winger checklists and litmus tests — he's a preacher's kid, why not leave it to dog whistles? — and on media tests for being a "serious candidate." Why not relentlessly keep stomping Democrats, which was his claim to fame?

"Scott Walker's Jekyll and Hyde presidential campaign, in 2 videos" [WaPo]. Eesh, who kidnapped him?

"What It's Like To Close Up Shop" [Independent Journal Review]. Excellent portrait of a failing and flailing campaign from the staffer's perspective. "[T]he press office will issue a press release announcing a reorganization to improve the candidate's prospects and bring spending back into line. Then many, many people will get drunk."

Democratic debates: "The problem is that of the four debates that are actually scheduled, three come on weekends (as opposed to during weeknight prime time), one of them on the weekend between the end of Hanukkah and Christmas. The two remaining (as yet unscheduled) debates are in February or March, one on Univision and the other on PBS. Between those two and the one in January, there will be only three Dem debates in 2016, during the period in which Democrats will be voting in dozens of contests" [WaPo]. It's almost as if Democrats don't want to expose their front-runner to the rigors of the campaign trail….

"The emoji feature Mrs. Clinton in three different shades of pantsuit" [Wall Street Journal, "Hillary Clinton Emoji Headed to Cellphones"]. Nobody can say Clinton's staffers aren't competent and dedicated, even funny. Their problem is their candidate.

Biden, "America's Happy Warrior" [Talking Points Memo]. Eeeeeewww!

Fiorina: "Mrs. Fiorina, somewhat famously inside of Lucent, literally kissed the feet of [Nina Aversano, a senior executive at Lucent] on stage in front of hundreds of employees after a particularly good quarter" [New York Times]. Aversano was known for "aggressive sales tactics." For an example of what that bit of corporate-ese translates into, see Dollar Rent-a-Car under Corruption.

Fiorina: "Carly Fiorina's Defense Of Hewlett-Packard's Iran Dealings Has Some Big Holes" [Sam Stein, HuffPo]. "As for Fiorina's assertion that HP only discovered the Iran-related transactions three years after she left the company, that too seems unlikely. The company, after all, was known to use subsidiaries to circumvent sanctions law." Good detail.
Stats Watch
FHFA House Price Index, July 2015: "Home prices cooled late in the second quarter but began to pick up in July based on FHFA's house price index which rose a higher-than-expected 0.6 percent with the year-on-year rate at plus 5.8 percent" [Econoday]. "[T]oday's report should raise expectations for strength."
Richmond Fed Manufacturing Index, September 2015: "Early indications on the September factory sector are negative and now include a minus 5 headline from the Richmond Fed. New orders, unfortunately, are even more deeply in the negative column at minus 12 which points to even weaker activity in the months ahead" [Econoday].
"US SEC Puts Fund Liquidity Risk Management on Meeting Agenda" [Econoday].
"The Federal Reserve data release (Z.1 Flow of Funds) for 2Q2015 – which provides insight into the finances of the average household – shows a modest improvement in average household net worth. Our modeled "Joe Sixpack" – who owns a house and has a job, and essentially no other asset – is better off than he was last quarter." [Econintersect].
Revisiting "the scariest chart." " And guess what? The chart above clearly shows that the current period of 'recovery' is still the worst in terms of employment performance than any previous recovery on record. [Econintersect]. Crazy talk. This is the bestest recovery in the history of the world. Why does this guy hate Obama?
Fear and Greed Index, September 22, 2015: 30 (fear) [CNN]. Last I checked, we were in Extreme Fear territory.
Corruption
How Volkswagen's "defeat device" works; handy diagram. [Reuters]. So we have an entire IT department designing, coding, testing, and deploying an instrument of fraud in software. So I wonder which executives signed off on the project, and managed it? Did executives give the orders, and "good engineers" obey? Or were the engineers "working toward the CEO"? My thought on this is best conveyed in the form of an revised version of the Reuters diagram: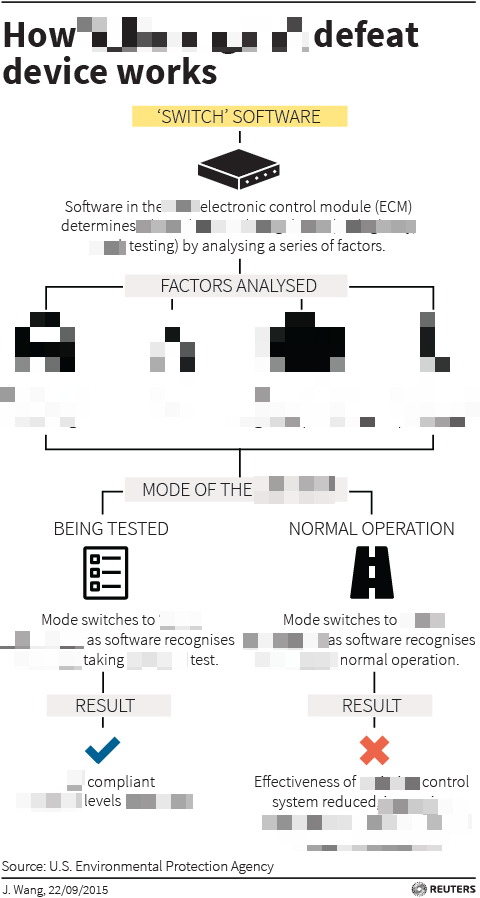 I've greyed out the auto-related text. You can see at once that a similar algorithm could be implemented in any product where compliance testing depends on software the manufacturer controls, and where the software can detect and game the compliance regimen. So, given the givens, the question isn't whether GM is doing what VW did, but how pervasive the practice is generally. Speculating freely: Boeing, with aircraft. Johnson & Johnson, with medical devices. And, of course, stress tests. Maybe that's why the word "Libor" keeps cropping up in coverage?
"VW CEO: 'Endlessly sorry' as emissions scandal escalates" [AP]. Any voluntary defenestrations yet? Chopped off little fingers? No? Because the emissions levels VW gamed are set so that people won't die from breathing VW's non-compliant diesel fumes (not to mention the effect on Gaia).
"Driven To Deceive: Life Behind The Counter At Dollar Rent A Car" [International Business Times]. Dollar Rent-a-Car's margins seem to come from upselling insurance, not renting cars; hence the entire operation is optimized for fraud. There's actually a playbook on how to fold envelopes so that the customer tosses the bill in the glove compartment and doesn't look at the total.
Trendon Shavers, 33, founder of Bitcoin Savings and Trust "pleaded guilty to defrauding people out of $4.5 million in what the U.S. said was a first-of-its-kind Ponzi scheme involving investments in the virtual currency bitcoin" [AP]. "At the peak of his scheme in 2011 and 2012, Shavers held about 7 percent of all bitcoins in circulation, prosecutors said."
Dear Old Blighty
"9 questions about David Cameron's #PigGate you were too embarrassed to ask" [Vox]. OK, OK. I know the story is single-sourced. I know there's no photograph (yet). And I know I'm allowing my sense of schadenfreude far too much free rein. But the fact that there's a Vox explainer on David Cameron face-f*cking a dead pig fills me with delight, with malign glee. I mean, Cameron's the guy that wants to chop up the NHS and feed bits of it to his posh friends. My gosh, what a year we're having! (Cf. The Onion; marginally NSFW).
"Why David Cameron's 'Pig-Gate' Scandal Isn't Going Away" [Time].
Polls show Britain doesn't care about #Piggate [Independent].
Lord Ashcroft, whose book broke #PigGate, probably believed British polls that showed the Tories would lose, and hence that he would be kicking Cameron when Cameron was down, rather than chewing the ankles of a sitting Prime Minister [New Statesman].
Health Care
"Funding DC Health Link" [Medium]. Would be a great project for #BlackLivesMatter…
Class Warfare
If you can't pay the electronic monitoring bill for your ankle bracelet, you get sent back to jail. [International Business Times]. Seems less an aberration, and more the limit case of life under neo-liberalism, to me.
"CEO who raised price of old HIV pill more than $700, calls journalist a 'moron' for asking why" [WaPo]. Indeed!
"US pharmaceutical company defends 5,000% price increase" [BBC]."'We needed to turn a profit on this drug,' Mr Shkreli told Bloomberg TV. 'The companies before us were actually giving it away almost." And there you have it…
News of the Wired
"Google broadens life sciences with mental health hire" [ZDNet]. The thought of Google executives making mental health decisions that affect billions…
"The campaign against sex robots is missing the point" [Daily Dot]. "Far from 'replacing' women or encouraging us to see them as objects, sex bots can provide a companion for people who are, for whatever reason, unable to participate in the same relationships as the rest of society." Us? Like the otaku that hole up in their rooms and never come out…
"The CIA Campaign to Steal Apple's Secrets" [The Intercept]. Months ago, but the same hack recently revealed (and IIRC, blamed on the ever-convenient Chinese).
"Protesters stormed the prosecutor's office of the southern Mexico state of Guerrero on Monday to protest the handling of the disappearance of 43 students, days before the case's first anniversary" [France24]. "A group of protesters entered the offices, breaking computers and surveillance cameras and causing damage to four vehicles." I should be following this story, which obviously isn't going away, more than I am.
* * *
Readers, feel free to contact me with (a) links, and even better (b) sources I should curate regularly, and (c) to find out how to send me images of plants. Vegetables are fine! Fungi are deemed to be honorary plants! See the previous Water Cooler (with plant) here. And here's today's plant (Pat):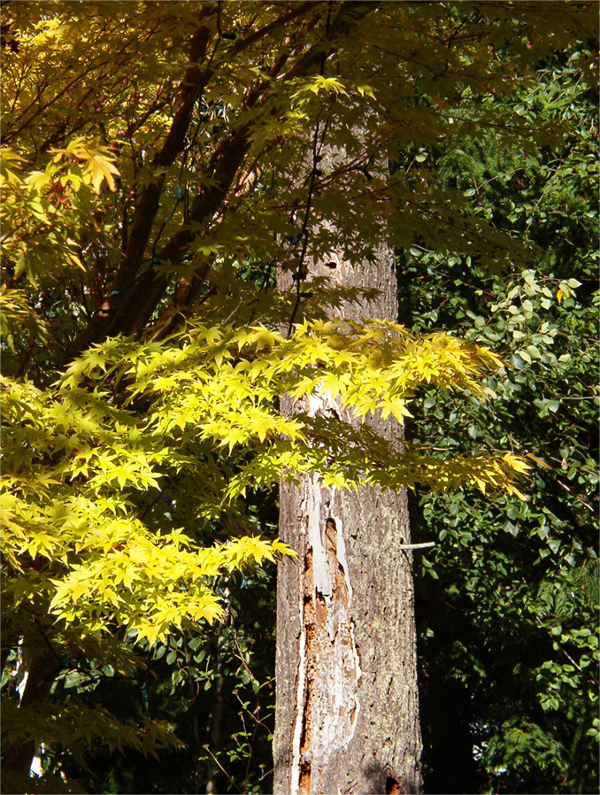 "First Fall Color"… I hate even to think that winter's white crow might be on the wing, but of course it is. So I'm putting up this early fall photo as a reminder to readers to think, when they see an especially beautiful tree…
If you enjoy Water Cooler, please consider tipping and click the hat. Winter is coming, I need to fix my laptop, and I need to keep my server up, too.