By Lambert Strether of Corrente.
TTP/TTIP/TISA
Like a bad penny….
"The United States has called ministers from the 12 nations negotiating [the TPP] for a meeting Sept. 30 to Oct. 1 in a bid to finish the pact" [Reuters].
"It had been thought that an agreement would be impossible once the Hawaii talks broke up, because of the start of the US election season and an election in Canada. US President Barack Obama is keen to land the deal before he leaves office in January 2017" [Sidney Morning Herald]. That's what worries me; obviously the powers-that-be decided to go into stealth mode, and it's doubtful this hasty meeting would have been called without "good progress." Whatever that means. Even the fig leaf of an "agreement in principle" is bad news, so far as I'm concerned. Good news would be the whole thing breaking down in acrimony. And I had no idea that the USTR has a Chief Transparency Officer. Given that the text of the deal is secret and kept in a locked and guarded room, "Chief Transparency Officer" breaks the Orwell Barrier, passing through into some sort of trans-Orwellian state hitherto unknown to science.
"Trade agreements—done right—are not a panacea, but a necessary part of a larger economic strategy. TPP will build and improve upon past agreements, based on our experience over the last 30 years" [Michael Froman, Democracy Journal]. Incidentally, if you think about the editorial lead time to prepare an exchange like that between Froman and Bernstein (below), you'll see at once that Maui was only a battle, and that the elites really do see dismantling American sovereignty as a war to be won, a long one.
"There's an unfortunate information asymmetry here, as well as a fundamental tension in Froman's piece: We've got the lead negotiator from the major economy in the deal telling readers what's in it. If he can do that, why can't we see it then" [Jared Bernstein, Democracy Journal].
"If ministers reach a deal in Atlanta, Congress wouldn't be able to bring the TPP to an up-or-down vote until at least early 2016, given built-in delays in the "fast track" legislation passed this summer" [Wall Street Journal, "U.S., Pacific Partners Seek to Conclude Trade Pact in Atlanta"].
"Trump signaled that he might be headed in a very different direction on the TPP soon enough. After his terrific and wonderful rally outside the Capitol the other day, Trump met with Senator Jeff Sessions, and both men enthusiastically recounted that they had had a good conversation about immigration and …. trade. Said Trump: "The meeting was great!'" [WaPo]. Since Sessions understands, and has documented, how TPP surrenders our national sovereignty through the "Living Agreement" clause. Like it or not, that issue will resonate with the nativist portion of the Republican base. "I don't care if a cat is white or black so long as it catches mice" (?).
Prime Minister Shinzo Abe: "I hope the next ministerial meeting will be the last one" [Japan Times]. So do I! "Failure to reach agreement at the meeting of ministers would leave little room for negotiations to be concluded anytime soon because of the political schedules in some countries involved, chief negotiator Koji Tsuruoka told reporters Friday before his departure for Atlanta."
Auto: "Canada's Trade Minister Ed Fast is heading to Atlanta to join a pivotal round of talks that could yield a massive Pacific Rim trade deal – even though Japan has so far refused to give ground on rules in the proposed accord that could hurt Canada's auto sector" [Globe and Mail]. "A successful conclusion to the talks, of course, could be a political boon for the Tories." Of course.
Auto: "Stephen Harper was under fire Friday for a debate remark the previous evening in which he predicted the auto sector may not like the outcome of the Trans-Pacific Partnership talks" [HuffPo].
Auto: "Officials close to the negotiations said on Wednesday that two days of talks on the threshold for local content in auto trade between the United States, Canada, Japan and Mexico had made progress, and they aimed to reach a final deal next week" [ABC Australia].
Dairy: "'The Canadians are negotiating as if there's no election,' [New Zealand Trade Minister Tim Groser] said in an interview with the New Zealand Herald, published Wednesday. 'Everyone is really trying'" [iPolitics]. However: "'Basically, the situation is that I and my negotiators can see a very good deal for New Zealand in everything except dairy and I don't know to characterize the deal there because it's not a deal we could accept,' he told the Herald."
Dairy: "Japan and other nations need to open their dairy markets further to hammer out a Trans-Pacific Partnership free trade deal that is acceptable to Congress, Tom Suber, president of the U.S. Dairy Export Council, suggested" [Japan Times].
"The motor industry has been accused of withholding a report that reveals US cars are substantially less safe than European vehicles – for fear that the findings would hamper the drive to harmonise safety standards as part of the controversial Transatlantic Trade and Investment Partnership (TTIP) deal" [Independent].
2016
Policy
"what makes Francis different is really a matter of which Catholic beliefs he has elevated to the level of communal concerns—public policy—and which he has framed as individual choices. To Francis, sharing wealth and fixing global warming are matters that governments should address, while not committing homosexual acts or having abortions are individual choices he endorses. (As he famously put it: "Who am I to judge?") This is quite different from the American Catholic church, which has poured its political energy into laws banning gay marriage and restricting abortion" [The Atlantic].
The Trail
Fiorina at H-P: "'Undoubtedly some shake-up was necessary,' said Carmel Mayor Jason Burnett, 39, a grandson of Dave Packard and a trustee of the Packard Foundation. 'But she didn't take time to understand what was of value to HP and ended up destroying much of what made the company great over many decades'" [Los Angeles Times(DM)]. "Fiorina's mangled account of a Planned Parenthood sting video during the debate has raised questions about her faithfulness to the truth. The charge is familiar to people who worked with her at HP." The knives come out in Silicon Valley. This will be the first of many such stories.

The Mittster: "Scott Spradling, a former journalist now with the Spradling Group, says he fielded an automated call that inquired about preference in the Republican primary, then later explores support for Romney, if the former Massachusetts governor were to get into the race. Spradling, an independent, didn't recall the name of the group behind the call" [Manchester Union-Leader]. "Romney is not running. A former Romney adviser tells us, 'It's the dream that never dies.'"

The debates: "Nobody else gained or lost more than 2 percentage points. Debates matter, except when they don't. And in the case of this debate, most candidates' polling was unaffected" [FiveThirtyEight].

CNN/WMUR poll, New Hampshire (Trump): Trump leads with 26%, then Fiorina at 16%, Rubio at 9%, Carson at 8% and Jebbie at 7% [WMUR] 40% expect Trump to win New Hamphshire; 27% expect him to win the national race.

"[Megyn] Kelly used a fresh round of polls to make the case that Trump is on the decline, even though the businessman still maintains a significant lead, using language that sounded like it was written expressly to get under his skin" [WaPo]. "Never pick a fight with someone who buys ink by the barrel."

Walker debacle: "'The body wasn't even cold yet and Rubio's New Hampshire staff was picking off dazed Walker supporters,' says one New Hampshire Republican" [Politico]. Thrift, thrift…

Walker debacle: "[Walker] had a genuinely impressive electability record in his favor, having been elected three times in four years (including a recall election) in a blue-leaning swing state, Wisconsin" [FiveThirtyEight]."Walker was caught in something of the same vicious cycle as Hillary Clinton. There were some genuine but not obviously mission-critical problems with his campaign; there were some poor polling numbers; and there was increasingly negative media coverage. All of these tended to feed back upon and accentuate one another, making his situation worse. Unlike Clinton, however, who (probably) has the resources to pull herself out of the spiral — and who benefits from the lack of competition on the Democratic side — Walker won't get a second chance to make a first impression."

Clinton mail saga zzzzzz [New York Times, "Hillary Clinton Email Inquiry Weighs if Aides Erred at 'Send'"]. So far as I can tell, this is another story where the author goes into the woods to find a bird, and after many, many words, does not.

Clinton mail saga, this time with an actual lead: "Hillary Clinton's campaign and the State Department have provided incomplete and misleading accounts of when and why the department requested copies of work-related emails that she maintained on a private server" [USA Today].

TheDes Moines Register asked Clinton about the Post story and the discrepancy between her account and the revised department version offered by Kirby. "I don't know that. I can't answer that," Clinton told the Register. "All I know is that they sent the same letter to everybody. That's my understanding."

We leave it to readers to decide the importance of this discrepancy.

The fact is, though, Clinton and her campaign — with the initial help of the State Department — provided an incomplete and misleading account when asked a fundamental question about the email controversy.

The paper dropped in front of every hotel room in America. That said, although "I don't know that. I can't answer that" is obviously a terrible answer, USA Today is unable to explain why the discrepancy is important, which has been the whole problem with this ginormous email/ZOMG Benghazi!!!!! hairball all along. Why can't people just say its wrong for a public official to privatize their server, because then citizens have no way to hold them to account?

CNN/WMUR poll, New Hampshire (Clinton): "Hillary Clinton trails Vermont Sen. Bernie Sanders in the race for the Democratic nomination for president in New Hampshire, even if Vice President Joe Biden decides not to make a run for the White House" [CNN].
The Hill
"Speaker John A. Boehner, under intense pressure from conservatives in his party, announced on Friday that he would resign one of the most powerful positions in government and give up his House seat at the end of October, as Congress moved to avert a government shutdown" over Planned Parenthood [New York Times]. "Mr. Boehner's announcement lessened the chance of a government shutdown next week, because Republican leaders will push for a short-term funding measure to keep the government operating and the speaker will no longer be deterred by those who threatened his job." Check this article for the Dent quotes, too!
"Now that John Boehner is forfeiting the House speakership, it looks like there won't be a government shutdown — at least not yet" [WaPo]. "But the temporary stand-down doesn't mean the larger [government shutdown] crisis is over. The spending bill will likely keep the government funded through Dec. 11, but at that point, the whole battle could replay itself. Conservatives are already pressing for a new speaker who is more responsive to their demands. While the fight over Planned Parenthood is the most public between Boehner and the right-wing of his party, many conservatives are also still angry that Boehner would consider negotiating with Democrats to add spending increases to the budget." Rule or ruin in all events. But since Democrats have spent most of the last two decades trying to become Republicans, and in any case accept the same neo-liberal tenets — RomneyCare morphing into ObamaCare is the obvious example — they really have nothing to say, and no appeal to make.
Stats Watch
GDP, Q2 2015: "Personal spending was stronger than thought in the second quarter, helping to drive real GDP to a very solid 3.9 percent annualized rate. Boosted by the consumer, final sales also rose 3.9 percent for a 4 tenths upward revision" [Econoday].
"But businesses also contributed to the quarter's growth as nonresidential fixed investment, driven by structures, is revised 9 tenths higher to 4.1 percent. Another plus in the report is a downward revision to inventory growth. The outlook for the third quarter, however, is so far subdued." But: "The latest number puts us 14.4% below trend, the largest negative spread in the history of this series" [Econintersect]. IOW, the output gap.
Corporate Profits, Q2 2015: "Corporate profits in the second quarter came in at a revised $1.845 trillion, up a year-on-year 8.5 percent" [Econoday].
PMI Services Flash, September 2015: "slowed but only slightly" [Econoday]. "New orders, however, did slow for a second month and are at their lowest growth rate since January. With new orders lacking, service providers worked down backlogs for the third time in the last four months. The report continues to describe hiring as "robust", at least in comparison to the recovery average."
Consumer Sentiment, September 2015: "[P]opped up as expected from stock-market depression at mid-month" to 87.2 [Econoday]. "[V]ery soft but still a relief of sorts, suggesting that the worst effects of the recent market turmoil may have passed, at least assuming markets stabilize." And: "During non-recessionary years the average is 87.5. The average during the five recessions is 69.3. So the latest sentiment number puts us 17.9 points above the average recession mindset and 0.3 points below the non-recession average" [Econintersect].
Rail traffic: "Week 37 of 2015 shows same week total rail traffic (from same week one year ago) declined according to the Association of American Railroads (AAR) traffic data. Intermodal traffic insignificantly expanded year-over-year, which accounts for approximately half of movements. but weekly railcar counts continued in contraction. This cannot be a positive data point for the USA economically" [Econintersect].
"Restaurateurs told MNI that their latest receipts show more consumers are dining away from home, and more frequently, even if their average check size is mostly stable. They anticipate continued sales growth. Indeed, many restaurant operators are now confident enough in their business trajectories to make long-delayed capital investments" [Market News].
The Fed: "Again, we can debate the merits of raising rates vs not raising them. However, the FED is in the business of making sure we don't have another global crisis. So, if jawboning the market to believe you're still in control of the situation is necessary, than expect them to do that" [Across the Curve].
"We find that output gaps close importa ntly through downward revisions to potential output rather than through rapi d post-recession growth. The revi sions are made slowly (over years) – a process that leads to an initial underestimati on of the effect of recessions on potential output and a corresponding under-p rediction of inflation (PDF) [Federal Reserve Board]. In other words, they jigger the numbers to make the gap go away?
Canada
"While all three major parties in the Canadian election race say that they support projects getting landlocked Alberta crude to tidewater, major differences exist in which projects they would support" [Market News].
Black Injustice Tipping Point
"By the turn of the 19th century, the black chef was such a symbol of culinary excellence that a number of food products were sold with the image of a stereotypical black cook or domestic to assure authenticity" [First We Feast]. For example, James Hemings, brother of Sally.
Police State Watch
"The Fifth Amendment right against compelled self-incrimination would be breached if two insider trading suspects were forced to turn over the passcodes of their locked mobile phones to the Securities and Exchange Commission, a federal judge ruled Wednesday" [Ars Technica].
Class Warfare
"The Life of a Professional Guinea Pig" [The Atlantic]. Nice work if you can get it…
Larger cities tend to have more wage inequality (with handy map) [Conversable Economist].
News of the Wired
"Over the last 15 years Greek wine has seen an enological renaissance that recalls the parallel ones of southern Italy and Spain" [Culinary Backstreets (DG)]. "Dionysus Returns," and high time, too!
"New Horizons: Pluto displays rippling terrain" [BBC].
"The History of Philosophy, from 600 B.C.E. to 1935, Visualized in Two Massive, 44-Foot High Diagrams" [Open Culture].
"Why the Human Brain Project Went Wrong–and How to Fix It" [Scientific American]. We'll need to look at the Pleistocene Epoch in its entirety, I would imagine…
"Hong Kong police will be out in force as Occupy Central supporters mark anniversary of protests that rocked city" [South China Morning Post].
* * *
Readers, feel free to contact me with (a) links, and even better (b) sources I should curate regularly, and (c) to find out how to send me images of plants. Vegetables are fine! Fungi are deemed to be honorary plants! See the previous Water Cooler (with plant) here. And here's today's plant (Dan):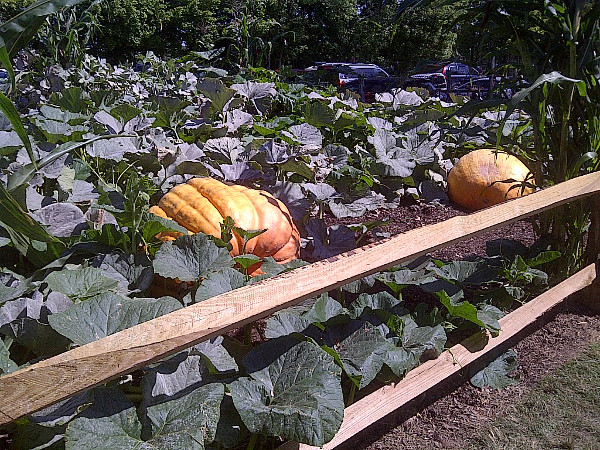 It's a pumpkin patch at the Goshen, CT Ag Fair, Labor Day weekend. I'm going to miss Maine's Common Ground Fair, unfortunately…
If you enjoy Water Cooler, please consider tipping and click the hat. Winter is coming, I need to fix my laptop, and I need to keep my server up, too.