By Lambert Strether of Corrente.
2016
Policy
"Kareem Abdul-Jabbar Speaks Out Against Ben Carson's Anti-Muslim Comments" [HuffPo]. Sensible as usual. I wish he'd run. Arnold did.
Money
U.S. Billionaires Political Power Index [CFR]. 2014, but still useful and with a handy chart to put on your fridge, if you have a fridge.

"Democratic fundraisers are urging Hillary Clinton to make Bill Clinton a bigger part of her presidential campaign, particularly when it comes to fundraising" [The Hill]. "Since the start of the campaign in April, there has been very little, if any, interaction in person with either Clinton, particularly for Obama's biggest fundraisers, they say." Odd. Is there a context where Clinton isn't wrapped in tissue paper?
The Trail
"The thing is, they're both right: Fiorina and Trump both have incredibly spotty records as business executives" [Quartz].

Sanders at DNC: "'We are defeating in one-to-one match-ups a number of Republicans, and that's with a lot of people not knowing who I am,' said Sanders, as he explained the new math of 2016. 'If the question is, Can we defeat the Republicans? I think the answer is that, yes, we can'" [The Nation]. Sly reference to Obama!

"Sanders' rise is also a knock on Obama's tenure. As Arizona Rep. Raul Grijalva noted recently, Sanders has "ignited the base in a way that we haven't been able to do for six years." If this is true, then one has to ask, what exactly has Obama been doing all of these years?"[US News].

"The new Quinnipiac poll poll finds Hillary Clinton with 43 percent of Dems and Dem-leaning independents nationally; Bernie Sanders has 25 percent; Joe Biden has 18. Remove Biden and Clinton leads Sanders by 53-30" [WaPo]. But Clinton's numbers among Americans overall are upside down on favorability (41-55); on honesty and trustworthiness (32-63); and on caring about people like you (43-53). Yet they say by 55-43 that Clinton has strong leadership qualities." Is it so very odd that, these days, people identify lying, cheating, and — let's be honest — sociopathy as leadership qualities?

Walker debacle, from campaign manager Rick Wiley: "It takes a lot to build a campaign to run for president, especially around someone who is introduced to a new set of issues. Foreign policy — brand new. And just the dynamics of the federal issues are different, obviously. I mean, my God, this guy is a machine — I mean he really, truly is. But that takes staff, it takes time to do that. And we built the campaign that we needed to get him ready" "Walker had a Walker problem: He just wasn't ready for the national stage. It was often overlooked that just five years ago, he was the Milwaukee County executive" [Politico]. Summary: "Walker had a Walker problem: He just wasn't ready for the national stage. It was often overlooked that just five years ago, he was the Milwaukee County executive."
Stats Watch
Durable Goods Orders, August 2015: "Total shipments were flat in the month but follow solid gains in July and June. Core capital goods shipments, like orders, slipped 0.2 percent but also follow prior gains" [Econoday]. "Weakness in exports is the balancing factor tipping the factory sector away from growth." And: "This series has been in a general downtrend since seen since November 2014. The three month rolling average improved this month but remains in contraction" [Econoday].
Jobless Claims, week of September 9. 2016: "Initial jobless claims continue to hold at near record lows" [Econoday].
Chicago Fed National Activity Index, August 2015: "August was a weak month for the economy, based on the national activity index which came in at minus 0.41" [Econoday]. "This whole recovery has been softer than usual and indications of any pickup remain elusive." Crazy talk. This is the best recovery in all recorded history.
Bloomberg Consumer Comfort Index, week of September 20, 2015: "Confidence came back in the September 20 week with the consumer comfort index rising a very sharp 1.7 points to 41.9. Losses in the stock market had been depressing the index in recent weeks as well as other confidence readings" [Econoday]. "Today's gain hints at strength for tomorrow's very closely watched consumer sentiment report."
New Home Sales, August 2015: "This is the highest rate since February 2008. Adding to the momentum is a 15,000 upward revision to July. In especially welcome news for builders, the sales strength pulled supply relative to sales even lower" [Econoday]. "Because of a small sample, new home sales can be very volatile month-to-month." And: "The rolling averages smooth out much of the uneven data produced in this series – and this month there was an significant acceleration in the rolling averages" [Econoday].
Kansas City Fed Manufacturing Index, September 2015: "At an index of minus 8, contraction continues apace in the Kansas City manufacturing sector which reports export weakness tied to the strong dollar and energy-sector weakness tied to low commodity prices" [Econoday]. "Manufacturing was basically flat in August, as evidenced by this morning's durable goods report. And the early indications on September, including the Kansas City report, are all pointing to increasing weakness."
The Fed: "There is, however, a catch-22 with any attempt to use the FCI [Financial Conditions Index] as a guide to setting monetary policy. Eventually, if the Fed really does want to tighten policy, it will have to follow through with its threat, or else the markets will undo the rise in the FCI as they realise that the Fed is bluffing. This is a game of chicken, a game with no unique equilibrium" [Gavyn Davies, Financial Times, "Financial conditions and a catch-22 for the Fed"]. "Until the majority on the FOMC starts paying more attention to the large tightening in the FCI, the economy may weaken further. That is what the markets are worried about."
"Sales of the big rigs that move the U.S. economy are solidly strong heading into the fall, according to dealers and manufacturers of heavy-duty trucks" [Market News]. " Most purchases are still replacement vehicles, [Daimler's Diane] Hames said. Capacity utilization is high, suggesting growing truck demand going forward, she said, but noted the fleet-limiting potential of the deepening truck driver shortage." If only there were some way to lure more workers into the field!
"The Chemical Activity Barometer (CAB), dropped 0.4 percent in September, following a revised 0.2 percent decline in August. The pattern shows a marked deceleration, even reversal, over second quarter activity. It is unlikely that growth will pick up through early 2016" [Econintersect].
"Caterpillar Inc. said it would slash thousands of jobs and cut manufacturing space by 10%, as it expects weakening demand from resource and construction companies will continue" [Wall Street Journal, "Caterpillar Cuts Jobs, Revenue Outlook"]. "The announcement, which sent Caterpillar shares tumbling, underscores the depth of the downturn in the mining and energy sectors after years of rocketing demand for its excavators, mining trucks, wheel loaders and industrial engines."
Black Injustice Tipping Point
"America's racial divides are so deep, we can't even agree what the Civil War was about" [WaPo].
The differences in the share of white, black and Latino Americans who said correctly — and yes, we are coming down on the side of the facts here — that the Civil War was fought mainly over slavery were, when compared to other issues in the poll, relatively small. While blacks said 54 to 32 that it was about slavery, whites were about evenly split on whether it was about slavery or states' rights.
C'mon, let's be fair. If you define "liberty" as the freedom to buy black people, as many Confederates did, then the Civil War was totally about states' rights…. (Which gives me a chance to mention the Civil War Podcast; episode #23 ("Secession Fever") covers this, extensively quoting the case for secession as made to Confederate state legislatures, and accepted by them).
Police State
"Since the peak of Occupy Wall Street in the fall of 2011, New York activists have become familiar with Deputy Inspector Andrew J. Lombardo. He's referenced in numerous tweets, YouTube videos, and news reports. His tactics of seemingly arbitrary arrests, intense questioning, and what some have described as "mind games" have been documented by activists and First Amendment organizations for years" [Gothamist]. And now the awesome part: "What isn't known is that before he rose to be one of the NYPD's most prominent point men on NYC protests, Lombardo, or "The Lombardo" as many activists not-so-lovingly call him, was a prison guard at the infamous Abu Ghraib prison in Iraq for the 800th MP Battalion during the time of the prisoner torture scandal." Hardly surprising, when you think about it; we encourage ex-military to join the police; we arm them heavily; and we give them impunity. That cops act like an occupying army is hardly surprising, then, even before you get to law enforcement for profit.
"Delaware Police Shoot and Kill Man in Wheelchair" [Time]. I'm starting to expect we'll see a story about how some victim of a cop shooting was stuffed and mounted.
"With cops controlling the cameras, and often writing the rules surrounding their use, anti-brutality activists fear that body-worn cameras will distract from meaningful reforms, expand surveillance, and exacerbate mass incarceration" [The Nation].
Corruption
"In a case the Los Angeles district attorney's office is calling one of the largest insurance scams in the state, an orthopedic surgeon is accused of deceiving patients into having surgery at the hands of an unqualified assistant and undergoing procedures they didn't need" [Reveal]. $150 million. Pikers.
Gaia
"Accelerated modern human–induced species losses: Entering the sixth mass extinction" [Science]. "These estimates reveal an exceptionally rapid loss of biodiversity over the last few centuries, indicating that a sixth mass extinction is already under way. Averting a dramatic decay of biodiversity and the subsequent loss of ecosystem services is still possible through intensified conservation efforts, but that window of opportunity is rapidly closing."
"The UK, France and Germany have been accused of hypocrisy for lobbying behind the scenes to keep outmoded car tests for carbon emissions, but later publicly calling for a European investigation into Volkswagen's rigging of car air pollution tests" [Guardian]. "Leaked documents seen by the Guardian show the three countries lobbied the European commission to keep loopholes in car tests that would increase real world carbon dioxide emissions by 14% above those claimed."
"The U.S. Doesn't Have Enough Of The Vegetables We're Supposed To Eat" [NPR]. "And while the USDA's own dietary guidelines recommend that adults consume 2.5 to 3 cups of vegetables a day, the agency's researchers found that only 1.7 cups per person are available." There are programs to "nudge" kids into eating more vegetables, and they seem to work, but gee, could we give consideration to the idea that Big Food's marketing programs could have something to do with this?
Guillotine Watch
"['Post-hardcore' band] Sick Feeling has also shared a comment. 'We have been dismayed as details continue to trickle in about the business life of Collect Records silent investor Martin Shkreli,' the band told FADER over email. 'One thing is clear; as long as he has a part in the label, we, Sick Feeling, cannot. Our experience with Geoff, Norm, and Shaun has been nothing but positive, however, we cannot continue to work with Collect as long as Martin Shkreli has any part in it'" [Fader]. Good for them.
Class Warfare
"On-demand food delivery services GrubHub, DoorDash and Caviar were slapped with lawsuits Wednesday alleging that they misclassified their delivery drivers as independent contractors" [Chicago Tribune]. "Worker classification has been a hot button topic in the on-demand economy, with entire business models and company valuations at risk of being shaken by lawsuits such as the ones filed against GrubHub and Uber." ☞ Realize what that means: Billions of dollars of stupid money seeking return, encouraged by QE, sloshed into "sharing economy" companies whose business models demand (a) breaking the law and (b) screwing workers. It would be hard to find a clearer example of how both valuations and wages are set in the so-called "free market": Raw power relations, nothing else.
City of Philadelphia, for the Pope's visit, shuts out all the local food carts and gives the contract to scandal-plagued prison food vendor Aramark [Eschaton]. And, since Center City is shut down, it's no revenue at all for the food carts over the weekend at all. Screw you, little guy! (I'd file this under corruption because Philly, since Aramark's headquarters are in Philly, but I've got no evidence. Readers?
News of the Wired
"Apple warning lists top 25 apps infected in massive App Store malware attack" [Apple]. I would have thought, that since all apps go through the (ugly, hard to use) Apple Store, that Apple would be able to exercise quality assurance over all apps. So, caveat emptor after the top 25?
"Yet another pre-installed spyware app discovered on Lenovo computers" [Boing Boing]. "I'm a Lenovo Thinkpad user and none of this affects me because I throw away the hard drives that come with my laptops and install Ubuntu GNU/Linux on new SSD hard-drives."
"State College of Florida board eliminates tenure for faculty" [Bradenton Herald]. First, they came for the adjuncts…
Happy belated birthday to John Coltrane:
UPDATE: Readers, it occurred to me, as I added material about a possible sixth mass extinction, that grimness may need more relief than humor; too much oscuro, not enough chiar, makes for a poor (though perhaps profitable) worldly representation, unless you're a Rembrandt. After all, the life of an annual plant could be said to be grim, and yet they still seek the sun, even now.
So I'm wondering — though I loathe happy talk, zombie-like sites like Upworthy with every fibre of my Yankee, "Winter is Coming" being — if readers can suggest some positive sites for me to check regularly?
By "positive" I mean showing people working together, in creative, novel ways, on projects that are actuated by motives other than greed, fear, or waged labor (but nothing electoral, religions, or foundation-driven). Could be artists, could be organizers, could be DIYers, could be horticulturalists, could be open source programmers. You can suggest in comments, or use the contact form below. Thank you!
* * *
Readers, feel free to contact me with (a) links, and even better (b) sources I should curate regularly, and (c) to find out how to send me images of plants. Vegetables are fine! Fungi are deemed to be honorary plants! See the previous Water Cooler (with plant) here. And here's today's plant (Walt):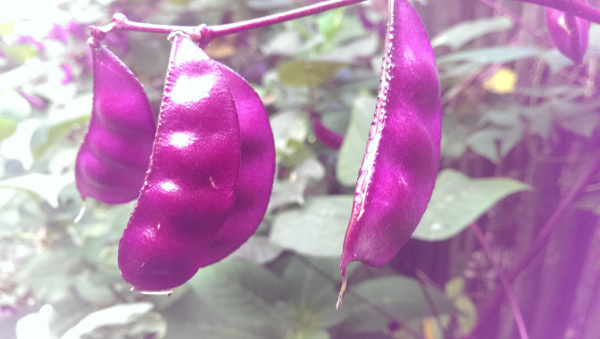 From West Virginia, Walt sends these ornamental sweet peas his wife grew.
If you enjoy Water Cooler, please consider tipping and click the hat. Winter is coming, I need to fix my laptop, and I need to keep my server up, too.