By Lambert Strether of Corrente.
TPP/TTIP/TiSA
TPP has entered the frantic, sausage-making phase. The situation very dynamic, and there will be leaks after Water Cooler closes at 2:00PM. So while I've tried to summarize the state of play, things will certainly change, and hourly. Here again is The Hill's whip list; please be sure to scroll down for updates. Give your Congress Critter a call!
UPDATE Alert reader Kim Kaufman supplies a more recent whip list.
UPDATE On the sausage-making, I should just turn the mic over to Gaius Publius (past m deadline, alas) [Down With Tyranny]. Search the page on "Why Is the Vote So Close? The Medicare Poison Pill" for the legislation and "Where We Stand" for current status.
UPDATE Here's the text of Senator Jeff Sessions' letter to Obama on the "Living Agreement" clause in TPP [Jeff Sessions]. Sessions went to the secret room and did some reading. This is the result:
I asked that you make public the section of the TPP that creates a new transnational governance structure known as . The details of this new governance commission are extremely broad and have the hallmarks of a nascent European Union, with many similarities.

Under this new commission, the Sultan of Brunei would have an equal vote to that of the United States.

The implications of this new Pacific Union are extraordinary and ought to be discussed in full, in public, before Congress even contemplates fast-tracking its creation and pre-surrendering its power to apply the constitutional two-thirds treaty vote. In effect, to adopt fast-track is to agree to remove the constitutional protections against the creation of global governance structures before those structures are even made public.

I would therefore ask that you provide to me the legal and constitutional basis for keeping this information from the public and explain why I cannot share the details of what I have read with the American people.
When you call your Representative, and they're a Republican, mention this letter. Yes, I'm amazed I'm quoting Jeff Sessions, but the White House hasn't said anything about this, nor have the usual Democratic stooges (and the jokes about "black helicopters" write themselves, so that would not be hard to do). That to me means not only is what Sessions is saying true, the truth is so toxic they're afraid even to try to distort it. And given what we know about the Obama administration, that's amazing too.
Sausage-making as of June 9 [Cato].
Ultimately, the packaging of TPA and TAA in the Trade Act has created some hurdles for House consideration of the bill. Since most House Republicans support TPA but not TAA, and since most House Democrats support TAA but not TPA, leadership is considering a parliamentary procedure known as "dividing the question," which would allow members to vote on each title (TPA and TAA) separately. The hope and expectation is that both titles would get enough votes for passage (TPA from most Republicans and some Democrats; TAA from most Democrats and some Republicans) without members being on the record supporting legislation they oppose. This would also avoid the need to have a conference committee reconcile differences between the Senate and House versions of the bill, which would subject the Trade Act oto another controversial vote.
More problematic, logistically, is that the Senate TPA bill includes a provision that would deny fast-track consideration of trade agreements between the United States and countries identified as "Tier 3" countries under the Trafficking Victims Protections Act.10 The provision would seem to imperil the TPP, as Malaysia—a TPP party—is currently classified as a Tier 3 country. Although Senator Robert Menendez (D-NJ), who offered the amendment creating this provision, later sought to modify the language by providing for exemptions in cases where the Secretary of State confirms that the Tier 3 country "has taken concrete actions to implement the principal recommendations in the most recent annual report on trafficking in persons," the changes never made it into the final bill. To save TPP from fast-track disqualification, then, the trafficking language must be amended somehow.

This problem raises the profile of the Customs Reauthorization bill, which would reauthorize various operations of U.S. Customs and Border Protection and create new rules for enforcing U.S. trade laws.
So will the Customs Reauthorization bill not only solve Obama's pro-slavery problem, but become a Christmas tree bill?
Sausage-making as of June 11 [The Hill]. "High drama as trade vote nears"
The unpredictability of the Republican conference is adding to the drama. During Boehner's reign as Speaker, Republicans have lost some votes on the floor and had to pull legislation at the last minute on several occasions.

With less than 25 Democrats expected to back fast-track, Boehner might need close to 200 members of his conference to support the legislation.Pelosi said she hoped lawmakers would vote on both bills on their own merits but acknowledged the opportunity exists to take down the entire package by voting against TAA.

She also said Democrats still have "one concern" left regarding the bill.

The TAA program does not cover public-sector union members, whom Pelosi said had been covered in legislation proposed, but not approved, by the House in 2009.

More broadly, Pelosi complained that Democrats have been unable to push amendments to alter the trade bills, even as Republicans have included a host of provisions to address concerns of conservative lawmakers.

Granting GOP concessions to please members while blocking Democratic amendments was "making it harder for Democrats to support the bill," she said.

Boehner dismissed the latest TAA argument as a "red herring," giving no indication he was interested in addressing it.
Pelosi's role [Politico]:
Pelosi's involvement here is key, because Republicans cannot pass TAA without significant Democratic support. Pelosi is likely to vote for TAA, according to sources. She met Wednesday with White House chief of staff Denis McDonough, Labor Secretary Tom Perez, U.S. Trade Representative Michael Froman and National Economic Council Director Jeff Zients on Wednesday afternoon to discuss some of these issues.
Although she will announce her views on the floor Friday.
Wikileaks publishes TOO health care section [Firedoglake].
"The president's Trade in Services Act (TiSA) documents, which is one of the three different close-to-completely-negotiated deals that would be fast-tracked making up the president's trade agreement, show Obamatrade in fact unilaterally alters current U.S. immigration law… In 2003, the Senate unanimously passed a resolution that said no immigration provision should be in trade agreements – and in fact, former Sen. Hillary Rodham Clinton (D-NY) voted for this resolution. The existence of these 10 pages is in clear violation of that earlier unanimous decision, and also in violation of the statements made by the U.S. Trade Representative [Breitbart] (I hate to quote Brietbart, but needs must…) Well, that should stomp on some Republican hot buttons, so they're moving to block that. 
"Paul Ryan adds amendment to trade bill to block climate deals" (at Sensenbrenner's request) [National Journal]. Another sweetener for Republicans.
"So now, a so-called "fix" would repeal the Medicare cuts in a separate bill. That still forces Democrats to vote for a bill that has Medicare cuts in it, even as they vote separately to erase them" [Our Future]. And some Democrats object because there's no guarantee the separate bill would pass.
2016
Sanders
"Sanders, who is seeking the Democratic presidential nomination, is offering an amendment to the National Defense Authorization Act (NDAA) that would require that lawmakers offset spending in the Overseas Contingency Operations (OCO) fund by raising new revenues" [The Hill]. Except Federal taxes don't fund Federal spending, so it's a gesture.

"First Daily Kos Democratic Primary Straw Poll" [Daily Kos].

"Martin O'Malley 2%
Bernie Sanders 68%
Hillary Clinton 25%
Other 1%
No Freakin' Clue 2%

Sensing a little division between management and the troops over there at Great Orange Satan.
The S.S. Clinton
"[A]mong the Clinton Foundation's 200,000 donors was the Fédération Internationale de Football Association—FIFA—whose leadership was largely carted away by police in Switzerland" [Non-Profit Quarterly]. Lot of issues with slave labor on that soccer stadium Qatar is building. So it looks like Obama has problems with slavery on TPP, and the Clintons have potential problems with slavery at their ginormous influence peddling scheme Foundation. Three points determine a plane, so one more example and the party looks bad, not just Presidents, candidates, and former Presidents.

"[S]ome blacks are disillusioned that Obama's election hasn't noticeably improved their lives. They are also skeptical of Hillary Clinton's 2016 candidacy" [WaPo]. Regenia Motley, 23, a grocery store clerk: "We made history, but I don't see change." Well, Fukuyama did prophesy "the end of history," but perhaps history is not evenly distributed.

"Instead, some on Wall Street think powerful populist pitches from O'Malley and Sanders coupled with the heavy influence of noncandidate Elizabeth Warren could force Clinton to come out harder on issues including breaking up the nation's largest banks" [Politico]. Or indulge in kayfabe. Not sure how Clinton gets skin in the game. How about getting Soros to sue some backs for accounting control fraud, when they've got the voting rights work underway?

The Hill: "Support for same-sex marriage, debt-free college, campaign finance reform and more access to early voting may be appealing to her base, but they aren't the most urgent issues. She should find the guts to confront them soon if she really wants to be president" [The Hill]. Yep.

"[O]n the issues that most divide the Democratic base from its centrist wing, she refuses to box herself into a position. She'd rather wait to see how things play out" [Vox]. With a list of those issues, among them TPP.
Republican Establishment
"It's June, for crying out loud, months after Bush started running and should have had things sorted out" [WaPo]. Yep. Dynasties need to do the basic blocking and tackling to stay dynastic.
Republican Principled Insurgents
"If Rubio wants a boat, he can buy a boat." But if Rubio is running on his bio, which he is, the boat is part of that bio [WaPo].
"Ohio, New Mexico Lead as Presidential Bellwethers" [Political Wire].
"Non-Hispanic whites with American Indian ancestry make up a full half of the current population of mixed-race Americans but are among the least likely to say that they are multiracial, according to a study released Thursday. This population is also the more likely to be Republican-leaning" [AP].
Stats Watch
Portuguese 10-year bonds: "GSPT10YR:IND Yield 2.895; down 2.69%; change: 0.8% [Bloomberg]. Mr. Market is so bored of Greek contagion.
Jobless Claims, week of June 6, 2015: "Jobless claims continue to run at extremely lows with initial claims up only marginally" [Bloomberg].
Retail Sales, May 2015: "[R]etail sales [up] 1.2 percent with gains sweeping nearly all components"  [Bloomberg]. "A leading component in the month was motor vehicle sales."
Bloomberg Consumer Comfort Index, week of June 7, 2015: "[M]ostly flat so far this spring but remain at high levels" [Bloomberg].
Business Inventories, May 2015: "Inventories are rising in line with sales, pointing to well-balanced strength" for Q2 [Bloomberg].  Stock-to-sales ratio unchanged at 1.36. " Inventories, expressed as a ratio to sales, remain well within the historical levels. A unusual rise in this ratio would suggest the economy was contracting" [Econintersect].
"Rail Week Ending 06 June 2015: Less Contraction Than Last Week" [Econintersect].
Black Injustice Tipping Point
"During the unrest in Ferguson, MO following the police shooting of Michael Brown, one local organization emerged as a heroic force: The Ferguson Municipal Public Library. Director Scott Bonner kept the library open even as other businesses around him shut down. After schools closed indefinitely, the Ferguson library became a place for teachers and students to continue with educational programs" [Boing Boing].
"Solicitor: Michael Slager indictment in Walter Scott shooting just the beginning" [Post and Courier]. Solicitor (DA) Scarlett Wilson: "Just because you have video … doesn't mean it's the be-all, end-all." Very true, in the abstract… 
"Given the complexity of identifying short-term crime trends and of determining reliable causal antecedents – even with decades of hindsight and troves of big data, which is certainly not the case here – the idea that we could observe a "Ferguson effect" on crime today is preposterous" [Guardian].
Texas pastors call for firing of pool party cop; resident says he 'deserves a medal' [Daily News]. I did not know there was a medal for body-slamming teenage girls. Good to know.
"McKinney chief: Eric Casebolt was 'out of control'" [WFAA].
THE #McKINNEY VIDEO EXISTS because they kid who didn't stop recording happens to be the one in the blue shirt 
pic.twitter.com/ojreHSBtYc

— liza (@blogdiva) June 8, 2015
"[E]ven as the on-the-ground understanding of race and ethnicity becomes more fluid, contingent and overlapping, our public conversation lags" [New York Times]. OTOH, the "on the ground" understanding in McKinney seems clear enough.
"Keywords in Black Protest: A(n Anti-)Vocabulary" [Truthout]. I love glossaries!
Police State
"St. Louis County SWAT Team Killed Family Dog Over Code Violation, Suit Says" [Riverfront Times]. For a code violation?
"Cops Shooting at Cars: A Really Bad Idea" [The Marshall Project].
"Anonymous Baltimore Cops to CNN: Public Asked for 'Softer' Police Force, They Got It" [Mediaite]. In other words, the price of a low murder rate is cops whacking black people with impunity. #BlackLivesMatter has a simple demand: "Stop killing us!" Which vision of social order do you prefer? And surely there are alternative methods for skilled police work?
"There is incredulity as if police were not recent additions to the education system and had been permanent fixtures of the school landscape since the era of Horace Mann [Critical Mass Progress].
"Bad cops bounce from city to city" [Baltimore Sun].
Corruption
"Ex-hospital executive in kickback scheme looks to spread the blame." All over the California health care system, it seems [Center for Investigative Reporting]. Important, because although I tend to think of the insurance companies as the main beneficiaries of ObamaCare, consolidating hospital systems with lavishly overpaid executives are right there, too.
Squillionaire Wretched Excess Watch
Jamie Dimon think Elizabeth Warren "fully understands the global banking system" [Bloomberg]. Jamie's right. If Warren fully understood banking, she would have looted billions of dollars in a bubble inflated through accounting control fraud, crashed the economy, orchestrated the largest upward transfer of wealth in world history in the bailouts, paid herself a big bonus out of the bailout money, and become a billionaire in an industry where net profits equal government subsidies. That's what understanding banking means. Then again — and I'm handing out rare kudos to a Democrat, here — Warren probably isn't a sociopath.
Class Warfare
"[P]overty among seniors increases as they age" [Wall Street Journal]. Well, naturally. Equally naturally, the situation is even worse for blacks, Hispanics, and women.
"Andre Spicer, a Professor of Organisational Behaviour at Cass Business School, said an invite to Bilderberg is a point of pride" [Bloomberg]. Not shame? That seems odd. Spicer: "It's been fundamental for enacting policy shifts across the world and rolling out of liberal projects…(including) free market intervention." The Bilderberg agenda (at least the public one) [Telegraph].
News of the Wired
* * *
Readers, feel free to contact me with (a) links, and even better (b) sources I should curate regularly, and (c) to find out how to send me images of plants. Vegetables are fine! Fungi are deemed to be honorary plants! See the previous Water Cooler (with plant) here. And here's today's plant, the fourth of Gardens, Week Six (Steve):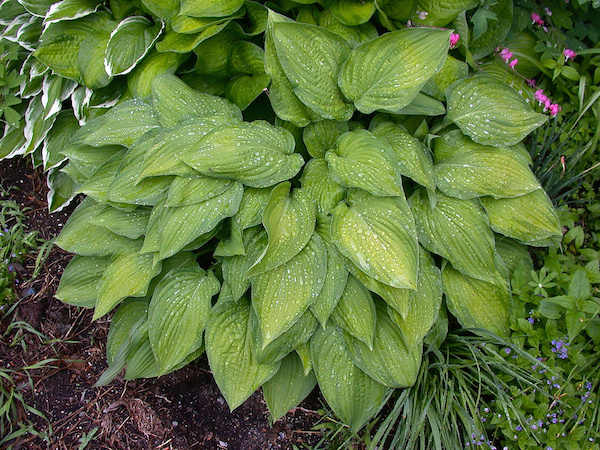 Hosta forces!
Readers, the weekend's discussion for "Open Thread on Water" was terrific. So many interesting projects! Please, send me pictures of your projects, at least if plants are involved, and when aren't they? If only of maple twirlers in gutters!
If you enjoy Water Cooler, please consider tipping and click the hat. I need to keep my server up! And pay the plumber….
(Readers will notice that I have, at long last, improved the hat!)