By Lambert Strether of Corrente.
Readers, the repair shop made the electrical shorts in my Mac's keyboard go away, and now I have a real computer again ZOMG!!!! Albeit with a Bluetooth keyboard, for now, since Apple is taking forever to ship the replacement keys. Probably Jony Ives is buffing them, or something.
TPP/TTiP/TISA
"Progress was made in just ended Trans-Pacific Partnership free trade talks here by chief negotiators from the 12 member countries, [Japan's] TPP minister Akira Amari said Tuesday" [Japan Times]. " With the aim of striking a broad agreement, the 12 TPP countries, including Japan and the United States, will hold the ministerial meeting for two days through Thursday. According to a source with access to the negotiations, the ministerial session may be extended through Friday. 'In order not to let the TPP negotiations drift about for another year or more, we want to make it the last ministerial session,' Amari said." Hmm. The USTR lets things "drift about"?
Dairy: "U.S. DAIRY FEARS HOLDING UP TPP DEAL, SOURCES SAY: A fear by U.S. dairy producers of competition from New Zealand is proving to be among the final challenges to wrapping up the Trans-Pacific Partnership talks, Pro Trade's Doug Palmer reports from Atlanta" [Politico]. That's the headine. But the deeper you go into the story, the deeper into the weeds you get. "After four days of negotiations there, trade ministers are scheduled to arrive today to try to resolve the toughest issues. the U.S. dairy industry demand that any reductions in U.S. trade barriers be offset with a nearly equal opportunity to sell U.S. cheese, butter, powder and other dairy products to other countries in the proposed 12-nation pact." NC readers who read the Levin memo at NC yesterday are better informed than the Politico writer; it's not all auto, dairy, and pharma.
Japan: "As elections loom, the U.S., Canada and Japan find themselves lacking the political will to make compromises during negotiations. In Japan, members of the dominant Liberal Democratic Party with ties to agriculture are particularly leery of the agreement" [Nikkei Asian Review].
Japan: "Full details of tariff elimination under the TPP will not be made available until an agreement is reached. But one of the sources has heard 20 years or longer are among the longest grace periods suggested by some TPP partners in their bilateral talks" [Japan Times]. 20 years? Hardly a deal at all, in trade terms; which makes it clear that TPP isn't really about trade at all, doesn't it?
Japan: "Prime Minister Shinzo Abe and U.S. Vice President Joe Biden agreed Tuesday … that their negotiating teams for the Trans-Pacific Partnership would work closely together 'with the goal of resolving the limited number of outstanding issues at the upcoming ministers meeting in Atlanta,' according to the White House." [Japan Times].
Canada: "An agreement in principle could be announced as early as Friday" [CTV]. So Harper will have something to campaign on…
Canada: "There were rumours circulating Tuesday that chief negotiators working on the Trans-Pacific Partnership trade deal had reached an agreement-in-principle (AIP). Would that be like the AIP that Canada announced with Europe, the one which has spent years in the 'final polishing and legal drafting' phase?" [iPolitics]. "Will there be a deal this week? Not likely — at least, not one that could be sent to Congress. What that does to the Harper government's plans to champion a deal in the waning days of the election campaign is anyone's guess."
Canada: "How badly do Stephen Harper's Conservatives want Canada to be part of this week's anticipated Trans-Pacific Partnership trade deal? We're about to find out, less than three weeks before the election" [CBC]. "A handful of ridings could swing into the loss column for the Conservatives, particularly in Ontario, over [dairy and auto] concessions. But other voters the Tories target may embrace the deal."
New Zealand: "[Prime Minister John] Key reiterated that he felt a deal could be done this week, and that the window for doing a deal was starting to close" at a meeting of the Asia Society in New York [TVNZ].
Australia: "The US government is caught between a rock and a hard place because of the promises it made to persuade the US Congress to give up its right to amend the TPP and allow only a yes/no vote. Promises of stronger monopoly rights on medicines and copyright cannot be delivered to the pharmaceutical and media industries without substantial concessions on agricultural market access, which in turn cannot be delivered because of pressures from agribusiness" [Sidney Morning Herald].
2016
Policy
"Pope Francis met privately in Washington last week with Kim Davis, the county clerk in Kentucky who defied a court order to issue marriage licenses to same-sex couples, a Vatican spokesman confirmed on Wednesday. Ms. Davis and her husband were in Washington anyway to receive an award from the Family Research Council, a conservative advocacy group, in recognition of her stand against same-sex marriage" [New York Times]. Pope Francis: "Conscientious objection must enter into every juridical structure because it is a right, a human right." Fair enough, but somehow, when Davis (represented by the Liberty Counsel) makes it onto wingnut talk radio and the rubber chicken circuit (ka-ching), I don't think that topic will figure largely in the discussion.
The Voters
"Looking at the presidential race right now, I see clearly four different types of GOP primary voters and caucus-goers. True Believers, who "have already picked a candidate and are sticking to him come hell or high water." Buckley Voters, so called because they tend to follow the 'Buckley Rule; and support the most conservative candidate they see as plausibly winning the presidency." Center-right governing conservatives, who live in blue states or those who serve in state or local party or government organizations. Uniques, who "are in this election to support a candidate for a unique reason or because of that candidate's specific platform" [Hugh Hewitt, Politico].
Money
"2016 pres­id­en­tial con­tenders are in­creas­ingly cri­ti­ciz­ing the out­sized in­flu­ence of money in polit­ics—in some cases tak­ing aim at the very donors that can­did­ates may need to win the White House" [National Journal].

"'Donors are demanding a lot these days, man, and they want answers and they want results, and a lot of them hit the panic button a lot,' said Theresa Kostrzewa, a Republican lobbyist and donor based in North Carolina, who is supporting former Gov. Jeb Bush of Florida. 'This is a new day. Donors consider a contribution like, Well, wait, I just invested in you. Now I need to have my say; you need to answer to me'" [New York Times]. So much cleaner to "invest" in entities like the Clinton Foundation, eh? 
The Trail
"In an analysis last week, media watcher Andrew Tyndall discovered that network newscasts had devoted only eight minutes to the Sanders campaign, despite it being arguably the most surprising political story of 2016. That was as much as they had devoted to Mitt Romney's brief flirtation with a third presidential bid" [WaPo]. "Most frustrating for Sanders reporters is that he is polling better than almost anyone running for president, and the fact is usually buried in stories about how Vice President Biden, who may run, polls a little better nationally." Sanders needs somebody to feed "fresh quotes" to the hungry little scorps.

"[Outkast rapper] Big Boi's backing of Sanders follows the Senator's adoption of a wide-ranging racial justice platform, prompted by widely publicized campaign disruptions by the Black Lives Matter movement in August" [In These Times].

"As the real estate and reality-­show tycoon sees things, this is all win-win for him. Peggy Noonan of The Wall Street Journal wrote something to this effect recently, Trump told me, explaining that even if he loses, ''he goes back to being Donald Trump, but even bigger'" [New York Times, "Donald Trump Is Not Going Anywhere"]. Yep. As I've been saying, if Trump gets another TV show out of this, he nets out positive. Why would he stop?

"Morning Plum: Jeb Bush raises the ghost of Mitt 'free stuff' Romney" [WaPo].

"State Dept. due to release latest batch of Clinton emails" [Reuters].

UPDATE "Bill and Hillary Rodham Clinton have long believed in a unified-field theory about their opponents — one that she memorably dubbed a 'vast right-wing conspiracy.' And they have their own theory of the moment it all began.'" [WaPo]. "The former president, who is about to take a more visible role in his wife's presidential campaign, told the tale again in a broadcast over the weekend in which he described getting a menacing phone call from inside the George H.W. Bush White House."

Bill Clinton's framing is fascinating. First, anybody who lived through that time remembers the slow-moving, media-fuelled, conservative coup — and I don't think that's too strong a word — that began with Clinton's election in 1992, wound its way through the impeachment saga, and culminated with Scalia's decision in Bush v. Gore, in which the Republican candidate, Bush, was selected. Second, Clinton ("the explainer") frames the story in the crudest CT terms possible: As starting with an evil-doing central authority picking up the phone. Again, anybody who lived through that time and followed the detail will also remember the anti-Clinton forces operated a lot more like an opportunistic wolf pack, along the lines of "working toward der Fuhrer," than a conspiracy as such. So Clinton simultaneously figures a factional adversary (Bush), while proffering a highly over-simplified view of elite conflict (and why would he do that?).
The Hill
"Senate passes bill to avert government shutdown, sends to House" [Reuters].
"Lawmaker Says Gowdy Will Not Run for Re-Election" [Washington Examiner]. He's going to figure out how to explain Benghazi, then leave.
"The tug-of-war within the Republican Party that helped end Rep. John Boehner's career is likely to intensify this year both on Capitol Hill and in the tumultuous GOP presidential race" [Wall Street Journal, "GOP Discontent That Helped Sink John Boehner Isn't Easing Up"]. 
China?
"Seven killed, dozens injured as seventeen sites in Guangxi's Liucheng hit with killer mail bombs" [South China Morning Post].
The blasts were triggered by explosive devices hidden in express delivery packages, police said.

There were at least 17 blasts, media reports said, with targets of attack including the Dapu township government office, supermarkets, malls, a hospital, prison, bus terminal, an animal husbandry staff dormitory and a centre for infectious disease and prevention.

Explosions also occurred in other areas around Liuzhou, the media said, citing the city's public security department.
Stats Watch
ADP Employment Report, September 2015: "ADP's call for Friday's September employment report is on the high side but only slightly, at 200,000 for private payroll growth vs Econoday expectations for 190,000. ADP's call for August, an initial 190,000 now revised to 186,000, proved much stronger than the initial government total of 140,000" [Econoday]. The hot hand? But: "There is now a known disconnect between BLS and ADP on the breakdown of jobs growth between small, medium and large business – as the graphs below illustrate. Basically the BLS sees large business as the employment driver, while ADP sees small and medium size business as the employment driver" [Econintersect].
MBA Mortgage Applications, week of September 25: "After surging in the prior week following the FOMC's decision against a rate hike, mortgage activity fell back in the September 25 week" [Econoday].
Chicago PMI, September 2015: Slight contraction [Econoday]. "New orders are below 50 as are backlog orders, the latter for an 8th straight month. Chicago-area businesses can't rely on backlogs as much to keep up production which is also under 50 and at a 6-year low. Contraction in prices is deepening." And: "this indicator is quite volatile and historically it tends to exaggerate the movements in national manufacturing sector activity. Nevertheless, its disappointing showing is consistent with the sluggish performance in other regional PMIs" [Across the Curve].
The Fed: "New York Federal Reserve Bank President William Dudley said the U.S. central does not intend "at this time" to do asset sales from its balance sheet of financial assets accrued during quantitative easing efforts to heal the financial crisis" [Market News].
"Natural Experiment Sheds Light on the Market Effects of Herding" [Liberty Street] (original paper). Interestingly, the article is about pension fund managers. And where you have herds, you have predators. Eh? And speaking of predators…
"The Federal government has two decades of evidence that the integrity of Nasdaq as a stock market has been repeatedly compromised. Yet it does nothing material to rein in the abuses" [Wall Street on Parade]. "The excesses leading up to the crash of 2000-2002 and the crash of 2008-2009 resulted from a highly orchestrated wealth transfer machine on Wall Street that was allowed to operate with impunity from the Federal regulators."
Fear & Greed Index, September 30, 2015: 19 (-6 [!!]); Extreme Fear [CNN]. Last week: 30 (Fear). (0 is Extreme Fear; 100 is Extreme Good). Glencore?
Papal Visit Indicator [Mosler Economics].
Gaia
"Bank of England Governor Mark Carney said on Tuesday that companies must be more open about their 'climate change footprint' to avoid abrupt changes in asset prices that could destabilise markets" [CBC]. "The speed at which assets such as coal, oil and gas reserves are re-priced to reflect the impact of climate change is vital to reduce potentially 'huge' financial risks to British insurers and other investors, he said. 'Risks to financial stability will be minimised if the transition begins early and follows a predictable path,' Carney told a Lloyd's of London insurance market event.'" Hmmm. Long Glencore, or short?
World coffee demand is growing at a time when climate change may render some countries "totally unsuitable for production", Andrea Illy warns [Agrimoney]. Drink up!
"Facing increasing criticism over safety and the environmental impacts of climbing on Mount Everest, Nepalese tourism officials have banned novice climbers from the world's tallest peak and are considering additional limits" [CNN]. "'We must maintain the glory of Everest climbing,' Mohan Krishna Sapkota, joint secretary of Nepal's Ministry of Tourism, said Tuesday. 'Everest climbing is a matter of adventure and competence, not a matter of luxury.'" Filing this under Gaia, taking the perspective that Everest climbing, as currently practiced, defiles the mountain (whose name is contested). Of course, anybody who's read the terrifying and depressing, and beautifully written, Into Thin Air will see why I could have filed this under Class Warfare, as a metaphor for what a steeply unequal society does to its elites (and everybody else). As Jonathan M. Tisch recently observed, "The air gets very thin at the top." And that's if you don't mind climbing past frozen garbage, frozen coproliths, and frozen corpses.
Our Famously Free Press
"[R]esearch has shown that bloggers put in 100-hour workweeks, almost 2.5 times the standard amount of 40 hours a week" [Hype Beast]. This post treats of fashion bloggers, but the numbers and the dynamics seem about right.
Police State
"Chicago Police Turn Off Dashcam During Abusive Traffic Stop After Learning Driver is Police Investigator" [Photography Is Not a Crime].
"Man accused of stealing $5 in snacks died in jail as he waited for space at mental hospital" [WaPo].
Black Injustice Tipping Point
"After emancipation, many freedpeople used newspaper advertisements to try to contact their family members" [Slate]. Like "Missed Connections" ads in the weeklies. Except not.
Corruption
"Brookings Institution Under Fire For Wall Street Shilling" [Shadowproof]. Elizabeth Warren takes a scalp.
Guillotine Watch
"Anger At 'Bed Under Stairs' To Rent In London" [Sky News]. £500 a month!
Class Warfare
"[Special Ed] took its first major deep cut over the summer eliminating 500 positions at CPS. More cuts announced late Friday mean approximately 160 schools would lose special education teachers, while 184 would lose aides" [Mike Klonsky]. Of course, we all know how Rahm feels about the "f****** retarded." So there you are!
Mountaintop mine owner Don Blankenship on trial in West Virginia for an "accident" that killed 29 [Mother Jones]. Thing is, the last crash killed a lot of people, too. I mean, they don't call it "class warfare" for nothing.
News of the Wired
"Nova Scotia man breaks into Kamloops home, feeds cats, watches TV, takes a shower" [Global News].
"Self-Driving Cars Could Save 300,000 Lives Per Decade in America" [The Atlantic]. Maybe so. I'd be a lot more enthusiastic if I didn't think that the car manufacturers wouldn't rent me the car, instead of selling it, and that opening the window would cost me a nickel, turning on the radio a dime, adjusting the seat a quarter, and that if I didn't keep up the payments, the engine wouldn't start, and then the nice Apple (or Google (or Tesla)) agent would come and tow it away, making it hard to get to my job rotting the vegetables at Walmart, forty-five minutes away by car.
* * *
Readers, feel free to contact me with (a) links, and even better (b) sources I should curate regularly, and (c) to find out how to send me images of plants. Vegetables are fine! Fungi are deemed to be honorary plants! See the previous Water Cooler (with plant) here. And here's today's plant (Pat), from Wenatchee, WA: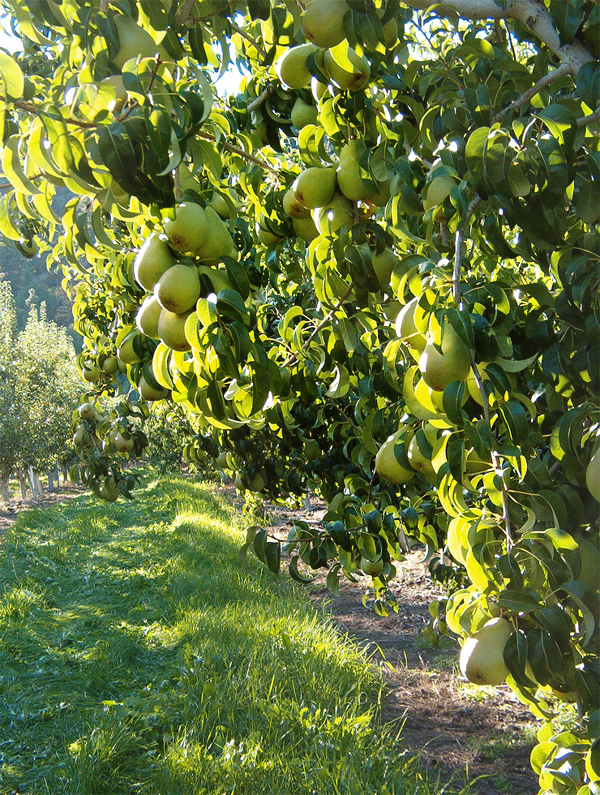 That's a happy pear tree!
Readers, I'd also be interested in any projects you did this summer (now that the time to put the garden to bed is approaching)….
If you enjoy Water Cooler, please consider tipping and click the hat. Winter is coming, I need to fix my laptop, and I need to keep my server up, too.