This is Naked Capitalism fundraising week. Help us make more trouble.
By Lambert Strether of Corrente
TPP/TTIP/TiSA
Europe: "[TTIP] could leave European negotiators with the choice of lowering food standards, or being priced out of the market" [Agrimoney]. "Dominic Watkins, head of law firm DWF's food group, told a conference that a liberalization of trade without regulatory convergence would leave the EU facing higher compliance costs than the US, leaving it hard to compete with US products."
New Zealand: "A pattern of disdain for the public's right to know' – court decision likely to change Govt's attitude to [Official Information Act]" [TVNZ]. Maybe. The court said the government would have to release TPP documents; the government may or may not appeal.
US: "Pretty photos, small companies: how the White House is selling TPP" [Reuters]. " Crystal tumblers of Kentucky bourbon and Tennessee whiskey, on the rocks. Maine lobster and Maryland blue crabs, garnished with lemon slices. An adorable black Montana steer, staring head on into the camera. …. Omitted from the report: any overt sign that big U.S. corporations, which have pushed for the deal, stand to gain."
US: The "18,000 tax cuts" talking point [Chicago Tribune]. How the spin doctors got to 18,000: (1) Worldwide, not US; (2) call "tariffs" "taxes"; (3) lots of very small cuts ("airtight containers and not containing apricots, citrus fruits, peaches or pears"). In essence, refurbishing "consumer benefit" for "cut taxes" conservatives.  
ISDS: "EU-US investments have taken place for decades and have grown to over €3,000 billion without ISDS and that ISDS is clearly not needed" [Seattle to Brussels Report]. Not needed if TTIP is a trade deal, no. This is a wonky report, well worth a look.
"How to Make TiSA a Good Deal for Consumers" (PDF) [The European Consumer Organisation]. This is wonky too, and worth a read, but suffers from the unfortunate assumption that so-called "trade deals" are proposed in good faith. You can't buff a turd.
2016
The Voters
"The two parties aren't what they used to be, and what many of us persist in imagining them to be. Their composition—demographically, geographically and ideologically—has changed significantly in the past generation. Seen in this light, the behavior we're seeing right now isn't so aberrational at all." [Wall Street Journal, "The Two Parties Aren't Crazy, Just Changed"].
Money
"In a sign of the fierce competition for new donors in the Republican presidential race, a major party fundraiser backing Jeb Bush is inviting potential supporters to meet the candidate at a reception at a private country club in Greenwich, Conn. – for free" [Wall Street Journal, " As Competition for Donors Builds, Wealthy Invited to Try Bush Out Before Giving"]. Make up your own jokes…
The Debates
Readers, I got caught up in a backstage matter; I'll update with a few more links shortly.

"In Serious Gaffe, Sanders Treats Opponent with Dignity and Respect" [Andy Borowitz, The New Yorker].

Headline: "The Debate: Can a Democratic Socialist Save Capitalism?" [Wall Street on Parade]. Well, it worked once. "[F]or those of us who understand that the greatest threat to America is not some foreign power but home-grown financial terrorists wielding trillions of dollars in high-risk derivatives in taxpayer-insured banks on Wall Street, [Clinton] is the same old problem, not the solution."

"Hillary Rodham Clinton's sure-footed performance … swiftly cooled talk about the need for Vice President Joseph R. Biden Jr. to enter the campaign and offer Democrats an alternative" [New York Times]. And the cooling is so swift because nobody has ever been able to come up with a reason why that loveable goof, Joe Biden, should run.

WaPo's Dana Milbank gets a tingle down his leg thrill up his leg* [@Milbank]. * Sorry, readers! "You're gonna have to learn your clichés. You're gonna have to study them, you're gonna have to know them. They're your friends."

Hillary Clinton, a man among boys. http://t.co/tdR9PZ14PT

— Dana Milbank (@Milbank) October 14, 2015

UPDATE Great minds think alike, or reading from the same list of talking points? Ezra Klein on the left, Brian Beutler on the right….

Is there an echo in here pic.twitter.com/HLxpQ9lQcM

— Andrew Perez (@andrewperezdc) October 14, 2015

UPDATE "Cable News Edits Out Rousing Sanders Attack on Vapid Media Coverage" [The Intercept]. Now that's a shocker.

UDPATE "In a Q&A-style segment of BuzzFeed's latest 'Another Round' earlier this week, Clinton told co-hosts Heben Nigatu and Tracy Clayton that the rapper should reconsider his 2020 bid for the White House. 'I've told Kanye that he might want to wait, because I'll be running for re-election,' she said. 'I might want to try to give him some additional experience, so he's got — on all the other things he's done on his résumé … some kind of envoy role or something that he can point to, but I would not rule out anybody for vice-president'" [Vulture].
The Hill
"A report released Wednesday by the Bipartisan Policy Center says that unless Congress increases the statutory debt ceiling the U.S. Treasury will "have insufficient cash to meet all financial obligations sometime between November 10 and November 19" [Market News]. Well, when you elect people to govern who want to destroy government, they try do what they were elected to do. Why is anybody surprised by this?
"If Kevin McCarthy was Plan A, and a very resistant Paul Ryan is Plan B, House Republicans don't currently have a viable Plan C to become their next speaker" [Politico].
"Perhaps we could use a 3-D printer to make a robotic [Speaker] — just for the time being, of course. It would be a way of monetizing our entrepreneurial skills, while showcasing our technological expertise" [Barbara Adams, Pittsburgh Post-Gazette].
Norman Ornstein: "One of the things that we have discovered is you can hit rock bottom and then you can dig into the rock. [The House leadership fight] is so clearly a debacle for them — and now being reported everywhere as a debacle for them — that it might create enough of a sense of urgency that they find a way or two to at least dig out a little bit" [Talking Points Memo]. Or not!
"But why shouldn't the Democrats instead win points from the American people by refusing to participate in the vote, thereby putting partisanship aside and let only GOP House members pick the next speaker, which will be the inevitable result sooner or later?" [Reuters]. "It can then be a win-win-win solution: The GOP gets a new speaker elected only by Republican votes; Democrats get credit for putting solving problems above partisan gamesmanship, and Americans get to hope the Congress might actually focus its energies on making policy." 
Stats Watch
MBA Mortgage Applications, week of October 9. 2015: "The implementation of new lending disclosure rules (TILA-RESPA) made for a spike in the prior week's mortgage activity and now a giant plunge in the following week's activity" [Econoday].
Producer Price Index FD, September 2015: "Wide weakness and may raise talk that deflationary pressures are building, not easing" [Econoday]. "Hawks at the Fed are saying that the negative price effects from oil and low import prices will prove temporary. That may be, but the depth of ongoing price weakness continues to sink." And: "The Producer Price Index year-over-year deflation accelerated. The intermediate processing continues to show a large deflation in the supply chain" [Econintersect].
Business Inventories, August 2015: Inventory-to-sales ratio up to 1.37 from 1.36. [Econoday]. "Inventories are looking heavy which could limit production and employment growth and could emerge as a new concern for the doves at the Fed." And: " With inflation adjustments, business sales are in contraction. The inventory-to-sales ratios remain at recessionary levels" [Econintersect].
Retail Sales, September 2015: "Weakness at gasoline stations, where low prices are depressing sales totals, continues to exaggerate weakness in retail sales" [Econoday]. "[T]he headline is weak and will likely lower third-quarter GDP estimates — but for Fed policy, because the weakness is skewed due to gas prices, the results are harder to assess and may prove neutral." But: "Consider that the headline data is not inflation adjusted and prices are currently deflating making the data better than it seems" [Econintersect].
"One of the fastest-growing U.S. exports right now is air. In September, the Port of Long Beach, Calif., part of the country's busiest ocean-shipping gateway, handled 197,076 outbound empty boxes. They accounted for nearly a third of all containers that moved through the port last month. September was the eighth straight month in which empty containers leaving Long Beach outnumbered those loaded with exports" [Wall Street Journal, "At U.S. Ports, Exports Are Coming Up Empty"]. "The empties are shipping out at a faster rate at many U.S. ports, particularly those closely tied to trade with China."
Ag: "World's largest sovereign wealth fund turns its back on palm oil" [Agrimoney].
"This story about the cost of unwinding swap agreements by the City of Chicago reminds me that the only perfect hedge is in a Japanese garden" [Across the Curve]. Anybody got any more jokes like that?
Fear & Greed Index, October 13, 2015: 35 (-3); Fear [CNN]. Last week: 37 (Fear). (0 is Extreme Fear; 100 is Extreme Greed).
Black Injustice Tipping Point
Debt collection lawsuits squeeze black neighborhoods [Pro Publica].
Health Care
Bombshell: "This study is forcing economists to rethink high-deductible health insurance" [Sarah Kliff, Vox].
The new paper shows that when faced with a higher deductible, patients did not price shop for a better deal. Instead, both healthy and sick patients simply used way less health care.
So that means both foundational assumptions of ObamaCare are wrong: We already know that (#1) ObamaCare is not a good deal for a large portion of those who have not signed up; and now we see that (#2) patients don't shop, but forego care instead. Readers will note the correspondence between the two simple rules of neo-liberalism: (#1) Because markets, and (#2) go die. Readers will also note the pleasing asymmetry that the economists who made those rules are exempt from them, as the two contexts of the simple rules suggest.
Gaia
First food forest in Roanake [Roanake Times].
Corruption
"The indictment of Barbara Byrd-Bennett—Mayor Rahm's front woman at [Chicago Public Schools]" [Chicago Reader (DG)]. I wonder if Byrd-Bennett will end up at the Obama Foundation?
"The seeds of today's political crisis in Malaysia were sown decades ago in an elaborate structure that has maintained a small elite in power since it was known as Malaya and achieved its independence from Britain in 1957" [Asia Sentinel]. "Direct discussion of the subject has basically been criminalized since the 1970s and deemed too sensitive for debate. Thus there has been little public discourse on who really exercises power, how and for whom." And we still don't know who gave Prime Minister that $700 million (!!) or where it went, when it left his personal account.
"Goldman Sachs Group Inc.'s role as adviser to a politically connected Malaysia development fund resulted in years of lucrative business. It also brought exposure to an expanding scandal" [Wall Street Journal, "U.S. Examines Goldman Sachs Role in 1MDB Transactions"]. I say let's fine them some small fraction of their profits and rely on reputational damage as a deterrent. What say, Obama?
"Six brokers accused of helping former UBS Group AG trader Tom Hayes rig benchmark rates used a range of excuses during questioning by prosecutors, including blaming colleagues and not knowing what Libor meant" [Bloomberg]. Like their boss is a psycho. If an excuse is true, does that mean it's still an excuse?
Guillotine Watch
"Trophy hunters are paying to kill lion cubs bred in captivity — and it's totally legal" (video) [Business Insider].
Class Warfare
"If nearly 40% of Americans aren't working, what are they doing?" [Yahoo]. I wish readers would take a look at this. Apparently, they're in school, waiting for better times. What could wrong?
Jack Dorsey's firing memo edited to remove the jargon [Quartz].
"Price Check: How Companies Value Body Parts" [Pro Publica].
News of the Wired
"Looking at the taste preferences of 500 people, it was found that those who enjoyed bitter flavors over sweet flavors were more likely to exhibit signs of "Machiavellianism, psychopathy, narcissism, and everyday sadism." The study, which was published in the journal Appetite, was conducted at the University of Innsbruck, Austria" [IFL Science]. I like my coffee black only if it's good coffee. 
" The Internet is like this toilet: How Reddit and other Web 2.0 communities broke the Internet" [Salon]. Once you get past the image at the top of the article and the subsequent moral panic:
It's a dream of a kind of alchemy, that if you just make code that makes it "effortless" and "addictive" for users to churn out content, and you sit back and let the market decide which content rises to the top of the heap, you will eventually get the equivalent of a well-edited, well-curated, intelligent and thoughtful Web 1.0 publication without having to actually read or write a damn thing yourself.

It's an intoxicating image, one that's deeply attractive to investors who want to make huge amounts of money for very little work.
"A new study shows that humans are inherently good" [George Monbiot, Guardian]. Readers?
* * *
Readers, feel free to contact me with (a) links, and even better (b) sources I should curate regularly, and (c) to find out how to send me images of plants. Vegetables are fine! Fungi are deemed to be honorary plants! See the previous Water Cooler (with plant) here. And here's today's plant (OregonCharles):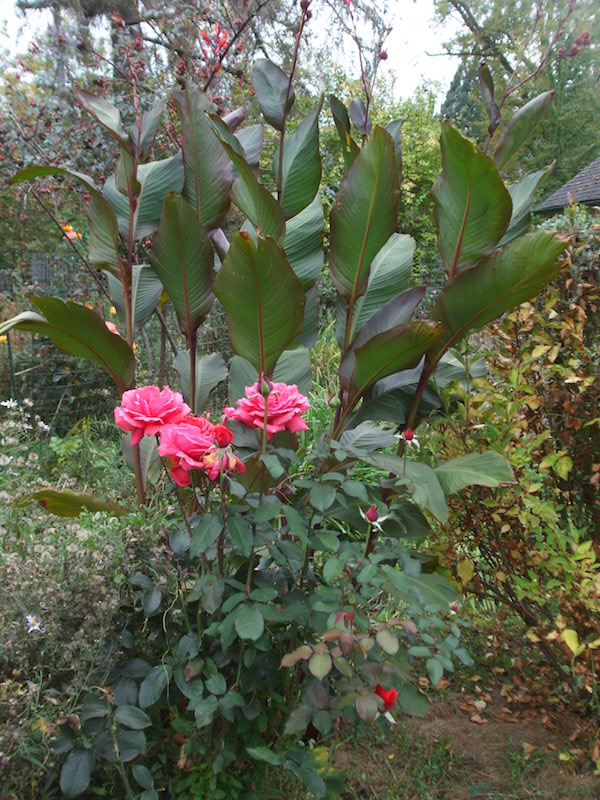 A Fragrant Cloud rose.